The Film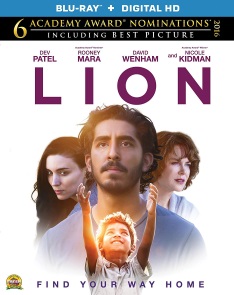 Oscar (Best Motion Picture of the Year): Iain Canning, Angie Fielder, and Emile Sherman (nominated), (Best Performance by an Actor in a Supporting Role): Dev Patel (nominated), (Best Performance by an Actress in a Supporting Role) Nicole Kidman (nominated), (Best Adapted Screenplay) Luke Davies, (nominated), (Best Achievement in Cinematography) Greig Fraser (nominated), and ( Best Achievement in Music Written for Motion Pictures: Original Score) Dustin O'Halloran and Volker Bertelmann (nominated) - Academy Awards, 2017
BAFTA Film Award (Best Supporting Actor): Dev Patel (won), (Best Screenplay: Adapted): Luke Davies (won), (Best Supporting Actress): Nicole Kidman (nominated), (Best Cinematography): Grieg Fraser (nominated), (Original Music): Dustin O'Halloran and Volker Bertelmann (nominated) - Golden Globes, 2017
(Outstanding Performance by a Female Actor in a Supporting Role): Nicole Kidman (nominated) and (Outstanding Performance by a Male Actor in a Supporting Role): Dev Patel (nominated) - Screen Actors Guild Awards, 2017
AACTA International Award (Best Supporting Actor): Dev Patel (won), (Best Supporting Actress): Nicole Kidman (won), (Best Film): Lion (nominated), (Best Direction): Garth Davis (nominated), and (Best Screenplay): Luke Davies (nominated) – AACTA International Awards, 2017

Raised in the slum in Khandwa, India, five year old Saroo (Sunny Pawar) and his older brother Guddu (Abhishek Bharate) help their laborer mother Kamla (Priyanka Bose) supplement her meagre wages by stealing coal off trains and selling it in the village and looking for odd jobs. One night when Guddu plans to go out to look for work at the train station, Saroo insists on accompanying him rather than staying behind to watch their blind sister Shekila (Khushi Solanki). Saroo tires quickly and is left by Guddu to nap on a bench while he goes to look for work. When Saroo wakes up hours later, the station is completely empty. While searching for Guddu, Saroo gets trapped on a decommissioned train for several days as it makes its way sixteen hundred miles away to Calcutta. Unable to speak Bengali or pronounce the name of his village correctly, Saroo is unable to seek help and ends up on the streets along with thousands of other children and then in a prison-like orphanage while his photograph circulates in the newspaper. Months later, he is informed that an Australian couple would like to adopt him and sent by plane to Hobart, Tasmania where he meets new parents John (300's David Wenham) and Sue Brierley (Eyes Wide Shut's Nicole Kidman). A year after his arrival, the kindly couple adopt another child from India named Mantosh (Keshav Jadhav) who demonstrates emotional problems. Twenty years later, Saroo (Slumdog Millionaire's Dev Patel) has graduated from college and is heading to Melbourne to attend an international hotel management course despite his misgivings about leaving his parents to cope with Mantosh (Detectorists' Divian Ladwa) who lives in a motor home and has supplanted his self-harm with heavy drinking. Besides falling in love at first sight with American student Lucy (The Girl wih the Dragon Tattoo's Rooney Mara), he also meets Indian students Prama (My Name is Khan's Pallavi Sharda), Bharat (Hotel Mumbai's Sachin Joab), and Sami (Arka Das). While hanging out with his new friends and learning of their culture (Saroo regards himself as Australian), he is overcome with memories and confides his story to them (as well as Lucy) the story of how he ended up lost in Calcutta and adopted. Although they do not recognize the name of his village "Genestlay" as he pronounces it, Sami suggests that he use the new program Google Earth combined with research into train speeds and the number of days he believes he was on the train to create a search radius from Calcutta Station outwards. Saroo initially dismisses the idea but quickly becomes obsessed. When he takes Lucy to Tasmania to meet his parents, he is reluctant to talk about the search. Feeling guilty about "abandoning" his birth mother, brother, and sister, resenting Mantosh for how he makes his other mother feel, and also feeling ungrateful for his need to find his real family after all the Brierley's have given him, Saroo's life spirals out of control throwing all of his relationships into turmoil.


Based on the true story of Saroo Brierley as depicted in his autobiography "A Long Way Home", Lion is an intensely moving story with all the elements for a tear-jerking prestige picture but only manages half of one. The first fifty-odd minutes of the film depicting Saroo's childhood in India draws the viewer in with little consideration of whether the child actor is actually talented or just adorable only to then skip ahead twenty years later after barely establishing the adoptive parents and Saroo's troubled new brother. The second half of the film is like another movie (feature debuting director Garth Davis refers to the first section of the film as "the Indian movie") with the loss of Saroo's formative years alienating us from the grown version even if he is played by an actor as recognizable as Patel (whose award nominations and wins for this film have all been as supporting performer). As engrossing as the first half of the film is, the film and the grown Saroo's character development might have been better served by starting with Saroo growing up in Australia and suddenly encountering diversity in Melbourne, and Indian culture in particular, as an adult rather than assuming the audience will transfer the child's emotional baggage to the adult. The relationship between Saroo and Lucy is underdeveloped to the point where her reactions feel more contrived than organic; early on when he is reticent, she tries to push him into the search and telling his adoptive parents, and then later on she pops up to warn him that he may be chasing shadows since many things may have changed with the passage of time. Mantosh is similarly deployed to merely hit the dramatic notes rather than feel like a real character; as such, we do not really share Saroo's annoyance and resentment at the troubled young man's effect on their parents since we know that later on Saroo will feel sorry for the things he has said to him in anger as he considers the effect of his own emotional breakdown on his parents. Wenham is given little to do as the father while Kidman is underused but quite compelling in her nicely understated "supporting actress" turn as a character depicted through Saroo's eyes as being as saintly as his birth mother in his fleeting memories of her. The ending cannot help but move the audience (even if one devastating twist can be seen coming miles away due to the script's dramatic structuring despite its basis in fact), and the end credits feature video footage of the real Saroo, Sue, John, and Kamla as well as real family photographs. Whether the filmmakers thought that audiences would want an emphasis on the exoticism of the Indian half of the film at the expense of the development of its principal characters or if the still young Saroo is too close to reflect on the man he became, the story of Lion – as slotted into the traditional Hollywood narrative template – is lacking a solid emotional and psychological core.

Video


Anchor Bay's dual-layer 1080p24 MPEG-4 AVC 2.40:1 widescreen presentation of this digitally lensed (on the Arri Alexa, Alexa XT, and Red Dragon cameras) production looks excellent throughout, from the sunburnt and bleached Indian sequences, the Tasmanian backdrops, and the Melbourne urban cityscapes with deep blacks in the night exteriors, cool blue reflected on Patel's face in his obsessive computer research, and warm backlit dramatic scenes.

Audio


Audio options include English and French DTS-HD Master Audio 5.1 tracks that make full use of the surrounds during the Indian scenes (even at their most intimate), deep bass in the train sequence, more subtle atmosphere in the Australian scenes, and occasional fuller use of the surrounds and bass for source music (including the de rigueur rave/nightclub sequence of pulsing lights and beats) and the scoring. SDH subtitles are included in both English and French, along with regular Spanish subtitles.

Extras


Extras include the "Never Give Up" music video (3:45) by Sia as heard over the closing credits, deleted scenes (4:36) that are mostly extraneous apart from one that depicts Saroo having a panic attack that precipitates his quitting work, and a behind the scenes gallery of talking head featurettes. In "A Conversation with Saroo Brierly (7:49), Brierley give a rundown of the events as they happened and just how wonderous the Google Earth resource was back when first introduced. The three interviews with Dev Patel (3:24), Nicole Kidman (3:09), and director Garth Davis (3:37) are derived from the same longer assemblage of footage and are petty much a Dev Patel lovefest focusing on why the actor himself though the role was a good fit, how he was a casting boon, and others' remarks about how rewarding it was to work with him, more so than about the story itself. In "Making the Music" (4:17), composers Dustin O'Halloran (Marie Antoinette) and Volker Bertelmann (Futuro Beach) discuss how they set about working on their own themes, then working on each others themes, and then finding the simple main theme and building upon that. A digital copy is also included.

Overall


Based on a true story, Lion is an intensely moving story with all the elements for a tear-jerking prestige picture but only manages half of one.