Shetland: The Complete Series 1 & 2 (TV)
R2 - United Kingdom - ITV DVD
Review written by and copyright: Samuel Scott (19th April 2014).
The Show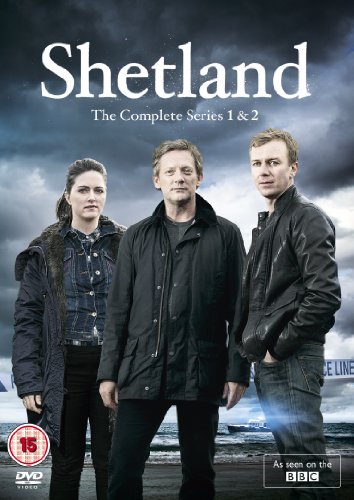 ***This is a technical review only. For reviews on the show from various critics, we recommend visiting HERE.***

Created from the novels by award winning crime writer Ann Cleeves (Vera), Shetland follows Detective Inspector Jimmy Perez (Douglas Henshall) and his team as they investigate crime within the close knit island community. In this isolated and sometimes inhospitable environment, the team have to rely on a uniquely resourceful style of policing.

Set against a hauntingly beautiful landscape, Shetland is based on the best selling books Red Bones, Raven Black, Dead Water and Blue Lightning.

Who thought the Shetlands were quiet for a detective?

This 2-disc set includes all four episodes from the first two series.

Video


ITV Studios Home Entertainment have released the BBC detective show "Shetland: The Complete Series 1 & 2" into DVD in the United Kingdom using the original 1.78:1 broadcast ratio. The transfer has been anamorphically enhanced and looks good, but is not reference quality.

The cinematography by Gavin Struthers captures the island environment well, using bleak colours throughout that shows the remoteness of life and general dull weather conditions. There are a lot of greys, browns, and dull blues throughout, and they look fine. There aren't a huge amount of lighter colours, but the occasional scene which takes place in the town does show pop when it needs to. Details are good, with facial close-ups the highlight, whilst shadow details are reasonably strong throughout. The shadow details are particularly noticeable in scenes which take place in low-lit interior locations, such as the police station interview rooms, or old stone houses. There is a little aliasing here and there, and some minor banding is noticeable in some of the landscapes, but overall the transfer is unsurprisingly problem-free. There are no major blemishes or scratches.

There are four episodes included in this set, with two episodes on each disc.

Audio


ITV Studios Home Entertainment have included a single English Dolby Digital 2.0 Stereo, which is uninspiring, but exactly what you would expect from a two channel track on a detective show. Channel separation is kept to a minimum, and outside of a festival scene in one episode, there are very few elements of "Shetland" that would really benefit from a 5.1 track outside of the score. As this is such a new show, there are no surprises here that dialogue is always clear and concise and that there are no signs of damage such as scratches or drop outs. I didn't notice any background hiss either.

There are optional subtitles in English for the hard-of-hearing.

Extras


None.

Overall




| | | | | |
| --- | --- | --- | --- | --- |
| The Show: B | Video: B- | Audio: B- | Extras: F | Overall: B- |

---
Rewind DVDCompare is a participant in the Amazon Services LLC Associates Program and the Amazon Europe S.a.r.l. Associates Programme, an affiliate advertising program designed to provide a means for sites to earn advertising fees by advertising and linking to amazon.co.uk, amazon.com, amazon.ca, amazon.fr, amazon.de, amazon.it and amazon.es . As an Amazon Associate, we earn from qualifying purchases.