Armour of God II: Operation Condor AKA Fei ying gai wak AKA Operation Eagle AKA Project Eagle [Blu-ray]
Blu-ray B - United Kingdom - Mediumrare
Review written by and copyright: Samuel Scott (8th February 2015).
The Film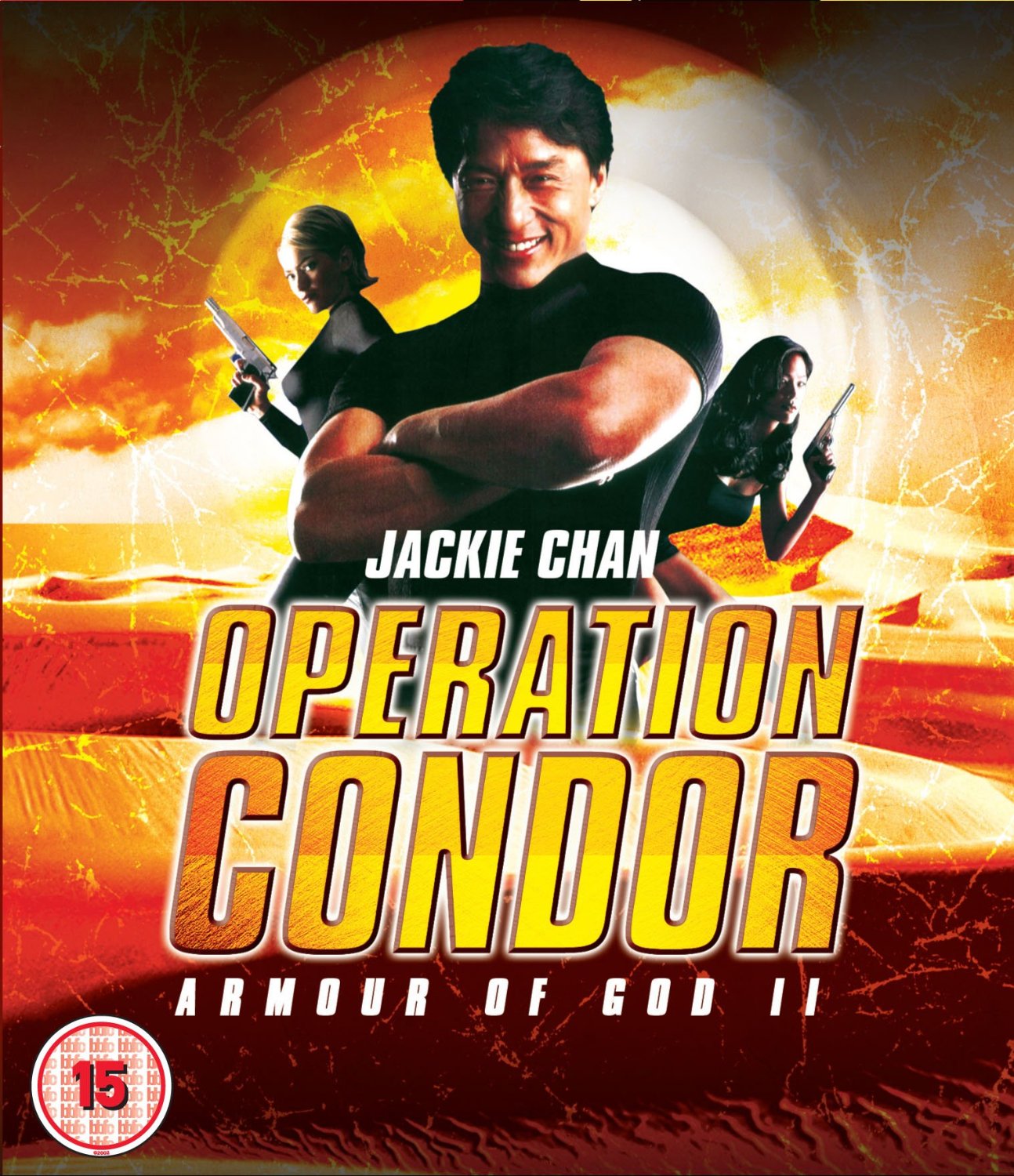 ***This is an A/V and Extras review only. For reviews on the movie from various critics, we recommend visiting HERE.***

Jackie Chan is Condor, an adventurer hired to track down a lost hoard of gold buried in the North African desert by a German patrol as the Nazi war machine crumbled at the end of World War II. The hero is joined by three beautiful women in a race to get the gold and outwit the evil forces relentlessly pursuing them.

Video


Independent British distributor Mediumrare have released the Jackie Chan movie "Operation Condor: Armour of God II" on to Blu-ray in the United Kingdom using the original aspect ratio of 2.35:1. The feature is 1080p, and uses an AVC MPEG-4 encode. Unfortunately, it is rather disappointing.

Pre-2000 Jackie Chan films haven't exactly been well treated so far on Blu-ray, and this disc continues that trend, with Mediumrare licensing the standard definition upconversion from Fortune Star who have become notorious for their poor HD outings. This transfer is lacking most things you expect from high definition. Colours are often soft, blacks have a tendency to crush in the darker scenes, and details aren't at the level that should be expected with Blu-ray. Now don't get me wrong, this is an improvement on the god awful Entertainment in Video DVD that was unleashed on British shores back in 2001, but there are still big improvements to be made. The print features quite a bit of noticeable mid-level dirt and specks, and in some scenes, there is some pretty awful vertical banding. Details are good, but often clunky and no better than high-end DVD releases. Details in the sand when in the desert are barely visible, and more minute details in facial close-ups and in clothing are mediocre. This is an uninspiring presentation, but it is certainly good enough to still enjoy the feature. I guess us Jackie Chan fans are just getting annoyed at how one of cinema's biggest stars doesn't seem to be getting the transfers he deserves.

On the plus side, this is the longer Asian version running 106:37.

Audio


Two options are included:
- Cantonese Dolby Digital 5.1
- English Dolby Digital 2.0 Stereo

Unbelievable. A company finally does the right thing in the UK by releasing the longer Asian version rather than the shorter US version, but they don't include a lossless audio option, leaving me to watch with a standard Dolby Digital 5.1 track at 448kbps instead. Not only that, but only an upmix is available in the original Cantonese. Still, I don't have many complaints with the actual quality of the track. Channel separation and direction is actually pretty good, but some of the effects sound too robust, and don't quite feel right for the film's age. Dialogue is clear at all times, and there is no noticeable damage such as scratches, pops, or background hiss. It's a passable effort that is simply lacking fidelity.

Optional English subtitles are included, but they randomly have hard of hearing explanations and there are some grammatical errors. They appear to be dubtitles rather than subtitles.

Extras


Nothing of note. We just have a couple of montages from Jackie Chan's films presented in awful quality. The montages are called "Action Special" (3:00) and "Comedy Special" (2:18).

Overall


Great film, let down by a half-arsed A/V presentation.

| | | | | |
| --- | --- | --- | --- | --- |
| The Film: B+ | Video: C- | Audio: C | Extras: E+ | Overall: C+ |

---
DVD Compare is a participant in the Amazon Services LLC Associates Program and the Amazon Europe S.a.r.l. Associates Programme, an affiliate advertising program designed to provide a means for sites to earn advertising fees by advertising and linking to amazon.co.uk, amazon.com, amazon.ca, amazon.fr, amazon.de, amazon.it, amazon.es and amazon.se.