The Film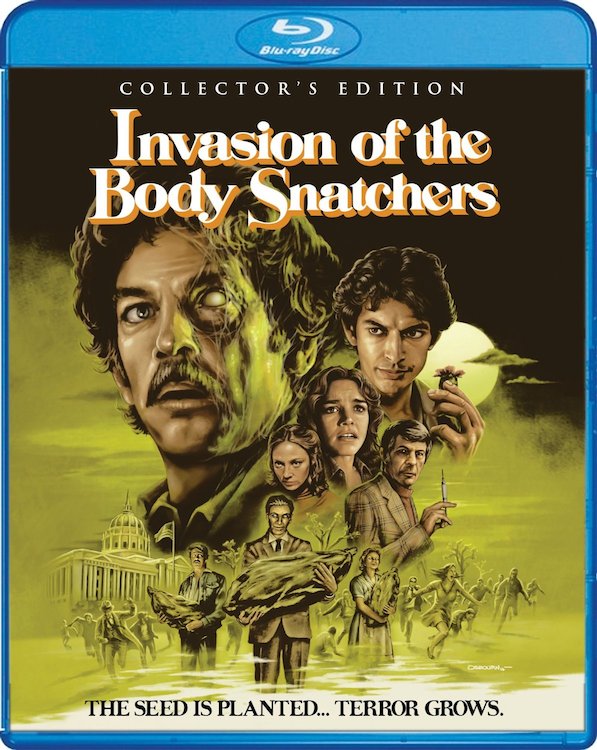 When talk turns to remakes that surpass the original, the first two movies out of any horror geek's mouth are usually "The Thing" (1982) and "The Fly" (1986). The response is almost involuntary. A film that often follows after those two is "Invasion of the Body Snatchers" (1978), director Philip Kaufman's retake of Don Siegel's silver screen classic from 1956, both of which are based on Jack Finney's novel "The Body Snatchers". Siegel's film is a seminal work in sci-fi filmmaking, on a level above the efforts Carpenter and Cronenberg were retooling; neither of those two 50's features are in National Film Registry for the Library of Congress. Kaufman came prepared. Altering the setting and featuring a new roster of characters, the film manages to capture the then-current political climate while also functioning as a highly effective sci-fi horror movie. W.D. Richter's script is smart and tense, filled with strong characters that have real connections and genuine pathos. It also has one of the most shocking endings ever.

Countless space spores, carried by solar winds, arrive on earth and begin to take hold via plant life. Elizabeth (Brooke Adams), an employee at the San Francisco Health Department, finds a strange flower outside her home and decides to bring it in for closer inspection. The next day her live-in boyfriend, Geoffrey (Art Hindle), exhibits strange behavior, acting cold and blank. Her friend/super flirty co-worker, Matthew (Donald Sutherland) suggests she talk with Dr. Kibner (Leonard Nimoy), a noted psychiatrist. They attend his book release party together, but while there a woman comes forward to claim her husband isn't himself. Elizabeth's paranoia grows, though Dr. Kibner tries to convince her otherwise. Jack (Jeff Goldblum), another one of Matthew's friends, and his wife, Nancy (Veronica Cartwright), come across a body covered in a strange fungal layer at their spa business. They don't know if it's dead or alive or what… but it looks an awful lot like Jack.

Matthew is called over and once he sees what is happening he calls Elizabeth, for fear Geoffrey might do the same to her. He races to her home and is able to rescue her just before an alien duplicate could be fully formed. It is apparent that people are being replaced, birthed anew from these massive pods that have sprung up all over the city. Matthew, Elizabeth, Jack, Nancy, and Dr. Kibner are beginning to understand the stakes but it may already be too late, as residents of this city and others across the country are one by one succumbing to the new alien threat.

Kaufman's film is heavy because the futility of the situation is palpable. Matthew and a few of his confidants are seemingly all that is left of the true humans in the city. Hundreds, thousands of people have been turned. There is no magic panacea for this outbreak; no deus ex machina to save humanity. People are being overtaken while they sleep and replaced with replicas that appear identical. How could anyone even try to go about stopping this endless spread? If you've seen the film then you know the answer.

Fittingly, this is an organically unfolding story and nothing about Richter's screenplay feels contrived; every bit of progression and every surprise moment feels earned. As explained later in the film, these sentient organisms have traveled millions of miles through space, leaving their own dying world for ours. They take to our atmosphere and vegetation with incredible ease and it is only a matter of days before their spread covers a wide range. Where the tension comes in is in the replication process, which seems only to require that the person being replicated is asleep. Once they are under, the pod tendrils form a translucent layer on the skin while a double is produced. The pods are everywhere, impossible to avoid, meaning no haven is safe for even just a few fleeting moments of rest. The paranoia is on par with Carpenter's "The Thing"; nobody knows who to trust, and all it takes is one wrong move and a horde of pod people are upon you.

Bringing Richter's script to life is a cast more than fit for such ripe material. There isn't a weak link among the many co-stars. Sutherland and Adams share a unique, realistic relationship that never falls into cinematic tropes. They're co-workers and friends, but also maybe kinda sorta lovers, or at least wannabe lovers. It is clear there are strong feelings there but when this new alien menace takes center stage they have to suppress those urges and soldier on with their work. That's the case with everyone in the cast, really. The people in this film react as real people, unsure of what they're seeing but positive it exists. The conversations and conflicts, ruminations on life and relationships… these actors feel less like characters in a film and more like people trying to navigate a strange new world.

There have been four incarnations of Finney's novel, all of which have taken the material in distinct, different directions. And they're (almost) all done very well, with the exception of 2007's "The Invasion" because it was a dry, dull mess. Abel Ferrara knocked his version, "Body Snatchers" (1993), out of the park; I consider it one of the best 90's sci-fi/horror movies… and it is in desperate need of a Blu-ray release. Kaufman's version is king, though. The only fault I can find is when the HoboDogMan shows up near the end, nothing more than a cheap Halloween mask on a dog's head. That ill-conceived gag aside, it is a virtually flawless picture.

Video


This latest Blu-ray boasts a "new 2K scan of the interpositive" but what most potential buyers really want to know is whether or not Scream Factory's release looks better than the last one by MGM. In short: yes. The 1.85:1 1080p 24/fps AVC MPEG-4 encoded image features tighter contrast and stronger detailing. Colors look similar; well-saturated and accurate. Film grain looks about the same, too, with that 70's aesthetic in full effect. Black levels are a little bit washed out during the blackest of night scenes. The average viewer may not notice the improvements, but eagle-eyed consumers (who have seen this film on every format) will pick up on these subtle upgrades to the picture quality.

Audio


Originally mixed in Dolby Stereo, the English DTS-HD Master Audio 5.1 surround sound track (48kHz/24-bit) provides a fuller soundscape than the more focused English DTS-HD Master Audio 2.0 stereo track. Rear use is minimal, coming into play only for subtle ambience and minor effects. Dialogue is clear and clean, with no hissing detected. Denny Zeitlin's score is a highlight, perfectly complementing the film's moments of tension, bliss, and paranoia. There is one glaring issue here: an audio sync error occurring around the 58 minute mark. Mouths don't match up with the words, and since this is during a scene of intense discussion amongst all of the lead characters it is quite noticeable. Subtitles are available in English.

Extras


In addition to all of the bonus features found on MGM's previous special edition, Scream Factory has produced new interviews and features to make an already comprehensive package even more impressive.

There are two audio commentary tracks – the first is a new one with author/film historian Steve Haberman, while the second audio commentary is a returning track with director Philip Kaufman.

"Star-Crossed in the Invasion with Brooke Adams" (1080p) is an interview that runs for 9 minutes and 6 seconds. The actress, charming as ever, sits down to discuss her role in the film.

"Leading the Invasion with Art Hindle" (1080p) is an interview that runs for 25 minutes and 4 seconds. This film's patient zero has a very thorough discussion regarding his role as the first person to be changed, as well as touching on his career.

"Re-Creating the Invasion with W.D. Richter" (1080p) is an interview that runs for 15 minutes and 43 seconds. This must-watch piece features the film's writer, discussing his concepts for this remake and what did and didn't make the cut.

"Scoring the Invasion with Denny Zeitlin" (1080p) is an interview that runs for 15 minutes and 34 seconds. Hard to believe this is the only film score Zeitlin has ever composed.

"Re-Visitors from Outer Space, or How I Learned to Stop Worrying and Love the Pod" (1080p) is a featurette that runs for 16 minutes and 14 seconds. This is a retrospective piece that first appeared on MGM's special edition DVD, featuring interviews and clips.

"Practical Magic: The Special Effects Pod" (1080p) is a featurette that runs for 4 minutes and 38 seconds. This piece offers up a look at some of the film's FX work.

"The Man Behind the Scream: The Sound Effects Pod" (1080p) is a featurette that runs for 12 minutes and 47 seconds. Take a closer look at the film's sound effects and design, including an interview with the legendary Ben Burtt.

"The Invasion Will Be Televised: The Cinematography Pod" (1080p) is a featurette that runs for 5 minutes and 24 seconds. This covers the film's look and photography.

A theatrical trailer (1080p) runs for 2 minutes and 13 seconds.

Two TV spots (SD, sourced from VHS) run for 1 minute and 2 seconds.

A handful of radio spots run for 4 minutes and 46 seconds.

A photo gallery (1080p) runs for 6 minutes and 17 seconds, containing 76 images.

Finally, and this is a cool one, there is an episode of "Science Fiction Theater: Time is Just a Place" (1080p), based on Jack Finney's short story, directed by Jack Arnold, that runs for 25 minutes and 53 seconds. Check out such futuristic wonders as a cordless vacuum (i.e. Roomba)!

Packaging


The single disc comes housed in a standard Blu-ray keep case. The cover art is reversible, with either option being a solid choice. A slip-cover featuring the newly created art is included.

Overall


One of the best remakes of all time, and one of the best sci-fi films ever, Kaufman's remake is a nearly flawless picture filled with strong FX work, excellent performances, and a stellar score. Scream Factory's release improves upon MGM's in every way, making this the ultimate definitive edition.
| | | | | |
| --- | --- | --- | --- | --- |
| The Film: A | Video: B+ | Audio: B+ | Extras: A | Overall: A- |