Homeland: The Complete Fifth Season [Blu-ray]
Blu-ray A - America - Twentieth Century Fox Home Entertainment
Review written by and copyright: Eric Cotenas (5th February 2017).
The Film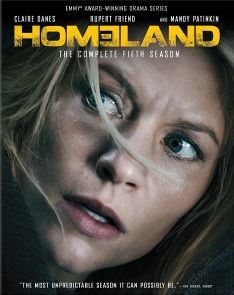 Bipolar former operative Carrie Matthison (William Shakespeare's Romeo + Juliet's Claire Danes) is back in the fifth season of Homeland – the American television adaptation of Gideon Raff's Israeli series Prisoners of War from Alex Gansa (24) and Howard Gordon (24: India) – having left the CIA and taking a job for The Düring Foundation in Berlin as head of security for steelworks magnate turned philanthropist Otto Düring (The Lives of Others' Sebastian Koch) and and settling down with daughter Franny (Claire Keane) and boyfriend Jonas (Inglourious Basterds's Alexander Fehling), Düring's legal counsel. While the setting is novel, as is Carrie working outside the agency, the fifth season escapes being ho-hum in its shuffling of familiar plot devices and the usual double- and triple-crossings (along with the increasing to the point of insulting unlikeliness of bipolar off-her-meds Carrie holding such vital positions) with a reliably tense and suspenseful execution. Having been allowed to keep her security clearance so long as she is never perceived to be helping the agency, Carrie is constantly suspected by her old colleagues of being a traitor for working for Düring, repentant grandson of a Nazi steel magnate, and by people within Düring's business empire of being a CIA plant. As a result, she is not looking forward to venturing into the warzone that is the Lebanon/Syria border when Düring plans to visit the overrun General Alladia refugee camp as a good faith effort to convince other philanthropic organizations to match his ten million dollar donation to provide food and medicine and provide educational opportunities for the refugees. Her two worlds collide when smalltime hacktivists Numan (A Hologram for a King's Atheer Adel) and Korzenik (The Circle's Sven Schelker) hack a terrorist recruiting website and breach the security of another entity observing the site and manage to download 1,361 CIA documents before they are shut out.

When Berlin Chief of Station Alison Carr (What Lies Beneath's Miranda Otto) and acting bureau chief Saul Berenson (Chicago Hope's Mandy Patinkin) reveal the data breach to their German colleagues, the Germans order the operation to be shut down despite Saul's insistence that the intelligence has benefitted both countries and stopped attacks. When expatriate American journalist and Düring Foundation employee Laura Sutton (Every Secret Thing's Sarah Sokolovic) asks Carrie to vet a supposedly leaked CIA document that purportedly proves that Germany has circumvented their own privacy laws by having the CIA do their spying on suspected terrorists for them, Carrie refuses out of fear of losing her security clearance and Laura is not swayed by Carrie's advice that she take into account the repercussions it could have on international security before publishing the document. Once Laura publishes her article, the chancellery demands a fall guy and Saul means to put up Allison while Allison goes behind his back and tries to convince Dar Adal (Amadeus' F. Murray Abraham) to put up Saul in her place. While German police liaison Astrid (Barbara's Nina Hoss) arrests Laura and tries to discover the identity of her source, Saul brings in CIA assassin Peter Quinn (Pride & Prejudice's Rupert Friend) from Syria to take out the terrorists targets in Germany under the radar through a kill list delivered to him name by name in code in exchange for "proof of death" photographs taken on burner phones. Carrie comes under Allison's and Saul's suspicions when it is discovered that Laura met with her on the day of the data breach, and they subsequently learn that Carrie has met with the local Hezbollah commander Al-Amin (Game of Thrones' George Georgiou) to approach the council to assure the safety of Düring's party in the UN-administered by Hezbollah-run refugee camp. When Carrie and Düring's party's barely escape the camp visit with their lives, Carrie hangs back in Lebanon to try to discover who was behind the ambush only to learn from her Hezbollah contact that the local chief revealed that Carrie was actually the target but was unwilling to give up who ordered the assassination even under torture and certain death. Returning to Berlin, Carrie puts Franny on a plane back to the United States and then goes into hiding with Jonas to look back on her tours of duty in order to discover who of her enemies had the means to order her death. To do this, Carrie feels that she must go off her meds since she has done her best work during periods of extreme elation and is depending on Jonas to see the signs of her eventual crash and get her back on track with her medication. Unfortunately, Jonas becomes increasingly disturbed as he learns more of Carrie's past and all the people she has killed and those who may have followed in the footsteps of their martyred loved ones and may not be there when she must face her hallucinatory demons. When Carrie's name appears next on Quinn's kill list, the two of them must figure out whether Saul has indeed ordered her death or if another party has infiltrated the operation. More CIA operations are endangered, however, when Korzenik double-crosses Numan's marginally more noble effort to turn over the rest of the files to Laura in favor of selling them to the highest bidder.

Video


Fox's 1080p24 MPEG-4 AVC 1.78:1 widescreen encodes are given a mid-bitrate average of 22 Mbps but look dazzling throughout with good detail from the moodily-lit interiors, the crisp overcast exteriors of Berlin, and the sun-burnt Middle Eastern settings which are typically over-exposed and harshly contrasted just shy of clipping the sunny highlights. Episode are playable individually or in "Season Mode" which is a "Play All" option that remembers the option when new discs are loaded.

Audio


Audio options include a full-bodied DTS-HD Master Audio 5.1 encode of the original English mix along with comparatively less vibrant Italian, Japanese (hidden) and Castilian Spanish DTS 5.1 dubs. Optional subtitles are available in English HoH, French, Spanish, Italian, Japanese (hidden), and Castilian Spanish.

Extras


The sole extras are "The Evolution of Carrie Mathison" (10:56) which looks at the character throughout the first five seasons while "Homeland in Berlin: Beyond the Wall" (9:20) features comments from the cast and crew about filming in Germany. Besides bookmarking ability, the discs also feature searchable timelines. There are two start-up trailers on the first disc, during which pop-up menu options allow skipping to the top menu or the next preview.

Overall


The fifth season of Homeland escapes being ho-hum in its shuffling of familiar plot devices and the usual double- and triple-crossings with a reliably tense and suspenseful execution

---
DVD Compare is a participant in the Amazon Services LLC Associates Program and the Amazon Europe S.a.r.l. Associates Programme, an affiliate advertising program designed to provide a means for sites to earn advertising fees by advertising and linking to amazon.co.uk, amazon.com, amazon.ca, amazon.fr, amazon.de, amazon.it, amazon.es and amazon.se.