The Film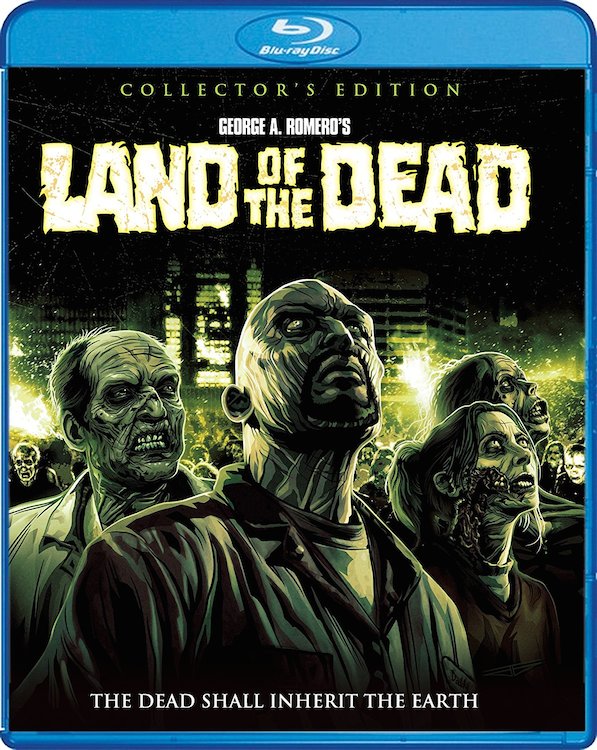 The horror community was dealt a devastating blow this past July when George A. Romero passed away at the age of 77. Mere days before his death, Romero was still talking up his latest "… of the Dead" project, yet a further continuation of the timeline originally set-up with his 1968 debut, "Night of the Living Dead". The follow-ups came during the subsequent two decades, capturing the zeitgeist and delivering gallons of gore alongside Romero's typically shrewd social commentary. And then the 90's came and went, with Romero directing only one full feature – and it wasn't set in his undead universe. Finally, in 2005 Universal ponied up the cash for Romero's return to the sub-genre he created and "Land of the Dead" came into being. Ironically, it took a remake of Romero's seminal "Dawn of the Dead" (1978, 2004) to convince Universal to hand him a bag of money. I remember being one of maybe two dozen people seated for a midnight screening of "Land" and the wave of excitement that hit me when the old timey Universal logo hit the screen. My opinion of the film has varied a bit over the years but, with the hindsight of knowing George is gone, I now view it as one final masterpiece(-ish) picture from a genre giant.

The zombie plague begun in 1968 persists, with humanity relegated to heavily reinforced outposts and buildings in order to survive the endless hordes of undead. In Pittsburgh, the elite have created Fiddler's Green, a utopic high-rise replete with all the trappings of a luxury lifestyle. Everyone else, however, is left to fend for themselves on the streets, where crime runs rampant and zombie games & gambling are promoted as a potent distraction from reality. Riley (Simon Baker) is a freelance contractor (of sorts) who works for Kaufman (Dennis Hopper), owner and operator of Fiddler's Green. Riley's claim to fame is Dead Reckoning (which was almost the film's title), a massive tank-like vehicle capable of laying waste to the "stenches" (zombies) and carrying massive amounts of supplies back to town. During a routine run for supplies Riley notices one zombie, Big Daddy (Eugene Clark), exhibiting unexpected intelligence, calling out to his brethren and trying to protect them when gunfire erupts.

Riley has had enough of doing Kaufman's dirty work and promptly quits after the mission. Not long after Cholo (John Leguizamo) does the same after Kaufman denies his request to buy an apartment in the skyscraper. Riley heads to the streets and over to a bar, where zombies regularly fight to entertain customers. On this night, Slack (Asia Argento) has been tossed into the ring; punishment for promoting a revolt against Kaufman. Riley and his burned-face buddy, Charlie (Robert Joy), save Slack and plan to leave town. But when Cholo steals Dead Reckoning and threatens to bomb Fiddler's Green – which would also put the citizens at risk – Riley agrees to assist Kaufman in stopping his former co-worker. There is another growing threat, though, as Big Daddy continues to lead an army of the undead straight into the heart of the city.

Really, there are only two glaring issues with "Land of the Dead", one major and one minor. On the former: casting. The quality of acting in this series has steadily depreciated since "Night of the Living Dead" – which is not my way of knocking the casts of "Dawn of the Dead" or "Day of the Dead" (1985), because I love both – but "Land" feels like it dropped off a cliff in that department. Simon Baker might as well be a cardboard cutout with a speaker taped to the back. He has the personality of cold toast. Asia Argento has never impressed me with her acting' she's passable here. Who would've thought John Leguizamo would be the best actor in a George A. Romero movie in 2005? Not me, but he's probably the most interesting character of the bunch. Robert Joy always lives up to his last name. Dennis Hopper looks like he's having fun playing a moustache twirling villain. Most of the minor supporting players are laughably bad.

The other minor issue is the use of CGI. I can understand the instances where Romero needed to show a hundred or so zombies and they simply didn't have enough background to cover that quota, but there are some digital gore gags and blood that look terrible. 2005 terrible. 90% of the film was completed with practical effects, making these moments of CGI stand out in the worst way.

Where this film succeeds in spades is exactly where you'd think: zombies. My favorite shot in the film comes right at the beginning, when Romero glides across a town square filled with flesh eaters. They slowly lumber and move with pained expressions, a firm reminder that in George's universe zombies don't run. The three-piece zombie band, members still attempting to play their instruments, is classic Romero. This is just one of many standout moments, including the warehouse scene wherein dozens of zombies are shown in another classic Romero scenario: eating. Not that anyone expected less, but KNB totally killed it by creating dozens of unique zombies that nearly live up to the iconic undead of their predecessors in this universe. And in the first bit of true connective tissue in the series, Tom Savini returns as the undead version of his biker character, Blades, from "Dawn of the Dead".

Further sequels in the "… of the Dead" series are best forgotten. I remember the sucking void of disappointment like a vacuum in my chest while watching "Diary of the Dead" (2007) in theaters. I might've made it through about 20-ish minutes of "Survival of the Dead" (2009). For me, "Land" is going to stand as Romero's last great hurrah in the genre he created. There's no hyperbole in that statement; every single piece of zombie media people have loved since 1968 owes it all to him. "Land" is the perfect stopping point, and given the sense of cautiously optimistic closure suggested by the film's ending it seems a fitting end for one of horror's most iconic series.

Video


Scream Factory has given "Land" a new 2K scan of the inter-positive for the theatrical cut, while the unrated cut gets the same with HD inserts of the additional footage. Unrated is the way to go and the 2.35:1 1080p 24/fps AVC MPEG-4 encoded image is a winner. Hard to say just how improved this is over Universal's previous edition but this release features sharp definition, clear examples of fine detail within the frame, natural color reproduction, deep black levels, and fine film grain. Aside from bad CGI looking like bad CGI and some minor compression issues, this is a solid presentation that matches the theatrical experience.

Audio


An English DTS-HD Master Audio 2.0 stereo or 5.1 surround sound track is available to choose from. The multi-channel offering sounds best, delivering a full, robust experience with deep bass during explosive moments and decent impact from gunfire. Dialogue is nicely prioritized and is never lost in the frequently-active mix. The score by composers Reinhold Heil and Johnny Klimek is mostly forgettable, a stark change from Romero's previous soundtrack collaborators. Aside from a few strong cues this is a largely boring score. Subtitles are available in English for the hearing impaired.

Extras


DISC ONE: "Theatrical Cut"

"Cholo's Reckoning – An Interview with Actor John Leguizamo" (1080p) featurette runs for 15 minutes and 37 seconds. There are a handful of fond recollections made here, most involving Romero's genial nature on set.

"Charlie's Story – An Interview with Actor Robert Joy" (1080p) featurette runs for 15 minutes and 9 seconds. The actor shares what he remembers from his time on set, including what it was like wearing his facial appliance.

"The Pillsbury Factor – An Interview with Actor Pedro Miguel Arce" (1080p) featurette runs for 17 minutes and 29 seconds. Hear from the dude who has a line of memorable dialogue.

"Four of the Apocalypse – An Interview with Actors Eugene Clark, Jennifer Baxter, Boyd Banks, and Jasmin Geljo" (1080p) featurette runs for 18 minutes and 50 seconds. A handful of the lead zombies sit down to discuss what it was like being featured in a zombie film made by the master.

"Dream of the Dead" (SD) is a short documentary featurette that runs for 24 minutes and 40 seconds, with optional audio commentary by director Roy Frumkes.

Deleted footage from "Dream of the Dead" (SD) runs for 18 minutes and 3 seconds.

A reel of a few deleted scenes (1080p) runs for 2 minutes and 55 seconds.

The film's theatrical trailer (1080p) runs for 1 minute and 45 seconds.

A photo gallery (1080p) contains 110 images, running for 9 minutes and 12 seconds.

DISC TWO: "Unrated Cut"

There are two audio commentary tracks; the first, a new offering with zombie performers Matt Blazi, Glena Chao, Michael Felsher, and Rob Mayr; the second audio commentary, with writer/director George A. Romero.

"When Shaun Met George" (1080p) is a featurette that runs for 12 minutes and 59 seconds. Revisit the time Simon Pegg and Edgar Wright flew to Canada to be zombies, shot in a fly-on-the-wall style.

"Bringing the Dead to Life" (1080p) is a featurette that runs for 9 minutes and 31 seconds. Focusing on the film's FX work, this piece showcases some of the zombies KNB created.

"Scenes of Carnage" (1080p) featurette runs for 1 minute and 42 seconds, featuring exactly what it promises.

"Zombie Effects: From Green Screen to Finished Scene" (1080p) featurette runs for 3 minutes and 18 seconds. This shows off the evolution of zombies, from early CGI rendering to what wound up in the final film.

"Scream Tests: Zombie Casting Call" (1080p) featurette runs for 1 minute and 5 seconds, a bizarre little short of CGI zombies dancing "Thriller" style.

"Bringing the Storyboards to Life" (1080p) featurette runs for 7 minutes and 54 seconds, see how the early storyboards for the film were re-created for the filming.

"Undead Again: The Making of Land of the Dead" (1080p) featurette runs for 12 minutes and 56 seconds, this is a behind-the-scenes look at the production.

"A Day with the Living Dead" (1080p) featurette runs for 7 minutes and 34 seconds, Leguizamo takes viewers on a tour through a day on set during production.

Packaging


The two-disc set comes housed in a standard Blu-ray keep case, with each disc on a hub opposite the other. The cover art is reversible and there is a slip-cover included on first pressings.

Overall


Not everything about "Land" works, but what does work is a goldmine for Romero devotees who waited patiently for the horror master to return to his most celebrated series. Universal's previous Blu-ray was no slouch in terms of a/v quality and bonus features, but this new edition from Scream Factory ever-so-slightly ups the ante with a new 2K scan and a decent selection of new bonus materials.
| | | | | |
| --- | --- | --- | --- | --- |
| The Film: B+ | Video: A- | Audio: A- | Extras: A | Overall: A- |