The Film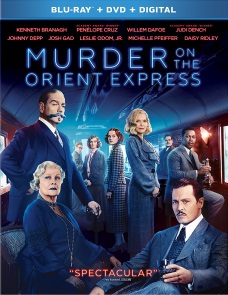 No sooner has renowned Belgian detective Hercule Poirot (Hamlet's Kenneth Branagh) prevented religious warfare in Jerusalem by providing a punchline to larcenous variation on the old joke of a priest, a rabbi, and an imam than he is summoned back to London to consult on an urgent case. It is fortunate that Poirot runs into Monsieur Bouc (B&B's Tom Bateman), wastrel nephew of the Orient Express' manager – who keeps him out of trouble and provides him with a means of income by schmoozing the passengers of the first class coaches – since he soon discovers that the train is completely booked; although his solution is less than ideal as Poirot must suffer being bunkmates with Hector McQueen (Beauty and the Beast's Josh Gad), accountant and personal assistant to crass American businessman Edward Ratchett (The Ninth Gate's Johnny Depp). When Ratchett tries to strong-arm Poirot into protecting him from the author of a series of poison pen letters ostensibly from one of the many enemies he has made dealing in art and antiquities of dubious provenance, the detective turns him down on ethical grounds. When Ratchett is found dead in his bed the next morning with multiple stab wounds – having been the only one not to have been roused when the coach derailed in the blizzard – Poirot's little grey cells are engaged by a "riot of clues dropped most conveniently" in an effort to implicate just about everyone on the train in order to obfuscate the truth. The the hypothesis that the murderer was an intruder who snuck on and off the train has some validity since Poirot himself saw an unfamiliar figure in a kimono dashing down the corridor, glamorous fortune hunter Caroline Hubbard (The Age of Innocence's Michelle Pfeiffer) swears that a man was in her compartment (which adjoins that of Ratchett) the night before, and Hildegarde Schmidt (Broadchurch's Olivia Colman) – companion to the dowager Princess Dragomiroff (Philomena's Judi Dench) – claims to have seen a porter other than Pierre Michel (Ben-Hur's Marwan Kenzari) who himself saw no one in the corridor around the time of death approximated by Dr. Arbuthnot (Red Tails' Leslie Odom Jr.). When Poirot discovers a charred remnant of one of the poison pen letters, he realizes that Ratchett is actually the man behind the kidnapping and ransom of little Daisy Armstrong who murdered the child once her famous pilot father paid the ransom. As he interviews the other passengers on the train – among them governess Mary Debenham (Star Wars: The Last Jedi's Daisy Ridley), American auto dealer Biniamino Marquez (Cake's Manuel Garcia-Rulfo), missionary Pilar Estravados (Open Your Eyes' Penιlope Cruz), Ratchett's valet Masterman (Gosford Park's Derek Jacobi), Austrian eugenicist Hardman (To Live and Die in L.A.'s Willem Dafoe), as well as the volatile Count Andrenyi (Red Sparrow's Sergei Polunin) and his ailing wife (Don't Knock Twice's Lucy Boynton) – he realizes that more than one of them has a connection to the Armstrong family and a possible thirst for "natural justice."

Kenneth Branagh's Ridley Scott-produced big screen adaptation of Agatha Christie's celebrated novel is not the first since Sidney Lumet's 1974 adaptation with Albert Finney for Paramount – having followed Carl Schenkel's bland CBS 2001 TV movie with Alfred Molina and the particularly execrable latter day Agatha Christie's Poirot version with David Suchet – but it cannot help but be compared to the 1974 version and suffer for it. Although it runs only a quarter-of-an-hour shorter than the Lumet version, the new adaptation is simultaneously bloated and underwritten. Whereas the earlier film started off with background on the Armstrong case – which drew inspiration from the Lindbergh kidnapping – Branagh's version opens with a colorful prologue in which Poirot puts on a show in front of the Wailing Wall. While this opening establishes that Branagh's version of the character is so drawn to ideals that any imperfection stands out in terms of clues or non-absolutes, its handling of the Armstrong backstory is endemic of Branagh's direction and the script by Michael Green (Green Lantern) that is more interested in telling the audience via Poirot only what they need to no to fit his interpretation without as well as what he needs to know about the characters (even as far as the emotional damage inflicted upon them by the Armstrong case) as if they feared that the audience either could not do any of the work on their own or were afraid they might get a step ahead of Poirot (which is only possible here if you've read the novel or seen any of the other adaptations). Whereas the earlier film introduced us to each of the characters and allowed each of the actor to shine as Poirot questioned each of them, Branagh's film introduces them quickly in the rush to get to the lush shots of the Orient Express leaving an opulent Istanbul – a Surrey soundstage and much greenscreen – and then shuffles their interrogations into a non-linear montage of soundbytes. The only actors who are allowed to stand out among the suspects are scenery-chewing Gad, dull Ridley, and Odom – the combining of the novel's doctor and older Colonel Arbuthnot into a young, black army sharpshooter put through medical school, along with Bouc's concern that the Turkish police will target Arbuthnot or Marquez if Poirot does not solve the case, part of the same revisionist addressing of Christie's problematic racism evident in the latter adaptions of the ITV Poirot that also made turned the previously less-offensive-than-the-original "Ten Little Indians" into "Ten Little Soldiers Boys" for the BBC's And Then There Were None – doing a disservice to the more seasoned cast members. While Pfeiffer is riveting during the climax, she is unable to hold her own when given less to do earlier on; unlike, say Lauren Bacall in the same role, able to distract and temporarily misdirect Poirot not through flirtation but through force of will with the wryest of expressions. Dench is phoning it in while Cruz is able to make little of her "fighting missionary" character while Depp's accent seems stuck somewhere between Sylvester Stallone and Robert de Niro and is best when letting his face do the work. Jacobi and Colman come off the best underplaying what little with which they have to work. One also suspects that a lot of footage may have been left on the cutting room floor since it seems make the Russian count a dancer and then to cast him with ballet dancer Polunin with no demonstration of his skills; as it is, the Count and Countess appear briefly in the introduction and then disappear until roughly the seventy-minute mark. Branagh also seems more interested in turning Poirot into an action hero – using his walking stick to break into Ratchett's compartment rather than waiting for the porter with the passkey, chasing a suspect through the snow and falling through several levels of scaffolding, and going mano-a-mano with another suspect who laughably asks him "Why aren't you dead yet?" – than deducting much apart from the parlor trick of charming Ridley's governess by explaining the visual cues that allowed him to determine her line of work and where she was coming from – until he finally decides "It's time to solve this case." The 65mm photography of Haris Zambarloukos (Mamma Mia!) is attractive but the digital grading and augmentations somehow make its production value seem less Old Hollywood than a tarted up version of ITV adaptation while the score of Branagh mainstay Patrick Doyle (Needful Things) is appropriately lush but nowhere near as distinctive and stirring as the work of Richard Rodney Bennett (Equus) work on the Lumet film which was just as glamorous as its cast. Branagh came far closer to capturing Old Hollywood glamor with his earlier mainstream bid of a thriller Dead Again.

Video


Filmed in 65mm with the usual digital intermediate stage and 70mm screenings in 2.20:1 and D-Cinema ones in 2.40:1 (presumably matted), Murder on the Orient Express looks ravishing on Fox's 1080p24 MPEG-4 AVC 2.40:1 widescreen encode with rich colors, some real depth in the wide vistas that one misses once the film moves onto the train where there is a whole new variety of textures to take in from the wood and metal railings to greater opportunities to assess the wardrobe, make-up and hair of the characters. It probably looks even more inviting on Fox's edition.

Audio


Although the Blu-ray is encoded for Region A playback, the disc image was probably produced to be used for multiple territories what with the large number of audio options from English DTS-HD Master Audio 7.1 and English Audio Descriptive Dolby Digital 5.1 to Dolby Digital 5.1 dubs in Czech, French, Hindi, Hungarian, Polish, Portuguese, Spanish, Thai, Turkish, Urdu (along with subtitles in English SDH, Arabic, Bulgarian, Cantonese, Croatian, French, Greek, Hebrew, Hindi, Hungarian, Icelandic, Indonesian, Korean, Malay, Mandarin, Portuguese, Romanian, Serbian, Slovak, Slovenian, Spanish, Thai, Turkish, and Vietnamese). The DTS-HD Master Audio 7.1 track is active from the start during the Jerusalem prologue and Istanbul sequences while the train sequences keep the surrounds active with the movements of the train down to the constant subtle rocking, with Doyle's score dominating the track when it appears.

Extras


Extras start off with an audio commentary by actor/director Kenneth Branagh and screenwriter Michael Green – with optional English, French, Korean, or Spanish subtitles – that is a little too self-congratulatory but also goes a ways towards conveying the motivations behind the departures from the source. They discuss the challenge of shooting 65mm in a film set largely in cramped spaces, lensing the Jerusalem and Istanbul sequences in Malta and the rest in Surrey (and how the pictorial perfection of some location shots actually made them appear like digital composites), scouting the Orient Express together, the contribution of Doyle's score, and the usual accolades for the cast. "Agatha Christie: An Intimate Portrait" (19:03) is only intimate in that it features some comments from Christie's grandson Matthew Prichard and great-grandson James Prichard (who also served as executive producer on the film) as well as some archival audio interview clips, with the rest promoting the film by way of cast and crew sound-bytes and the input of John Curran (author of Agatha Christie's Secret Notebooks) and Sophie Hannah, author of a new series of Christie estate-approved Poroit novels. "Let's Talk About Hercule Poirot" (9:54) is more of the same but we learn that Christie drew inspiration for the character from the influx of Belgian immigrants in Torquay after the First World War as well as literary models Sherlock Holmes, The Leavenworth Case (the first mystery novel written by a woman), and Gaston Leroux's The Mystery of the Yellow Room (the original "locked room" mytery). Discussion of the casting is divided up into three featurettes with "Unusual Suspects: Part 1" (15:08) focusing on Depp, Jacobi, Ridley, and Gad, "Unusual Suspects: Part 2" (5:56) on Pfeiffer and Cruz, and "Unusual Suspects: Part 3" (6:49) squeezing the rest in. "The Art of Murder" (16:23) and "All Aboard!: The Making of Murder on the Orient Express" (16:35) are more conventional making-of featurette covering the adaptation, cast reactions to the novel, the massive soundstage sets, and the 65mm photography, while "The Music of Murder on the Orient Express" (7:31) is self-explanatory . A selection of deleted scenes (16:40) are offered up but appear to consist of finished and graded scenes cut late in post-production rather than any possible gap-fillers. The video extras have optional subtitles in English, Chinese (Cantonese), Chinese (Mandarin), Czech, French, Greek, Hindi, Hungarian, Korean, Polish, Portugese, Spanish, Thai, and Turkish.

Overall


Kenneth Branagh's Ridley Scott-produced big screen adaptation of Agatha Christie celebrated novel is not the first since Sidney Lumet 1974 version, but it cannot help but be compared and suffer for it.