The Film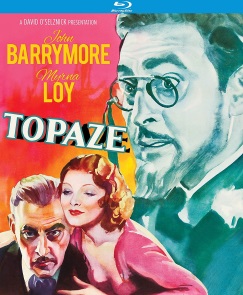 When spoiled Charlemagne de La Tour-La Tour (No Greater Glory's Jackie Searl) comes home from the Stegg Academy with failing grades, he insists that his teacher Auguste Topaze (Beau Brummel's John Barrymore) dislikes him because he is rich and also accuses the man of being a communist. His indulgent mother the Baroness Hortense (Big City Blues's Jobyna Howland) insists that her husband Philippe (Emergency Call's Reginald Mason) complain to his government cronies about the man. When he does not respond promptly – preoccupied as he is with both mistress Coco (The Thin Man's Myrna Loy) and developing a new curative tonic, the baroness approaches Dr. Stegg (Dr. Cyclops's Frank Reicher) who summons Topaze and gives him the opportunity of blaming Charlemagne's failing grades on a clerical error made by his secretary; however, Topaze is too naïve to pick up on the ploy and too honest to flatter the baroness by telling her anything more than the boy obviously possesses general knowledge but shows no interest in actually learning anything. The baroness brands Topaze as a "dangerous radical", and Stegg in turn accuses him of favoritism and fires him. Topaze does not quite grasp the reasons for his dismissal beyond its making it all but impossible for him to be awarded the Academic Palms for his scholarly treatise on chemistry; however, it comes at an opportune time for Philippe when he shows up at Coco's in response to a tutoring position for her nephew – Coco having plucked his name at random from Philippe's address book – since Philippe's scientific consultant Dr. Bomb (The Count of Monte Cristo's Luis Alberni) refuses to lend his name and reputation to Philippe's microbe-ridden tonic and he needs a scientist to lend credibility to the product, and he would prefer an easy-to-control idiot over a competitive scoundrel. Topaze initially refuses the lucrative job offer to revise the current formula for the tonic as charity, but Philippe is able to prey on Topaze's need for recognition. With Coco as his comely lab assistant, Topaze perfects his formula for what Philippe calls "Sparkling Topaze". What Topaze does not realize is that his microbe-free water costs forty francs per bottle to manufacture and that what Philippe is manufacturing at two francs per bottle is tap water in a fancy bottle with advertising hype and his public school concession obtained through cronyism to move the product. When Topaze finds out the truth after Dr. Bomb shows up and demands payment for his silence – only for Philippe to reveal the dirt he has on the man long reserved for such a confrontation – Topaze is devastated but willing to face the consequences and naïve enough to believe that Philippe will be just as honorable. When government officials show up, it turns out that they are there to present to him the Academic Palms through the machinations of Philippe. Having reasoned that, in contrast to the ideals he taught in the classroom, the corrupt are rewarded in the real world and ill-gotten gains are worthwhile enough to assuage a guilty conscience, Topaze embraces his newfound prominence that has even his former colleagues looking up to him. Only Coco, having realized that Philippe will never leave his wife, seems to care about Topaze's loss of innocence. When he is asked by Dr. Stegg to bestow honors to the students of the academy, will he be able to face them after having given up the very principles he taught to them?

Based on the 1928 French stage play by Marcel Pagnol (César) – who would not get to commit it to film himself until 1936 and then again in 1951 – which had been a success on Broadway in 1930 and was being adapted to film in France by Louis J. Gasnier (Reefer Madness) almost simultaneously with this David O. Selznick production for RKO adapted by Ben Hecht (Notorious) and directed by jobbing Harry d'Abbadie d'Arrast (Serenade), Topaze is not quite the sum of its parts but there is still much to be savored beyond its pre-code look at human nature. Theatrical villain Barrymore turns in a riveting yet understated performance that one can easily forgive the degree of his character's naivety while Loy radiates star presence in an underwritten role. The art direction of Van Nest Polglase (Citizen Kane) contrasts Art Deco spaces like Coco's apartment and Philippe's business with his more stately domestic space and the humble environs of the Stegg Academy's classrooms and cramped offices. The monochrome photography of Lucien Andriot (And Then There Were None) extends to some expressionistic optical superimpositions during Topaze's paranoid montage after discovering Philippe's betrayal of his work. While uncredited composers Max Steiner (Casablanca) and Roy Webb (Cat People) would work with Selznick on his later independent productions, Steiner would move onto prominence at Warner Bros. while Webb would become RKO's in-house composer until it ceased production. While a 1936 theatrical reissue was rejected under the new production code for the illicit nature of the film's relationships – from Philippe's affair with Coco to Coco and Topaze walking arm-in-arm into a screening of Man, Woman and Sin in the closing shot – not only likely problematic for both the code and viewers even now is the lack of closure around the tonic deception which puts a spin on the penultimate scene that suggests "do as a I say, not as I do."

Video


Unavailable since its theatrical release, Topaze comes to Blu-ray from Kino Lorber in a "sparkling" 1080p24 MPEG-4 AVC 1.33:1 pillarboxed fullscreen transfer that sports nice contrasts and little damage for much of the film, with some scratches and density fluctuations becoming more apparent in the final reel (particularly during the climactic confrontation between Topaze and Philippe) but these flaws are not distracting in the context of a heretofore hard to see film. Grain is well-represented but heavier during opticals, and the matting of the movie marquee and a flashing sign in the final shot is very obvious with the latter seeming to have been blacked out on the negative rather than the set for optical compositing.

Audio


The DTS-HD Master Audio 2.0 mono track has some light surface noise but the dialogue, music, and effects come across clearly. There are no subtitle or caption options.

Extras


Besides trailers for four other Kino Lorber releases of Selznick titles – Young in Heart, Since You Went Away, I'll Be Seeing You, and Intermezzo – the disc includes an audio commentary track by film historian Kat Ellinger, editor of Diabolique Magazine and co-host of the podcasts Daughters of Darkness and Hell's Belles, who starts off discussing the film in the context of the period of filming before the enforcement of the Production Code. Although Ellinger admits that the film is not as subversive as some other pre-code examples, Topaze is actually a good title on which to explore this topic as an example of a relatively benign work targeted as immoral. With a draft of the film's script in hand, she discusses the Pagnol play, the other film adaptations, as well as the seeming differences between the original's satire, the seeming more wry Broadway adaptation, and the farcical film version, the latter two by way of critical remarks contrasting Barrymore's performance with that of Frank Morgan (The Wizard of Oz) on stage.

Overall


Topaze is not quite the sum of its parts but there is still much to be savored beyond its pre-code look at human nature.