It's the Old Army Game [Blu-ray]
Blu-ray A - America - Kino Lorber
Review written by and copyright: Eric Cotenas (9th March 2018).
The Film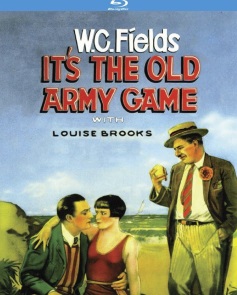 This epic is the saga of Elmer Prettywillie (The Bank Dick's W.C. Fields), a druggist in a small Florida town. Nagged by his widowed sister Sarah (The White Rose's Mary Foy), constantly annoyed by her bratty son Mickey (A Boy of the Streets' Mickey Bennett), horrified by the advances of railway station agent Tessie (Having Wonderful Crime's Blanche Ring) – "One look at her and all trains stop" – and abused by his customers, his only respites are a good night's sleep and the company of Tessie's niece Mildred (Beggars of Life's Louise Brooks) who works part time as his assistant in the drug store. Making his way down the coast selling lots in New York, swindler George Parker (Best Foot Forward's William Gaxton) gets off the train in town and falls head over heels for Mildred who also works part time at the telegraph office. He happens upon her again when he proposes to Elmer to set up shop in his front window and make him a partner. If there's a sucker born every minute, daylight savings time ensures an extra sixty suckers per day, and they are soon raking in the money. Just as George proposes to Mildred, he is arrested and taken back to New York when his partners abscond with the profits. His reputation tarnished, Elmer vows to his former trusted customers to make good on the money they have given him – with the threat of being tarred and feathered if he fails – and to Mildred to go to New York and find out what has become of George.

The fourth feature of vaudeville comedian W.C. Fields after a bit part in E. Mason Hopper's Janice Meredith and co-starring with Carol Dempster in the D.W. Griffith duo Sally of the Sawdust and That Royle Girl, It's the Old Army Game -- based on a play by Fields and regular collaborator J.P. McEvoy as adapted by – was his first star vehicle and its plot is strictly a framework in between a series of set-pieces showcasing his physical comedy (and a couple of his bon mots sometimes applied illustrated with animated intertitles) as he tries to put out a fire with a shot glass after pulling a fire alarm to get rid of the firemen who have invaded his shop after a myopic customer (Love 'Em and Leave 'Em's Elise Cavanna) mistakes a fire alarm call box for a mailbox, tries to get some much-needed rest while being bedeviled by his nephew, the fruit and vegetable hawker, the ice man, and other distractions, trespasses on private property and turning the estate into a trash heap during an April Fool's Day picnic with the family, and plays country bumpkin in the big, mean city for the climax. The structure is such that the actual story itself does not feel like it really gains any momentum until the last twenty minutes with the previous hour seeming more like setup than the first two of three acts but, while unconventional in terms of a film narrative, it perhaps works better on stage and on the screen as a series of comic sketches with a quick wrap up for the sake of closure. Fields' protagonist is fairly complex for a comedy, the straight man who is honorable to his working class customers while thumbing his nose at wealthy snobs – teaching them a lesson for not trusting their fellow man by letting Mickey steal what he wants when he discovers the property owners have had the temerity to lock up their home while away – shrewd enough to recognize a con man's shell game as "the old army game" and humiliate the man when he tries to cheat his own customers but naïve enough to buy into the "selling land in New York" scam. The romantic subplot with Brooks and Gaxton affords the former opportunities to play the ingénue, the vamp, and the minx as well as don a fetching bathing costume in some briefer sequences which seem neither disruptive to the rest of the film but may seem insufficient for Brooks fans. Jobbing director A. Edward Sutherland helmed five other Fields films, including the lost Tillie's Punctured Romance – a 1928 remake of the 1914 Charles Chaplin film –and four during the sound era. Fields remade the film as a talkie in 1934 as It's a Gift.

Video


Long unavailable since it's theatrical release apart from some gray market editions consumed by Brooks fetishists, It's the Old Army Game is one of the best-looking Paramount silent film restorations thus far. The 1080p24 MPEG-4 AVC 1.33:1 pillarboxed fullscreen image is sepia-tinted with original intertitles (including a few animated ones), overall stable and very clean, with some expected desnity fluctuations and the frame line occasionally visible at the top of the image.

Audio


The only audio track is a recent organ score accompaniment by Ben Model in DTS-HD Master Audio 2.0 stereo.

Extras


The sole extra is an audio commentary by film historian James L. Niebaur, author of the McFarland publication The W.C. Fields Films, who expresses his pleasure at being able to see one of the long-unavailable Fields silent films - the resurgence in popularity of the late comedian on college campuses in the sixtiesn based on his sound productions - and the beauty of the restoration. The film was Fields' first under a new contract with Paramount and Niebaur discusses the conventions of the comedian's sound work and his surprise that Fields can sustain a feature-length production entirely on his physical comedy. He also discusses Fields' frequent collaborators among the cast and also draws from Brooks' autobiography for some of her observations on Fields and the production.

Overall


Long unavaiable for screening outside of the gray market, W.C. Fields' first star vehicle is rather unconventional as a film but provides insight into the physical aspect of his comedic reportorie.

---
DVD Compare is a participant in the Amazon Services LLC Associates Program and the Amazon Europe S.a.r.l. Associates Programme, an affiliate advertising program designed to provide a means for sites to earn advertising fees by advertising and linking to amazon.co.uk, amazon.com, amazon.ca, amazon.fr, amazon.de, amazon.it, amazon.es and amazon.se.