Porto [Blu-ray]
Blu-ray A - America - Kino Lorber
Review written by and copyright: Eric Cotenas (29th March 2018).
The Film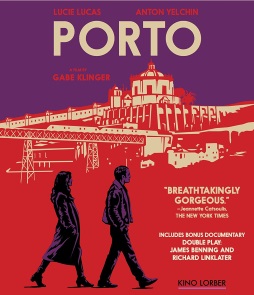 For American expatriate Jake (Green Room's Anton Yelchin) and French archaeology student Mati (Lucie Lucas), sighting each other once at an archaeological site is chance, bumping into each other on the train on the way back is coincidence, and catching sight of each other in the same unfamiliar Porto café is fate. They share one night of intense passion in her empty apartment only for her to reject him the next day in favor of her professor lover João (Paulo Calatré). An altercation leads to Jake's arrest and the warning to not to try to contact Mati again. Fourteen years later, Jake is an alcoholic who wanders Porto by night in the futile attempt of recapturing what once was, and begging drinks off strangers when he cannot. Mati has since married and divorced João, turning her focus to raising talented teenage daughter but feeling empty and in need of something new (or old) beyond her free-thinking mother's (The Diving Bell and the Butterfly's Françoise Lebrun) suggestion that she get laid. As Jake and Mati separately reflect on their night together, they remain haunted by their decisions and the loss of something special.

The narrative feature debut of Gabe Klinger, Porto has pedigree with a co-writing credit for Larry Gross (We Don't Live Here Anymore) and a producing credit for Jim Jarmusch (Mystery Train) but the intriguing structural take on a shared memory is severely let down by an overall attitude and tone that would be easy to characterize as pretentious. However invested Yelchin and Lucas are in their characters, their performances seem one-note not so much due to their ability but the script and direction in which the taint of doomed love seems to haunt them from the start if only because even their meeting scenes are a flashback from the opening shot of them in bed together in the aftermath of lovemaking. It would be facetious to boil their relationship down to her leading him on because she needs help moving, so we have to take it on faith that she actually agrees with him when he pontificates on the fatefulness of their union only to either retreat into conventionality out of fear or realize the importance of her relationship with her married lover in the light of day (it is in his flashback that she seems to concede the banality of her situation which may actually be a distortion on his part). It is her flashbacks that ultimately fill in the story, but they seem to cast her in a worse light than him as if the story was the projection of some unresolved juvenile emotional injury on the part of the director. Sadly, Yelchin's physical gauntness in the flashbacks and given more emphasis with make-up in the present-day sequences unintentionally casts his final performance in a tragic light (although his death was an accident) but does so more than what background the script offers and the nuance with which he conveys it. Klinger has an eye for gorgeous visuals and his attempt to shuffle the recollections of a painfully banal boy-meets-girl story into something mysterious is novel but feels more like an indie festival fodder take on the Before Sunrise trilogy (Richard Linklater being one of Klinger's mentors and one of the subject of his documentary debut Double Play: James Benning and Richard Linklater).

Video


Shot on 8mm, 16mm, and 35mm film with the 2.35:1 aspect ratio used for the flashbacks and 1.37:1 for the present day sequences - along with some 8mm "home movie" flashes - the look of Porto is faithfully represented by Kino Lorber's 1080p24 MPEG-4 AVC widescren encode with an overall chilly look to the flashbacks and a more neutral look to the present-day seqeunces, crisp detail in the 35mm and 16mm sequences, and considerably grainier and softer 8mm inserts with slightly colors resulting from the use of different film stock (including Fuji Velvia slide film as reversal stock).

Audio


Audio options include DTS-HD Master Audio 5.1 and 2.0 stereo but it is obvious that the surround option is more of a concession to DCP packaging and markets that are more likely to pick up something with multichannel audio over a stereo mix. The mixes is front-oriented with a spare sound design and music track. Optional English, English SDH, French, and Spanish subtitle tracks are provided.

Extras


Extras start off with a dispensable audio commentary by director Gabe Klinger in which he starts off by saying he can offer no framework for viewing the film and likens his open approach to Godard and Warhol, spending more time pointing out his homages to other films and providing some background on the locations that may or may not lend another layer to the staging of the scenes in them. His aforementioned documentary feature debut "Double Play: James Benning and Richard Linklater" (70:02) is included in its entirety and does convey in the words of the other filmmakers a connection with Klinger's concerns about time and memory in the feature. A making-of (4:36) is actually a montage of behind-the-scenes video without commentary or talking heads while the outtakes (2:50) include some goofing around by Yelchin in which he smiles more than he ever does in the film itself. The Portuguese news report (3:51) shot on the last day of filming is a bit more informative, and perhaps a bit more telling about one of the filmic inspirations for project when the narrator reveals that the film's working title was Porto Mon Amor. The Super 8mm Footage with unused Chantal Akerman narration (4:01) was presumably meant to be a sequence in the film, possibly the opening, but the footage ended up being used to illustrate the end credits. The theatrical trailer (1:40) is also included. Out of all of the extras, the included booklet essay by Michael Sicinski goes farther in offering some analysis of the story and the film than anything on the disc itself.

Overall


Porto director Gabe Klinger has an eye for gorgeous visuals and his attempt to shuffle the recollections of a painfully banal boy-meets-girl story into something mysterious is novel but feels more like an indie festival fodder take on the Before Sunrise trilogy.

---
DVD Compare is a participant in the Amazon Services LLC Associates Program and the Amazon Europe S.a.r.l. Associates Programme, an affiliate advertising program designed to provide a means for sites to earn advertising fees by advertising and linking to amazon.co.uk, amazon.com, amazon.ca, amazon.fr, amazon.de, amazon.it, amazon.es and amazon.se.