The Film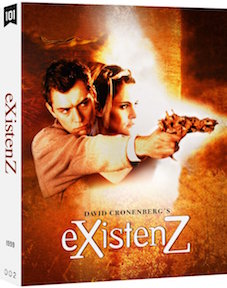 eXistenZ is a sci-fi thriller by famous body-horror director David Cronenberg, about a future in which biological VR game systems have replaced electronic gaming - with players connecting to a living organism 'game pod' through a surgical insertion at the base of the spine. The next big thing from game designer Allegra Geller (Jennifer Jason Leigh) is a new experience called eXistenZ, which she is exhibiting to a new focus group.

After Geller is shot with an organic gun by an anti-VR/biological gaming protestor within the focus group, the security guard that comes to her aid, Ted Pikul (Jude Law), is convinced by Geller to play eXistenZ with her to confirm whether or not her game pod has been damaged as she suspects. Nothing is what it seems, however, when they enter the game, with characters having ulterior motives and some appearing to be double or even triple agents, trying to bring down Geller and/or the company she works for. As a result, one of the film's main strengths lies in the difficulty of knowing who can be trusted. Not to mention, if that wasn't enough, that as the film continues there are games within games and some surprising twists that blur the distinction between what is and isn't real, leading the viewer to question at which point of the game they are watching or whether they are back to reality or just a different level of the VR game.

Whilst not one of Cronenberg's most famous films, eXistenZ is a great exploration into science fiction, a different take on the theme of body-horror, and a fascinating exploration into the nature of what is and isn't real.

Video


101 Films present the film in 1080p, at an aspect ratio of 1.78:1 and using the AVC MPEG-4 codec. The image is very clearly from a dated master, but does nonetheless manage to display detail despite a slightly softer look. Since there has been no previous UK blu-ray release, and I've not seen either the US release from Echo Bridge or the German release from Ledick Filmhandel, I was unable to fairly compare this to another title. However, the US release has an interlaced transfer and I believe both this new UK release and the German release are from the same master, so together the UK and German editions represent the best image available yet on blu-ray. The closest I could compare to was the HD stream from Lionsgate, and this transfer appears to be a cleaned up version of that one, with dirt and scratches removed. It's nothing grand, and it's unfortunate a new master wasn't created, but I guess that was cost-prohibitive. I'm also glad to finally see at least some love for this Cronenberg title in the UK.

Audio


There are two audio tracks provided for this release, both uncompressed LPCM in either 2.0 stereo or 5.1 surround. I sampled both tracks to compare the two and the 5.1 is clearly the superior, with a much richer opening out of surround sound. Given the film's action and video game-like content, the 5.1 track is definitely the one to go for, because when there's action the 5.1 track really makes itself heard. Overall, the clear dialogue, good use of effects and surround make this a very decent track.

Optional English HoH subtitles are provided for the main feature.

Extras


Whilst the video is not much to write home about, when it comes to the extras 101 Films have pulled out the stops.

Carrying over the large bulk of the previous extras from both the Alliance DVDs and the extended interviews from Echo Bridge's US release (more on those later), 101 Films have then collaborated with 441 Films to create a new interview and two new commentaries. In total, this release has three audio commentaries, one documentary, two promotional and special effects featurettes, six interviews and a theatrical trailer.

Starting with the commentaries, 101 Films have ported across the existing director's commentary by David Cronenberg from the Alliance releases, and added to it with two further commentaries - one with film critic Kim Newman and author/'Den of Geek' deputy editor Ryan Lambie, and one with Mondo Digital's Nathaniel Thompson and documentary producer Edwin Samuelson. Here is the only major place that extras were lost on the way to this release, with the two solo efforts from cinematographer Peter Suschitzky and visual effects supervisor Jim Isaac sadly present on the DVDs from Alliance not carried across. Whilst that is a shame, especially as both tracks are reportedly of great quality, the two new commentaries that 101 Films has provided are excellent additions. Clearly all four participants are fans of eXistenZ and/or David Cronenberg, and there's a wealth of knowledge that is imparted by all. The pairings are a great idea, not only due to having someone to bounce ideas off, but also to give the commentaries a more entertaining, conversational style. Both tracks are quite full of discussion, so it's possibly a smart move on 101 Films' part to not include the film audio in the background, allowing just for discussion across the imagery. In contrast, the original Cronenberg track is in-depth in other ways, and benefits from having the backing audio for the times he leaves a scene to play before providing some extra information. All three commentaries are fantastic, and I think I'll want to listen to them again to pick up on some of the details I (inevitably) missed the first time around.

Following the commentaries come the video extras - the documentary, the featurettes, the interviews and the trailer. Of these, most are 4:3 standard definition upscales apart from the new interview with Christopher Eccleston, entitled "The Leader", which is 1.78:1 HD at 25fps, and the interviews with Jude Law, Willem Dafoe and Jim Isaac, carried over from the Echo Bridge release, which are in 1.78:1 SD in 1080p24 containers. The remaining standard definition upscales are all in 1080i50 containers, except for the special effects featurette which is in a 1080i60 container.

The documentary (53:49) is a fantastic, fascinating hour-long piece on the production designer/art director Carol Spier, a longtime Cronenberg collaborator, and her work on eXistenZ. I'm very glad this extra was carried across from the Alliance releases as well as Cronenberg's commentary, it's well worth watching.

Featurette-wise, there are two on offer. One is a promotional featurette (10:37), which has some great information on the inspiration for eXistenZ as well as some nice but brief interviews with Cronenberg. The other is a special effects featurette (3:47) which provides a brief overview of some of the effects props used in the film.

In terms of interviews, the recent interview with Christopher Eccleston (16:01) is another nice addition, but not as in-depth as the additional commentaries. It's a great inclusion, but feels like it scratches the surface of a few topics and left me wanting a little more. Eccleston discusses Cronenberg films, including the political elements within, filming eXistenZ, his accent for the film and more. It also could have benefited from having intertitles (or audio) with the questions put to Eccleston - at times it was a little confusing trying to work out the exact question Eccleston was answering. Despite these reservations, a great collection of thoughts and bits of trivia and an entertaining watch. The interviews with the other cast and crew members represent extensions of the clips used in the featurettes - except for the two very short clips with Jennifer Jason Leigh (1:17) and David Cronenberg (4:00), which are just all their respective scenes from the featurettes and are essentially duplication. The remaining interviews are the ones carried over from the Echo Bridge release and expand upon the clips used in the featurettes. Jude Law's interview (14:38) is one of the most interesting, discussing the nature of reality, biological vs electronic gaming, how he became a part of the film and challenges that came about when filming eXistenZ. Jim Isaac's special effects interview (27:40) is also very interesting, essentially a longer form of the special effects featurette that's presented. Lastly, Willem Dafoe's interview (6:56) is a bit less forthcoming - perhaps because he is more of a shy person, perhaps because he didn't have much he wanted to say - but contains a couple of interesting observations.

Finally, the extras are rounded off with the theatrical trailer (2:01).

There are no subtitles for any of the extras on this release.

Packaging


No packaging was provided for this review, although the final product is the second in 101 Films' new 'Black Label' series and is set to come in a limited edition slipcase with a DVD copy and a booklet that includes the essay "Enemy of Reality: David Cronenberg's eXistenZ" by Alex Morris and "Of Fabrics and Flesh: An Interview with Denise Cronenberg" by Phillip Escott.

Overall


The second title in 101 Films' new 'Black Label' series is an excellent edition, albeit one that's come from a dated master. Almost all of the extras from previous releases of eXistenZ (both Alliance's DVDs and Echo Bridge's blu-ray) have made it onto this release, alongside a new interview and two excellent new commentaries. For the extras alone, I would highly recommend this release.
| | | | | |
| --- | --- | --- | --- | --- |
| The Film: B+ | Video: B- | Audio: B+ | Extras: A- | Overall: B+ |