Intimate Lighting [Blu-ray]
Blu-ray ALL - United Kingdom - Second Run
Review written by and copyright: Eric Cotenas (7th May 2018).
The Film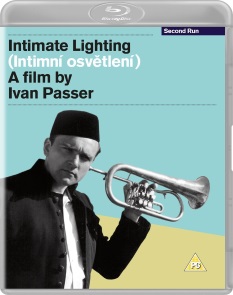 Special Award: Ivan Passer (winner) - National Society of Film Critics Awards, 1970

Traveling back to the village of his birth to be the guest soloist in an amateur concert, Petr (Zdenek Bezusek) is reunited with his childhood friend and academy colleague Bambas (Karel Blazek), the music teacher of the local school and conductor of the local chamber orchestra. With his half-finished house, uncooperative children, outspoken father (The Loves of a Blonde's Jan Vostrcil), nagging mother (Time fo the Servants' Vlastimila Vlková), and loving but unintellectual wife Kaja (Jaroslava Stedra) making the best of meagre resources, Bambas feels decidedly self-conscious about his provincial life and envious of Petr's freewheeling lifestyle. While Petr maintains a straight face to his friend's embarrassments, his flighty girlfriend Stepa (The Joke's Vera Kresadlová) not only embarrasses him by her spontaneous but well-intentioned reactions but also makes him nervous as he finds himself alternately dreading commitment as she makes herself home in the countryside and envying his friend's domestic life. Over a night of drinking, tongues loosen and personal resentments come out, and the two friends embark on one last ill-advised misadventure. Less a narrative than a comic study of contrasts, Intimate Lighting was the feature debut of director Ivan Passer (Haunted Summer) which could be described just as easily to depict mutual envy as it might the difficulty of maintaining idealistic façades under totalitarian rule (for which the benign-seeming film was banned by the Communist government after its release). Unable to keep his own house in order, Bambas is an authoritarian conductor even when rehearsing the orchestra to accompany a funeral. As both men boast about their musical careers, they become self-conscious – Bambas about his abilities compared to professional Petr, and Petr about Bambas' seeming lack of compromise in his adherence to the classics – and they both manage to mangle a classical piece as they both discourse emptily about technique as excuses in a scene made all the more funny by having them flank a window from which Stepa can be heard playing with the children and high enough that all that can be seen of her is her hands as she lifts up a stray kitten above her head to show it to Petr. The practicalities of the household are constantly at odds with Bambas' attempts to show off, from the pantry that is usually overflowing in the other seasons and his mother keeping chickens in the garage with the shiny car he only drives for show, to the decision between his father and Stepa to switch pieces of chicken at the dinner table because the wing is easier to split between herself and Petr – an exchange which embarrasses both Bambas and Petr – as well as the favors he must do in order to get building materials to finish the addition to the house that looks as much a skeletal frame as a war-torn ruin. However much or little sympathy one might develop or lose for these two men, their situations are at least relatable however much we might deny that we would ever think less of our loved ones when they make us seem imperfect before others and blame them for the direction of our own lives.

Video


Originally issued on DVD by Second Run, Intimate Lighting gets an HD upgrade with a 1080p24 MPEG-4 AVC 1.37:1 pillarboxed fullscreen encode of a recent 4K restoration by the Czech National Film Archive. Whereas some past Czech restorations have been imperfect due to the archiving of the materials, the damage on Intimate Lighting is not distracting, perhaps because the film was not intended to look glossy despite the presence of Miroslav Ondrícek (Amadeus) behind the camera.

Audio


The sole audio option is a Czech LPCM 2.0 mono track that is clean and effortlessly delivers the film's simplistic mix of dialogue, music, and sparse sound effects. Optional English subtitles are free of errors.

Extras


Second Run ports over the DVD's interview with director Ivan Passer (19:25) in which he describes the manner in which his directorial debut came about. Not ready to move up from screenwriting, he nevertheless agreed to direct a treatment by colleague Václav Sasek (The Firemen's Ball) who needed a paycheck to buy furniture for his expectant wife. Passer forgot about the agreement until the producers contacted him and he started developing the script. He recalls casting Blazek who actually was the music teacher at the location they found for the opening scene, and the suggestion from Milos Forman (One Flew Over the Cuckoo's Nest) that he cast his wife Kresadlová as Stepa. He recalls colleague Sasek calling the film the most boring thing he had scene, and voices his intention that the film play like a visit to family and lend itself to multiple views from which different impressions can be gleaned and reveals that he still encounters fans of the film all over the world. Added to the Blu-ray is Passer's 1964 short film A Boring Afternoon (Fádní odpoledne) (14:09). Housed in the case is a booklet featuring new writing on the film by Trevor Johnston, and an essay by critic Philp Bergson that frames the film in the context of the Communist regime, particularly the status of classical music with the Czech authorities viewing "the musical excellence of heir performers and ensembles as a valuable cultural export to show the decadent West a thing or two" (with Petr seeing musical excellence as an escape route to the West).

Overall


Less a narrative than a comic study of contrasts, Intimate Lighting could be described just as easily to depict mutual envy as it might the difficulty of maintaining idealistic façades under totalitarian rule.

---
DVD Compare is a participant in the Amazon Services LLC Associates Program and the Amazon Europe S.a.r.l. Associates Programme, an affiliate advertising program designed to provide a means for sites to earn advertising fees by advertising and linking to amazon.co.uk, amazon.com, amazon.ca, amazon.fr, amazon.de, amazon.it, amazon.es and amazon.se.