The Film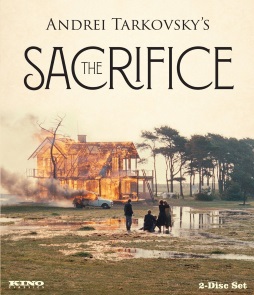 BAFTA Film Award (Best Foreign Language Film): Anna-Lena Wibom and Andrei Tarkovsky (winner) - BAFTA Awards, 1988
Best Artistic Contribution: Sven Nykvist (winner), FIPRESCI Prize: Andrei Tarkovsky (winner), Grand Prize of the Jury: Andrei Tarkovsky (winner), Prize of the Ecumenical Jury: Andrei Tarkovsky (winner), and Palme d'Or: Andrei Tarkovsky (nominee) - Cannes Film Festival, 1986

Having prepared himself for a "a higher life, so to speak," by studying philosophy, religion, and aesthetics, in addition to mounting a successful stage career, Alexander (The Passion of Anna's Erland Josephson) has grown to feel that his life is a failure, "putting myself in chains, of my own free will," with his retreat to a little house in the countryside with his wife Adelaide (The Krays' Susan Fleetwood), her daughter from a previous marriage Marta (Filippa Franzén), and their young son "Little Man" (Tommy Kjellqvist). Attempting to embrace a Zen lifestyle for himself and his young son who is recovering from a throat operation, Alexander's aesthetic view that "man has constantly violated nature" – with technological progress being the latest method – leads him on the occasion of his birthday to culture and civilization as a whole is so defective that words are useless to explain or rectify it. With party guest and longtime physical friend Victor (The 13th Warrior's Sven Wollter) abruptly announcing his intention to give up his practice for a new position in Australia as a late in life change of pace, Adelaide's sharp-tongued retort to Alexander's reasoning for retiring from his successful acting career, and part-time postal worker/collector of unexplainable incidents Otto (Fanny and Alexander's Allan Edwall) relating one such chilling anecdote before dinner, the evening seems ripe for meaning event. An earth tremor caused by low-flying jets and vague news reports of political tensions between countries before the power goes out has the guests inevitably fearing a nuclear war. In the dark and silence, it is not long before politesse is shed and simmering resentments surface among the family and guests, including Adelaide in her choice of esteemed actor Alexander over Victor, and Victor tiring of both of them; however, Alexander prays to God to return things to the way they were just a few hours ago, and offering to sacrifice all that he has. Otto advises him to go to family maid Maria (The Sea's Guðrún Gísladóttir), a witch capable of granting whatever wish is in his heart while he lies with her.

The final film of the great Andrei Tarkovsky (Solaris) who died just seven months after the film's Cannes screening of cancer at age fifty-four, The Sacrifice finds the director looking away from his own homeland – of which he planned not to return when he left Sweden – in search of the Swedish soul partially in homage to his idol Ingmar Bergman (Persona) who in turn idolized him. The setup is indeed very Bergmanesque as a chamber piece coming together of characters and a catalyst that externalizes their inner turmoil (in this case the eighties fear of nuclear annihilation as spiritual crisis). As explained in the disc commentary, the basis of the story was a scenario by Tarkovsky called "The Witch" in which a man lies with the titular female to cure his cancer only for her to reappear to demand her due. While the film adheres to part of this scenario, replacing the wish for something that seems selfless – possibly less out of concern for his family and friends than specifically for his son who he considered killing in his sleep but could not – Maria soothes him and makes no such demand of repayment when things go back to normal seemingly without supernatural intervention; thus, it seems as if Alexander's feeling that he must carry through with a sacrifice seems to stem from his heretofore-described "nonexistent" relationship with God, the emotional and psychological baggage of which seems to have ultimately not been passed onto his son (last seen watering a tree planted by father and son in the opening as the former relates a Russian Orthodox religious parable that seemingly lends itself to the pair's fanciful Zen aspirations). There is almost a parodic feel to the film's measured pacing and meditative performances as an intersection of the aesthetics of both Berman and Tarkovsky with Bergman regular Sven Nykvist (The Unbearable Lightness of Being) eschewing the former's focused compositions for the latter's choreographed lateral tracking shots and the use of Bach's St. Matthew Passion and Hotchiku flute pieces by Watazumido-Shuso as score (with the latter transitioning to diegetic and back) but the film is never less than visually, aurally, and narratively transfixing. Future director Claire Denis (BeauTravail) served as one of the casting directors.

Video


Released theatrically in the United States by Orion Classics and in the UK by Artificial Eye, The Sacrifice has had very much the same sort of convoluted home video release history as Tarkovsky's Russian works in terms of early shoddy transfers and different restorations spawning debate about the accuracy of how they replicate the director's intentions and the theatrical experience. The initial DVD releases from the Swedish Film Institute in Sweden and Kino came from came from Swedish Film Institute materials but were non-anamorphic, and the anamorphic DVD from Artificial Eye did not look significantly sharper. The high definition master for Kino's 2011 Blu-ray was rife with edge-enhancement while the 2016 Artificial Eye Blu-ray came from the Swedish Film Institute's 2K master from 2012 and improved upon the Kino with slightly higher contrast and better reproduction of grain. Kino Lorber's 1080p24 MPEG-4 AVC 1.66:1 widescreen Blu-ray boasts of being from a new 4K restoration of the original camera negatives. The first noticeable difference is the use of French credits which open with the Argos Films logo of co-producer Anatole Dauman (Last Year in Marienbad) and French-language credits which offer the title as "Le Sacrifice" rather than the more evocative "Offret" of earlier transfers with Swedish credits. The framing is similar to the earlier HD masters and well-detailed but the color timing retains a greenish tinge that makes the day exteriors look sickly and is evident in interiors in the whites of clothing, set decoration, and props while the early morning sequences of the third act look a bit bluer than before. The film is no less compelling in this form, but less pleasing regardless of whether this look may or may not be considered more accurate. The film also runs just over two minutes shorter than the earlier transfers, but the differences are hard to pinpoint even in a film consisting of several long takes. If the original camera negative is indeed French in origin, it is possible that there was always a difference in the duration between the OCN and the Swedish Film Institute's materials that went unnoticed.

Audio


The sole audio option is a DTS-HD Master Audio 2.0 Swedish mono track that fares better in terms of its lossless digital rendering than the video, with clear dialogue, virtually noisless silences, effective loud effects from the passing jets, shattered glass, and the climacic inferno, and the source music mixed at varying volume depending on its use as score or diegetic music. The optional English subtitle translation appears to be identical to the Artificial Eye Blu-ray and earier Kino edition, dating back to the Swedish Film Institute release.

Extras


Extras start off with an audio commentary by Layla Alexander-Garrett, Andrei Tarkovksy's translator on the set that previously appeared on the Artificial Eye edition in which she discusses the original concept "The Witch", Tarkovksy's search for the "Swedish soul", and attending the screening of a documentary about Bergman's Fanny and Alexander where he hoped to be introduced to idol Bergman (which did not happen because Bergman explained to her years later that he did not want to his own idols, among them Tarkovsky whose filmmaking he felt was more "true to dreams" than he had achieved). She also discusses the structure of the film, some interpretations of the story, and reveals that Tarkovsky had early on wanted to cast Anatoliy Solonitsyn (Andrei Rublev) in the lead here and in the role of Domenico in Nostalghia before death, a role which would eventually be essayed like Alexander by Josephson, and that he saw Helen Mirren (The Comfort of Strangers) for the role of Adelaide but considered her too young at the time.

Exclusive to this set is a new interview with editor Michał Leszczyłowski (32:17) who recalls pursuing the opportunity to edit the film and having the advantage of taking conversational Russian courses. He recalls some of the shoot, including the need to rebuild the house frame to shoot the fire a second time because the extreme heat melted the camera cables, and that the second take was shot with two cameras and the shot used was not from Nykvist's camera. He recalls with some emotion Tarkovsky asking him to take him to the airport on Christmas Eve where he announced that he was leaving and not returning to Russia, and that he was leaving it to Michał to finish the editing of the film; whereupon, he and the producer learned that Tarkovksy had been given three months to live. He also recalls balking when French producer Dauman asked him to cut the film down to 128 minutes, the difficulty of cutting a film that found its rhythm in the shooting and was composed in long takes for time, and convincing him to retain the final cut's length (cut down to two-and-a-half hours from a three hour rough cut). He also recalls that the Swedish Film Institute had a documentary crew covering the entire shoot and had created a half-hour making-of featurette that was not well-received before giving him the opportunity to do his own documentary from the sixty-odd hours of footage. Although ailing Tarkovsky felt there was nothing worthy in that footage, Leszczyłowski was able to convince him to work with him after he did a rough cut as part of Tarkovsky's change of heart to try to fight his illness rather than refusing treatment. The resulting documentary "Directed By Andrei Tarkovsky" (101:28) has usually been featured as an extra on releases of the film, and is included here in standard definition on a bonus DVD along with the film's theatrical trailer (1:53) and a trailer for Nostalghia (3:02), both of which are also included on the Blu-ray. Housed with the disc is a a booklet with excerpts from Andrei Tarkovsky's diaries and an essay by film scholar Robert Bird, the excerpts of which relate Tarkovksy's reactions to his cancer diagnosis and his eagerness to finish the film and start a project on the Flying Dutchman, while the Bird essay at first seems to disparage the film's plot before describing it as being "less concerned with the rationale for sacrifice than with its irrationality" and "less a redemption story than an investigation into the tensions of a life that can never be redeemed."

Overall


Kino Lorber's touted 4K restoration of Tarkovksy's swan song is imperfect but the film loses none of its power.