The Film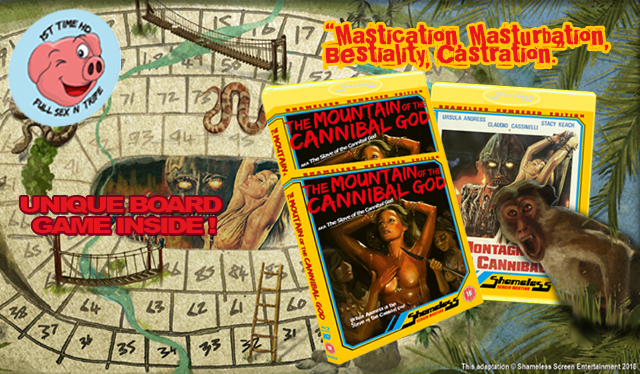 Sergio Martino (director of All The Colours Of The Dark, The Strange Vice of Mrs Wardh, Torso) invites you on the trip of a lifetime - to THE MOUNTAIN OF THE CANNIBAL GOD for sun, wildlife and... flesh munching natives! You might just never come home...

Ursula Andress (Bond Dr No, 10th Victim, The Nurse) travels to the New Guinea jungle in search of her scientist husband who s vanished in the untamed Green Inferno. Soon, giant spiders, killer crocs and deadly snakes bare their teeth as her expedition, lead by cult-fave Stacey Keach, journeys towards the sacred mountain of the Cannibal God! There a flesh-eating demon will enslave her in an eruption of frenzied orgiastic climax... and full porky bestiality!

Banned as a video nasty , Shameless now reinstates the original dramatic gore and the complete extended explicitness to serve up the world s first 2K-sharp restoration of this ferocious unflinching exploitation treat, to be devoured in all its blood-soaked glory!

Video


One of a clutch of notorious cannibal films that got cut and / or banned in the around the world in the 1980s and remain cut til this day in the UK as they contain real life animal slaughter which is largely illegal here under BBFC (British Board of Film Certification) via The Cinematograph Films (Animals) Act of 1937.

This new Shameless Numbered Edition has had 2:01 of cuts to these scenes but alas, some still remain. Apparently, if an animal is killed quickly and cleanly without any suffering involved then it is permissible. In this new version of Sergio Martinoís film we still have the graphic sacrifice of a lizard, the death of a tarantula, the cooking of a live, wiggling crab and the killing of several snakes mostly at the hands of Sri Lankan or Malaysian extras in the final crazy act.

This is a shame, because although I donít agree with censorship and banning of films and TV shows, I have one exception and that is Iíd prefer to see scenes of this nature removed from fictional, non-documentary films. It was done as a shock tactic; a hold-over from the days of mondo shockumentaries and here blurs the line between faked and real violence.

This does give these films a transgressive charge that is shocking and potent, but I firmly believe it is a reprehensible practice as no living thing should be killed for an entertainment. Which is precisely what this energetic and otherwise very enjoyable jungle adventure is. Director Martino does a good job in the service of a thin, uneven screenplay and the cast act their socks off in what were apparently very arduous circumstances. The real locations add a huge amount of production value and this is deservedly a cult classic, in its day a financially successful, widely seen exploitation B-film. Itís fairly conventional in narrative and incident until the last twenty minutes when it goes batshit crazy. Needless to say, not for the faint-hearted or the squeamish.

A shame that Shameless Entertainment didnít go the whole hog and remove every last frame of animal violence from this a la the alternate version of Cannibal Holocaust (1979) on the US Grindhouse Blu-ray release. Whatís left only totals approximately twenty seconds, so it beggars belief why it wasnít removed as the narrative wouldnít be harmed as all of the animal atrocities are surplus inserts to the narrative.

Before I discuss the image quality of this disc I need to mention the widescreen filming process called Techniscope. This was a cheaper alternative to genuine anamorphic Scope formats like Panavision. It was created by Technicolor Italia in the early 1960s to aid low budget productions.

Normal 35mm filming (both flat and widescreen anamorphic processes) used a frame of film that had 4 perforations (or sprocket holes) to the left and right of each single film frame. The anamorphic lens attached to the camera during filming would open up the image and squeeze a wider 2.35:1 image aspect ratio onto the frame (the normal dimensions of which would be 1.37:1 = Academy ratio or 4:3). During projection in cinemas a lens would be attached to the projector which would unsqueeze the image, giving the viewer the 2.35:1 widescreen experience on the big screen. Due to the special lens this was obviously a more expensive filming process but due to using the full frame of film (with 4 perforations), it offered a high quality image.

Techniscope was the cheaper alternative and cut each frame in half so only 2 perforations (=2perf) were used and the native image in the frame would be 2.35:1 without any specialised lens needed. This meant you got a clean, undistorted 2.35:1 image (4perf anamorphic lens curved the image on the extreme left and right of the frame). The downside is that the inherent definition of each frame was halved and thus looked grainer and rougher and softer especially when the frame was blown up for 35mm anamorphic projection in cinemas. Luckily when these films are prepared for home video formats they go back to the raw 2perf negatives.

And, this is where we come to The Mountain of the Cannibal God; being shot in this budget format. Incidentally, the process was used in the US on the likes of George Lucasí American Graffiti (1973).

In short, the restoration seen here of Martinoís film is pleasing with a nice clean 2.35:1 image; I noticed the odd speckle but that was it for print damage. Itís not up to the standard of more higher profile (and higher funded) restorations of Techniscope films like The Good, the Bad and the Ugly (1966) or The Beyond (1981) but fans ought to be very pleased with this disc provided of course theyíre like minded regarding the cutting of the animal violence. In any case, an uncut version is coming soon from Code Red in the USA which most likely will use the same master for those who are made of sterner stuff than I.

Colours are rich and vibrant emphasising greens and browns due to the overwhelming jungle locations; I recalled seeing this on the old Anchor Bay USA DVD from 2002 and feeling that it looked muted and slightly faded. Not so here; there's an obvious green bias which may have been intended and doesn't look out of place. The film is generally well shot and lit but there are some scenes which come over as low contrast and dull due to the way theyíre shot.

Black levels are very pleasing with occasional crush in lowlight conditions but nothing that should worry the punters. Once again, this is most likely down to the cash strapped nature of the production, short and fast shooting schedule and the incredibly unpleasant conditions this was shot under (see the documentary) below.

Contrast is mostly very good with no blown out highlights in whites and allowing detail to come through. Detail is at itís most pleasing in closeups but the image can be very soft due to the 2perf process and thus donít expect crystal images and fine detail. Grain is ever present, sometimes course sometimes fine; some DNR may have been applied but it didnít strike me as egregious or overzealous.

Encoding is adequate without being amazing but I didnít notice any major issues like clumping or holes in the grain.

In short, if you donít mind the censorship this is classy image well worth getting.

1080/24p / MPEG-4 AVC / 2.35:1 / 100:29

Audio


English LPCM
Subtitles: None

Sound is uncompressed mono and generally excellent for a film of this ilk. Like most Italian productions of the era (including arthouse works like those of Federico Fellini) this was shot silent with only a crude guide track being recorded on set and the soundtrack completely created in post production. Consequently itís all dubbed and has that slight disconnect that some hate. Nonetheless, this was shot in English and the leads did their own dubbing which makes the track much more successful than most and the syncing is generally very good.

There were no sibilance issues or major distortions beyond what youíd expect for a low budget film of the period and origins.

No subtitles have been provided for the main feature which is very disappointing; deaf and hard of hearing fans do exist for this material.

Extras


Introduction with Sergio Martino (plays before the film starts) (:35)

(Full running time of the film is 101:26 and includes 0:35 of the introduction and 0:22 of notes on the presentation)

A short, sharp and sweet intro from old boy whoís looking good for 79-80 and seems in good humour.

"Cannibal Nightmare: Return to the Mountain of the Cannibal God" documentary (46:12)

(Italian LPCM 2.0 Mono with optional English subtitles / 1.78:1)

This is a vintage 2005 documentary that first appeared on the No Shame Italian DVD release from the same year. Plenty of interest here with Martino and other crew members sharing anecdotes from the extremely arduous shoot. Lots of tales about how Ursula Andress was easy to work with, a real trooper who mucked in with the best of them and was pretty fearless doing some of her own stunts. She had a close encounter with a nasty snake and was aided by a quick thinking Claudio Cassinelli. The crew here didnít have any diva stories about the cast and they all seem to have gotten in very well. Stacey Keach and Cassinelli also seem to have been popular and easy to get along with.

The quality of this doc is a little ragged being shot on the cheap over a decade ago and the clips from the film have been stretched vertically from 2.35:1 to the docs ratio of 1.78:1. If Iíd been producer of this disc Iíd have upscaled the doc and dropped in the clips from the HD feature in the unmolested 2.35:1 ratio.

On the whole this is a excellent little retrospective and very valuable due to the fact that those involved arenít getting any younger. A shame that neither Andress nor Keach couldíve been included, but hey ho.

ďDirector Sergio Martino on on the Controversial Scenes He Shot ... and on the Scenes That He Maybe Didnít Shoot at All!Ē featurette (2:39)

(in Italian, optional English subtitles)

A short, new piece in which Martino essentially repeats his comments on the animal violence in the uncut print of the film. He says it was a commercial imposition demanded by the studio and distributors.

Theatrical Trailer (SD) (3:45)

Cheezy trailer heavy on the nasty highlights and and the excellent score by Guido and Maurizio de Angelis (AKA collectively as Oliver Onions).

Italian Credits (3:42)

What it says in the tin; the feature itself uses the English-language opening and closing credits. This is the original Italian versions.

Start-up Trailers:
- Play All (2:09)
- Cannibal Holocaust (1:04)
- Cannibal Ferox (1:05)

Short, new trailers promoting the existing (Holocaust) and forthcoming (Ferox) Shameless releases.

Exclusive, Limited Edition Serial-Numbered O card
Cannibal Paradise, a snakes and ladders inspired board game (on a card folded inside the case
Collectorís reversible inlay sleeve with original poster artwork

These werenít provided for review but sound fun, particularly the game although images are available online.

Packaging


Standard yellow BD slimline keepcase favoured by Shameless.

Overall


Shameless have done a good job presenting this cult favourite in very pleasing edition provided youíre not bothered about losing the reprehensible animal atrocities. Picture and sound are both solid and the extras are all splendid and very choice.

Personally, I wish every last frame of animal nastiness had been removed but this is a reasonably priced edition well worth getting.
| | | | | |
| --- | --- | --- | --- | --- |
| The Film: C+ | Video: B+ | Audio: A | Extras: A | Overall: B+ |