The Film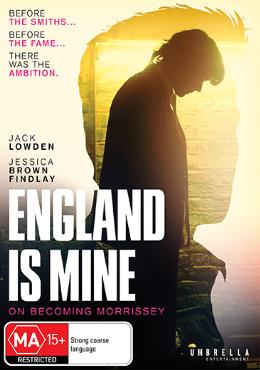 "England Is Mine" (2017)

Taking place in Manchester in 1976, Steven (played by Jack Lowden) is an introvert young man who's life is not particularly going anywhere. He likes to write about the negativity of his surroundings, likes music, and hopes someday that his life would move into a creative direction. But he doesn't have the drive, doesn't have the connections, and doesn't have the courage to push himself forward, and instead looks to a dead-end job, an nonsupporting family, and a city not thriving to his tastes. He meets Linder (played by Jessica Brown Findlay), a young artist who sees potential in Steven and tries to expose him to become more openminded, more outgoing, and more outspoken little by little. Will Steven break from the norm of society to become his own man or with society eat him up and make him conform to the masses?

Marketed as the story of singer Morrissey before he formed The Smiths and took the alternative music world by storm, "England Is Mine" very rarely plays itself out as a biopic and more of a awkward teen angst film - an existential drama with slight comedy and uncomfortable situations. The film uses the real names, with Morrissey going by his full name Steven Patrick Morrissey, Linder is artist Linder Sterling, and acclaimed guitarists Billy Duffy (played by Adam Lawrence) and Johnny Marr (played by Laurie Kynaston) also appear as supporting characters. The actors do a fair job in their performances and while Jack Lowden does a fine job as the emotionally awkward Steven, he never truly feels like a younger Morrissey. Apparently he didn't know much about The Smiths or Morrissey before production and the director Mark Gill didn't want Lowden to research much because he wanted Lowden to play it as an inverted young man rather than the slightly flamboyant and open man he would later become in the music world. The stronger performances come from the female cast who circle around young Steven in the story.

Jessica Brown Findlay and Linder brings out a rebellious yet open minded character that shapes Steven throughout and in real life, Linder was and still is a close friend to Morrissey. Jodie Comer as Christine is a fairly normal character next to everyone else, who sees something in Steven and tries to open his heart even though he decides not to take her advances. With the girl who could probably get any man she wants, Steven is the one that she can't and that fascinates her. In addition to that his family also brings a strong sense of female frustration and angst that have shaped Steven throughout his life. Unusually the film does not explore Morrissey's sexuality, his views on veganism, or his views on religion, and opts more for his inner workings.

With the film being a lead up to Morrissey forming The Smiths, fans should not expect any hit songs being played or jam sessions throughout. The first performance of Morrissey on stage comes more than halfway into the film and it's almost a tease as to what is coming. As a result, "England Is Mine" never feels truly finished with an emotional climax or a sense of direction. British youth films like "Submarine" (2010), "Cemetery Junction" (2010), and "Northern Soul" (2014) took things to much greater heights and music biopics such as "Control" (2007) and "Backbeat" (1994) did things on a much better scale with an equal emphasis on the music and the characters. Overall "England Is Mine" comes off disappointing. Something that could have been greater if the music stood out higher and if the story delved into the initial success of The Smiths rather than the pre-years.

The film was first screened at the Edinburgh International Film Festival on July 2nd 2017 followed by a UK theatrical release from August 4th 2017. The film received a mix of positive and negative reviews dividing audiences and critics. While the film received a few nominations at various festivals it won none and did not make an impact with audiences. While the performances were good and there were some interesting moments, it just couldn't sustain itself to become bigger and better with a bigger impact musically or emotionally. Maybe that was reserved for 1977 when The Smiths were formed and after the events of the film.

Note this is a region 0 NTSC DVD which can be played back on any DVD or Blu-ray player worldwide.

Video


Umbrella Entertainment presents the film in the 2.35:1 aspect ratio with anamorphic enhancement in the NTSC format. The video transfer is fairly positive with a mostly dark tone with scenes taking place at night and with the use of shadows to obscure objects and figures. Skin tones look fair and when bright colors are used they can look good as well. As a standard definition transfer it does lack depth and detail that would've benefit from an HD version, but overall the job gets done.

The film's runtime is 94:30.


Audio


English Dolby Digital 5.1
The 5.1 audio seems to have been mixed incorrectly. The dialogue and music have been spread to all speakers creating a burst of unnecessary surround activity, with voices coming from all directions simultaneously. The rear surrounds also get a lower kick of the voices and sounds and it all sounds unnatural. On the positive side dialogue is fairly easy to understand and there are no errors in synchronization. When music is blasted at the club scenes it sounds loud and wide, though it probably would sound better in a corrected mix.

There are no subtitles offered for the feature.

Extras


Unfortunately there are no extras provided. The film has been released on Blu-ray in the United States by Cleopatra/MVD which included featurettes and a commentary but none of that is ported to the Umbrella DVD. The trailer is presented below, courtesy of Umbrella Entertainment:



Packaging


The packaging states this is a region 4 only disc, but it is in fact region 0.

Overall


"England Is Mine" can be entertaining at times with its awkwardness, dark humor, and period setting, but as a Morrissey biopic, it is a bit on the lacking side musically and thematically. Umbrella Entertainment's DVD has issues with its 5.1 track and having no supplements makes this a difficult one to recommend, even for Morrissey fans.
| | | | | |
| --- | --- | --- | --- | --- |
| The Film: C | Video: B | Audio: D | Extras: F- | Overall: D |