The Film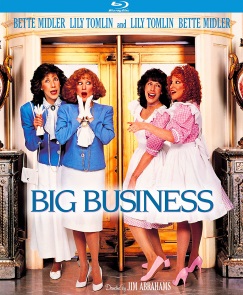 Lost in the wilds of West Virginia in search of a friend's country getaway, wealthy Hunt Shelton (All the President's Men's Nicolas Coster) and his pampered expectant wife Binky (The Purple Rose of Cairo's Deborah Rush) must make a detour into Jupiter Hollow when her water breaks. When the doctor (War of the Roses' Roy Brocksmith) tells them that the town's hospital is reserved solely for the workers and family of the Hollowmade Furniture Company, Hunt secures his wife care by marching across the street to the company and buying it. Binky is not the only mother-to-be that day when Garth Ratliff (Maximum Overdrive's J.C. Quinn) brings in wife Iona (The Big Chill's Patricia Gaul) on the back of a pickup truck like a farm animal. Both mothers give birth to twins, and dotty Nanny Lewis (Love at Stake's Norma MacMillan) gets confused during the deliveries and the couples depart each with a set of non-identical twin siblings. Forty-years later, Sadie Shelton (Beaches' Bette Midler) is the imperious, cut-throat CEO of her father's corporate conglomerate while her sister Rose (Nashville's Lily Tomlin) continues to disappoint her with her attacks of domesticity getting in the way of business, although she really has little room to judge since her relationship with her ex-husband Michael (Cannibal Women In The Avocado Jungle Of Death's Barry Primus) and thoroughly-spoiled son Jason (Austin Powers in Goldmember's Seth Green) is one of the reasons Rose's boyfriend Dr. Jay (Family Ties' Michael Gross) is having second thoughts about proposing to her. Sadie's latest scheme to raise profits for the company is to sell off the Hollowmade Furniture Company, which has been on the books for years largely unnoticed, to Italian businessman Fabio Alberici (Plot of Fear's Michele Placido). Back in Jupiter Hollow, fiery shop forewoman Rose Ratliff (Tomlin) is raising funds to go up to New York and raise hell with the board, while her star-struck, Joan Collins-loving sister Sadie (Midler) is accompanying her and may be planning to stay for good. When vice president Graham Sherbourne (The Lost Boys' Edward Herrmann) lets slip that he has been corresponding with one R. Ratliff who has objected to the sale of the company and plans to address the board, negative publicity-minded Sadie tasks him and his associate (and lover) Chuck (Chariots of Fire's Daniel Gerroll) with intercepting Ratliff before "he" can reach the board, and they are only too happy to share a room with Rose Ratliff's Putt Putt Golf pro boyfriend Roone (Henry and June's Fred Ward) who they mistake to be "R. Ratliff". A mix-up at the airport has Fabio departing with freshly-arrived Rose and Sadie Ratliff – who are under the misapprehension that Fabio has been sent by Sherbourne to wine and dine them as a distraction – in the Shelton limousine while Sadie and Rose Shelton must endure public transportation to get to the Plaza Hotel where they discover the suite they have book has been taken by someone else. As the twins run around the hotel confusing the staff, their loved ones – including Michael who is surprised by Sadie Ratliff's disciplining of "their" son, and Roone who finds Rose Shelton more susceptible to his charms – Sadie Shelton falls for Fabio and must conceal from her kind-hearted sister that he plans to strip mine Jupiter Hollow while Rose Ratliff targets the company shareholders staying at the Plaza for the upcoming meeting with a campaign to undermine the board.

The first solo directorial effort of Jim Abrahams (Hot Shots!), formerly of Zucker, Abrahams and Zucker (Airplane!), Big Business is a mishmash of overfamiliar comedy clichés starting with an unacknowledged swipe from Start the Revolution Without Me (a period comedy in which twins played by Gene Wilder and Donald Sutherland find themselves on opposing sides of the French Revolution), the Marx Brothers mirror gag from Duck Soup, and countless other comedies in which characters round corners or step out of frame just as their doubles enter the frame in various permutations. More incident then plot is crammed into ninety minutes, but the main and supporting casts are engaging enough that even the sticklers in the audience can shrug at the convenient pairing offs of the couples at the end in a manner that suggests the interchangeability of these characters the film has spent so much time distinguishing as individuals beneath the skin. This is also one of those late eighties films that revel in conveying the grandeur of New York, from the Plaza Hotel to Saks Fifth Avenue and FAO Schwartz, capping off the experience with one of those end title montages of characters pulling faces in reaction to offscreen sights to Steve Winwood's "Higher Love" played in its entirety. Middler and Tomlin throw themselves into their roles a physicality that gives the film its momentum, while cinematographer Dean Cundey (Halloween) and his regular camera operator Raymond Stella (They Live) lend the film a slick yet undistinguished veneer that functions to better disguise the few instances of split-screen farmed out to Dream Quest Images. While not as raucously hilarious as what one expects from Tomlin and Midler comic ventures, Big Business is a fun enough time capsule of eighties comedy.

Video


Released theatrically and on VHS by Touchstone, Big Business received an anamorphic transfer for Buena Vista's 2002 DVD release with a Dolby Digital 2.0 stereo surround track while Touchstone's European and Australian editions had 5.1 remixes. The film was first released to Blu-ray in a barebones edition with 2.0 audio through Mill Creek. Before this current edition, the film had already been released by Kino Lorber in a double feature with Scenes from a Mall, also with 2.0 tracks and trailers as the only extras. Kino's solo edition sports a 1080p24 MPEG-4 AVC 1.85:1 widescreen encode from the same master, which is a serviceable transfer presumably repurposed even before its Mill Creek incarnation, clean and crisp without any glaring issues with some colors and textures that occasionally pop amidst contrasting warm country scenes and more neutral to cool city sequences.

Audio


Whereas the previous domestic DVD and Blu-ray releases featured 2.0 tracks, Kino's solo edition features both the 2.0 track and a 5.1 mix in DTS-HD Master Audio. The discrete surround track spreads the original score and some of the more contemporary songs along with city sounds to the rears while Benny Goodman's take on "Sing Sing Sing" over the opening titles seems more front-oriented along with some occasionally prominent directional effects. Optional English SDH subtitles are included.

Extras


The sole new extra is an audio commentary by director Jim Abrahams, moderated by Elijah Drenner in which Abrahams discusses his decision to break from his partners after the work-for-hire Ruthless People for Big Business producer Michael Peyser (Desperately Seeking Susan), an experience in which he and his partners felt they were rarely on the same page compared to the likes of Top Secret!. He also describes how he felt the original script was underwhelming until it was subjected to some rewrites by uncredited Leslie Dixon who had previously penned the screenplay to Midler's Outrageous Fortune. Moderator Drenner gets some additional information and suppositions out of him like Midler not having input into the script but responsible for the casting of Primus who had served as second unit director on The Rose, as well as his feelings that the film is now "locked in time" with its female characters' search for identity linked to the men in their lives. The disc also includes the film's theatrical trailer (2:11) and trailers for three other comedies.

Overall


While not as raucously hilarious as what one expects from Tomlin and Midler comic ventures, Big Business is a fun enough time capsule of eighties comedy.