Breakheart Pass [Blu-ray]
Blu-ray B - United Kingdom - Eureka
Review written by and copyright: Eric Cotenas (6th June 2018).
The Film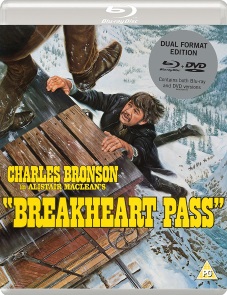 A military transport train en route to Fort Humboldt makes a provisions stop at the small settlement of Myrtle populated mainly by army personnel and prostitutes at the order of Major Claremont (Raw Deal's Ed Lauter) for the daily communication with the fort. Although Claremont tells US Marshall Pearce (Terror Train's Ben Johnson) that the train is only carrying soldiers and refuses take him along to Fort Humboldt where he wants to take custody of outlaw Levi Calhoun (The Cannonball Run's Robert Tessier), Pearce's arrest of John Deakin (Death Wish's Charles Bronson) – a medical professor accused of embezzlement and who made his escape through an arson that killed seven people and destroyed a cache of military weapons (which makes it a federal crime) – who has drawn attention to himself trying to cheat at cards, is Pearce's own ticket onto the train which is also carrying Governor Richard Fairchild (First Blood: Rambo's Richard Crenna), Marica Scoville (The Mechanic's Jill Ireland) – daughter of Fort Humboldt's commander (Irv Faling) – aide O'Brien (Dog Day Afternoon's Charles Durning), the Reverend Peabody (Deliverance's Bill McKinney), and Dr. Molyneux (Blazing Saddles' David Huddleston). When Captain Oakland (Fatal Beauty's Read Morgan) and Lieutenant Newell (El Dorado's Robert Rothwell) go missing after intercepting a communique in cipher meant for the governor, they are suspected of deserting, and Fairchild reveals that there is a diphtheria epidemic at Fort Humboldt and they are transporting soldiers for relief, urgently-needed medical supplies, and coffins for the dead. Although Deakin is initially bound by the hands and feet, he is freed once the train moves into snow country where there is no means of escape. When Dr. Molyneux is found dead in his cabin, it is Deakin who rules that the man was murdered, along with the engine's fireman who takes a fatal fall off the train above an overpass, and subsequently surmises that unnatural causes when the reverend vanishes. Pearce gives little credence to Deakin but humors the Governor while Claremont is suspicious of the casualness to which all three men react to the reality that there is a killer on the train who wants to prevent them from reaching Fort Humboldt even though Calhoun has wrested control of the fort with the help of Paiute White Hand (A Man Called Horse's Eddie Little Sky) and they are lying in wait to ambush the train which Deakin has secretly discovered is carrying more than medical supplies.

Scripted from his own novel by Alistair MacLean, Breakheart Pass is a departure from the author's other more straightforward Boy's Own war and spy thrillers in favor of an oddball hybrid of the American western and a murder mystery possibly motivated by the success of the all-star Murder on the Orient Express the previous year (while also trying to cash in on the seventies resurgence of American westerns as Clint Eastwood vehicles). The plotting is lean and mean with the seemingly shoehorned-in murder mystery aboard the train marking time on the way to the fort but actually managing to justify its choices of victims in a subplot that seems to run at cross purposes with the ambush at the end of the line. While few of the characters are really who they say they are – with the exception of Bronson's wife who is very much the damsel in distress as introduced – but the characterization is spare and none of the revelations are that much of a surprise (least of all that of Bronson's hero). The whole thing is wrapped up neatly when the cavalry literally rides in, but Breakheart Pass is efficient action entertainment with some attractive cinematography by (The Wild Bunch) of the snowbound setting rarely used in the western genre and Jerry Goldsmith (The Omen) accompanying the action with a rollicking theme more akin to the spaghetti westerns than those of Lalo Schifrin for Eastwood.

Video


Released theatrically in the US and UK by United Artists - the latter with a few seconds of gore removed that has since been restored to home video versions - and on DVD on both sides of pond by MGM, Eureka's 1080p24 MPEG-4 AVC 1.85:1 widescreen Blu-ray of Breakheart Pass was beaten to the format by Kino Lorber in the US, and the UK edition affords only a slightly higher bitrate suggesting the possibility that neither company thought a maxed-out bitrate could result in a substantially better-looking encode of this older HD master which is free of any distracting filtering but looks not so much flat as recessed in long shots while exhibiting some enticing depth in close-ups.

Audio


The sole audio track is an LPCM 2.0 mono that delivers dialogue, engine sounds, the screeching of train breaks, explosions, gunfire, and the more lively passages of Goldsmith's score without distortion. Optional English HoH subtitles are provided.

Extras


Extras include the film's theatrical trailer (3:06) along with an interview with critic Kim Newman (25:17) who provides the viewer with some context to the career of writer MacLean and the film adaptations - which petered out in the eighties with Cannon's Michael Dudikoff vehicle River of Death - the career trajectory of Bronson from supporting villain in the fifties to grizzled lead in the sixties and seventies as well as the decline of this certain type of action cinema in light of the late seventies trend of blockbusters and contrasts it with eighties action cinema and its brand of lead actors.

Overall

---
DVD Compare is a participant in the Amazon Services LLC Associates Program and the Amazon Europe S.a.r.l. Associates Programme, an affiliate advertising program designed to provide a means for sites to earn advertising fees by advertising and linking to amazon.co.uk, amazon.com, amazon.ca, amazon.fr, amazon.de, amazon.it, amazon.es and amazon.se.