The Film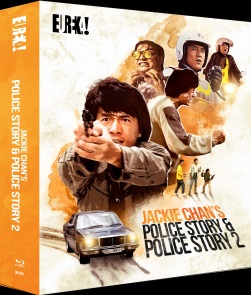 Police Story: When a sting operation to catch corrupt businessman Chu Tao (Intimate Confessions of a Chinese Courtesan's Yuen Chor) and his associates – nephew Danny Koo (Ip Man 2's Hark-On Fung), brains John Ko (High Risk's Charlie Cho), and secretary/mistress Salina (Peking Opera Blues' Brigitte Lin) – in a drug deal goes awry, resulting in the leveling of an entire squatters' village, green officer Ka Kui Chan (Crime Story's Jackie Chan) become a hero overnight by apprehending Chu and the money he tries to bribe him with. Without any concrete evidence, his supervisors Superintendent Raymond Li (Project A: Part 2's Kwok-Hung Lam) and Inspector Bill Wong (The Legend of Drunken Master's Bill Tung) decide Chu into action by releasing Salina and subpoenaing her to testify against him. They appoint "super cop" Ka Kui to guard Salina but she proves uncooperative until he frightens her into compliance with the help of hapless colleague Kim (Project A's Mars); however, it soon becomes apparent that Chu has indeed sent hitmen to kill both of them. After Salina causes tension between Ka Kui and his long-suffering fiancιe May (The Heroic Trio's Maggie Cheung), she slips away before she is due to appear in court. Chu's lawyer (Chi-Wing Lau) is able to poke holes in the police's circumstantial case, and Ka Kui ends up humiliating himself further on the stand when the tape recording he made of Salina's statement proves to be anything but. Chu is released on bail but his assets are frozen, his passport confiscated, and his rival has moved in on his suppliers, so Chu plans to rid himself of Salina who is in hiding at his country villa and also use frame Ka Kui in order to cut ties with a treacherous police officer who has helped him stay one step ahead of the investigation.

Chan's fifth film as a director – coming on the heels of his well-regarded comic action period piece Project A, Police Story was also a hit domestically, spinning off a series of four films as well as the two reboots (2004's New Police Story and 2013's Police Story: Lockdown). The film's major setpieces – a squatter's village leveled by a car chase down a hillside, a double decker bus chase, and the breathless shopping mall climax – are balanced with slapstick sequences and a few smaller-scale but equally energetic fight scenes. Although Chan has screen charisma, he and his collaborators seem to understand that the exposition and characterization are the film's weak points – so much so that the Hong Kong cut and the English export versions lop off introductory scenes that establish that Ka Kui has just arrived at the Hong Kong branch of the force, his previous association with Wong (hence the honorific "Uncle Bill") and scenes establishing the characters of Kim and Francis, the practical joker who freaks out during the opening shootout – and rushing through the pretense of dialogue exchanges as mere setup of the next action set-piece. Not so much a side effect of the rudimentary characterization is the rather thankless role as love interest for future prestige actress Cheung who plays prissy, throws fits, and gets roughed up by the villains up through the film's third entry Supercop, while Lin fares better in the fight scenes; but the violence directed against the two female characters serves to make Chan's beat down on the perpetrators more viscerally satisfying (and it certainly does). The well-documented multiple injuries suffered by Chan per film has one wondering just how well the co-stars who are not part of his stunt team make out. Coverage of the fight scenes is zippy and exhilarating while the rest of the film is rather workmanlike stylistically, although this stripped-down approach works for Chan's purposes. Thematically, Chan's depiction of the police eschews the idea of widespread corruption – accusations of police harassment and brutality are used as weapons by the criminals in the series – and instead has the pursuit of justice hampered by legal loopholes and spineless (if ultimately noble) bureaucrats who are conscious of media scrutiny. Also lopped off from the Hong Kong domestic and English export versions is the "moral" finale in favor of a cry of fury freeze frame after some crowd-pleasing law-breaking (fortunately, either ending can dovetail into the sequel).

Police Story 2: In the aftermath of the successful prosecution of Chu Tao (Intimate Confessions of a Chinese Courtesan's Yuen Chor), Ka Kui Chan (Crime Story's Jackie Chan) has been demoted to traffic cop in the provinces only to discover that Chu Tao (Intimate Confessions of a Chinese Courtesan's Yuen Chor) has scored a compassionate release on the grounds of frail health, and his lawyer John Ko (High Risk's Charlie Cho) is spearheading a campaign of harassment against Ka Kui and May. When Ka Kui gets into a brawl with Ko's henchmen that results in the demolition of a restaurant and Ko plays the victim, Ka Kui hands in his badge and arranges an extended vacation to Bali with May. As soon as they board the plane, Ka Kui is shanghaied by Superintendent Raymond Li (Project A: Part 2's Kwok-Hung Lam) and Inspector Bill Wong (The Legend of Drunken Master's Bill Tung) to head the investigation of terrorists trying to extort millions of dollars from the Zihye Group, blowing up one of their shopping malls and threatening further action. Splitting the investigation between bugging corporate headquarters in search of inside betrayal or an insurance scam and trying to trace the bombers through the dynamite dealers, Ka Kui has more on his plate when an angry May gets deported back from Bali (Ka Kui having had her passport on his person when he was pulled off the plane) just in time to get abducted by someone who wants his cooperation in illegal doings; but is it Chu or the bombers?

A combination of grander scope and the same rough and ready filmic style and choreography, Police Story 2 entertains and thrills in its big sequences – although a montage of highlights from the first film does not make up for the lack of a Police Story-esque opening action set-piece in favor of a low key introduction that finds Chan's protagonist punished on principle for breaking the law while ultimately succeeding in capturing Chu at the end of the first film. Many of the first film's characters are back, although some inconsistencies arise, such as changing Cho's character from the brains behind Chu's operations to his spineless lawyer in order to take advantage of the actor's comic abilities while other recurring performers like Mars (Project A) have to be more or less recollected from their already scaled down characterizations in the first film (Mars' Kim among a handful of characters who lost an introductory scene in the HK edit of the first film) despite a two-hour running time in the extended cut under review. The fight scenes are just as exhilarating as ever – the outtakes show a number of real on set injuries, including poor Ms. Cheung with a skull laceration (and Chan with a couple) – but this one has a case of "too much of a good thing" with the warehouse climax going on way too long with too many slow-motion inserts when Chan takes a kick or punch to the face before the grand scale explosion. While it is ultimately not as good as the first film, Police Story 2 is Chan at the peak of his pre-Hollywood career, with his then highest grosser Armour of God just up ahead.

Video


Police Story: Released stateside by Cinema Group as Jackie Chan's Police Force in a version running roughly twelve minutes shorter than the Hong Kong version and featuring alternate dubbing and a synthesizer score by Kevin Bassinson (Cyborg), and uncut in the UK by Palace Pictures, Police Story was one of the many recipients of a New Line Cinema recut in the nineties running roughly ninety-two minutes which made it to VHS and laserdisc with a new score by J. Peter Robinson who had also rescored New Line's recuts of Chan's Rumble in the Bronx and First Strike. Fortunately, by the time DVD came around, the Hong Kong cut was the version of choice for Dragon Dynasty's DVD and the Hong Kong Legends' UK DVD and Hong Kong Legends. Shout! Factory's Blu-ray double feature with Police Story 2 arrived in 2013, but the Fortune Star masters drew criticism as likely being upscales of poor quality. Eureka's 1080p24 MPEG-4 AVC 2.35:1 widescreen Blu-ray is derived from a new 4K restoration of the original Hong Kong cut (100:31) that looks more vibrant than the DVD transfer (or either of the other versions on this disc) with

Police Story 2: Not as successful as the first film, Police Story 2 went direct to VHS in the UK from Polygram in an English-dubbed version running roughly fifteen minutes shorter while New Line Cinema in the US utilized the longer international version and its newer dub for their own recut which was scored with J. Peter Robinson's tracks form Rumble in the Bronx and First Strike. While the original Hong Kong cut made it to special edition DVD in the UK from Hong Kog Legends, this version has not been available legitimately in the United States as Dragon Dynasty's DVD turned out to be an extended version roughly fifteen minutes longer – once again first issued on Japanese laserdisc – than the original cut at two hours; and it is this extended version that appeared in a so-so transfer on Shout! Factory's Blu-ray double feature with Police Story. Fortunately, this version (121:54) was the one of choice for the 4K restoration for Eureka's 1080p24 MPEG-4 AVC 2.35:1 widescreen Blu-ray. The image advances in the expected areas with superior detail and more vibrant colors – although a little on the cool side not only in the flatly lit police station interiors and night exteriors but also in the skin tones – but the black levels of a couple dark interiors look a little diluted which may be due to onscreen diffusion (one of the most amusing outtakes during the end credits includes a barstool hitting the camera and Chan removing the glass filters in front of the camera lens) which is evident in both bright exteriors and neon-lit night exteriors (with one establishing shot of the latter almost looking as if it was inserted from a source more generations away from the negative). It is heads and tails above the US Blu-ray (which may be an upscale and is presumably the same as the HK Blu-ray which also predates this 4K restoration) but it does not look as good as the restoration of the first film.

Audio


Police Story: Audio options include Cantonese DTS-HD Master Audio 5.1 and LPCM 1.0 mono, an LPCM 1.0 English track which had been released on Dutch VHS in which Ka Kui Chan becomes Kevin Chan but the score of Michael Lai (Rouge) was intact. This track had been the only way to hear the film in English with the original score until Golden Harvest created a new English dub presented here in DTS-HD Master Audio 5.1 in which Kevin Chan becomes "Jackie Chan". The Cantonese 1.0 mono track is recommended as is the 1.0 English track as the 5.1 tracks dialogue sometimes sounds recessed (and horribly cast to boot on the new English track) while surrounds are utilized but never truly feel immersive (although they are certainly better than the echoey 5.1 tracks that popped up on the early Asian DVDs). The optional English subtitle track is free of errors.

Police Story 2: Once again, the original mono track is presented here in LPCM 1.0 as well as a DTS-HD Master Audio 5.1 track that is front oriented although it feels a bit more adventurous than first film thanks to the stereo recording of the theme song heard during the opening highlights and bigger action sequences. The English dub created for Golden Harvest's export version of course runs twenty minutes shorter than this extended version, so a new dub was created by Golden Harvest in which Ka Kui becomes "Jackie Chan" and this version is available only in DTS-HD Master Audio 5.1 with slightly better voice casting and vocal performances, but still not recommended over the older English dub (see below).

Extras


Police Story: Extras include a slightly longer Japanese cut of the film (105:13) that first appeared on Japanese laserdisc from Pony Canyon. The main additions to this version are a title sequence with Chan's theme song, a scene introducing Chan reporting for duty and introductions to other cops including Francis and Kam during a birthday prank, an extended start of the briefing, the original ending removed from the Hong Kong cut in which Chan and Lin are arrested along with the villains, as well as a different outtakes montage over the end credits. In 2012, a 35mm print of the Japanese cut was transferred in HD and appeared on the Japanese Blu-ray edition which featured the Hong Kong and Japansese editions with Cantonese Dolby TrueHD 7.1 upmixes. The former had optional Japanese subtitles while the Japanese version was in Cantonese with Japanese subtitles printed vertically on the right side of the image (an SD encode was also offered of the Japanese cut with a Japanese dub created for television broadcast as well as a newer dub, both in stereo). The 1080p24 MPEG-4 AVC 2.35:1 widescreen image looks a tad contrastier but also slightly faded and retains the Cantonese track in Dolby Digital 1.0 along with optional English subtitles (it is easy to ignore the Japanese subtitles, large as they are). The Jackie Chan Police Force American home video cut (88:01) is offered up in standard definition, but it is an anamorphic widescreen transfer – the credits are in English and the title remains "Police Story" – with the aforementioned Bassinson score in English Dolby Digital 2.0 mono. The trimming of the first act is such to remove a sense of comedy even during the leveling of the squatter's village – as well as total removal of the fearful Francis character who is glimpsed during the briefing – but seems to give up the serious approach for the remainder of the film. The transfer is not a reconstruction and suggests that the cut was presumably prepared by Golden Harvest who had this master lying around for some time while the Americans and British were interested in the Hong Kong original. The master looks fairly clean but blacks crush and some sharpening has been done as expected for a digital video master from the mid-2000s or thereabouts.

Alternate and Deleted Scenes include the extended opening (6:56) from the Japanese cut without Japanese subtitles from a standard definition master, a longer press conference introduction (0:40), the original extended ending (3:31) which was cut from the Hong Kong version but present in the Japanese version, deleted shots (2:21) which are snippets of shots and scenes which were discovered when comparing the various cuts and shown here in context with markers for the exclusive bits, and the ending outtakes without credits (2:57) from the HK and English version. An archival interview with Jackie Chan (19:34) finds Chan (in English) revealing the process of scripting the film in wherein he his team that he wanted the village scene, the shopping mall scene, the bus scene, and comedy, and then the process of shuffling these elements around until they arrived at the structure of the film. Also present is the "Jackie Chan Stunts" Promotional Trailer (4:45) which features a behind the scenes look at the film's stunt choreography, the original theatrical trailer (2:47), as well as a 4K Restoration Trailer (3:13).

Police Story 2: The original Hong Kong version of the film (106:08) is presented here in standard definition – along with what is labeled the original UK version (95:52) in standard definition with the original dub in which Ka Kui becomes Kevin again. Both are anamorphic widescreen encodes and look a bit darker and faded but generally better than the SD cut of the first film. The aforementioned HK version is accompanied by an Audio Commentary by stuntmen Miles Wood and Jude Poyer which had been include on the UK Hong Kong Legends DVD. Both having worked in Hong Kong film and with Chan, they provide as many anecdotes as theoretical discussions of filmmaking of the period. They reveal that Chan's theme song was used in Royal Hong Kong Police Force recruiting videos, a popular Hong Kong crimewatch television show, and on horse racing shows (the connection being Tung who continues to work on television as a horse racing commentator). They provide some social and cultural explanations that might be lost on English-speaking viewers, including Chan's character's banishment to the "New Territories" in both films, the use of honorifics which explains why Ka Kui calls his future mother-in-law "auntie," as well the popular images of certain supporting performers and how that informs their roles here. They also discuss the fight scenes and stunt choreography, revealing that they were staged as individual shots rather than a master shot and inserts, which allowed for them to be cut together exactly as arranged. They also note that Chan and Cheung are dubbed in both films as they were shot without live sound until the third entry Supercop which was one of Chan's first sync-sound production. Immediate differences evident in the UK video version's cut are the lack of the highlight reel from the first film, the cutting of Chan's dressing down by his superiors which was intercut with the opening sequence which is uninterrupted here, and a different outtake reel during the end credits (which also features a different Chan song).

Chan is showcased in the British TV special "Jackie Chan: Son of the Incredibly Strange Film Show" (41:08) hosted by Jonathan Ross who interviews Chan, his business manager Willie Chan (Robin-B-Hood), and critic Ric Meyers. Shot around the time Chan was filming Miracles (his remake of Frank Capra's Lady for a Day and its own Capra remake A Pocketful of Miracles). Chan discusses his training, his first attempts to break into Hollywood, his stunt team, and his injuries (including his near-fatal head wound on Armour of God) while Cheung also discusses some of the daring stunts she did on Project A and Police Story (her skull laceration requiring seventeen stitches), while his manager mentions that Chan and his team cannot get insurance and he has given up trying to prevent him from doing his own stunts. An archival interview with Benny Lai (15:41) is also included in which he discusses his training, joining Chan's team in 1979 and training newer stunt performers, and his first opportunity at a larger acting role in Police Story 2 as the deaf-mute pyromaniac. The outtakes (2:06) is the ending montage without the credits overlay while the alternate outtakes (3:09) is the sequence that plays under the UK video version's end credits, although this one has Chinese credits (in a different arrangement than seen on the extended and HK cuts on the disc) with Chan's theme song back in place. The disc also includes the original theatrical trailer (4:01) and an alternate video trailer (1:54).

Packaging


Not provided for review were the separate booklets for each film (which suggests that these two editions could come out in separate standard packages later on).

Overall


Jackie Chan's Police Story and Police Story 2, two of Jackie Chan's Hong Kong hits from the peak of his pre-Hollywood stardom, get 4K restorations in a comprehensive package from Eureka Video.