The Film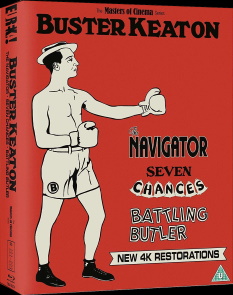 "Presented from stunning 4K restorations, The Masters of Cinema Series presents three more films by the great Buster Keaton in their UK debuts on Blu-ray."

National Film Registry (won) - National Film Preservation Board, 2018

Upper class fop Rollo Treadway (Keaton) suddenly gets it into his head to get married, send his butler to arrange for honeymoon passage to Hawaii, and is chauffeured across the street to propose to neighbor Betsy (Midnight Faces's Kathryn McGuire), daughter of John O'Brien (The General's Frederick Vroom) who has just added to his coffers by selling his ship The Navigator to some foreign gentlemen who need to get supplies from America to their country which is at war with their own neighbors. Betsy rejects Rollo's proposal and he returns home dispirited but decides to go on the honeymoon on his own. Since Rollo sleeps in late, he decides that he had better board the ship that night rather than before it sets sail at ten the next day. Unfortunately, he is taken to Pier 12 instead of Pier 2 due to a partially obscured sign and boards The Navigator on the same night a group of men from the enemy country of the new owners plan to cut its moorings and set it adrift into the night fog to wreck itself. Betsy accompanies her father to Pier 12 to drop off some paperwork and flees on board the ship when her father is grabbed along with the night watchman on the pier and she is trapped on the ship when it is set adrift. The next day, Rollo wakes up and is unable to find any porters or other passengers, literally crashing into Betsy after just missing each other during several turns around the ship. Unable to pilot the ship, they attempt to make the best of things until help comes along; however, they both prove incompetent with everyday tasks like cooking, and they frighten off help by raising the wrong flag and causing another vessel to believe The Navigator is quarantined. During the night as they both try to settle in, various noises and objects moved by the rocking of the unmanned ship cause the pair to believe that the ship is haunted. Sleepless nights are nothing, however, when Rollo and Betsy discover that the ship has drifted within reach of an island of cannibals!

Sutherland Trophy (Special Mention): Buster Keaton (won) - British Film Institute Awards, 1966

Based upon the stage farce by Roi Cooper Megrue – dusted off again in 1999 for the unmemorable Chris O'Donnell vehicle The Bachelor – Seven Chances has director Keaton casting himself as Jimmy Shannon, junior partner of the brokerage firm Meekin and Shannon which is on the brink of financial ruin due to a fraudulent deal. When a lawyer (The Phantom of the Opera's Snitz Edwards) starts trailing them, Jimmy and his partner Meekin (It's a Gift's T. Roy Barnes) try to evade him believing he is trying to collect on behalf of clients only to discover he actually has track Jimmy down as the sole beneficiary of a will that bequeath him seven million dollars if he is married by seven o'clock on his twenty-seventh birthday, which just so happens to be that day. The proposition gives Jimmy the courage to finally propose to Mary Jones (The Reckless Age's Ruth Dwyer) who he has been courting for over a year (as seen in the two color Technicolor opening in which the season pass without Jimmy able to summon up the nerve to confess his feelings to Mary as they mill outside of her house). Mary readily accepts his proposal until he inelegantly explains the reason for it, suggesting that he only need to marry "some girl," and she dumps him. Jimmy is dispirited but Meekin convinces him to find another girl, if only to use the inheritance to save their firm, their reputations, and keep them out of prison. Just as awkward with other women as he is with Mary, Jimmy manages to strike out repeatedly in a just minutes proposing to seven women with which he is acquainted at the country club and becomes a laughing stock. Taking to the streets, he has just as many comical and potentially criminal encounters. Unbeknownst to Jimmy, Meekin sends a story to the papers in search of would-be brides, attracting them by the thousand with the promise of wealth (seven million dollars coming to over a hundred million today with inflation) and Jimmy is soon mobbed by the women who turn angry and violent when they come to believe it is all a prank. Mary has reconsidered and sent a message to Jimmy who must outrun and outmaneuver a thousand angry women (some in makeshift wedding gowns) ready to trample anything and anyone in their path in order to get to the church on time.


The titular Battling Butler is not foppish socialite Alfred Butler (Keaton) whose despairing father sends him to the countryside to make a man of him with a hunting and fishing trip. His father did not anticipate, however, that Alfred would take with him his valet (Snitz Edwards again) and a marquee tent containing all the comforts of home including a wireless, a phonograph, twin bed, bear skin rug, freezer, oven, wardrobe, and sterling silver service, or that he would be so hopeless incompetent at shooting and casting as not to catch anything but the disdainful notice of fetching mountain girl Mary (Broadway Scandals' Sally O'Neil). More equipped for the terrain than Alfred, Mary nevertheless falls in love with him and he sends his valet to her father (The Monster's Walter James) and brother (The Racketeer's Budd Fine) to ask for her hand on his behalf. Mary's father and brother tell the valet that they do not want weaklings in their family, whereupon the valet tells them that Mr. Alfred Butler is no other than Alfred "Battling" Butler, a boxer who has made the papers on the eve of a championship fight. When the valet tells Alfred of his fib, he reasons that the real Battling Butler (The Ten Commandments's Francis McDonald) will not win the championship and will never be heard of again; and the pair of them are the only ones not cheering when he does win the bout. Alfred means to tell Mary the truth and lose her honestly but returns to the countryside to a parade and is rushed right into the wedding. When a story about the Battling Butler's upcoming Thanksgiving bout with The Alabama Murderer hits the papers, Alfred and the valet travel to the Battling Butler's training camp in Silver Springs in order to intercept Mary's letters (Alfred having convinced Mary to stay behind because he wants her to know him as a gentle lover not a vicious fighter). Two Alfred Butlers in the local guest registry creates confusion and the flirtation of the fighter's dissatisfied wife (Mary O'Brien) with Alfred leads to violence (compounded when a second Mrs. Butler arrives in a defiant Mary). The valet convinces the Battling Butler to help Alfred out of a jam with his wife, but he is still jealous of his own wife's flirtation and sets Alfred up for the Thanksgiving match with The Alabama Murderer.

The three films in this set offer viewers an interesting critical survey of Keaton's oeuvre, particularly with background knowledge of each film's production and critical reception. Whereas Keaton's earlier Our Hospitality achieved a clever balance of narrative, dramatic resonance, and death-defying comedic gags, The Navigator is a series of technically ambitious and increasingly hilarious gags built around one giant floating prop and framed by the simplest of setups (one of the few rich fops Keaton plays simply gets it into his head to make a major life change and puts the cart before the horse). Keaton and his gag men exploit the boat for every comic possibility – including turning it into a mobile haunted house – throwing in cannibals and submarines for even more climactic thrills while the resolution of the love story is a foregone conclusion. Based on a farce he disliked, Keaton's Seven Chances turns the seven proposals into a vignette, the rapidity with which he fails being gag, in favor of an extended climax involving thousands of extras and a sprawling series of locations featuring commandeered street cars and construction excavators, a mobile camera that can only just catch up to Keaton's blurring legs, and considerably more macho examples of manhood than Keaton being literally run roughshod by scorned women (if some of this seems familiar, there's a reason below), culminating in Keaton dodging a massive rockslide down a hill. There are plenty of laughs and some suspense but none of it comes from human relations, giving us only half of Keaton who has no time to be "Old Stone Face." Based on another theatrical property, Battling Butler returns Keaton to his clueless, wealthy fop persona of The Navigator with a side of Our Hospitality involving misunderstandings and deceptions, and the usual contrivances everyone but Keaton's character can see coming a mile away. This time, however, the climax is a suspenseful and thrilling, but perhaps off-putting, with a seeming unleashed rage of a perpetual victim on a bully overshadowing the comic mannerisms of the David against a hulking Goliath. While some of Keaton's earlier less successful works have become critically-lauded, some of his later silent works start to fall into the same critical gray area as some of his later under contract sound productions in which studio interference is more apparent.

Video


Released theatrically by MGM and vanishing from circulation into the collection of Raymond Rohauer who had acquired materials from Keaton himself. The Navigator ended up with The Douris Corp. who purchased the Rohauer library and was licensed to Kino on Video who produced a tinted restoration from the negative released to Image Entertainment laserdisc in 1995 as part of the four-disc The Art of Buster Keaton Volume 2 with three other features and nine shorts, then to DVD in 1999 (with the shorts The Boat and The Love Nest as extras), and later to Blu-ray. Cohen Media purchased the Rohauer library from Douris in 2013 and launched The Keaton Project with the Cineteca di Bologna to restore Keaton's films. Cohen's American Blu-ray (a double bill with Sherlock Jr.) and Eureka's 1080p24 MPEG-4 AVC 1.33:1 pillarboxed fullscreen Blu-ray are derived from a 4K restoration using a third generation safety dupe positive (chosen after examining several sets of remaining elements including the negative), and the image has been left untinted unlike the prior restoration which is just as well since the contrast is sometimes extremely high during the bright exteriors that some detail might have been sacrificed to tinting while the murk of the underwater scenes might also have been exacerbated. The materials are cleaner than the Kino version overall but the generational loss of the original material leads to some heavier grain in transitions and a few interior shots seem softer in focus than others around it despite claims that the transfer comes from one element.

Seven Chances had a similar journey from MGM theatrical to Rohauer to a Kino with a restoration from Library of Congress materials in the Image Entertainment laserdisc set and DVD (with the shorts Neighbors and The Balloonatic as extras), and a 2011 Blu-ray. Cohen's American Blu-ray (double billed with Battling Butler) and Eureka's 1080p24 MPEG-4 AVC 1.33:1 pillarboxed fullscreen Blu-ray are derived from a 4K restoration using the original camera negative, two positive prints (one vintage, one from the 1940s), and a third generation safety dupe positive. The title card appears to have been either newly colored or freeze-framed on the best looking frame since the colors fade and become muddied throughout the credits and the opening sequence. The earlier HD transfer of the materials used for the Kino were pretty clean and crisp, and the Cohen compares quite well as if most of the materials for this film have been better looked after than some of the other Keaton titles (apart from the Technicolor bit, that is). Whereas Cohen's restoration uses an amber tint in accordance with their reference materials, the Kino had more of a sepia tint to it that was just as pleasing; as such, fans may want both versions while novices should find either one satisfying.


Same journey for Battling Butler from MGM to Image's 1995 Kino on Video laserdisc set and 1999 DVD (with the shorts The Haunted House and The Frozen North, and then Kino Lorber's "Ultimate Edition" Blu-ray (in a double feature with Go West) from 35mm nitrate material preserved at the Library of Congress. Cohen's American Blu-ray (paired with Seven Chances) and Eureka's 1080p24 MPEG-4 AVC 1.33:1 pillarboxed fullscreen Blu-ray come from a 4K restoration utilizing a first generation amber-tinted positive and a second generation safety dupe negative (a first generation positive print held by the Cinémathèque Royale de Belgique was unusable because it turned out to be assembled from B negative) is another case where the good-looking Kino looks brighter with the more sedate sepia tinting while the Cohen seems darker with the truer amber tint; but, in this case, I find the Kino preferable but Keaton completists and experts might disagree.

Audio


No complaints about the audio since all utilize the existing Robert Israel scores - which are less bombastic than some of his more recent silent scoring jobs - with the first and third film scores mixed in DTS-HD Master Audio 5.1 while Cohen apparently could only supply a stereo recording of the score for Seven Chances in LPCM 2.0 stereo (DTS-HD Master Audio 2.0 on the Cohen edition) even though the earlier Kino edition had a 5.1 track. The intertitles all appear to be original.

Extras


The Navigator: Ported over from the Kino edition is the audio commentary by silent film historians Robert Arkus and Yair Solan (not included on the American Cohen edition) in which they describe how Keaton's technical director Fred Gabourie – who had secured the vessel for his earlier short The Boat told him of the Buford, a 5,000 ton, 500 foot ship that he could do anything to since it was set to be sold for scrap, how Keaton had hired actor/director Donald Crisp (Jezebel) to direct the serious action scenes while he handled the gags, only for Crisp to turn into "a gag man overnight" necessitating Keaton reshoot much of Crisp's material when he left for another project, and noting that Roscoe 'Fatty' Arbuckle – who got Keaton his start in film – later stole some of the film's gags. Also ported from the Kino edition is "Buster, Boats, Other Seacraft, and Work on Navigator" (9:01), a short documentary on the making of the film by film historian Bruce Lawton, which features tinted clips from the earlier restoration. He discusses Keaton's other nautically-themed films as "dry runs" for this film, reteaming with Maguire from Sherlock Jr. which had not been the success he had hoped for, using Maguire and himself as "human props," tracing his wealthy, ineffectual character back the short The Saphead (and the clever transformation into his more familiar porkpie-hatted everyman), the reshoot (including using a painting of Crisp for the fright sequence), and the ambition of the underwater sequence which had an expensive gag from it because it was not well-received (Keaton learning that some of the more fantastical gags from the shorts stopped narrative still). Lawton also mentions that some footage from the sequence is in the film's trailer, but not the newly-created Cohen trailer (1:00) included here.


Seven Chances: Ported over from the Kino edition is an audio commentary by film historians Joel Goss and Bruce Lawton in which he reveals that Keaton hated the stage play which was foisted onto him by producer Joseph M. Schenck (Steamboat Bill Jr.) but made it work (although he reportedly told Rohauer not to save this film), how they are of the opinion that the two-color Technicolor opening could be snipped without hurting the film, an early appearance by a brunette Jean Arthur (Mr. Smith Goes to Washington), the 1995 restoration versus the 2011 one for Blu-ray, and how Keaton gag man Clyde Bruckman (Three Ages) stole some of the gags for the 1947 Three Stooges short Brideless Groom (which was included as an extra on the Kino Blu-ray). Instead of the Stooge short, we get "What! No Spinach?" (19:03), a 1926 comedy short directed by and starring Harry Sweet that riffs on a number of elements from the Keaton film. Sweet is perhaps less known today because his rising star was cut short when he was killed at age thirty-one in a plane crash while scouting locations in Big Bear, California for another film. The disc also includes a newly-created trailer (0:56).

Battling Butler has no commentary but instead comes with several later audio interviews with Keaton touching upon a lot of the same material but interesting in both the differences as well as the ways in which Keaton repeats with slight variations (seemingly depending on mood) some of the same old stories. In the shortest, "Buster Keaton in Conversation with Irwin Allen" (1945; 6:36), Keaton lays out the bones of the story, traveling with Vaudevillian parents, going on stage at age three, being introduced to film by Rosco "Fatty" Arbuckle, physical comedy, working with Schenck and then going to MGM until 1934, and some later projects as a supporting player. In "Buster Keaton in Conversation with Arthur Friedman" (1956; 31:32), he elaborates on his beginnings with his parents joining Harry Houdini's traveling show, and the very physical act that had him and his parents skirting various child welfare agencies and getting arrested every other week (claiming that his "Old Stone Face" nickname came from the nature of the act). Most interesting is his discussion of film in which he conveys his fascination with the mechanisms of filmmaking, taking apart a camera to see how it worked and learning to cut film so he could edit his later features. In "Buster Keaton in Conversation with Robert Franklin" (1958; 55:35), he recalls that his grandfather participated in the land rush in Oklahoma in the late nineteenth century, his father being a natural clown and meeting his mother on the Houdini show, the knockabout show between himself and his father being a comedy about teaching your child to mind, various agencies in the states they performed in looking him over for injuries, and even convincing one state agency that he was a midget rather than a child. "Buster Keaton in Conversation with Herbert Feinstein" (1960; 47:41) covers a lot of the same ground but it also includes more discussion of his films and later career as well as his feelings on some of his comedy contemporaries including Bob Hope, W.C. Fields, The Marx Brothers, and Lucille Ball. The most interesting part of "Buster Keaton in Conversation with Studs Terkel" (1960; 37:57) is his discussion of when to cut from spoken dialogue to intertitles, a bet with Chaplin as to who could do an hour-and-a-half feature with the least intertitles, favoring pantomime over dialogue, and his disdain for comedians who had weekly shows because he did not like to repeat gags. The disc also includes a new trailer (0:45) created by Cohen Media.


Also featured on The Navigator disc but discussed here since it encompasses all three films in the set is "Boats, Brides, and Boxers" (34:11) is a video essay by film historian David Cairns – with some input from Imogen Sara Smith, author of "Buster Keaton: The Persistence of Comedy" – covering some of the same information on The Navigator with regard to Gabourie discovering the boat and Keaton's "saphead" persona, Keaton's feelings about the source play for Seven Chances and noting the emphasis on physical comedy over intertitles during the country club sequence, the use of people (particularly women) as "breathing props," and some problematic aspects including racial humor (contrasting Keaton's and Chaplin's perspectives on black people as a source of sight gags). Of Battling Butler, he discusses the ways in which the film seems at odds with the worldview of Keaton's more popular characters who are the mercy of coincidence, nature, circumstance, the laws of physics, and impersonal forces rather than the film's David and Goliath opposition, noting that the best gags come from the hunting and fishing opening and the negative critical reaction to the final fight scene.

Packaging


Housed in the limited edition hardbound slipcase is 60-page perfect bound collector's book featuring new writing on all three films; and a selection of archival writing and imagery. In "The Ingenuities of Buster Keaton" by Philip Kemp, the author looks at Keaton films, particularly The Navigator, in the context of the comedian's fascination with gadgetry and location as intricate machine – from the boat to Butler's "Spartan" rural digs in Battling Butler, as well as the mechanics of the chase sequence in Seven Chances. A trio of essays on the films by Imogen Sara Smith – "Souls at Sea," "Married in Haste," and "The Sweet Science" respectively – look at Keaton's protagonists in relation to their environment and the role of women to help of hinder (noting his struggle "to adapt his style of visual and physical humor to inappropriate material" in Seven Chances, "something of which he was acutely aware"), and the contrast offered by Snitz Edwards to Old Stone Face in the latter two films. In "Buster Keaton on The Navigator" – extracts from his autobiography – he discusses close calls and the missing fish gag from the underwater sequence. Also included are extracts from David Robinson's book "Buster Keaton" on all three films examining the structures of the films, a plug for "The International Buster Keaton Society" who provided stills for this book, as well as viewing notes and Blu-ray credits.

Overall


The three films in Buster Keaton: 3 Films Volume 2 offer viewers an interesting critical survey of Keaton's oeuvre, particularly with background knowledge of each film's production and critical reception.