The Film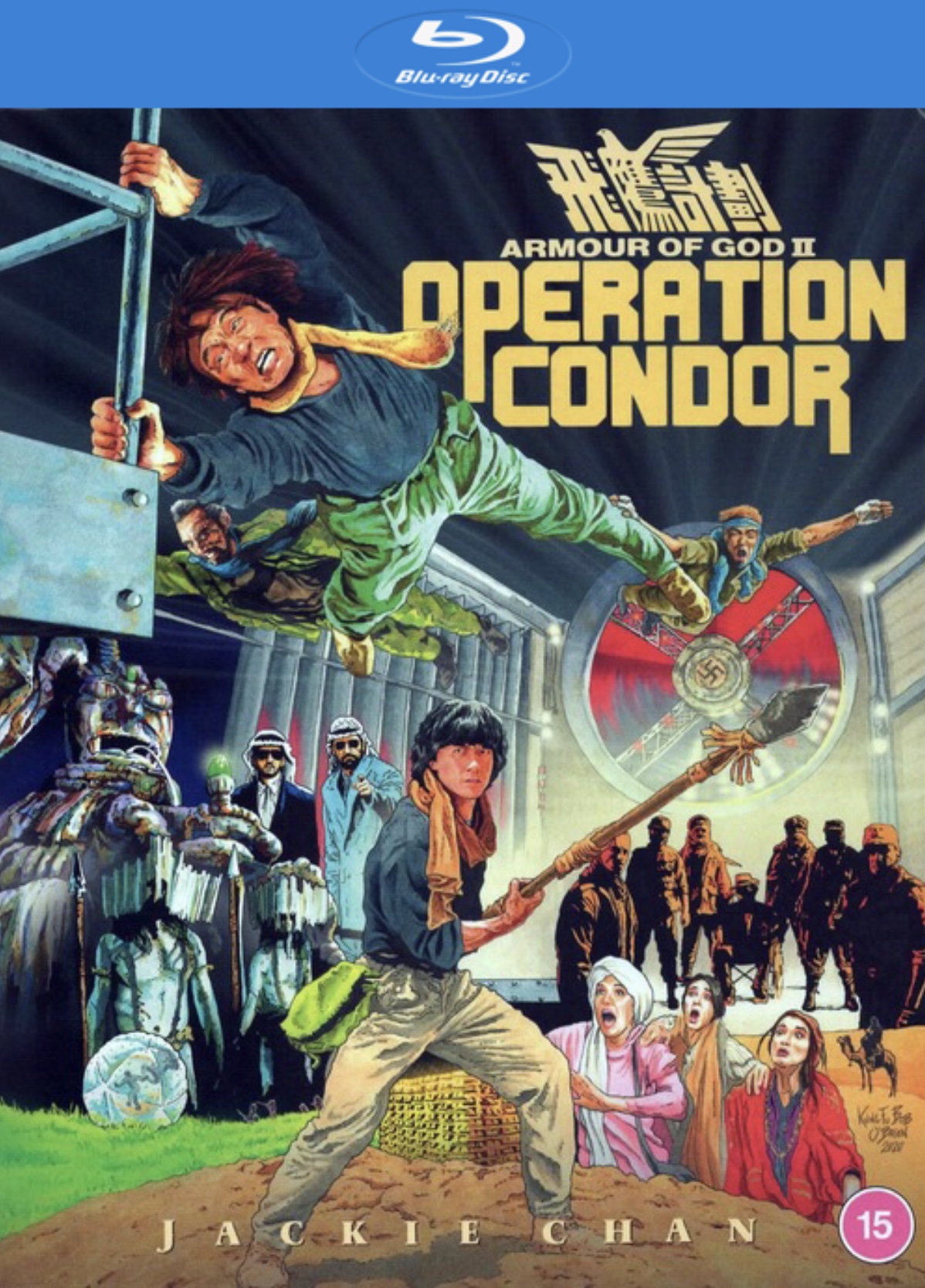 The Asian Hawk is back!

Undeterred by nearly dying while making the first Armour of God, Jackie Chan returned to battle for a sequel that's bigger, better and even more daring. This time, Jackie's intrepid treasure hunter is on the hunt for some Nazi gold but recovering it will not be easy, let alone safe.

The most expensive Hong Kong film produced at that time, Armour of God II: Operation Condor showcases some of Jackie's best stunts and action, building up to an epic climax that will blow you off your feet. The black belts at 88 Films are thrilled to present the UK Blu-Ray premier – uncut! – of this great fan favourite.

Video


A delightfully silly and enjoyable Indiana Jones style adventure film crossed with slapstick comedy and without the nastier, more serious edge. Obviously made on a big budget with lavish, colourful Scope cinematography this was apparently the most expensive Hong Kong film up to that time costing approximately $20 million which was huge for that region.

This is a beautifully clean, damage free transfer taken from a 2K master. Colours are rich, vibrant and naturalistic with attractive, healthy flesh tones throughout. Black levels are deep and rich with plenty of shadow detail and contrast is low key and supportive. Film grain is present but is extremely fine and detail is there.

However, being a Fortune Star master I did suspect that some DNR may have been used (Based on past experience) but I've been informed by someone who worked on the transfer that this is not the case. Fine detail seems to suffer a little and the image is soft at times so this must be how the film has always looked. The bigger display you use the more you'll notice the effects; I viewed the film on a 55" 4K display from a viewing distance of ten feet and the transfer looked terrific but up close I noticed the softness much more.

88 Films' encode does a great job with the 2K master provided but it can only handle the film the way it was made. The disc has the two separate versions of the film as separate files which take up one layer each. The images are harvested from a 2K restoration and are beautiful transfers.

Many of the other releases available out there have been taken from an upscaled standard definition master and 88 Films' disc blows them all out of the water and may be the source used for other genuine transfers (US, Japan). Fans will be very happy.

1080/24p / MPEG-4 AVC / 2.35:1 / 107:12, 117:17

Audio


Cantonese LPCM 2.0 Stereo (Hong Kong version only)
Cantonese LPCM 2.0 Mono (Both versions)
English LPCM 2.0 Mono (Hong Kong version only)
Subtitles: English

The mono tracks (on both versions) are all very solid, robust and free from distortions of any kind; dialogue and score are always working in concert. Hong Kong films seem to be like Italian genre cinema in that they shoot the film silent with a crude guide track to aid in post production with the actors speaking whatever language comes naturally. In post, they dub it according to whichever market as needed; Chan seems to be speaking Cantonese but the westerners English. The English dub track is pretty loose as if dialogue was altered between the set and the final dub.

The stereo track on the Hong Kong version opens the sounds ape up nicely when played through a 5.1 amp although it'll never be demo material; it is my preferred track when viewing the theatrical version. Purists will want to stick with the mono because that was the way the film was initially released to Hong Kong cinemas.

Subtitles have been provided only for viewing the Cantonese language tracks and have apparently been newly translated and comparing them with the English dub shows that changes were made. The subtitle tracks can't be accessed via the main menu but are optional and can be switched on an off during playback. Sadly, no subtitles for the hard of hearing have been provided but on this release that's not as essential as in a purely English language film.

Extras


Audio commentary on the Hong Kong cut by Mike Leeder and Arne Venema (2020)

Thoroughly enjoyable, affable, humorous but always informative yaktrak from two guys I was not previously much aware of. I'd come across Leeder's name before cataloguing discs for Rewind, but hadn't heard any of his tracks. At least not that I can recall. These guys are obviously palls, have a great rapport with each other and they know their stuff.

"Bruce Fontaine: Martial Arts Mercenary for Hire" 2020 featurette (20:01)

Informative piece that introduced me to Canadian actor-stuntman Fontaine with whom I was not previously familiar. It covers his life in the '70s growing up getting into martial arts, the Kung Fu TV show and the films of Bruce Lee and his professional carer working primarily in the Hong Kong film industry. Lots of anecdotes about working with Jackie Chan and others. Funniest one: everyone, including Chan being addicted to Gameboy. Fontaine considers Operation Comdor as the pinnacle of his Hong Kong film career.

Looking at IMDB, Fontaine has also been working on several major Hollywood films like Paycheck (2003), I, Robot (2004) and The A-Team (2010).

Original Trailer (3:18)
Re-Edited 2K Trailer (3:57)

The original trailer shows clips and behind the scenes B-roll footage all set silently to the score and is cropped to 1.85:1 as it apparently always was. The 2K version is in the full Scope ratio and is a more traditional trailer that has been recreated from the new 2K scan.

Reversible sleeve with choice of artworks

One side is the new 88 Films art and the other is the key art used in 1991.

Soft Touch O-ring slipcase

Reproduces the main sleeve.

52-page liner notes booklet "Go Go Asian Hawk!: The Gadgets and Adventures of an Asian Explorer" by William Blaik, "Western Condor: An Interview with Lead Stuntman Vincent Lyn" by "Kung Fu Bob" O'Brien, music cue sheets, and production stills

Detailed, extensive booklet is everything fans could want from such a thing. Worth the price of the disc by itself!

Packaging


Standard blue Blu-ray keepcase with the Soft Touch O-ring slipcover.

Overall


A stunning 2K restoration of this action classic has inherently splendid image quality and 88 Films' encode does a great job with an inherently soft looking film to make a peach of a disc with top notch sound quality. Disc-based extras aren't extensive but choice ... however, the booklet is fabulous. The two versions of the film share a single disc where splitting over two would've been better although the bitrates are very high, especially the preferred extended cut.

This is a very reasonably priced release (on day one), provides fabulous value for money and is of very good quality; a great package ... get it bought!

Highly recommended.

| | | | | |
| --- | --- | --- | --- | --- |
| The Film: A | Video: A | Audio: A+ | Extras: A- | Overall: A |