The Film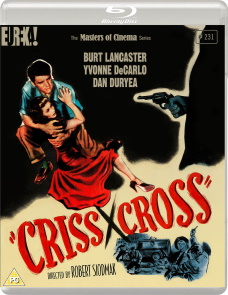 Steve Thompson (1900's Burt Lancaster) returns to Los Angeles' Bunker Hill district after eight months absence following his divorce. He insists that he has come home to look after his mother (The Snake Pit's Edna Holland) so his younger brother Slade (The House on Haunted Hill's Richard Long) can get married, and wants to move on by getting back his job working for an armored car company under Pop (Holiday Affair's Griff Barnett), mentor and boarder in his mother's house. Everyone around him, including police lieutenant Pete Ramirez (No Way Out's Stephen McNally), knows even before he does that he's still got Anna (American Gothic's Yvonne De Carlo) in his bones; as such, it is not surprise to anyone when he visits their old hangout The Roundabout and sees her on the dance floor with one of her girlfriends doing the rumba to Esy Morales and his band. Anna seems keen to start things up again, but Steve does not see the point of falling back into old patterns. Nevertheless, Steve and Anna start seeing each other casually despite the concerns of his mother and Pete who tells him that Anna is running around in the circle of smalltime operator Slim Dundee (Foxfire's Dan Duryea). Like a sap, Steve is caught off-guard when Anna stands him up for a date because she has eloped with Slim who is able to keep her in the lifestyle to which she has always aspired. Steve manages to steal moments with Anna in which she reveals that she is unhappy and Slim is cruel to her. When Slim and his men invite themselves into Steve's home during one of these assignations, Steve attempts to throw Slim off the scent by telling him that he sought out Anna to get him a meeting with Slim about a job robbing an armored car. From experience, Slim and his men think such a heist impossible, but Steve counters that they have never had an inside man before; and knowledgeable old-timer Finchley (Marnie's Alan Napier) – who is paid for his consultancy by having his bar tab settled – confirms for Slim that it is possible, provided they learn what not to do from previous failed ventures. Anna has misgivings about the job, but Steve sees it as their way to freedom by way of having Anna hold the money and deliver his cut before supposedly out of state with Slim as part of his alibi to throw Pete off his trail. As the day of the heist nears, however, Slim becomes more suspicious of Steve and jealously possessive of Anna; and there may be more than one double cross on the job.

Based on the novel by Don Tracy, Criss Cross is the film noir genre's quintessential heist-gone-wrong picture, helmed by Universal contract director Robert Siodmak who had moved into the noir genre earlier in the decade with another Burt Lancaster starrer in The Killers. The film's structure is that of a first act in medias res introducing Steve and Anna already as the doomed lovers in a clinch in the shadows, and the rivalry between Steve and Slim a powder keg as evidenced by the tense reactions of Steve's few friends, Slim's associates, and the denizens of The Roundabout, including lush ('s ) who seems to entertain no sexual interest in Steve but nevertheless is concerned for his physical and psychological wellbeing. For a contemporary audience well-schooled in noir conventions, the film could very well continue on at this point in a linear trajectory; however, the film then has Steve flash back in the middle of his armored truck drive to how he got into this mess (another genre convention). This move does not just pad the film; it causes the audience to call into question some of the assumptions they have made about the characters in the first twenty-odd minutes, and the final act's return to the present retains Steve's point-of-view but now the style mirrors his increasing paranoia from canted angles, elongated shadows, and sinisterly benevolent-seeming strangers. Anna is one of the more ambiguous femmes fatales, possibly greedy or just grasping, leaving it ambiguous as to whether the venom she unleashes on Steve is revealing of her faithlessness or her attempt to cut him loose. The staging of the final sequence is ingenious in its editing and framing; indeed, it may cause contemporary viewers to assume the intervention of a rescuer before the devastating final shot reveal. Steven Soderbergh remade the film in 1995 as The Underneath starring Peter Gallagher, Allison Elliott, and William Fichtner.

Video


Released theatrically in the U.S. by Universal-International and the U.K. by General Film Distributors, Criss Cross was unavailable on home video until the early nineties when MCA/Universal released it on VHS and as an Encore Edition laserdisc double feature with The Killers, and then more recently on DVD in 2004 as part of their "Universal Noir Collection" (which is very different from Fox's Noir series in that it is completely barebones). The first Blu-ray release came from France in 2018 from Elephant Films followed by a more extras-equipped American edition as part of Shout! Factory's Shout Select. Eureka's 1080p24 MPEG-4 AVC 1.37:1 pillarboxed fullscreen Blu-ray comes from a recent 4K master with a typically high-bitrate that helps retain more delineation of lights and darks not only in the high-key moody interiors but also the smoky extremes of the heist sequence where the ambiguity of background forms is intentional. We have not seen the Shout Select edition which has received some criticism for its handling of the same master, but the Eureka edition seems like a no-brainer for region free and Region B-locked fans.

Audio


The LPCM 2.0 mono track sports clear dialogue and generally clean silences, while the scoring of Miklós Rózsa, which this reviewer once found to be one of the more bombastic accompaniments in the moments in which it was deployed, seems more considered in conveying the sense of encroaching doom even upon the happier times of the act two flashback while the low-end presence during the rumba sequence adds a degree of sensuality to Lancaster's longing glances. An isolated music & effects track is included in LPCM 2.0 as well for those who want to assess this aspect free of the snappy dialogue. Optional English HoH subtitles are included.

Extras


The Shout! release had a new commentary by film historian Jim Hemphill while the Eureka release includes a pair of tracks. The first is an audio commentary by actress Rutanya Alda and film historian Lee Gambin. Alda did not appear in the film but she recollects her memories of Lancaster from the time she appeared as an extra in Executive Action as well as his reputation as a ladies man or womanizer who had a regular partner in one of her colleagues. She also provides a biographical sketch of the actor's early days in the circus, as a nude model, and his early credits, as well as some of the projects Lancaster rejected that wound up being star-making turns for others and some he was unable to take on like the desired adaptation of Manuel Puig's "Kiss of the Spider Woman" that would eventually be made in 1985. Gambin focuses on the film in terms of the noir tropes and Siodmak's stylization, including certain "visual shortcuts" that suggest that audiences of the time may already have cottoned on to certain conventions of the genre. A second audio commentary by film scholar Adrian Martin who describes Criss Cross as "Siodmak's most perfect film" and discusses the input of uncredited producer Mark Hellinger who had been behind The Killers and was to produce the film but died suddenly in 1947, as well as how the film's flashback structure means that certain characters get double introductions that comment upon one another, the L- and T-shape configuration of the sets and how it is deployed in obscuring information from certain characters, and how certain scenes of exposition or drama are performative acts for the sake of misleading other characters. The disc also includes a Screen Director's Playhouse radio adaptation (29:59) from 1948 directed by Siodmak and starring Lancaster that begins with the armored truck drive and moves quickly into the flashback, dispensing largely with the first act, as well as a theatrical trailer (2:19).

Packaging


Packaged with the disc is a 31-page collector's booklet featuring new writing o the film. In "Criss Cross: Barry Forshaw on a Key Film Noir", the author contrasts Siodmak with "another expat director working in Hollywood: the Englishman Alfred Hitchcock", discusses the rules of the heist movie as set down by the film's screenplay, Siodmak and Lancaster as "the face of noir", and the contribution of composer Miklós Rózsa. In "'You Really Loved Her; You Know I Did Too': Robert Siodmak, Doomed Romance, and the Noir", Kat Ellinger discusses the way Siodmak was able to express himself artistically within the confines and compromises of the studio system, as well as contrasting noir men in Siodmak's films with those typical to the genre. Finally, in "Criss Cross", Adam Batty discusses Lancaster within the context of his noir films and as "the perfect visionary for" Siodmak's character type: that of the "tender brute."

Overall


With Eureka's Masters of Cinema release of Criss Cross, viewers can savor "Siodmak's most perfect film" in a new restoration with insightful extras.