The Film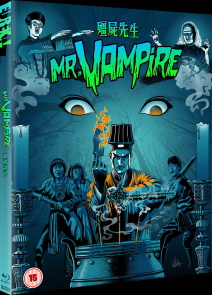 Hong Kong Film Award: Best Picture (winner), Best Original Film Score: Melody Bank (winner), Best Director: Ricky Lau (winner), Best Supporting Actor: Ching-Ying Lam (winner), Best Supporting Actor: Billy Lau (winner), Best Screenplay: Barry Wong and Roy Szeto(winner), Best New Performer: Billy Lau (nominated), Best Cinematography: Peter Ngor (nominated), Best Art Direction: Sai Kan Lam (nominated), Best Action Choreography (nominated), Best Film Editing: Peter Cheung (nominated), and Best Original Film Song: "Gwai San Neung" ('Ghost Bride'). Performed by Kit Yi Chorus Group (nominated) - Hong Kong Film Awards, 1986

In a small village in Republican-era China, the duties of mortician Master Gau (Way of the Dragon's Ching-Ying Lam) include not only preparing the dead for burial but making sure they stay there, what with the area's superstitions involving demons, witches, ghosts, and vampires. When wealthy Mr. Yam (Drunken Master's Ha Huang) comes to the village with his daughter Ting-Ting (Zu: Warriors from the Magic Mountain's Moon Lee) to have the grave of his father dug up to be reburied with the goal of good Feng Shui, Master Gau has a bad feeling about the gravesite, especially when he discovers the coffin was buried vertically and the man's corpse (Fist of Fury's Wah Yuen) perfectly preserved inside. He tells Yam that the burial site is unsuitable and has his assistant Man Choi (Miracles' Ricky Hui) take the coffin back to the mortuary for storage, leaving his bumbling shopkeeper nephew Chou Sang (Fist of Legend's Chin Siu-Hou) to appease the spirits of the other buried dead; whereupon he catches the attention of not quite dead but not quite living grave occupant Jade (The Beheaded 1000's Siu-Fung Wong). When Man Choi observes the corpse rapidly decaying upon exposure to air, Master Gau surmises that the man must have died with a curse in his throat and is going to become a vampire and has Man Choi and Chou Seng secure the coffin with a grid of lines in holy ink. Unfortunately, one of the lines is smudged and Yam's father rises from the dead as a vampire and kills him. Police captain Ah Wai (Eastern Condors' Billy Lau), eager to impress Ting-Ting, accuses Master Gau of the killing when he shows up his deductions and has him arrested. Master Gau allows himself to be taken since the jail is also where Mr. Yam's corpse will be taken, and he has Man Choi bring him the supplies necessary to subdue Yam when he rises from the dead. In the battle against two vampires, Master Gau is pestered by Ah Wai who must answer to a frightened populace, Man Choi is bitten and his cure is hindered by a lack of sticky rice, and Chou Sang is slowly being sexually-exhausted by Jade who may ultimately kill him and damn his soul.

Enormously popular in Asian and Western territories, the Sammo Hung production of Mr. Vampire was the film that brought the Chinese "hopping vampire" or Jiangshi to the international attention, also launching sequels, a TV spinoff series, and numerous imitations. For a film that won best screenplay at the Hong Kong Film Awards, the tone is all over the place, with some accomplished atmospheric visuals and assured use of primitive (for the eighties) practical make-up and visual effects – aided also by a surprisingly original score by Melody Bank (Millionaire's Express) that more often than not sounds as if it could have been cribbed from a Hammer soundtrack album – however, the comedy component ranges from subtle cultural clashes between traditional and Westernized Chinese – Master Gau worries about making a fool of himself never having been to a western tea but Man Choi's bumbling distracts from his own while Ting-Ting is studying to be a cosmetician and mistaken for a hooker when she goes shopping in the village for make-up – to various supernatural sight gags and mugging from Lau whose police captain compares himself to a Nazi officer when trying to frighten Master Gau into confession with a branding iron. The vampire make-up and the hopping in general cannot help but inspire titters, and the nicely edited and choreographed action scenes are generally played more for laughs while still being suspenseful but sexy ghost Jade seems more of a threat even if that story thread has a bittersweet resolution. Anthony Chan, lead singer of the popular band The Winners – who would also appear in Jackie Chan's Armour of God as the lead singer of the parody band The Losers – makes bookending cameos as an entrepreneur whose merchandise consists of hopping vampires under his spiritual control.

Video


Released theatrically in the U.K. by Sino Cine and on VHS by Made in Hong Kong, Mr. Vampire came to DVD in the U.S. (an anamorphic transfer from Fox following an older PAL-converted edition) and U.K. more or less the same in terms of its visual (see audio below) with a fair anamorphic transfer prepared by Fortune Star. We are unable to compare the South Korean Blu-ray but Eureka's 1080p24 MPEG-4 AVC 1.85:1 widescreen Blu-ray comes from a new 2K restoration which is a major improvement over the earlier editions, with diffused exteriors and glamour shots better retaining detail and some post-production slow motion and the title opticals looking only slightly coarser. While there is always a concern with these newer restorations of revisionist color timing with skin tones being a touch too cool, the colors in general are more vibrant than before, aiding the atmosphere of the night sequences.

Audio


As with other Golden Harvest and Fortune Star properties, the history of the film's audio tracks are muddled as ever. The film was mixed in mono and the original Cantonese mix is included here in LPCM 1.0 without the additional foley work of the 5.1 tracks Fortune Star prepared for DVD, and it is the best way to watch the film in terms of fidelity in more ways than one. The export English dub – labeled here as the European home video dub (which is technically correct in that the Tai Seng DVD only had Cantonese and Mandarin tracks and the Fox DVD had the Fortune Star dub) – takes liberties with the dub, sometimes on the level of What's Up, Tiger Lily? with references to this being a "low-budget movie", Man Choi told to breakdance to keep his infected system circulating, and Chan's last line becomes "That's all, folks!" The newer Fortune Star dub, labeled as being prepared for "American home video", is presented here in DTS-HD Master Audio 5.1. The music and effects are augmented with new foley and the dub is more faithful to the original dialogue but the voicing is very bland. Optional English subtitles are provided for the Cantonese track and an additional track for the English track translates the credits and the theme song which is included on the English tracks here rather than the instrumental versions of vocals that sometimes replace them on other Golden Harvest dubs.

Extras


While the U.K. DVD featured an audio commentary by Bey Logan, Eureka includes a new audio commentary by Asian film expert Frank Djeng, formerly of Tai Seng, who discusses the film's origins in a story by Ying Wong who had previously scripted Encounters of the Spooky Kind for producer Sammo Hung, and how its drastic reworking lead to conflict between them (with the subsequent writers getting script credit while he was only credited with story), how it was also the directorial debut of cinematographer Ricky Lau (Winners and Sinners) who had previously shot for the action unit on various Sammo Hung productions, and describes actor Ching-Ying Lam as "Hong Kong's Peter Cushing" in that the film lead to his casting as the Daoist vampire killer in Mr. Vampire films, exorcist-type characters in other Hong Kong horror films, as well as the Vampire Expert television series and its follow-up series. While the film itself never specifies the time frame, Djeng points out several visual clues that situate the film during Republican-era China – including location shooting in Taiwan where some of the villages still retain the look of that period – and also how Chinese viewers might be one up on Western viewers regarding the first false scare. He also notes that the clash between traditional and Western attitudes of that period was a recurring theme in films during the eighties, including Jackie Chan's Project A films.


Ported over from the Hong Kong DVD is an archival interview with director Ricky Lau (12:44) in which he recalls asking Sammo Hung if he could get a chance to direct, his affinity for the horror genre, developing the script over a year, and praises the resources of Golden Harvest from effects to sets and custom wardrobe designs. Ported over from the Hong Kong Legends DVD is an archival interview with actor Chin Siu-Hou (42:17) who had worked at Shaw Brothers before coming to Golden Harvest for Mr. Vampire and regarded the film as an "exam" to demonstrate his training in the new studio. He recalls that they did multiple takes of his some of his stunts, taking that as an indication that they had faith that he could do better even though he nearly injured himself in the process. In an archival interview with actress Moon Lee (17:40), also ported over from the British DVD, she recalls training both for acting and martial arts as a child was generally relegated to non-action roles until Fighting Madam and its sequel turned her into an action star. The disc also includes textless end credits (1:24) and the original Hong Kong trailer (4:08) but not the shorter re-edited one prepared by Fortune Star.

Packaging


The first 2,000 copies include a limited edition O-CARD with new artwork by Darren Wheeling and a collector's booklet featuring new writing on the film. In "Mr. Vampire and the Jiangshi Film", Jon Towlson researches Jiangshi legends and notes that Sammo Hung had already used them in Encounters of the Spooky Kind, as well as how distinct the Jiangshi are from more "Westernized" vampires in earlier Hong Kong horror films including the Hammer Film/Shaw Brothers co-production The Legend of the 7 Golden Vampires. James Oliver's "Hopping Mad: The Cross-cultural Currents of Mr. Vampire" recalls the experience of seeing the film without the historical, cultural, and Taoist contexts as well as discusses how some of the film's oddities in terms of pacing and humor conform to local tastes.

Overall


Mr. Vampire, the film that brought the Chinese "hopping vampire" or Jiangshi to the international attention, comes to Blu-ray with historical and cultural context.