The Film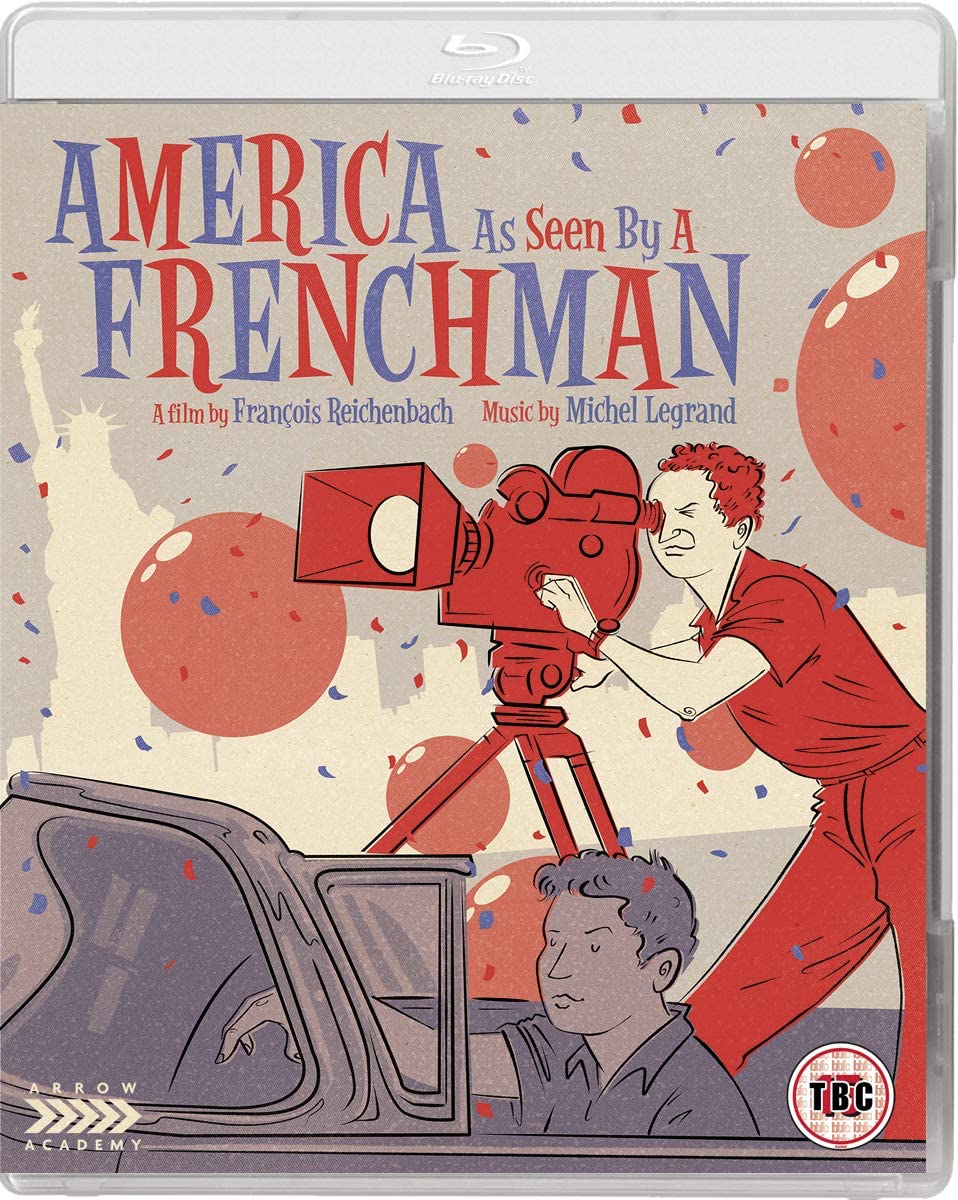 America as Seen by a Frenchman (L'Amérique insolite, Francois Reichenbach, 1960)

In 1851, Jean-Jacques Ampere visited America and wrote a book about his experiences there, Promenade en Amerique: Etats-unis—Cuba—Mexique. The book, a companion piece of sorts to Alexis de Tocqueville's iconic De La Démocratie en Amérique
(Democracy in America, published in two volumes, in 1835 and 1840), offered an outsider's view on American culture. Ampere's volume, however, suffered from being seen as middlebrow. In response to Ampere's observations about American culture, in 1856 The National Magazine published an article, 'America as Seen by a Frenchman' which began, quite wordily, 'We have read in our time many ludicrous descriptions of our country, but the one given of the manners, customs, associations, and general living of Americans, by M. Ampere […], who was, it was thought, a person in every way qualified to give an opinion upon the new social and political conditions that are daily developing themselves among the people of the United States, transcends, in ridicule, all we have ever met'. (What a sentence!)

About a hundred years later, Francois Reichenbach – who would later contribute to Orson Welles' F For Fake (1973) – made his first feature-length documentary, L'Amérique insolite ('Unusual America'), released in English-speaking territories as America as Seen by a Frenchman. Reichenbach's film focuses on the small (and sometimes large) absurdities of North American life, depicting the United States in all its 'otherness' (to the European gaze, at least) as a seemingly never-ending carnival of oddities. One wonders if the decision as to the film's English-language title was made in reference to the aforementioned article about Jean-Jacques Ampere's observations on American life in the mid-Nineteenth Century.


Essentially conforming to the poetic mode of documentary filmmaking, cobbled together from footage of various disparate ceremonies and events from across the USA, Reichenbach's film features alternating male and female narrators to anchor the filmed material. There are no interviews or other comments from the subjects: everything we see on screen is presented 'as is', filtered solely through the comments of the French-speaking narrators, who often express amusement or sometimes outright mock what we see. Reichenbach takes us through the institutions of American life and its rites of passage: school, university, courtship, prison, the family, marriage, education, sports, carnivals.

The film opens with a written foreword by Jean Cocteau, praising the integrity of Reichenbach's footage. Reichenbach himself narrates: 'I spent eight months in America. I wanted to see America with its strict rules and its indulgences'. What Reichenbach emphasises, in the footage and narration, is the sense of America as a country obsessed with superficialities – surfaces and nostalgia. In 1986, French philosopher Jean Baudrillard published his travel diaries, documenting Baudrillard's journey across America, as America. Baudrillard emphasised America as a nation fixated on the hyperreal and the simulacrum – the copy that supersedes the original. Reichenbach's observations about American society predate Baudrillard's diaries but nevertheless Reichenbach reaches a very similar conclusion.


We see pilgrims traveling from Houston on horse and wagon, their method of transport driven by nostalgia for, the narrator tells us, for a time perceived as heroic. On a beach in Satna Monica, a man and woman embrace in the surf; it is a photoshoot for an album cover, intended to mimic the famous embrace from From Here to Eternity, but where does the performance end and real passion begin. 'On an album cover, they will be together forever', the narration tells us. Photography is a recurring theme, photographers described by the narrator as 'the Sunday painters of modern America [….] Their Kodak is their memory'. In a theme park, participants ride on a mid-Nineteenth Century style paddleboat, and a ride on a steam train is interrupted by a Westworld-style simulation of an attack by masked raiders. 'America is composed of a thousand artificial worlds', the narration asserts, 'Here, everything is reconstructed'.

From birth, American children are raised with and by television, Reichenbach suggests, with parenting taking place at a distance. A child's birth is shown on a television monitor that is watched by the father. Babies are shown in incubators 'where they ripen like melons until the reach the statutory weight'. 'The newborns soon transition from this temporary state where the television watches them, to a more permanent state where they watch the television', the narrator says before adding the final flourish: 'which, moreover, broadcasts special programmes for babies!' Under this statement, we see footage of babies in playpens, watching television.


American children are spoilt rotten, Reichenbach implies: we see American youth tucking into huge ice cream sundaes prepared by men who, the editing suggests, are virtually indistinguishable from the prisoners we saw in the immediately preceding sequence, toiling in prison workshops on making licence plates and sewing mail sacks. In other kitchens, men spin pizzas. Identical triplets enjoy fast food. There are eating competitions; huge barbecues. Excess is lived and experienced, and is evidenced in a nation's diet. Childhood is described as 'the golden age of American life', and this is evidenced in hula hoop contests. Children are shown delivering newspapers, as the narrator tells us that these newspapers contain 'not news of those fictional characters called Ike, De Gaulle and Kruschchev, but news of the real heroes of this world: Pogo, Superman, Dick Tracy, and the little orphan Annie'.

In this brave new world, it seems, success is measured solely by one's popularity – especially with the opposite sex. The beach is the place where the transition from childhood to adolescence takes place: 'On warm summer afternoons, these supple teenage bodies explore one another with gay abandon', the narrator tells us. In American high schools, girls 'must acquire other assets, such as shapely legs and winning smiles […] America is awash with girls dressed in white, racing towards a happy future'. Reichenbach looks at American universities as if they are solely places where mating rituals take place. Young men and women eye one another from a distance. 'On the university lawn they secretly plan the final attack which will lead to marriage', the narrator declares. Success in courtship is success in life: 'The chosen ones will not be those who are best at translation, nor the smartest dressed, nor the cleverest, but those who most resemble Miss America – who herself resembles the "All American Girl"'. Young men and women are shown in Judo classes which, as the girls wrestle the boys to the floor, seem more like a form of foreplay than combat.


Video
Filling approximately 25Gb on a dual layered Blu-ray disc, America as Seen as a Frenchman runs for 90:46 mins.

The 1080p presentation uses the AVC codec, and the film is presented in its intended aspect ratio of 2.35:1. Photographed anamorphically on 35mm colour film, the film looks very good here. Arrow's promotional material is vague on the source used for this presentation. There is a good level of detail throughout the film though some softness which suggests a positive/IP may have been used as the source. This seems to be reinforced by the contrast levels, which are pleasing with defined mid-tones but feature a sharp drop into the toe with some crushed blacks. Colours are rich and deep. The encode to disc is strong, retaining the grain structure of 35mm film.

Some full-sized screengrabs are included at the bottom of this review. Please click to enlarge them.









Audio


Audio is presented by a LPCM 1.0 mono track (in French). This is deep and rich. Optional English subtitles are included. These are easy to read.

Extras



The disc includes:
- 'F for French' (23:34). Critic Philip Kemp discusses the career of Reichenbach and talks about America as Seen by a Frenchman. Kemp considers the relationship between Reichenbach and the filmmakers of the nouvelle vague. Kemp suggests Reichenbach's name has 'faded' because the director was associated chiefly with documentaries. Kemp examines how Reichenbach came to be a filmmaker through his enjoyment of art. A trip to New York inspired Reichenbach to take up filmmaking

- Image Gallery (1:13).







Overall



Reichenbach's documentary focuses on those absurdities of American life – the 'right on' attitude, the social divisions, the rampant consumerism, the media fixation – that were at one time considered quirks of a specific culture but which have since become so prevalent across the world. It's an interesting documentary which nevertheless inarguably cherrypicks aspects of Americana that are easy to satirise, deliberately setting out to depict American culture as 'other'. Reichenbach's modernist approach – the use of montage, the emphasis on rites and rituals, and the employment of a witty narration filled with metaphor – seems quite clearly to anticipate the sensationalistic 'mondo' documentaries that followed in the wake of Gualtiero Jacopetti and Franco Prosperi's Mondo Cane in 1962.

Arrow's Blu-ray release of America as Seen by a Frenchman is very welcome. The main presentation is good though not brilliant – presumably owing to the materials available. The interview with Philip Kemp helps to places the film in the context of Reichenbach's work generally (and his relationship with the nouvelle vague too).

Please click to enlarge