Legacy of Lies
R2 - United Kingdom - Signature Entertainment
Review written by and copyright: Rick Curzon (11th October 2020).
The Film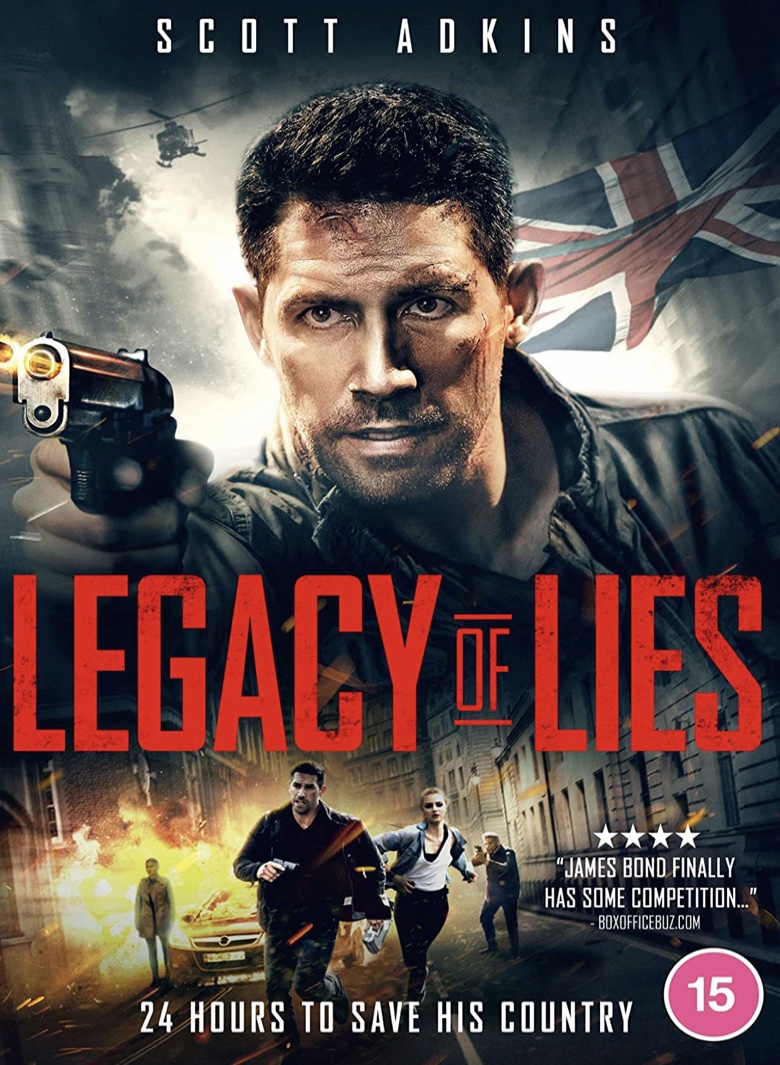 High stakes espionage takes the fight to the streets.

Martin Baxter (SCOTT ADKINS, Doctor Strange) a disgraced MI6 agent is forced back into the spy game as a young journalist seeks out his help to expose the shocking truth about operations conducted by the Russian Secret Service.

With his daughter pulled into the fray will Martin choose family over queen and country in this explosive, action packed thriller?

Video


Agreeable, hard-edged, straight to video James Bond wannabe is efficient and well made with decent performances. The script and characterisations tend towards cliche and it doesn't entirely escape that orbit. Still, work a look on a slow night.

Digitally lensed modern production in the increasingly ubiquitous 2.4:1 matted widescreen format; even television programmes are shooting wider with 2:1 being foisted on filmmakers by the likes of Netflix for some bizarre reason. I personally think that if you're making something for the small screen stick to 1.78:1 which maximises the resolution of the format.

This disc looks pretty looks pretty sweet for standard definition with decent black levels and minimal unintended crush, rich colours and good low key contrast. Detail is decent for the format and film grain is expectedly non existent. It's been well encoded and I detected no major compression issues on this single layered disc. Again, for the format.

A Blu-ray release for this kind of low grade action fare would be much preferable but this is very reasonably priced with Amazon UK having it up to preorder for £7.

MPEG-2 / PAL / 2.4:1 / 96:42

Audio


English Dolby Digital 5.1
English Dolby Digital 2.0 Surround
Subtitles: None

A pretty active soundtrack on both options but the 5.1 gives the standard 2.0 Surround a bigger field to play with. LFE is decent with the subwoofer kicking in at appropriate moments. Dialogue is crips and clear at all times. The surrounds get plenty to do during the action with ambiance and bullets playing across the field very pleasingly. Obviously, a lossless track would kick it out of the park with greater warmth and depth.

There are yellow burnt in subtitles for all non-English dialogue but a shame no English hard of hearing subs for those who need them.

Extras


Startup Trailers:
- The Iron Mask (1:40)
- In the Line of Duty (1:57)

Meh, the usual promos for other releases.

Packaging


Standard, black DVD Keepcase.

Overall


Signature continue to produced sold DVDs of recently made minor meat and potatoes fare and they seem to to have the art down to a T. Obviously, BD or UHD BD would serve all of these titles much better but I guess they don't want to take the risk with the additional costs being a factor. These discs look very agreeable upscaled on my 4K 55" for what they are and will do the trick; the modest price encourages support by those not interested in forking out for foreign HD or 4K equivalents.
| | | | | |
| --- | --- | --- | --- | --- |
| The Film: C+ | Video: B+ | Audio: B+ | Extras: E | Overall: C+ |

---
DVD Compare is a participant in the Amazon Services LLC Associates Program and the Amazon Europe S.a.r.l. Associates Programme, an affiliate advertising program designed to provide a means for sites to earn advertising fees by advertising and linking to amazon.co.uk, amazon.com, amazon.ca, amazon.fr, amazon.de, amazon.it, amazon.es and amazon.se.