Frank Herbert's Children of Dune AKA Dune Apocalypse (TV) (Blu-ray) [Blu-ray]
Blu-ray ALL - United Kingdom - Signature Entertainment
Review written by and copyright: Rick Curzon (13th November 2020).
The Film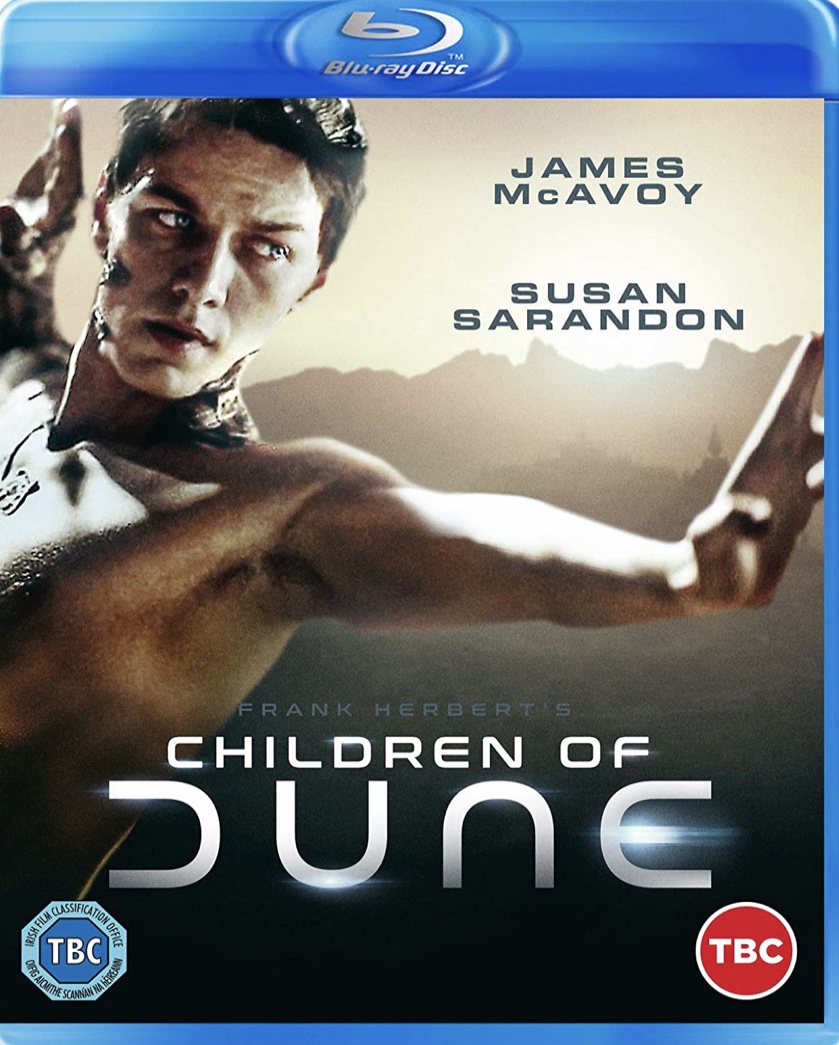 Based on the epic novels written by Frank Herbert, comes this visually stunning, action-packed sci-fi sequel. James McAvoy, Susan Sarandon, Alice Krige star in the fantastical saga of House Atreides. Destined for greatness, the twins of Paul "Muad'dib" Atreides become embroiled in the political landscape of Arrakis (Dune) and the rest of the universe, resulting in conspiracy, betrayal and murder.

(The image at left has a TBC certificate but it's been certified 15 by the BBFC:

"There is a scene of strong sex between two characters.
Strong violence includes a man having a knife thrown into his neck and another being stabbed in the torso.")

Video


Frank Herbert's Children of Dune (2002)

The Sci-Fi Channel's fine sequel to their equally great Frank Herbert's Dune (2000) gets a belated barebones BD release in the UK by Signature Entertainment several years after similar releases in France, Germany and Australia.

Technical specifications for the original production are quoted from Bill Hunt's review on the Digitalbits:

The series was made using "Sony 24p HD camera with modifications by Panavision. The CG visual effects were rendered in different resolutions (1080, 720, and some SD), depending on whether they were foreground, midground, or background elements, and final compositing was done in 2K."

As a result the image is a tad uneven depending on the source of the HD material. Overall it's an excellent transfer with superb black levels containing plenty of detail and no crush and contrast which is layered, low key and supportive. Detail is ever present in this crisp, digitally shot production and the colour palette is rich and warm with plenty of yellows, golds, browns and - when they appear - reds which pop nicely. Flesh tones are correspondingly healthy and naturalistic. The encode is up to the task and I saw no issues to report.

This has been stylishly shot and the maxed out bit rate of the discs allows the excellent master used to breath; a BD50 for disc one which contains episodes 1-2; BD25 for disc two with episode 3.

1080/24p / MPEG-4 AVC / 1.78:1 / Three episodes totally 263:07

Audio


English DTS-HD Master Audio 5.1
English LPCM 2.0 Surround
Subtitles: None

A full-bodied, robust set of lossless soundtracks. I suspect the 2.0 Stereo was the original and the 5.1 an up-mix. In either case they're strong with full bodied surround effects and plenty of welly. Base is powerful and utilises the subwoofer often and with force. This is a lively track that comes off with greater range in the 5.1 with better separation, greater depth and the surrounds are in stereo not mono (unlike the 2.0. Dialogue is always clear, the score balanced and never interferes and sound effects move around the soundstage effectively. Obviously not quite as enveloping as something like SPECTRE which had a budget many, many times bigger but still a pretty good demo track. I heard no distortion or other issues.

Sadly, there are no subtitles for the hearing impaired and have knocked the rating down by half a grade as a result ('A').

Extras


This is a two-disc set and both discs contain the same startup trailers.

Startup Trailers:
- A Call to Spy (2:15)
- Fall of a Kingdom (1:24)

Meh! Promos for two other Signature Releases. My 2003 R1 US Artisan DVD had some modest extras that haven't been ported across sadly:

"Making Dune's Children: VFX Revealed" featurette (13:23)
Storyboard Comparisons:
- Play All (6:06)
- The Worm Capture (2:54)
- Landing (0:27)
- Riding The Worm (2:09)
- Worm Rising (0:35)

I believe the other bD releases had these and perhaps some other modest extras. A great shame that Signature was unable or unwilling to get these.

Packaging


Standard blue, 2-disc BD Amaray Keepcase.

Overall


A great TV mini series that adapts Frank Herberts sequels to his classic Dune (1965) - Dune Messiah (1969) and Children of Dune (1976) - gets a barebones release on BD from Signature Entertainment. Image and sound are terrific but brickbats for including no extras or contextual added value. In any case, this is a fine release if all you want are the episodes and recomended.
| | | | | |
| --- | --- | --- | --- | --- |
| The Film: A | Video: A | Audio: A | Extras: E | Overall: B- |

---
DVD Compare is a participant in the Amazon Services LLC Associates Program and the Amazon Europe S.a.r.l. Associates Programme, an affiliate advertising program designed to provide a means for sites to earn advertising fees by advertising and linking to amazon.co.uk, amazon.com, amazon.ca, amazon.fr, amazon.de, amazon.it, amazon.es and amazon.se.