Hell Bent [Blu-ray]
Blu-ray A - America - Kino Lorber
Review written by and copyright: Eric Cotenas (2nd January 2021).
The Film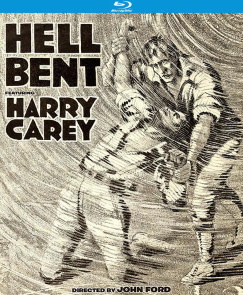 Fleeing a card game turned massacre after being accused of cheating, outlaw Cheyenne Henry (Harry Carey) makes it across the border ahead of the sheriff and his posse into Rawhide. In the meantime, he has a difficult time finding a place to sleep, acquiring a reluctant roommate in fellow gun-for-hire Cimmaron Bill (Straight Shooting's heavy Duke Lee). He soon finds a reason to go straight when he meets Bess Thurston (Neva Gerber) who has reluctantly become a dance hall girl after her brother Jack (Vester Pegg) was fired from his job at the local branch of Western Union since deliveries of gold never get there because of the stagecoach attacks by the gang of outlaw Beau Ross (Joe Harris). Ross, however, has not been able to discover the new method of transporting gold until he makes Jack an offer he cannot refuse after falling in lust with Bess at the dance hall. Harry stands up for the town when Ross tries to rob the bank. He lets Ross go when he discovers Jack's complicity, but Ross responds to Harry's order that he leave town by ambushing the next delivery and stealing Bess away to his gang's mountaintop stronghold. Harry gives chase, and fellow outlaw Cimmaron Bill may be the only person in his corner when he rushes headlong into danger.

Although made only a year after John Ford's feature debut Straight Shooting, Hell Bent was actually Ford's ninth film (having made three other films in 1917 and four more before the present film in 1918) and Carey's eighteenth outing as Cheyenne Harry following the now lost 1916 feature A Knight on the Range by Jacques Jaccard and eight shorts with Fred Kelsey, two more shorts with Ford, and six subsequent Ford features. Just as Sergio Leone's A Fistful of Dollars would later draw distributor concern about the ambiguous nature of the hero – so much so that the CBS television premiere of the film included a pre-credits sequence lensed by jobbing director Monte Hellman in which a prison warden (Escape from New York's Harry Dean Stanton) gives a Clint Eastwood stand-in a chance at a pardon if he restores order, justifying The Man With No Name's actions in the film proper – Straight Shooting was attacked in the Exhibitor's Trade Review for its "attempt to heroize such a type [as Carey's rough character]. There may be such men in the West, but it is best on the screen to show them up as horrible examples of what a man may be." Ford responds with an opening in which Carey plays a pulp novelist who receives a letter from his publisher telling him that the public is tired to "perfect men" and asked for a hero that is "an ordinary man as bad as he is good." The author looks for inspiration to Frederic Remington's 1897 painting "A Misdeal" which dissolves into the opening scene aftermath of the shootout from which Cheyenne Harry has already fled. The plot is entirely ordinary for the genre but the obligatory buddy rivalry between Harry and Bill as well as their attempts to both court Bess are charming (although it is hard to tell just how atypical of Ford's early work the comedy is here since most of his silent are lost), but the resolution to the film is oddly drawn out with the showdown between Harry and Ross culminating about fifteen minutes before the ending; whereupon, we have Harry, Bill, and Bess stranded in the desert with only one horse with wounded Harry insisting that Bill take Bess back while he then attempts to crawl back to civilization in the midst of a sandstorm while Bill returns to search for him and Bess waits back in town heartbroken before the happy ending in which Harry goes straight again before he trades love interests and buddies James Bond style in the next adventure (of which there would be eight more between 1918 and 1919 with Ford and then two more in the sound era seventeen years later for Harry L. Fraser).

Video


Unavailable officially until now, Hell Bent makes its Blu-ray debut in a new 4K restoration from Paramount. The 1080p24 MPEG-4 AVC 1.33:1 fullscreen image is not quite as sterling as Straight Shooting with the frameline dipping into frame from the top in a few instances but it is still a highly watchable presentation in keeping with Universal's other recent silent restorations. There is no information on whether the intertitles have been recreated here, but there is an inconsistency in that the villain is identified as "Beau Ross" in references and in the intertitles early on but was "Bean Ross" a couple time later in the film.

Audio


No complaints about the DTS-HD Master Audio 2.0 stereo track since it contains newly-recorded musical accompaniment by Zachary Marsh.

Extras


Extras start off with an audio commentary by film historian Joseph McBride who notes the atypical reflexive opening sequence – including an optical effect – as well as the film's use of humor compared to the more somber-toned Straight Shooting, the aforementioned trade review responses to Carey's hero, Ford's painterly eye (including the artistic influences of his childhood), and his stable of recurring actors from this largely-unseen period. McBride has also provide an archival 1970 audio interview with John Ford (44:32) recorded in research for his book on the director. He reveals in the introduction his discomfort with Ford's manner and responses to some questions he now realizes were a matter of his inexperience but also not knowing at the time that he was conducting the interview on the day that Ford would decide to retire from moviemaking after several deals fell through (including one to make a spaghetti western in Italy for which he was awaiting a call from an Italian producer on that very day). "A Horse of a Mary?" (9:09) is a video essay by critic Tag Gallagher that may be a bit of a frustrating listen if viewers also purchased Straight Shooting since does not build upon that discussion so much as reiterate points in the context of his film.

Overall




---
DVD Compare is a participant in the Amazon Services LLC Associates Program and the Amazon Europe S.a.r.l. Associates Programme, an affiliate advertising program designed to provide a means for sites to earn advertising fees by advertising and linking to amazon.co.uk, amazon.com, amazon.ca, amazon.fr, amazon.de, amazon.it, amazon.es and amazon.se.