Valachi Papers (The) AKA Cosa Nostra (Blu-ray) [Blu-ray]
Blu-ray B - United Kingdom - Powerhouse Films
Review written by and copyright: Rick Curzon (22nd January 2021).
The Film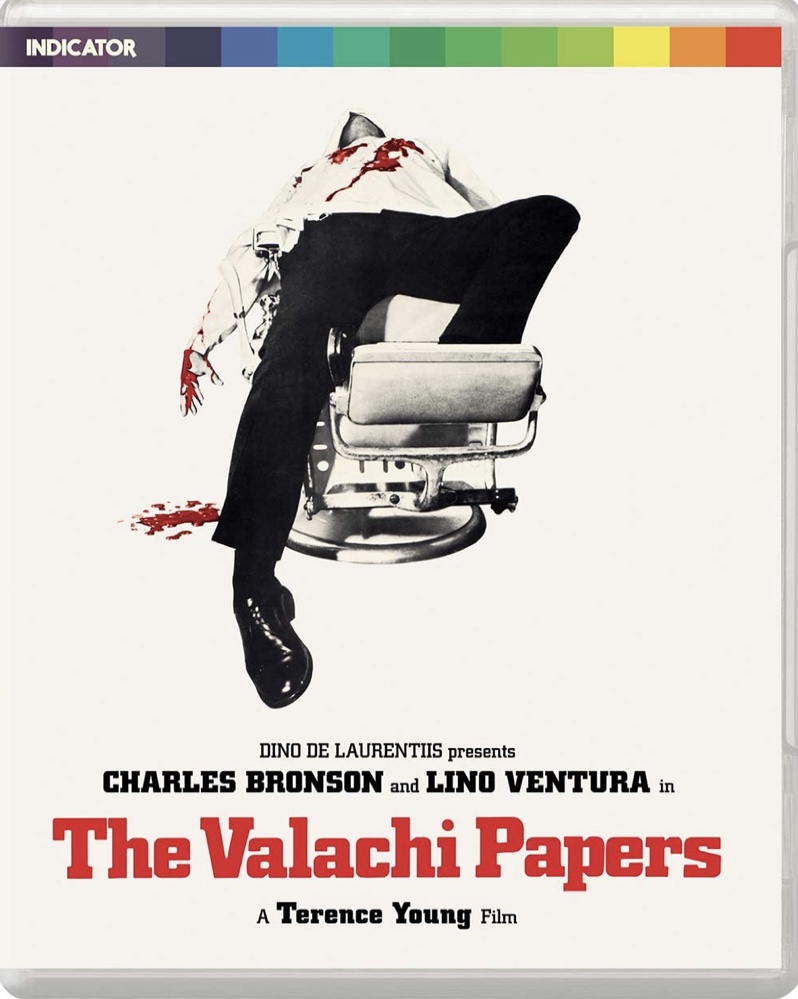 Based on the disclosures of mobster Joe Valachi, as recounted in Peter Maasí best-selling biography and at a sensational congressional hearing, The Valachi Papers tells the story of one manís brutal journey through the ranks of the Cosa Nostra, and a betrayal that would reveal the secrets of the Mob to the world.

Terence Young (From Russia with Love) skilfully renders the clandestine world of violent gangsters in this stylish European co-production which benefits from thrilling action, a no-nonsense central portrayal from Charles Bronson (Breakout), and impressive ensemble performances from Lino Ventura (The Medusa Touch), Joseph Wiseman (The Garment Jungle) and Jill Ireland (The Valdez Horses).

Video


This is an unshowily shot film with professional, matter of fact lighting and colour values. What I call naturalistic and warm in so far as flesh tones are nicely varied but always strong; pale folks look pale, tanned look tanned and no one feels "hot" and glowing. Primaries are strong when they appear but the overall palette favours greys, greens, blacks and browns.

Black levels are satisfyingly rich with great shadow detail. Contrast is supportive always allowing detail to shine; detail is in fact sharp on all focal plains. The encode is exceptional allowing a natural sheen of grain to thrive at all times, courser in darker scenes but never noisy - the grain even remains active in freeze frames. It has that wonderful filmic quality that photochemical film ought to have; something I miss in this digital age.

A topnotch transfer and mastering; well up to the usual standards we've come to expect from Powerhouse Films.

1080/24p / AVC MPEG-4 / 1.85:1 / 125:28

Audio


English LPCM 1.0
Italian LPCM 1.0
Subtitles: English HoH, English on Italian soundtrack

The preferred track for this film is obviously the English one; most of the film is production sound English but some of the cast were re-voiced. It's a decent track with solid base and clear dialogue. It has little range but serves the film well; some mild hiss but barely noticeable. No distortions in loud moments and the score comes over well and isn't intrusive of dialogue. (A)

The Italian track isn't as strong with a muffled quality on the dialogue which is all post-synced. The underlying music and effects track is essentially the same but seemingly the act of putting a dub-track over the top of it causes some minor distortion in louder sound effects. (B)

The optional subtitles are excellent on both options and welcome; English for the Italian track and English HoH for the English track.

Extras


Audio Commentary with film historian Paul Talbot (2020)

Talbot's tracks have a breathlessly detailed quality and are filled with plenty of detail about the film and in this case also about the reality behind the film. Essential, as all of Talbot's tracks are, especially if you're a Bronson fan,

"In the Make-up Room: Giannetto De Rossi Remembers The Valachi Papers" 2020 featurette (16:45)
"Reviewing the Evidence: Screenwriter Stephen Geller Remembers The Valachi Papers" 2020 featurette (34:25)

Two newly shot featurettes in full 1.78:1 1080/24p with lossy Dolby Digital 2.0 Stereo that plays in Surround when pumped through an amp set to ProLogic II; without it's basic 2.0 stereo. In the first veteran makeup artist De Rossi discusses the film and specifically working with Bronson. In the second screenwriter Geller discusses his life and career in the business and plenty about The Valachi Papers and the reality behind his script.

"Valachi: The Violent Era" 1972 featurette (6:32)

Vintage 16mm EPK piece from a time when such things weren't total puff pieces but extended trailers that talked about the making of the production in mater of fact terms and as a result are charmingly dated but also interesting, which is more than can be said for modern EPK. This one focusses more on cast and crew with a macho spin, talking about the reality rather than how great it was to work with so and so etc. Good stuff. Seems to be 1080/24p 1.33:1 but is faded and washed out with terrible black levels. Lossy Dolby Digital 2.0 mono.

1972 on-set footage (2:01)

On-set B-roll footage probably 16mm as with the above; 1080/24p 1.33:1 in faded colour, with lossy DD 2.0 mono sound. Similarly washed out with poor black levels.

The Valachi Hearings 1963 (Play All - 15:56):
- Joseph Valachi Arrives at Capitol Hill (0:50)
- The Initiation Ceremony (4:16)
- The Banquet (5:51)
- Narcotics and Killing (2:29)
- The Kiss of Death (2:37)

I love extras like this! Fascinating snippets showing 16 minutes of the October 1963 hearings in which the real Valachi made his name. Soft, faded 16mm monochrome with flat contrast and very grey. Lossy DD 2.0 mono sound.

US Theatrical Trailer (3:22)
German Theatrical Trailer (3:34) (with optional English subtitles)
TV Spots (1:32)
- TV Spot #1 (0:59)
- TV Spot #2 (0:33)
US Radio Spot (1:00)

A collection of vintage promo pieces; all 1080/24p with the trailers in matted 1.85:1 and the TV spots open matte and / or cropped and 1.33:1. Trailers are in good nick but the TV spots are sifter (upscaled?) and pinkish. The Both trailers starts with excerpts from the real Valachi hearings.

The Valachi Papers Image Gallery: Original Promotional Materials (85 images)

Excellent HD gallery in 1080/24p.

36-page liner notes booklet by Pasquale Iannone, newspaper reports on Joseph Valachiís criminal career, excerpts from the source book by Peter Maas, an overview of contemporary critical responses, and film credits

Typically superb accompanying booklet that adds even more contextual added value.

Packaging


Standard, clear BD case.

Overall


Superb image, fine sound and exemplary extras all in the service of one of the most enjoyable and interesting films yet made about The Cosa Nostra / The Mafia telling the true story of Joseph Valachi (1904-71). Highly recomended.
| | | | | |
| --- | --- | --- | --- | --- |
| The Film: A- | Video: A+ | Audio: A- | Extras: A+ | Overall: A+ |

---
DVD Compare is a participant in the Amazon Services LLC Associates Program and the Amazon Europe S.a.r.l. Associates Programme, an affiliate advertising program designed to provide a means for sites to earn advertising fees by advertising and linking to amazon.co.uk, amazon.com, amazon.ca, amazon.fr, amazon.de, amazon.it, amazon.es and amazon.se.