Chino AKA Valdez, Il Mezzosangue AKA The Valdez Horses AKA Valdez the Half-Breed (Blu-ray) [Blu-ray]
Blu-ray B - United Kingdom - Powerhouse Films
Review written by and copyright: Rick Curzon (6th January 2021).
The Film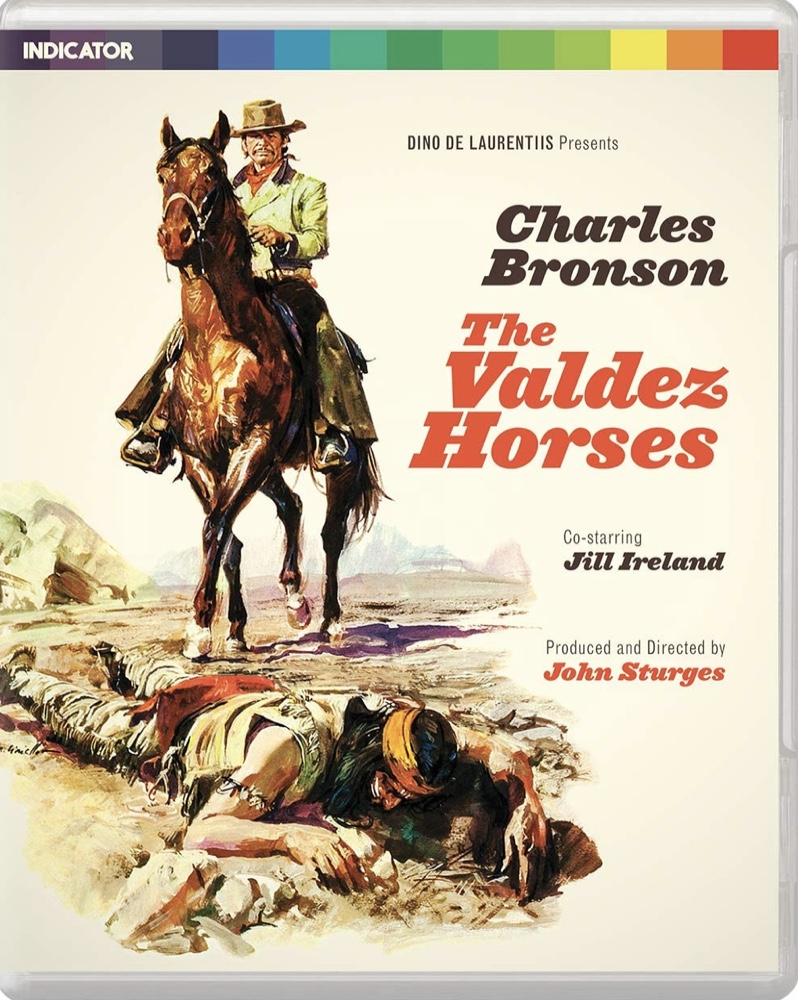 One of several impressive westerns Charles Bronson made during his 1970s heyday, The Valdez Horses reunites the rugged star with celebrated director John Sturges, who he had previously collaborated with on the perennial classics The Magnificent Seven and The Great Escape.

A surprisingly thoughtful film, The Valdez Horses sees Bronson play a half-breed rancher whose solitary life taming wild horses is upended when three people enter his life: a young runaway (Vincent Van Patten), a corrupt land owner (Marcel Bozzuffi, The French Connection), and his beautiful sister (Jill Ireland, Breakout, The Valachi Papers).

Beautifully filmed in mountains of Almería, Spain, a quintessential Spaghetti Western location, Sturges' film contrasts fist fights and shootouts with considered characterisation and an unexpectedly melancholy tone.

Video


Cracking, languid little western with Bronson on fine form even displaying some unusual charm. He has plenty of chemistry with both of his main costars: Vincent Van Patton and his real life wife Jill Ireland. The latter unusually using her natural UK accent and adding plenty of pep to the film and some nice romantic interludes. Good stuff from John Sturges a sadly ignore director who is best known for The Magnificent Seven (1960) and The Great Escape (1963).

A colourful, crisp-looking western vividly shot on location in Spain; a French-Italian-Spanish Europudding lensed with great skill by Armando Nannuzzi. The colour palette is naturalistic favouring natural colours of the outdoors; lots of browns, greens and tans. Skies of vivid blue and flesh tones are warm and healthy. Delineation is solid with deep blacks and supportive contrast. Detail as a result is strong on all focal planes although it fairs best in closeups with the usual benefits (skin and fabrics).

This looks to be from an older master; sadly the booklet has - unusually - not been provided so I don't know the source of the transfer. In any case this looked pretty strong on my 55" 4K display from a viewing distance of 10 feet. The encode is typically superb and I could see no signs of print damage nor digital tinkering. I'm sure a UHD 4K release could improve things, but it's unlikely to happen so this is about as good as it gets.

Apparently this is on a single layer which is not usual for Powerhouse Films and the bitrate is not as high as usual; perhaps a dual layer and maxed out bitrate could make a difference but I doubt it somehow. This looked to me to be not quite up to the best Powerhouse has given us but not all that far off. I'm more than happy with the transfer.

1080/24p / AVC MPEG-4 / 1.85:1 / 96:52

Audio


English LPCM 1.0
Subtitles: English HoH

A clean, clear mono track with limited range but no signs of clicks or hiss. Dialogue is always clear, the score undistorted. At higher volume the limitations are abundantly clear but it's about as good as we can expect for a track of this vintage. That said, it's still rock solid. Shy of a complete rebuild from the sound stems - assuming they exist - it ain't gonna get any better.

Hard of hearing subs are provided, well done and welcome.

Extras


Audio Commentary with film historian Paul Talbot (2020)

Talbot has done many yaktraks over the years, mainly on Bronson films and they're always a topnotch listen filled with interest. He's also published two books on the star (both well worth getting): Bronson's Loose!: The Making of the Death Wish Films (2006) and Bronson's Loose Again! On the Set with Charles Bronson (2015). Lossy Dolby Digital 2.0 stereo.

"Dust and Sweat: Giannetto De Rossi Remembers The Valdez Horses" 2020 featurette (15:38)
"Gambling on the Horses: Stephen Geller Remembers The Valdez Horses" 2020 featurette (20:09)

Two interesting and worthwhile new featurettes discussing the making of the The Valdez Horses. 1080/24p 1.78:1 with lossy Dolby Digital 2.0 stereo tracks.

Alternative Titles and Credits:
- Valdez il mezzosangue (3:49)
- Chino (upscaled SD to 1080/24p) (3:57)

Alternate credits sequences; the Italian and the US with the latter being an upscale 1.33:1. The Italian is 1080/24p 1.85:1 and ahows plenty of wear. Sound is lossy Dolby Digital 1.0.

French Theatrical Trailer (3:06)
TV Spot (0:28)

Vintage promo pieces in 1080/24p with lossy Dolby Digital 1.0 tracks.

The Valdez Horses Image Gallery: Original Promotional Materials (35 images)

A solid gallery in 1080/24p.

36-page liner notes booklet by Roberto Curti, an archival on-set report with contributions from Charles Bronson, Jill Ireland, and John Sturges, extracts of interviews with Bronson and Ireland, an overview of contemporary critical responses, and film credits

As if writing this hasn't been sent for review.

Packaging


Standard, clear BD case.

Overall


Typically interesting and thoroughly enjoyable choice from Powerhouse Films for their Indicator series; a grand spaghetti western starring the late, great, much missed Charles Bronson. Image quality is very strong and sound likewise even if both aren't perfect. Extras are first class, as usual. Highly recomended!
| | | | | |
| --- | --- | --- | --- | --- |
| The Film: B+ | Video: A | Audio: A- | | |

---
DVD Compare is a participant in the Amazon Services LLC Associates Program and the Amazon Europe S.a.r.l. Associates Programme, an affiliate advertising program designed to provide a means for sites to earn advertising fees by advertising and linking to amazon.co.uk, amazon.com, amazon.ca, amazon.fr, amazon.de, amazon.it, amazon.es and amazon.se.