The Film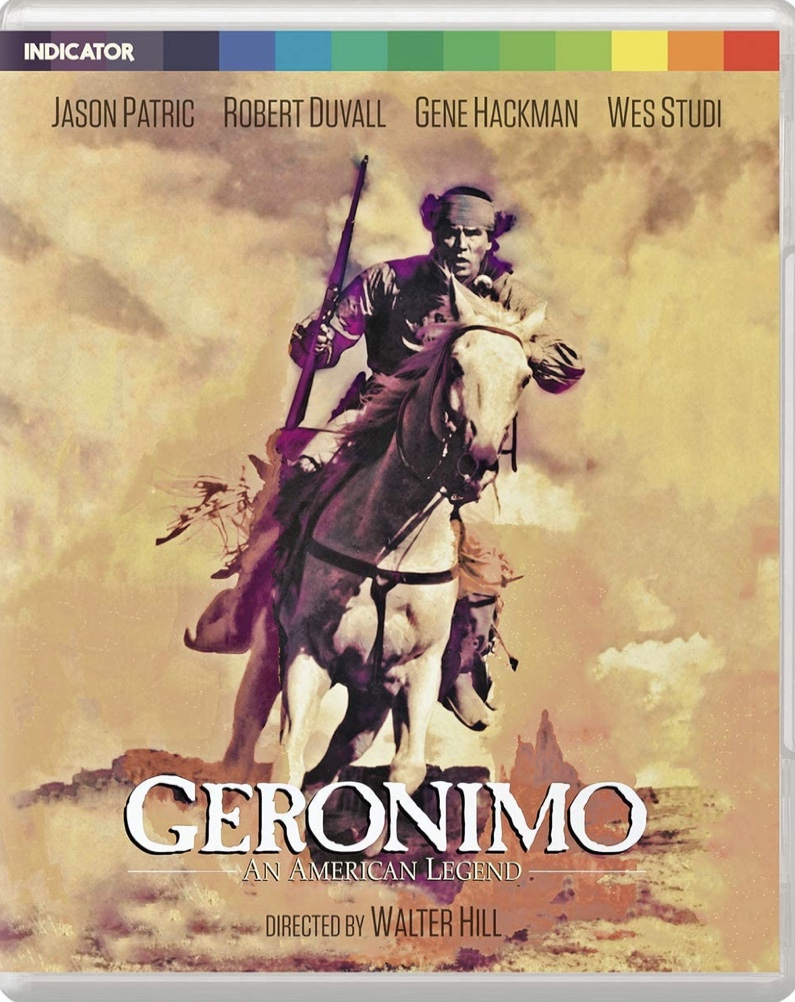 Geronimo: An American Legend recounts the proud history of the famous Apache warrior who refused to accept the destruction of his people and, through his resistance and bravery, earned the respect of those he fought against.

Wes Studi (The Last of the Mohicans) gives a dignified central performance as the eponymous Native American hero and is ably supported by Gene Hackman (Cisco Pike), Jason Patric (The Lost Boys), Robert Duvall (Badge 373) and, in an early role, Matt Damon, who all play his adversaries in the US cavalry.

Unjustly neglected upon its original release, Geronimo benefits from John Milius and Larry Grossís respectful, considered screenplay which is elevated by the epic sweep of Walter Hillís direction. A visually stunning film that beautifully captures the vastness of the frontier landscape, Hillís film is given extra poignancy by Ry Cooderís moving score.

Video


Walter Hill's epic western was undervalued at the time performing poorly at the box office despite mostly pretty sweet reviews. Since then it's stature has risen considerably despite being loose with the facts and although not cited as being one of THE films of the '90s and essential, it'll always be essential for the open minded film buff and for western aficionados. A superb production in every way from performances through the physical production and Ry Cooder's mesmerising score is the icing on the cake.

Shot on 35mm in anamorphic Panavision in the scope aspect ratio of 2.4:1 (stock: Eastman EXR 200T 5293, EXR 500T 5296; according to IMDB). This is one stunner shot by Lloyd Ahern II with exemplary widescreen compositions, plenty of filter work and grand vistas. Colour values are deep and rich very much emphasising the redder end of the spectrum. Largely set in bright sunlight and during in daylight with the desert and mountain backdrop of deep browns, blacks, greys with earthy reds permeating everything. Flesh tones are tanned and healthy with no bleeding.

Black levels are deep, dark and stygian with exceptional shadow detail when contrast allows; and little or no unintended crush. Contrast is layered and supportive throughout; at it's strongest and most startling in the monochrome flashbacks which are striking. Detail is exceptional throughout the film on all focal planes even taking into account the naturally softer cast due to anamorphic lenses. Textures in fabrics and skin are very detailed. Grain is extremely fine but ever present due to the fast lens, bright settings and fast stocks. Extremely filmic. I could detect no signs of digital tinkering and no age related damage, but frankly I wouldn't expect it for film made by a big studio and of such relatively recent vintage.

An exceptional transfer unlikely to be bettered unless a higher level scan (8K) and an UHD 4K release comes along with HDR / Dolby Vision.

1080/24p / AVC MPEG-4 / 2.35:1 / 115:07

Audio


English DTS-HD Master Audio 5.1 (48kHz/24-bit)
English DTS-HD Master Audio 2.0 Stereo (48kHz/24-bit)
Subtitles: English (burned-in for Apache dialogue), English HoH

Originally made in SDDS 8 channel multi-channel surround sound and presented on 35mm prints in Dolby Stereo and in 6-track for 70mm blowup prints.

The 5.1: A flawless, lossless track; great delineation, warmth, depth, range, plenty of separation, absolutely no distortion - even when played very loud, lots of ambiance and score in the surrounds and despite the fact this is a very active track with almost constant ambiance dialogue always stands out crisp and clear. The breathing sounds in the monochrome flashbacks felt / sounded like someone was breathing down my neck! As good a vintage 5.1 as I've ever heard.

The 2.0 Stereo: This isn't encoded naturally for surround which does seem strange but will play with surround separations when the amp is set to ProLogic II. Frankly, at normal sound levels this sounded as good as the 5.1 but when the volume cranked up mild distortions did show a little, nothing bad or unexpected. The mono surrounds just don't have the depth and range of the stereophonic versions in the 5.1.

When the subtitle submenu is selected the following text is displayed:


"On its original theatrical release, prints of Geronimo: An American Legend included optically printed subtitles translating the Chiricahua dialogue. These subtitles were written in a distinctive typeface, selected purposely for the film. The above options allow the viewer to experience the film with these subtitles as they were originally presented or to watch with a more neutral subtitle typeface."


It's gratifying to see that Powerhouse Films have gone the extra mile to include the original theatrical font. Also, as usual, we have the excellent hard of hearing subtitles. All subs are beautifully done and on the bits I saw, covering all of the dialogue with no nuance dropped. Bravo!

Extras


Audio Commentary with western experts C. Courtney Joyner and Henry Parke (2020)

Detailed, fact-filled track from two who know their business when it comes to westerns and the films of Walter Hill. Lossy Dolby Digital 2.0 stereo.

"The Guardian Interview with Ry Cooder: Conducted by Jonathan Romney 16 June 1995 National Film Theatre London" 1995 interview (71:54)

Detailed career overview focussing on his film scores with bags of interest presented in a vintage standard definition 1.33:1 with lossy Dolby Digital 2.0 mono sound.

"The Old Days Are Gone: Walter Hill on Geronimo: An American Legend" 2020 featurette (23:23)
"I Have Seen My Power: Wes Studi on Geronimo: An American Legend" 2020 featurette (11:42)
"Impressions of the West: Ry Cooder on Geronimo: An American Legend" 2020 featurette (12:48)
"Geronimo Goes to Hollywood: An Interview with Kim Newman" 2020 featurette (18:06)
"Geronimo: An American Legend Presented by Bertrand Tavernier" 2016 featurette (36:11)

A series of new (and one of recent vintage) featurettes that collectively (102:10) form an ersatz feature-length retrospective with plenty of interest for fans. The Tavernier piece is from the 2016 French BD and is in French with optional English subtitles. All 1080/24p 1.78:1 and in lossy Dolby Digital 2.0 stereo. T

"Geronimoís Last Raid" 1912 short film:
- Play with score by the band Peninsula (16:31)
- Play Silent (16:31)

Vintage silent short, sadly only partially complete, newly scanned in 2K from one of the only surviving film elements with a new score presented in lossy Dolby Digital 2.0 stereo. The image is in a fairly degraded, washed out condition so don't expect miracles; littered with age-related wear and tear and at washed out with blowout lighter areas of the image.

Original Theatrical Trailer (2:31)

Vintage promo in 1080/24p with lossy Dolby Digital 2.0 stereo.

Geronimo: An American Legend Image Gallery: Original Promotional Material (27 images)

Decent little still gallery presented in 1080/24p.

40-page liner notes booklet by Omar Ahmed, extracts from screenwriter Larry Grossí shooting diary, an overview of contemporary critical responses, and film credits

An excellent hardcopy companion that provides plenty of contextual added value.

Packaging


Standard clear Blu-ray Keepcase.

Overall


Walter Hill's '90s cult classic was largely ignored at the time but has developed quite an afterlife on home video since to the degree it's become one of the most highly regarded westerns of the last forty years. Powerhouse Films have taken Sony's excellent HD master and presented in on it's best behaviour. Being a recent-ish production image and sound are out of this world. Extras are full and choice in an excellent package of contextual added value.

Highly recommended and most likely one of the discs of the year; certainly for western buffs. I can't see anyone bettering this glowing package.
| | | | | |
| --- | --- | --- | --- | --- |
| The Film: B+ | Video: A+ | Audio: A+ | Extras: A+ | Overall: A+ |