Death of Me
R2 - United Kingdom - Signature Entertainment
Review written by and copyright: Rick Curzon (7th January 2021).
The Film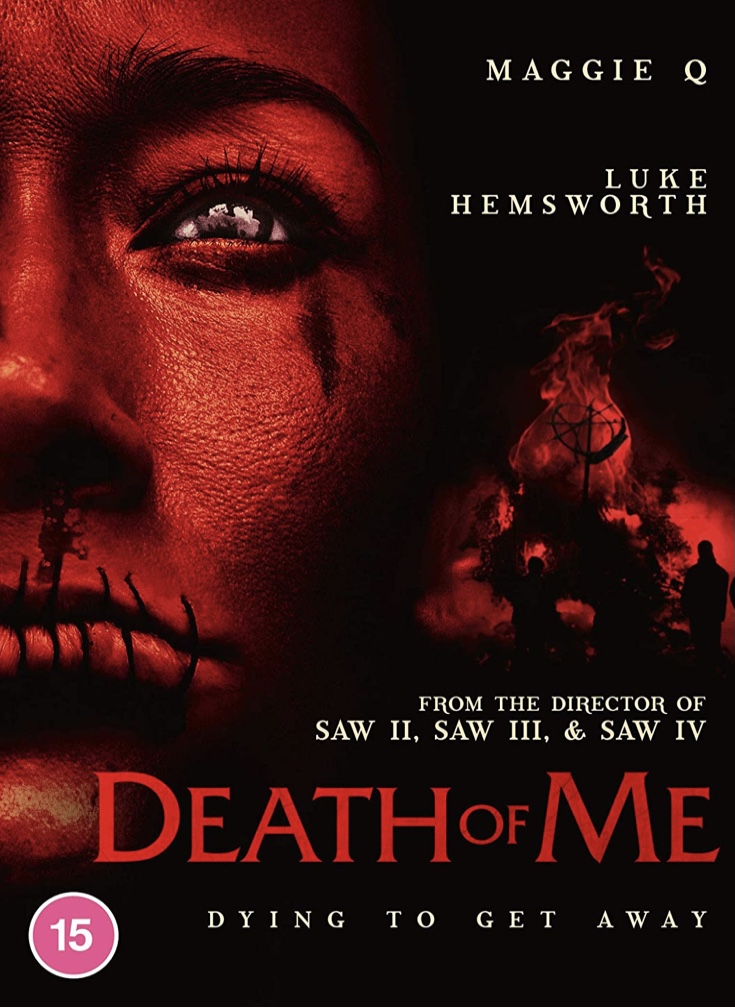 A dream vacation in the South Pacific becomes a torturous nightmare in Death of Me, a high stakes horror from director Darren Lynn Bousman (The SAW Franchise, SAW: SPIRAL).

Christine (MAGGIE Q - Fantasy Island, Designated Survivor) and Neil (LUKE HEMSWORTH - Thor: Ragnarok) awake on their dream vacation to a hangover and no recollection of the night before. The only clue to the horrors that transpired is a tape of Neil killing Christine.

A killer vacation soon turns into a game of survival with death itself.

Video


Pretty standard westerners-in-a-strange-foreign-land-when-weird-shit-happens horror film with a touch of The Wicker Man (1973), Rosemary's Baby (1968), The Serpent and the Rainbow (1987) with a soupçon of Lost Highway (1997).

Well made, well written, well directed, decent production values and it gets a long way on the strength of the performances and the intriguing aspects of the mystery in which the leads wake up on their hols but can't recall the last twelve hours. And, lo and behold a 2.5 hour video turns up that ends shockingly and intriguingly. Nothing new here but entertaining and well done. It's far superior to the pretentious and way overlong Midsommer (2018) with far more engaging leads even if it has less visual pizzazz than that pretentious, bloated riff on The Wicker Man.

It's a typical digitally shot production with a fairly straight forward colour palette presented in standard definition. My overall feeling is that the director and DP favour Earthy grays, browns and greens with the odd splash of red, especially in scenes of local Thai colour. The Flesh tones are on the cooler side but normal and well defined. It's not a production that screams visual style but is atmospheric.

Black levels are deep and detailed with no unintended crush. Contrast is, once again, standard for modern films in that it's lowkey and supportive allowing plenty of texture and detail at least for the standard definition format. There was a couple of sunset shots where the sun blew out the ocean but that was by design. Interiors are richer, denser; exteriors lighter and brighter even at night. No digital or compression artefacts that I could see and obviously not a shred of damage being a new film.

I see a great deal of discs both DVD and BD and this one has a pretty decent image all round. Sure, it's standard def but on my 55" 4K display it looked great from a viewing distance of ten feet as do most modern, digitally shot films. The main thing missing beyond very fine detail is grain. I suppose that were Signature Entertainment to use a dual layered disc they could've increased the bitrate.

In any case a very strong SD transfer and about as good as can be given the format.

PAL / MPEG-2 / 1.85:1 / 90:20

Audio


English Dolby Digital 5.1
English Dolby Digital 2.0 Stereo
Subtitles: None

A very active 5.1 sound field with plenty of great separation. The score is typically in the surround channels and is effective in building atmosphere. Ambiance is ever present and enveloping but that's not surprising in a film from the director of Saw 2-4. Horror films just seem to get more lavish sound design. Dialogue is always clear to the front. A great track and about as good as can be for the lossy Dolby Digital format and given that this isn't a mega budget production.

The 2.0 Stereo option lacks the range of the 5.1 and is basic stereo with no special encoding for surround. However, as is usual, if you play it via an amp with ProLogic II, Neo:6 etc you will het surround effects albeit in mono. Stick to the 5.1.

No subtitles provided which is a crying shame.

Extras


Startup Trailers:
- Relic (2:18)
- Chronical: 2067 (2:06)

The usual collection of promos for other releases. A shame because the US BD has a 24 minute featurette.

Packaging


Standard black DVD case.

Overall


A fine little horror programmer that mixes up various tropes entertainingly. It gets a very agreeable presentation with decent standard def picture and sound quality that will provide the viewer with an atmospheric night in the home cinema. This DVD is a more than adequate viewing copy for most, but collectors and buffs will most likely seek out a BD from abroad. As is usual for Signature, the price is cheap and I have no problem recommending a purchase.
| | | | | |
| --- | --- | --- | --- | --- |
| The Film: B+ | Video: B+ | Audio: B+ | Extras: E | Overall: C+ |

---
DVD Compare is a participant in the Amazon Services LLC Associates Program and the Amazon Europe S.a.r.l. Associates Programme, an affiliate advertising program designed to provide a means for sites to earn advertising fees by advertising and linking to amazon.co.uk, amazon.com, amazon.ca, amazon.fr, amazon.de, amazon.it, amazon.es and amazon.se.