Rogue
R2 - United Kingdom - Lions Gate Home Entertainment
Review written by and copyright: Rick Curzon (6th January 2021).
The Film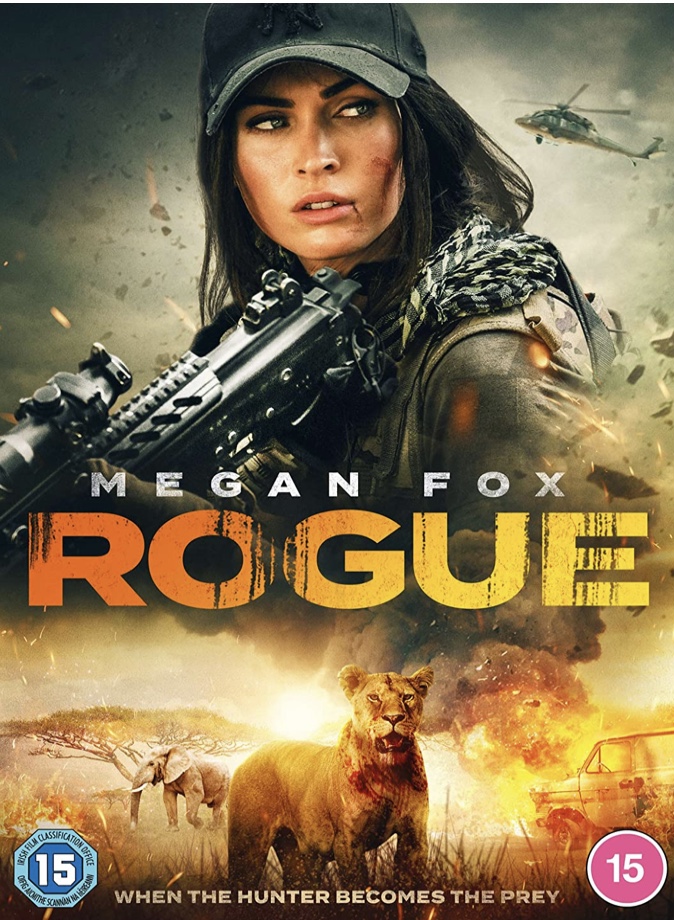 Megan Fox (Transformers franchise) tackles a thrilling new role as a battle-hardened mercenary in this explosive action saga. As team leader O'Hara, she leads a lively squad of soldiers on a daring mission: rescue hostages from their captor in remote Africa.

But as the mission goes awry and the team is stranded, O'Hara's squad must face a bloody, brutal encounter with a gang of rebels - and a ravenous, enraged lioness.

Video


Shot and set in South Africa action flick from the director of such genre fare as Deathwatch (2002), Solomon Kane (2009) and Silent Hill: Revelation (2012) this is a solid piece that doesn't blow you away as being the greatest action flick you'll see and doesn't do anything new. But, the cast are good as is the direction and production; it's pacy and enjoyable more often than not in the service of a formulaic but adequate script. Characters are fairly stock but the cast do their best. The very few CGI animals are pretty poor though but thankfully their aren't many; if the production couldn't do them correctly then they should've not done them. An agreeable view on a slow night and some might get more out of it. It's reputation could improve in the future due to Fox's involvement and it might end up a cult item.

Colours are rich emphasising earthy tones of red, yellow, brown and green; this is a good looking film if still very digital in it's look. Black levels and contrast work well together to create an image that has no unintended crush or blown out highlights. I saw no signs of digital tinkering or major compression. This is a single layered DVD which is adequate for a film of this length but duel layered would've added more to play with.

Obviously, an HD rendering would add much more in all areas but this is a very decent rendering all told. It looked decent enough on my 55" 4K display viewing from a distance of ten feet.

PAL / MPEG-2 / 2.40:1 / 101:38

Audio


English Dolby Digital 5.1
Subtitles: English HoH

This being an action film the sound field is very active most of the time. Lots of moments of no dialogue or action with ambiance and the sounds of nature working their magic in the surround channels. Dialogue is always clear when needed and the music keeps it's place. Separation is very strong and the subwoofer kicks in regularly, especially with explosions. It's not in the same league as the latest Bond film or any other mega budget multiplex actioner but it's a very respectable listen. Obviously, you could up the grade by a notch were this in a lossless format but for a lossy track this is very respectable. Cranking the sound up also didn't introduce much distortion which can be a problem.

Subtitles fornthe hearing impaired are welcome.

Extras


Audio commentary with cowriter / director / producer M.J. Bassett, cowriter / actor Isabel Bassett and actor Philip Winchester (2020)

Gabby, entertaining and informative track recorded in lockdown. They're watching an unfinished version of the film which leads to some amusing comments. The most interesting fact is that the film was shot in sequence as opposed to out of order as most films are. Amusingly this also means that as characters were killed off the actors would leave and the number of folks on set would diminish! Lots of talk about conservation issues and other great trivia about production; discussion of poor man's process and other tricks of the trade.

Audio commentary with cowriter / director / producer M.J. Bassett (2020)

A more focussed and technically minded track that covers the genesis of the film.

Cast and Crew Interviews (Play All - 46:38):
- "Rogue: Megan Fox - Samantha O'Hara" (8:16)
- "Rogue: Philip Winchester - Joey" (11:07)
- "Rogue: Sisanda Henna - Pata" (8:15)
- "Rogue: Greg Kriek - Mike" (8:24)
- "Rogue: Isabel Bassett - Tessa" [also cowriter] (10:35)

A substantial collection of EPK puff piece interviews that are pleasing generally covering all the usual things you'd expect from EPK.

Startup Trailers:
- Primal (1:51)
- Survive the Night (1:56)
- The Driver (1:21)

Standard promos from other releases.

Packaging


Standard black DVD case.

Overall


Entertaining action yarn with Fox seizing the role with gusto. Script, story and characters are stock but it's well done on most levels. Bar bad CGI animals of course.
| | | | | |
| --- | --- | --- | --- | --- |
| The Film: B- | Video: B | Audio: B+ | Extras: C | Overall: B- |

---
DVD Compare is a participant in the Amazon Services LLC Associates Program and the Amazon Europe S.a.r.l. Associates Programme, an affiliate advertising program designed to provide a means for sites to earn advertising fees by advertising and linking to amazon.co.uk, amazon.com, amazon.ca, amazon.fr, amazon.de, amazon.it, amazon.es and amazon.se.