Relic (Blu-ray) [Blu-ray]
Blu-ray ALL - United Kingdom - Signature Entertainment
Review written by and copyright: Rick Curzon (22nd January 2021).
The Film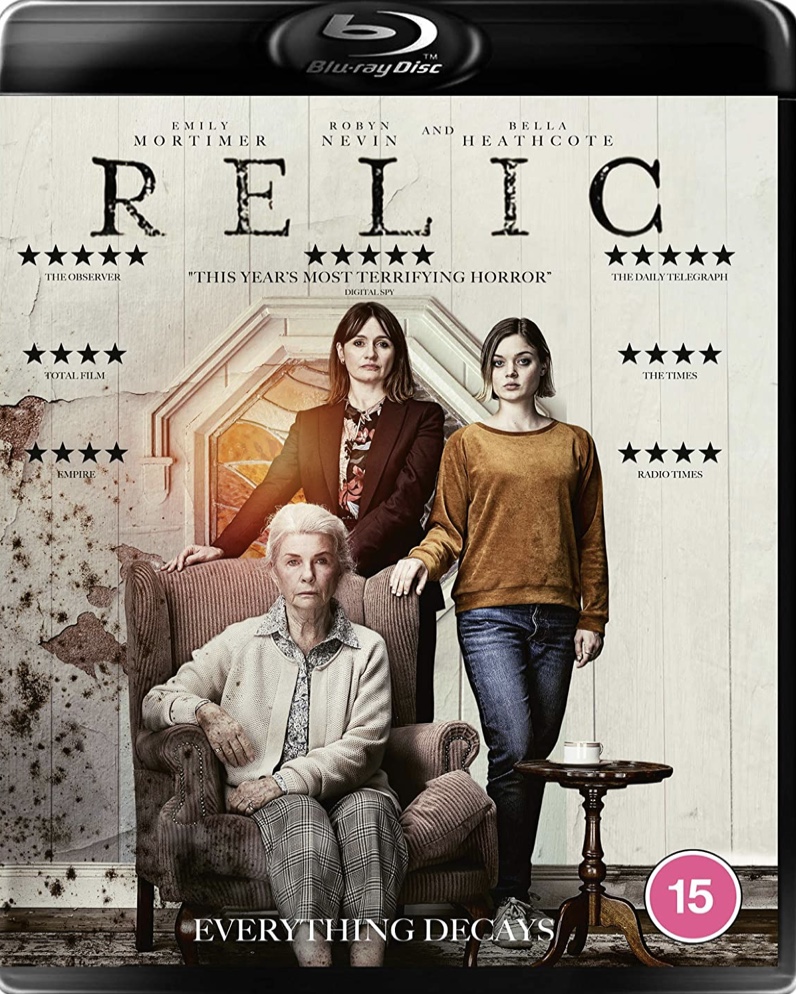 A deeply unsettling psychological horror, Relic is the unforgettable debut feature from writer and director Natalie Erika James who brings a fresh and profoundly human twist to the genre.

When elderly mother Edna (Robyn Nevin), inexplicably vanishes, her daughter Kay (Emily Mortimer) and granddaughter Sam (Bella Heathcote) rush to their family's decaying country home, finding clues of her increasing dementia scattered around the house in her absence. After Edna returns just as mysteriously as she disappeared, Kay's concern that her mother seems unwilling or unable to say where she's been clashes with Sam's unabashed enthusiasm to have her grandma back. As Edna's behaviour turns increasingly volatile, both begin to sense that an insidious presence in the house might be taking control of her.

Video


Pin-drop quiet, female-centric horror flick from Australia (both in front of and behind the camera) gets a comparatively rare Blu-ray release from Signature Entertainment who mainly seem to release stuff on DVD these days.

A modern, digitally lensed production using Arri Alexa Mini and Arri Alexa SXT cameras both with Cooke S4 Lenses; according to IMDB. This is a very flat-looking, ultra low contrast film that reminded me very much of the superior Arrival (2016). The image is so dim at times it was hard to make out what's happening on screen under normal lighting conditions on a correctly setup 55" 4K display and viewed from ten feet distance. I had to dim the lights considerably to properly assess the image.

It's been digitally colour corrected as well, favouring a low intensity palette; flesh tones are pale and I didn't really notice much by way of strong primaries. Black levels are correctly timed so no milkiness with decent shadow detail. Contrast is so low even in outdoor daylight scenes that there was no possibility of blowouts. Detail is exceptional in closeups when you can see it through the gloom and the encode is strong. I saw no signs of digital tinkering beyond the post-production methods outlined above.

My rating is high because I'm supposing that this film's look is by design and this being a single layered disc with decent bitrate is ensuring that we're seeing this on it's best behaviour but it's a rather dull, ugly view; it's a muddy-looking film by design.

1080/24p / AVC MPEG-4 / 2.4:1 / 89:45

Audio


English DTS-HD Master Audio 5.1
English LPCM 2.0 Surround
Subtitles: English HoH

This is another of those - what I call - pin-drop quiet mood-piece, character-driven horrors. The soundtrack rumbles away at a low level most of the time with minimalist use of music. When it gets loud it made me jump but for the most part this was a fairly unambitious sound mix. The 5.1 is the way to go with greater subtlety and range with the surrounds mainly for ambiance and some of the rumbling score; dialogue remains rooted in the front. LFE kicks in during that rumbly score in a low key way. All told this track is - like the film - lowkey and about as good as it's meant to be given the sound design, hence A+.

The 2.0 track is pretty sweet as far as it goes and is encoded for surround even when played without the benefit of something like ProLogic II via one's 5.1 amp.

Subtitles for the hard of hearing are well done and essential.

Extras


The BFI London Film Festival Introduction with Natalie Erika James hosted by Michael Blyth (0:47)
The BFI London Film Festival Q&A with Natalie Erika James hosted by Michael Blyth (19:42)

A couple of pieces from the BFI London Film Festival held during lockdown; 1080/24p 1.78:1, LPCM 2.0 stereo sound not surround encoded without ProLogic II assist.

"Relic: Bella Heathcoate 'Sam'" 2019 featurette (3:11)
"Relic: Emily Mortimer 'Kay'" 2019 featurette (10:50)
"Relic: Robyn Nevin 'Edna'" 2019 featurette (4:11)
"Relic: Natalie Erika James 'Writer / Director'l 2019 featurette (16:31)
"Relic: Charlie Sarroff 'Cinematographer' (4:58)

A collection of EPK interviews also in 1080/24p 1.78:1 with LPCM 2.0 stereo sound not surround encoded without ProLogic II assist.

"Relic: Steven Jones-Evans 'Production Designer'" 2019 featurette (7:07)

Brief featurette on production design also in 1080/24p 1.78:1 with LPCM 2.0 stereo sound not surround encoded without ProLogic II assist.

Relic Shoot Timelapse (2:05)

What it says on the tin in 1080/24p 1.78:1 with LPCM 2.0 stereo sound not surround encoded without ProLogic II assist.

"Relic: Behind the Scenes" 2019 featurette (0:35)
"Relic: Behind the Scenes" 2019 featurette (0:56)

Glib featurettes that are so brief as to be hardly worth the effort and in 1080/24p 1.78:1 with LPCM 2.0 stereo sound not surround encoded without ProLogic II assist.

Startup Trailers:
- Possessor (2:10)
- Alone (1:55)

The usual promos for other releases by Signature Entertainment; both look intriguing.

Packaging


Standard size, black Blu-ray Keepcase.

Overall


The film is well regarded, but for me an acquired taste and ultimately ham fisted in it's metaphor; not entirely successful to my mind being all rather worthy and in good taste ... and dull. A film very much for critics, not horror fans.

The disc's technical specs are well up to par but the film is by design ultra-dim looking with low contrast which hampers visual appreciation, at least for me. Extras have the odd nugget of insight and interest but are mainly disposable. However, for fans - or the curious - this is a decent presentation of the film the way it was intended to be appreciated and priced very cheaply on day one, so recommended.
| | | | | |
| --- | --- | --- | --- | --- |
| The Film: C- | Video: A- | Audio: A+ | Extras: C | Overall: B |

---
DVD Compare is a participant in the Amazon Services LLC Associates Program and the Amazon Europe S.a.r.l. Associates Programme, an affiliate advertising program designed to provide a means for sites to earn advertising fees by advertising and linking to amazon.co.uk, amazon.com, amazon.ca, amazon.fr, amazon.de, amazon.it, amazon.es and amazon.se.