The Film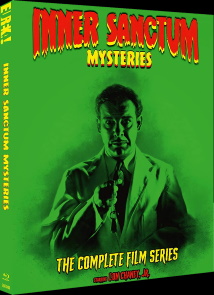 "This is the Inner Sanctum. A strange, fantastic world controlled by a mass of living, pulsating flesh, the mind. It destroys, distorts, creates monsters, commits murder. Yes. Even you, without knowing, can commit murder"
...so intones a floating head (The Beast with Five Fingers's David Hoffman) in a crystal ball. With Universal's golden age stars Bela Lugosi and Boris Karloff aging out of their horror star status, the studio launched a series of vehicles for Lon Chaney Jr., the star of The Wolf Man and Karloff's replacement in the later The Mummy sequels. The result was Inner Sanctum, a six-film series that took its name from the Simon & Schuster fiction imprint but its format from the radio series spin-off (1941-1952) featuring five original stories and the adaptation of Fritz Lieber's "Conjure Wife" (subsequently adapted as Night of the Eagle/Burn, Witch, Burn! and Witches' Brew).

Calling Dr. Death: Suave neurologist Dr. Mark Steele (Chaney) is a professional success but his personal life is in shambles since he married Maria (The Mummy's Ghost's Ramsay Ames), a woman only attracted to his money who refuses to give him a divorce so he can be with his faithful nurse Stella (Dressed to Kill's Patricia Morison). Working himself to exhaustion to avoid coming home to Maria, he snaps one night when he discovers that she has gone to their country cottage for an assignation. He wakes up in his office on Monday morning with no memory of how he got there only to learn from the police that his wife has been murdered, and that Inspector Craig (Sahara's J. Carrol Naish) suspects him of a crime of passion (Maria's face having been destroyed by acid). Although Mark is uncertain of his guilt, he knows he hated his wife and is on the verge of confessing – against Stella's advice – when it is announced that Maria's lover Robert Duval (The Mad Ghoul's David Bruce) has been arrested. Duval's paralyzed wife (Phantom Lady's Fay Helm) begs him to help her husband, and Mark cannot help but believe Duval's claims of innocence; so too does Craig who continues to needle Mark until he puts himself under hypnosis to discover the truth.

More of a film noir than a Universal horror film, Calling Dr. Death as incessantly narrated by Chaney – a recurring device of the series that may annoy most viewers, especially since so much of what is described is also conveyed visually – is the most diverting of the six films since by virtue of being the first entry, it suspense mechanisms have not been driven into the ground by repeated recycling and it seems the least absurd here that Chaney is caught between two women since one hates him and the other seems to be attracted to his intellect. The red herrings are effective here since it is just as likely that Craig might be the killer himself as Mrs. Duval's paralysis might be psychosomatic. Made at a time when psychoanalysis started to inform thriller plots, it seems heavy-handed that Craig repeatedly suggests that Mark's guilt may be less a crime of passion than a consequence of probing the mind; and yet, his character also makes the valid point that the will to live might cause Mark to distort the truth even under hypnosis (Chaney and Naish would both end their careers with the ignominious Dracula vs. Frankenstein). The final twist is a surprise, although in any later thriller it would be quite obvious. Director Reginald Le Borg keeps things interesting with some sinuous camera moves, subjective POV shots (including Mark taking in the crime scene), and some paranoia montage and optical work. Screenwriter Edward Dein was no stranger to the contrived thriller formula with additional input on Jacques Tourneur's The Leopard Man and the script for the later The Cat Creeps.


Weird Woman: When sociologist Norman Reed (Chaney) returns from a trip to the South Seas with a pretty young wife in Paula (House of Frankenstein's Anne Gwynne) , torch-carrying university librarian Ilona Carr (The Ghost of Frankenstein's Evelyn Ankers) is livid and sets about destroying his life. Ilona intimates to social-climbing professor's wife Evelyn Sawtelle (The Curse of the Cat People's Elizabeth Russell) that the younger woman is a witch who has been using both magic and sex appeal to Norman's career advantage since he is in the running for sociology chair despite the seniority of Evelyn's husband Millard (Magnificent Obsession's Ralph Morgan), and then tells Millard that Norman is planning to expose him for plagiarizing the thesis of a dead student for his career-making book. Ilona also plays on the hero worship of Norman's student assistant Margaret (A Night in Casablanca's Lois Collier) and the almost pathological jealousy of her boyfriend David (State Fair's Phil Brown). When Norman discovers that Paula is indeed practicing witchcraft, he insists that his "strange, superstitious child" give it up ("Do you realize that you've been turning the hands of the clock back to the Dark Ages?"), but she insists that there are forces that want to hurt him and her white magic has been protecting him. No sooner does he cosign her protective medallion to the flames than Millard commits suicide, Evelyn brands him and Paula as murderers, and Norman is facing manslaughter or murder charges when David confronts him with a gun after Margaret flees his house in tears after he rebuffs her. As Norman tries to get at the truth, Paula is tormented by "The Death Chant" and the certainty that someone else will lose their life.

Adapted from the aforementioned novel by Fritz Leiber Jr. – the son of a Universal contract player who had recently appeared as Franz Liszt in the studio's second, more ponderous adaptation of The Phantom of the Opera – Weird Woman is quite effective because it stresses the machinations of Ilona while calling into question whether "The Death Chant" that torments Paula is another one of them, and even at the end leaves ambiguous whether the supernatural is real or not (unlike subsequent adaptations) with a freak accidental death that anticipates the studio-mandated ending of Flowers in the Attic. It seems petty to harp on it, but here the irresistible attraction Chaney holds for three younger women does stretch credibility – in this case, his condescension and arrogance makes him even less appealing – and the paranoia "countdown" montage might be more laughable than suspenseful; and the loose adaption overall seems rushed, with only cursory nods to cutthroat academia and the nature of gossip in an insulated setting by way of Ilona's department head brother (The Velvet Touch's Harry Hayden) and the Dean of Women (High Sierra's Elisabeth Risdon) who provides some comic relief and a level head. Russell would probably have made a more effective Ilona than Ankers, but this is overall a better piece for performers than subsequent entries.

Dead Man's Eyes: Dave Stewart (Chaney) is on the cusp of success as a painter, thanks to the patronage of wealthy Stanley "Pop" Hayden (Rebecca's Edward Fielding) to whose daughter Heather (Bluebeard's Jean Parker) Dave is betrothed. Dave laughs off the notion that his model Tanya (Jungle Woman's Acquanetta) is in love with him despite the misgivings of Heather, her father, and his psychiatrist best friend Alan Bittaker (Crossfire's Paul Kelly). When one night Dave accidentally washes his eyes with acid, Pop Hayden is quick to blame Tanya for the seeming accident. With the possibilities that he will ever see again slim to none, Dave thinks to spare Heather a life of being his nursemaid by claiming to have fallen in love with Tanya, hoping to drive Heather into the arms of rival suitor Nick Phillips (Murder by Television's George Meeker). Pop Hayden, however, holds out hope when Dr. Welles (Strangers on a Train's Jonathan Hale) tells him about the possibility of transplanting donor eyes to restore Dave's sight and wills his own eyes to the younger man. Dave maintains his stance on his sparing Heather but he cannot help but privately hope to have his sight back even if it means Pop Hayden's death. When Heather comes home one night and finds Dave standing over her father's dead body, he becomes the prime suspect in the murder. In spite of his arrest, Dave undergoes the transplant with Heather unable to prevent the stipulation of her father's will. The operation is a not a success, but can a dead man's eyes show Dave the real killer?

However diverting, Dead Man's Eyes is the lesser of the first three Inner Sanctum films. Eschewing the usual transplant horror angle that had been a staple of the genre since The Hands of Orlac – possibly because the American adaptation Mad Love came from their rival MGM – the plot focuses on the suspects motivated by romantic jealousy, some dull secondary relationships, and Thomas Gomez (Key Largo) as a less intimidating variation on Naish's detective in Calling Dr. Death. Director Le Borg has less opportunity here to show off apart from a illogical recollection of the discovery of Hayden's body since it is visualized as that of the protagonist who was blind at the time, with the titular "dead man's eyes" ultimately having nothing to offer in what is essentially a retread of the first Inner Sanctum film with a different hook and an additional love interest. It is no surprise that Le Borg left the series after this film, while Chaney must have been getting cheesed off as the series progressed.


The Frozen Ghost: Mentalist Alex Gregor (Chaney), a.k.a. Gregor the Great, cannot read minds himself but he is able to awaken telepathic abilities in others through the force of his mind. During a radio show in which his fiancιe Maura (Evelyn Ankers again) reads the thoughts of audience members, a drunken skeptic (Island of Lost Souls' Arthur Hohl) irritates Gregor to the point where he summon the man up onto the stage to show that even this man can be made to read thoughts; however, the man dies suddenly and Gregor comes to believe that his own hateful thoughts killed the man. Although he is exonerated when the cause of death is ruled as a heart attack, Gregor retreats from the public eye and breaks off his engagement with Maura. Concerned that Gregor is cracking up, his business manager George Keene (Gunsmoke's Milburn Stone) suggests to torch-carrying Valerie Monet (Jungle Queen's Tala Birell) that Gregor take a break by staying at her less than popular wax museum. Settling in, Gregor is embarrassed at the admiration of Valerie's niece Nina Coudreau (House of Frankenstein's Elena Verdugo), incurring the jealousy of sculptor Rudi Polden (House of Horrors' Martin Kosleck), a disgraced former plastic surgeon whose skills give the wax figures a lifelike quality. When Maura attempts to visit Gregor, Valerie makes her interest in Gregor clear to her rival, but Rudi stirs up her jealousy by suggesting that Gregor has been romancing her niece. Gregor spurs Valerie's affection and she provokes him into anger before fainting under his intense stare. Convinced he has killed Valerie, Gregor flees and confides in George. Returning to the museum, they learn from Inspector Brant (Mr. Deeds Goes to Town's Douglass Dumbrille) that Valerie has disappeared and that Gregor was overheard arguing with her, with Rudi accusing him of murder. A search of the museum turns up no body, but Brant reveals that he has more suspects, including Maura who had also quarreled with Valerie and who also is the sole beneficiary of Gregor's family fortune should anything happen to him. When Nina also vanishes after finding Valerie's missing jewels among the displays and her scarf in Gregor's hands, Gregor must determine if he really was responsible or if something more sinister is going on in the museum.

The first film in the series not helmed by Reginald Le Borg, The Frozen Ghost – directed by Harold young (The Mummy's Tomb) and written by a committee of Henry Sucher (Captive Wild Woman), Bernard Schubert (The Mummy's Curse), Luci Ward (Riding West), and Harrison Carter – shuffles the same elements to come up with another variation on a protagonist who cannot trust his own memory, an improbably love quadrangle, a scorned woman, a needling detective, and probing the mind through hypnosis. The production's impoverished nature is more apparent here, with the nondescript wax museum consisting of largely obscured figures – the only lifelike one is the "frozen ghost" – and we are never seen any examples of Gregor's "brilliant" work at the museum which appears to be lectures on the historical wax figure personages since there are no visits by the public depicted or even mentioned. It is probably the least effective of the wax museum horror films, with only Ankers (in her last film role) and Kosleck remotely effective (particularly the latter in one of a handful of typecast horror roles).

Strange Confession: Chemist Dr. Jeffrey Carter (Chaney) is so dedicated to helping mankind that he does not mind being exploited by his pharmaceutical executive boss Roger Graham (J. Carrol Naish again) who pays him a pittance and takes credit and accepts awards for his discoveries (Carter can only experience this vicariously by writing the man's acceptance speeches), nor does he seem to notice the unhappiness of his wife Mary (Tarzan and the Leopard Woman's Brenda Joyce) raising their son Tommy (House of Dracula's Gregory Marshall) in virtual poverty. When Graham attempts to push an untested drug onto the market, however, Carter quits and finds himself professionally blackballed, reduced to working in a pharmacy under a boss (Girls' Dormitory's Christian Rub) so kind Carter cannot bring himself to demand a raise. When Graham turns up on New Year's Eve acknowledging the importance of his work and offering to hire him back with a higher salary and superior research conditions to the bathroom tub he has been using, Mary convinces her husband to use the offer to exploit those circumstances for his own goals. Graham does indeed treat Carter nicer, making the couple regular dinner guests at his lavish home; however, it is obvious that Graham is infatuated with Mary. When Carter tells Graham that he needs to find a specific mold culture native to South America, Graham is only too happy to fund an expedition. With Carter out of the way, Graham sets about pushing the untested influenza drug onto the market in time to cash in on a sudden epidemic and to seduce Carter's wife. When Carter discovers the mold and perfects the influenza drug, he sends the formula to Graham who does not want to lose any profits taking the time to pull the other drug and change the formula. All this is unbeknownst to Carter until he and his research partner Dave Curtis (High Noon's Lloyd Bridges) come across some of the drug in a local South American shop and learn that it has been in stock before Carter sent in the formula. Under the impression that the drug has been perfected by her husband, Mary administers it to their stricken son against the advice of the family doctor (Fort Yuma's Addison Richards) and the pharmacists who have noted its ineffectiveness. When Carter discovers the depth of Graham's machinations, he snaps ("When I think of how he must've laughed at me behind my back… Why, it's just like he'd taken my head, my mind and brain, and used it. Used it like something you bought in a store. Only, he didn't buy it. He stole it. Well, now I'm going to get it back").

Long uncirculated after its 1950's Realart reissue as The Missing Head, Strange Confession is an unexpected brief upturn in the latter half of the series. An uncredited remake of Universal's earlier The Man Who Reclaimed His Head, this entry shows just how much the series had been going downhill when even Graham's professional and personal betrayal of Carter seems to be of higher stakes than the wrongfully-accused men of the earlier films (even before the tragedies of the third act). Chaney gives a lively performance, seeming to relish the character arc, Naish betters his detective role in Calling Dr. Death by being both debonair and slimy here, and Joyce gets one of the better series heroines (so much so that one really believes that she might just murder Graham before her husband gets at him). A young Bridges also breathes some life into a comic relief supporting role. That the first part of the film feels almost as saccharine as It's a Wonderful Life makes the later turns that much more dramatically satisfying when Chaney finally snaps, although the grislier details are blunted by the Production Code along with a flashback structure in which Carter confesses what has happened to an attorney school chum (Bloodlust!'s Wilton Graff). However handsome the film looks, the budget constraints are such that the a viewer expects that the South American subplot will take place entirely offscreen (when we get there, it is entirely interior sets). Strange Confession was the first of only five films directed by John Hoffmann who went back to editing in the fifties when Universal contract directors were getting shuffled to episodic television.


Pillow of Death: In spite of her name, Belle Kincaid (The Wizard of Oz's Clara Blandick) is a crabby old spinster who is incensed that her young niece Donna (Brenda Joyce again) is attracting local gossip as the secretary of attorney Wayne Fletcher (Chaney). After Fletcher drops Donna off after a late night at work, he goes home to ask his wife Vivian for a divorce only to find the police there after "psychic investigator" Julian Julian (Son of Dracula's J. Edward Bromberg) had a presentiment about the woman's mortal danger and subsequently discovered her smothered to death with a pillow. Police Captain MacCracken (Wilton Graff again) can only hold Fletcher for so long without evidence – in spite of inconsistencies in his alibi as corroborated by Donna – and Belle wastes no opportunity to point the finger of accusation at him. Julian Julian described Vivian as a perfect medium and that they had a pact that the first one who died would communicate with the other from beyond the grave. A guest of Belle and poor relation Amelia (Scarlet Street's Rosalind Ivan), Julian Julian – who Belle's dotty brother Samuel (Trigger Jr.'s George Cleveland) blames for riling up the family ghosts – conducts a sιance in which the Vivian's wife accuses him of murder. That may be enough for Belle and Amelia, but Fletcher is sure that Julian Julian is a faker, and there's also the skulking presence of Donna's childhood flame Bruce Malone (Easy Life's Bernard Thomas) who uses the house's secret passages to come and go as he pleases. When Belle is discovered the next morning smothered in her bed, the only connection between the crimes appears to be the suspects and the method of murder; and Fletcher is unable to provide an alibi, having confessed that he was lured by his Vivian's voice to the family crypt where it is discovered that her body is missing. Is Vivian still alive and in cahoots with Julian Julian as Fletcher suspects, or is a ghost stalking the halls of the Kincaid mansion in search of the real killer.

The swan song of the series, Pillow of Death feels like one of Universal's sub-The Cat and the Canary B-horror films like the 1941 The Black Cat or Horror Island shoehorned into the format; so much so, that Chaney's protagonist is almost sidelined by the old dark house antics. Poor Thomas is saddled with the whiniest of the rival suitors in the series, and Graff's needling investigation is overshadowed by Bromberg's weasley and annoying spiritualist (a deliberate characterization it turns out), and the final twist manages to be simultaneously diverting and obvious if only because it is the opposite of the way the other episodes in the series usually end and one is uncertain whether it was meant as a novelty or a sign that no one on the show cared anymore. One cannot help but wonder if Chaney's literal exit of the film was meant to pave the way for a spinoff with Bromberg's psychic, what with the latter character's nonsensical final line; however, Universal was a few years away from their next horror/sci-fi relaunch of the fifties when Universal horror stars like Chaney and Bela Lugsoi would be considered old hat (and even Boris Karloff would play second string to bigger names from the mainstream).

Video


Released by Universal Pictures and reissued in the fifties by Realart, The Inner Sanctum Mysteries – with the exception of Strange Confession – wound up in various television syndication packages like Screen Gems' Shock Theatre before being released before MCA's 1997 out-of-sequence double feature cassettes. The same print sources were remastered for Universal's 2006 set and were almost certainly the sources for the high definition remasters released last year in the U.S. by Mill Creek Entertainment and for Eureka's release. The high definition 1080p24 MPEG-4 AVC 1.37:1 pillarboxed fullscreen presentations are generally massive improvements over the SD images, giving an A-picture feel to these B-pictures, adding to a sense of depth in compositions, generally inky blacks, and nicely detailed close-ups of Chaney's agonized expressions and the screaming heroines, even as they highlight some more rushed than usual by Universal great John Fulton (Vertigo). There are some indications of Universal's less than diligent archiving during much of the twentieth century. The Frozen Ghost opens with a Realart replacement card while Strange Confession ends with a Realart card. Pillow of Death has always looked worse than the rest of the films on home video, looking murky and faded with lesser detail in the highlights and diluted blacks. Eureka's transfer looks brighter and a bit sharper than Mill Creek's version, and that may be worth the upgrade even though it is still the worst-looking in the set.

Audio


Audio quality on the LPCM 2.0 mono tracks varies from film to film, being generally clean and supportive of the more dramatic portions of the scores (like much of Universal's B-product, the score is a mix of original tracks by different artists who went uncredited because their work consisted of less than a certain percentage of the whole), clear dialogue – which makes more effective the moments of real heightened drama like the exchanges in Strange Confession while the lows of Chaney's voiceovers are also clear – and one presumes that only the audio on Pillow of Death needed extensive digital clean-up given the picture elements although a casual listen does not reveal any overt artefacts. Optional English HoH subtitles are provided.

Extras


While the DVD set was barebones, Eureka shares with Mill Creek a number of newly-produced extras starting off with three audio commentaries. On Calling Dr. Death, there is an audio commentary by screenwriter/film historian C. Courtney Joyner and Regina Le Borg, daughter of director Reginald Le Borg in which Joyner provides some background on the Inner Sanctum novel and radio series, Le Borg's earlier credits including The Mummy's Ghost (noting Chaney's particular dislike of the Mummy role), his working relations hip with Chaney on the Inner Sanctum films, and his visual aesthetics in the three film he directed. Le Borg's daughter recalls that he bowed out of the series after the third one (to Chaney's displeasure) because he did not want to be typecast (although that did end up being the case since his final film credits included the Vincent Price vehicle Diary of a Madman – an adaptation of Guy de Maupassant's "The Horla" – the sleepwalking thriller The Eyes of Annie Jones, some scenes on the troubled production of The House of the Black Death, and the TV movie-esque Psycho Sisters). Joyner also notes that Gale Sondergaard (The Spider Woman) was initially intended to be Chaney's co-star thoughout the series but her political outspokenness made the studio nervous (she was subsequently blacklisted). Weird Woman is accompanied by an audio commentary by authors Justin Humphreys and Del Howison in which they note that it is the only literary adaptation in the series – also noting that the Inner Sanctum books did not initially have a horror line until later while the radio series was made up primarily of mystery and horror. The note that the creator of the radio show would not allow them to use any of the show's scripts and discuss how little-adapted the works of Lieber are despite how prolific he was – besides "Conjure Wife" the only other Lieber work adapted more than once was "The Girl with the Hungry Eyes" (first as a Night Gallery episode and then as a quirky ninties indie vampire film) – the changes to the source material, the casting of scream queens Gwynne, Ankers, and Russell, and also note that the film adaptation leaves ambiguous the reality of the supernatural. On Strange Confession, there is a socially-distanced audio commentary by screenwriter Peter Atkins and screenwriter/film historian C. Courtney Joyner who discuss the source play by Jean Bart who was actually Marie De Sarlabous and the Universal film The Man Who Reclaimed His Head, noting that the Inner Sanctum film cites Bart as "based on a composition by" and that her estate sued Universal, taking the film out of circulation until the aforementioned home video release. They not that while the film depicts wartime life without any reference to the war while the original work and the earlier film adaptation had an overt anti-war message.


Also shared with the Mill Creek set is "This is the Inner Sanctum: Making a Universal Mystery Series" (31:47) produced by Daniel Griffith of Ballyhoo Motion Pictures and featuring a number of commentators charting the history of the Simon & Schuster book line, the radio series, and the films, with brief overviews of all six films and their recurring themes and scenarios. There is also "The Creaking Door: Entering The Inner Sanctum" (17:37), a video essay with author/radio historian Martin Grams Jr. in which he discusses the evolutions of the book line and primarily the radio show, the innovations of producer Himan Brown, horror host Raymond Edward Johnson, the casting of film supporting actors supplementing their income with radio and stage leads (along with Hollywood stars on the East Coast during publicity engagements), and the move towards mystery over horror when Lipton Tea became a sponsor. He also suggests that Brown's refusal to let Universal use the copyrighted creaking door sound effect or any of the radio plays was because he took personal their refusal to pay his high fee when they initially queried about having him involved in the series (noting that the fee was more than the low budgets of the films). He notes that roughly a hundred and fifty of the five hundred original shows survive – it was not a regular practice to record the shows, and the surviving ones were recorded primarily for the U.S. Armed Forces overseas, and that Brown only recycled some of his shows in later years by changing the names an genders of the protagonists but also revived the show as CBS Radio Mystery Theater (1974-1982), producing over a thousand episodes (sixteen-hundred according to Grams, thirteen-ninety-nine according to the website devoted to the show). Both release also include "Mind Over Matter" (11:00), an archival interview with actor Kosleck who recalls coming to America and going from juvenile leads on stage to an uncredited but acclaimed role as Joseph Goebbels in Confessions of a Nazi Spy and his "discovery" by gossip columnist Louella Parsons, his typecasting as Nazis and making them particularly nasty because of his hatred of them, and his love of his horror roles. He reluctantly speaks unfavorably of Chaney as "rude" and "a drunk" who talked the director into cutting his close-ups while also crowing that he was more favorably reviewed when critics otherwise tore apart the film.

Exclusive to Eureka set is "Kim Newman on The Inner Sanctum Mysteries" (26:56) in which the author discusses Chaney's horror career including the hated Mummy role, likens The Wolf Man and Inner Sanctum in that they were comparatively "American" compared to the Universal gothics (Chaney's Larry Talbot was at least American in the case of the former), and offers a rather frank assessment of the series, noting that there was little consensus among critics of the time and subsequently about just which are the best and the worst. He does, however, make the case that Chaney was better suited to the variety of leads int the series than the more typecast Karloff or Lugosi. The discs also include poor condition theatrical trailers for Calling Dr. Death (1:07), Weird Woman (1:22), Dead Man's Eyes (1:05), and The Frozen Ghost (1:11) as well as six episodes of the radio show – "The Amazing Death of Mrs. Putnam" (25:15), "Black Seagull" (28:46), "The Skull That Walked" (29:42), "Skeleton Bay" (29:44), "The Man Who Couldn't Die" (29:22), and "Death of a Doll" (25:08) – spread between the two discs.

Packaging


Housed in a limited edition O-card slipcase with the discs is collector's booklet featuring the essay "Step Inside... Notes on the Inner Sanctum Mystery Series" by Craig Ian Mann who offers an overview of the series, noting that it was unfairly disparaged critically at the time and in contemporary criticism.

Overall


Imperfect and uneven as a whole, Inner Sanctum Mysteries: The Complete Film Series offers a nevertheless intriguing and diverting turn for Universal's much-maligned horror star Lon Chaney Jr.