Framed AKA Paula AKA They Walk Alone (Blu-ray) [Blu-ray]
Blu-ray B - United Kingdom - Powerhouse Films
Review written by and copyright: Rick Curzon (23rd January 2021).
The Film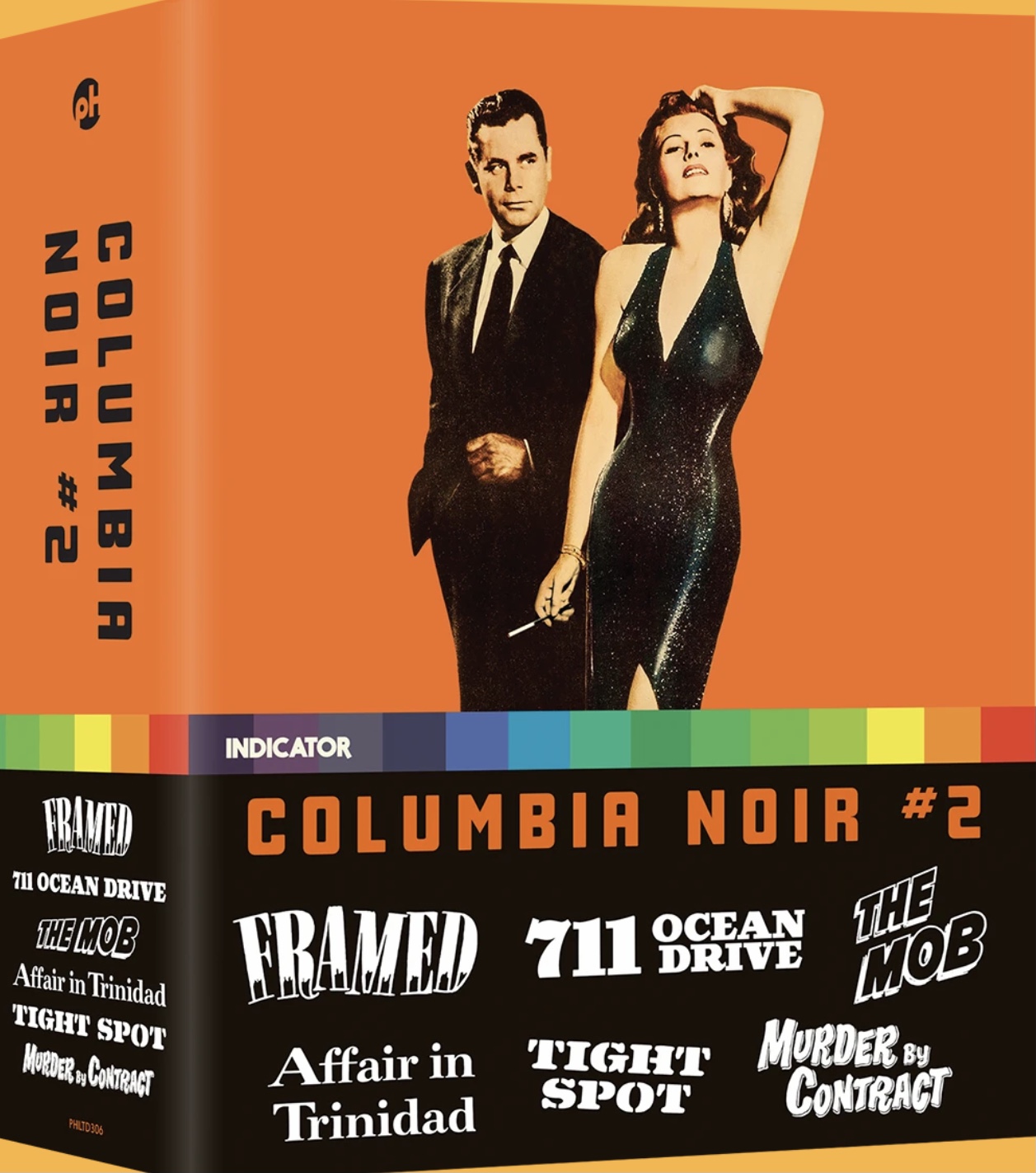 Our second Columbia Noir box set takes a dive once more into the studio's archives and the world of film noir – a world of undercover detectives (The Mob) and emotionless hitmen (Murder by Contract), a world where film is inspired by real-life criminal activities (Tight Spot, based loosely on Virginia Hill's testimony against Bugsy Siegel) and real-life criminal activities are inspired by film (711 Ocean Drive, which attracted the unwanted attention of mobsters), and a world where Glenn Ford finds himself unwittingly embroiled in murder – twice (Framed, Affair in Trinidad).

All six films are presented for the first time on Blu-ray in the UK, with The Mob, Tight Spot and Murder by Contract making their world Blu-ray premieres. This stunning collection includes newly recorded commentaries on each film, assorted bonus materials, including six short films starring the Three Stooges, lampooning the tropes and themes of the features, a 120-page book, and is strictly limited to 6,000 numbered units.

Video


Mike Lambert (Glenn Ford) a mining engineer takes a job driving a truck that ends up having no breaks. He arrives in the town where he hopes get a job barely avoiding death when he crashes to a halt. This sets of a chain of circumstances involving cross and double cross in a typical noir plot.

A solid noir that follows a pretty obvious patten for the first fifty minutes, is solid, predicatable but has a tense, enjoyable last half hour that pulls the film up by it's britches. Part of the problem is that there's no one to really care about; Ford is a taciturn lead who's a drunkard and snappy. However, it's doesn't outstay it's welcome and has a satisfying conclusion for once (most noirs are grim).

Shot on 35mm in monochrome and in the Academy ratio (1.37:1) this is the first film in Powerhouse Films' Columbia Noir #2 boxed set.

Pristine image in that classic 1940s Hollywood style! First off, there's no gamma issues so colour bias creeping in; icy, pristine B&W. Black levels are deep with plenty of shadow detail and no unintended crush; that is to say none that naturally didn't occur by design. Contrast is supportive allowing fine detail on all focal planes to shine trough with textiles and skin textures benefitting the most. There's a certain softness for all that typical of the genre and the period. It's not the most contrast heavy film from this time I've seen but it's a filmic transfer. Grain is ever present with no clumping or digital splats or tinkering in evidence so the encode is extremely strong courtesy of David MacKenzie and .fidelity in Motion. The print is pristine with no signs of damage at all bar one or two hairs!

1080/24p / AVC MPEG-4 / 1.37:1 / 82:24

Audio


English LPCM 1.0
Subtitles: English HoH

This is a typical mono track from the period. Sound design is limited as is the range. It's mainly designed to allow the dialogue to come through loud and clear which it does at all times; music is also well adjusted in the mix. Some tracks of this era can be a little muffled or even tinny, but I noticed none of that hear. It's about as good as it can be for 1.0.

Subtitles for the hearing impaired have been provided and re meticulous.

Extras


Audio commentary with author and critic Imogen Sara Smith (2021)

Excellent, informative yaktrak from someone new to the field. Smith does a great job so hopefully there'll be more from her in the future. Lossless LPCM 2.0 stereo.

"The Mental Health Film Board Series: Number 1 - Emotions of Every-Day Living - The Steps of Age" 1950 short film (24:28)

Fascinating, if grim, short documentary on mental health about a woman and her depressed husband; 1089/24p 1.37:1 and lossy Dolby
Digital 1.0 sound.

"Up in Daisy's Penthouse" 1952 short film (16:37)

Typically raucous Three Stooges short, beautifully restored in 1080/24p 1.37:1 and lossy Dolby Digital 1.0.

Framed Image Gallery: Original Promotional Material (18 images)

Decent if limited still gallery in 1080/24p.

120-page liner notes book

As of writing, the PDF of this hasn't arrived so will update the review when it does. I'm sure it'll be superb as usual for Powerhouse Films' booklets.

Packaging


Single disc card digipack for each film in a hard card box.

Overall


The first film in Powerhouse Film's second Columbia Noir collection is a solid thriller that plays by the noir rule book fairly closely. Image and sound are well up to the .indicator Series scratch. Extras aren't as extensive as some of the stand alone releases from this company, but they're supportive, choice and provide plenty of value. Roll on disc two!
| | | | | |
| --- | --- | --- | --- | --- |
| The Film: B | Video: A+ | Audio: A | Extras: B | Overall: B+ |

---
DVD Compare is a participant in the Amazon Services LLC Associates Program and the Amazon Europe S.a.r.l. Associates Programme, an affiliate advertising program designed to provide a means for sites to earn advertising fees by advertising and linking to amazon.co.uk, amazon.com, amazon.ca, amazon.fr, amazon.de, amazon.it, amazon.es and amazon.se.