The Film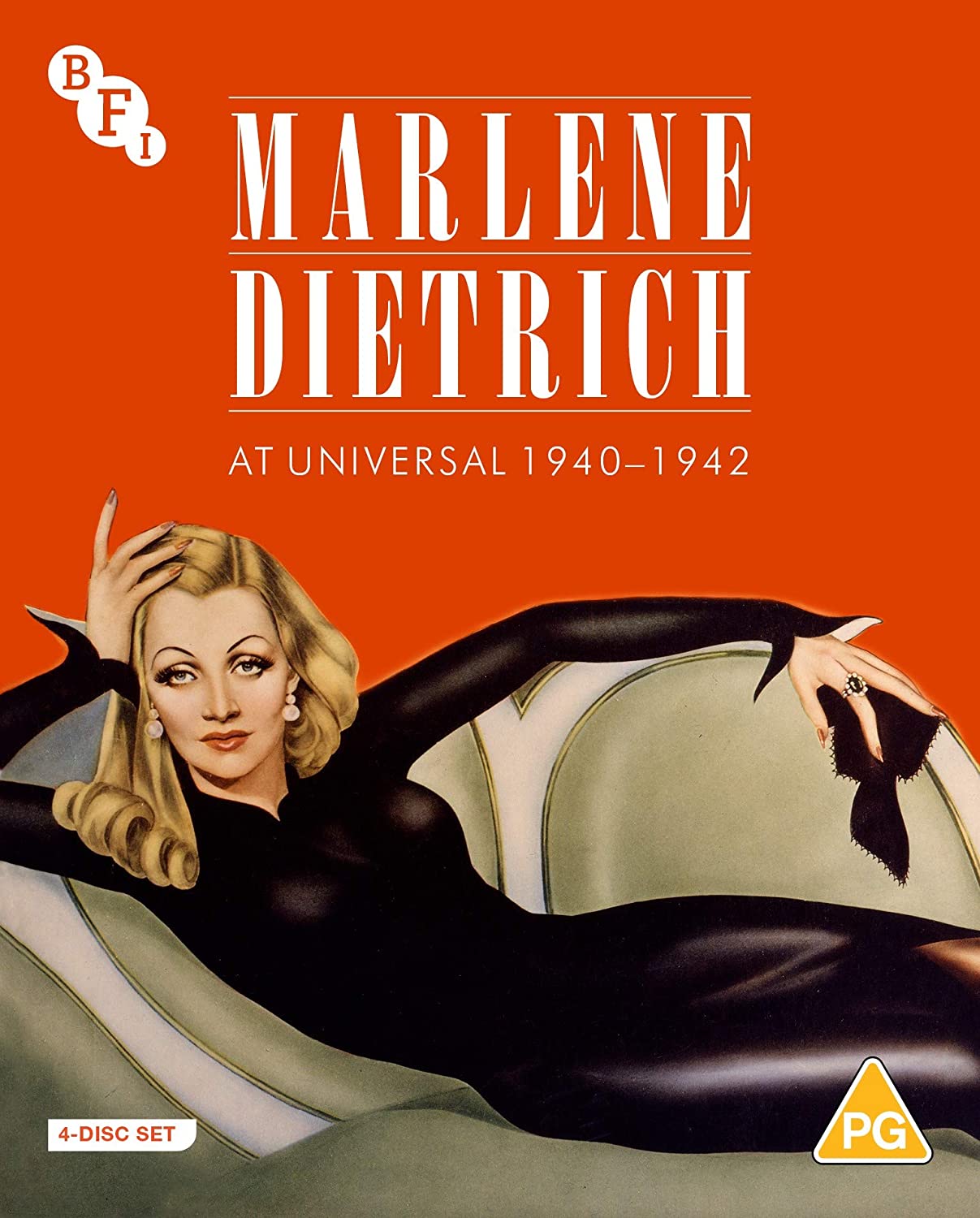 "Marlene Dietrich at Universal 1941-1943"

By the latter half of the 1930s, screen icon Marlene Dietrich's box office successes were running dry. With her salary at Paramount being costly and her films ranking low commercially and critically, she was considered box office poison, and led to Paramount buying out the remainder of her contract with her final production at the studio in 1937. Taking a massive salary cut, she signed with Universal in 1939, and her first film there was a remake of the 1932 film "Destry Rides Again", starring alongside James Stewart. The western set production was quite different from what Dietrich was known for, but the production became a big hit for the studio and reestablished the star to the spotlight at the age of 38. Her time at Universal was quite short, with six features being made between 1939 and 1944 with one of them being just in a cameo appearance. Even though she was around 40 years of age and the German born actress was making films in a country that was fighting against her country of birth, she was still able to command a presence on screen that was undeniably unique with glitz and glamor even if the film's setting didn't always provide it. This set collects four features that she made at Universal during the war era.

"Seven Sinners" (1941)

Bijou Blanche (played by Dietrich) is a lounge singer who has inadvertently caused ruckuses at various saloons across the Pacific. Going from island to island in search for a new place to perform, she settles on the island of Boni Komba, performing at the Seven Sinners club. It is there that she encounters the headstrong naval officer Lt. Dan Brent (played by John Wayne), in which the two seemingly opposite figures slowly fall for each other. But as Bijou is popular with the patrons as she is with the staff members, their relationship causes many jealous hearts to come forward.

For Dietrich's follow-up to "Destry Rides Again", a similar situation was created using her skills as a singer and dancer to full effect, but this time changing the wild west to the Pacific. While the film never states the time it was taking place, it could have easily been a modern era setting. The film was released before Pearl Harbor and before the United States joined the war efforts, so it's never clear what the naval ships were doing out in the Pacific islands at the time but then again, this is an entirely fictional piece of work. Dietrich gets to display her sexual appeal with her deep vocals enticing the men through performances as well as flirting, and the way she flirts with Wayne's character and steals his heart may have been more than just acting. In 1939, John Wayne became a major star with "Stagecoach", establishing him as more than just a B-movie star. On loan from the smaller Republic Pictures, his role opposite Dietrich had to be someone with power physically and tonally, and Wayne had both with his deep and commanding yet tender voice and tall stance.

The feature had a great ensemble of Universal players including Samuel S. Hinds as the governor, Billy Gilbert as Tony the cafe owner, Broderick Crawford as Little Ned the not so smart bodyguard, and Mischa Auer as the sly pickpocket Sasha to name a few. Directed by actor, writer, and performer Tay Garnett, the film may not be a breakout classic like "Destry" was, but proved to have comically fun performances, fun songs sung by Dietrich and visually great setpieces with the club as well as the various locations of the island, done on the Universal backlot. While the film didn't receive any awards that year, it still proved that Dietrich was strong at the box office and Wayne was a name and face to look out for.

"The Flame of New Orleans" (1942)

Claire Ledoux (played by Dietrich) is looking to marry the rich banker Charles Giraud (played by Roland Young) in New Orleans. while he is head over heels falling for the woman who is much younger than him and extremely beautiful, she is only out to marry him for status and wealth. But when she encounters sailor Robert LaTour (played by Bruce Cabot), an adventurous young man with wit and great looks, her heart is torn between what she desires.

Dietrich was able to play two roles in the film - one as the conning lady and the other as the supposed "cousin" out and about in this comedic love triangle written by Norman Krasna. The audience is able to see the con and the con artist at work from the beginning, but interestingly the fun comes in when the lead crosses paths with the other man who steals her heart. There is a lot of double crossing at work in the film and the twists and turns by the characters are whimsical as they are hilarious. While all seemed fine on paper, the production was anything but smooth.

Directed by René Clair in his first American production after leaving Europe, he had very little command of the English language and was not much liked by the cast or crew as the language barrier and translations took up too much time before and during production. Dietrich was not happy with Cabot's performance. Apparently two reels had to be removed because of censorship issues as well. Even if the production had its troubles and the casting was not as good as it could have been, the film is still an excellent work of comedy with its tone and pacing, and was also nominated for an Oscar for Best Art Direction. Unfortunately it was not much of a hit and it would take another year for Claire to hit his stride with "I Married a Witch" in 1942. Following the film, Dietrich made two films for other studios on loan - "Manpower" for Warner Bros. and "The Lady Is Willing" for Columbia Pictures.

"The Spoilers" (1942)

Taking place in Nome, Alaska during the gold rush in 1901, saloon entertainer Cherry Malotte (played by Dietrich) is aware that there is corruption taking place by the authorities, trying to stake their legal claim into the riches of the land. The new gold commissioner Alexander McNamara (played by Randolph Scott) is looking to put his stamp in the field and knows that Cherry is on his tail with suspicion. Roy Glennister (played by John Wayne) returns to Alaska but looks at dealing with McNamara instead of listening to Cherry and also damaging his relationship with his mining partner Dextry (played by Harry Carey).

In 1906, writer Rex Beach wrote the novel "The Spoilers", based on his experience during the gold rush in Nome, Alaska where he witnessed corruption by law enforcers against the miners. While the characters in the book were fictitious, many of the accounts were based on reality from a few years prior and it became a bestseller in the era. In addition to the story being adapted into a stage play, between 1914 to 1955, five feature films were made of "The Spoilers", and the 1942 version being the fourth version and second in the sound era.

Dietrich's role as Cherry seems like a very suitable choice, as first the character sings and dances in a saloon with men pining over her from left and right. Like "Destry Rides Again" and "Seven Sinners" this role seemed to be a carryover for her, playing a strong willed character who is much more than just a voice to hear and a body to look at. She has her agenda on helping those in need and uses her sexual power to obtain what is necessary. Rather than an angle as a love story, the element of double crossing, losing trust and breaking up partnerships through manipulation make interesting plot changes throughout.

Randolph Scott playing a bad guy is very unlike his character that most filmgoers would know him for, but this was before he would become the iconic heroic cowboy that all would identify him for, including the townsfolk in "Blazing Saddles" who all hold their hat to just his name. While he has the charm and the grace, Scott is partly miscast here as he doesn't have the slyness to pull off the bad guy role, but at the same time he is easier to trust with his demeanor and commanding presence. Wayne is great in his role as Roy who has a heart of gold (while digging for gold) but is lost in the way he easily trusts anyone. While the topic might be more on a serious tone with government corruption, there are equally comical segments and wild west cliches that come with the package, such as the odd blackface moment or near the beginning with a room suddenly becoming vacant due to a shootout. The biggest piece of all is the climactic fist pumping brawl between the characters of Roy and Alexander which goes on and on with swooping music, multiple cameras, and incredible on set destruction that has been parodied many times over in the years.

The film was nominated for an Oscar for Best Art Direction that year and grossed over $1 million at the box office. The trio of Dietrich, Wayne, and Scott would meet up again a few months later for their next feature film, "Pittsburgh"

"Pittsburgh" (1943)

Pittsburgh Markham (played by John Wayne) and Cash Evans (played by Randolph Scott) are coal miners who want to make it big in the business. Rather than staying down in the mines, they find ways to make their way up, signing deals with companies for the coal and making themselves rich in the process. Working with them is the beautiful Josie (played by Dietrich) who has connections in the business and also has a sad past of losing her father in the coal mines. While she sees Pittsburgh with a bit of a romantic eye, he only sees with the direction of green: money and riches and not the obvious.

In a narrative that is slightly reminiscent of "Citizen Kane" with the rise to the top in business and how greed takes over by destroying love and friendships, "Pittsburgh" is not a carbon copy as the central figure is not just one man but three at the center. The friendship between Pittsburgh and Cash is very important and their differences in morals eventually lead them apart as much as it brings them together to even each other out. Wayne is excellent as the power hungry man who will lie and cheat to get his way while Cash is the straight laced man who tries to keep things together and grounded. But the more fascinating role is that of Josie, whose commanding presence over the two is as glamorous as it is powerful. The love triangle is also an interesting touch. The love story aspect is a great touch as well, with her heart going for Pittsburgh but her mind going with Cash. The narrative and the story are great spanning years of their lives as the business starts to grow, but there are some issues in the closing reels.

There is a sequence where the two leads brawl (like in their last film together), but in this time the person who takes the biggest fall is the character of Josie who should have lost her life. When I say "should have", it means that she survives and the story goes on. The story would have been much more powerful if the characters of Pittsburgh and Cash realize that their stupidity in fighting each other caused the death of a loved one, but it seems they couldn't kill off the main star of the picture just yet. Strangely there is no scene or talks of her character having to go through rehabilitation, no paralysis, no particular injuries to speak of. If they had possibly placed her in a wheelchair for the remainder, it may have been a bit more emotional for the characters and the audience, so instead we have to rely on disbelief that she recovered 100%. "Pittsburgh" does not seem like it at first, but it does reveal itself to be a war propaganda film at the final reel, guiding viewers that it is not the time for internal fighting as there is a much bigger issue at stake with war on the horizon. It does seem a little tacked on as an ending, but this was during the war and effort was made by studios to help the government with their cause for higher morale in a time that needed it most. "Pittsburgh" may have suffered a little because of the time period, but is still a very entertaining film nonetheless.


Note this is a region B Blu-ray set

Video


The BFI presents all four films in the original theatrical 1.37:1 aspect ratio in 1080p AVC MPEG-4. All four films were taken from HD masters from Universal. While there are no detailed information on what elements were used for the transfers of the films, the quality of all four are pretty great. The black and white is always well balanced, with fine detail and very good grey scale that stays consistent through each film. There are some scratch and speckles that can be seen at certain portions, but thankfully there aren't many occasions of major damage to be found. These aren't the most beautiful restorations, but they certainly look very good.

The following are the runtimes:
- "Seven Sinners" 86:37
- "The Flame of New Orleans" 79:15
- "The Spoilers" 87:12
- "Pittsburgh" <91:15

Audio


English LPCM 2.0 mono
All four films have the original mono track uncompressed. The usual issues of audio of films from the time period, such as the flatness in fidelity and lack of clarity is to be expected. For the remasters, hisses, pops, and other anomalies have been removed for very clean sounding tracks, and with the music tracks sounding well balanced against the dialogue.

There are optional English HoH subtitles in a white font for all four films.

Extras


The four disc set has one film on each disc with its corresponding extras on each disc.

DISC ONE "Seven Sinners"

Audio commentary with film historian David Del Valle and author/screenwriter C. Courtney Joyner
In this commentary track, the two discuss about the film's similarities to "Destry Rides Again", Dietrich's pay cut for Universal, give biographical information to many of the cast and crew, John Wayne's rising to fame in the period, and more. This commentary was previously available on the Kino Lorber Blu-ray of "Seven Sinners".
in English Dolby Digital 2.0 with no subtitles

Image Gallery (4:56)
A silent automated slideshow of behind the scene photos and promotional stills.
in 1080p AVC MPEG-4



DISC TWO "The Flame of New Orleans"

Audio commentary by Lee Gambin and Rutanya Alda
Gambin discusses about the film and the cast and crew, offering detailed information with biographies and filmographies, Dietrich's career, the music score, the troubles with the on set relationship with the director and the crew and much more. Intercut are comments from actress Rutanya Alda who was not in the film but recalls about Dietrich and comments about the film. It is a little uneven as the two were not commenting together like the "Seven Sinners" commentary. This commentary was previously available on the Kino Lorber Blu-ray of "The Flame of New Orleans".
in English Dolby Digital 2.0 with no subtitles

Isolated Music and Effects Track
Charles Previn's score is offered alongside the effects in this track without the dialogue.
in Dolby Digital 2.0

Image Gallery (8:36)
A silent automated slideshow of behind the scene photos and promotional stills.
in 1080p AVC MPEG-4


DISC THREE "The Spoilers"

Audio Commentary by film historian Toby Roan
In this commentary, Roan offers a history of Universal Pictures, biographies of Dietrich, Wayne, Scott and others, information from production notes, about the magnificent brawl and much more. This commentary was previously available on Kino Lorber's Blu-ray of "The Spoilers".
in English Dolby Digital 2.0 with no subtitles

Isolated Music and Effects Track
The score by Hans J. Salter is offered here.
in Dolby Digital 2.0

Image Gallery (3:21)
A silent automated slideshow of behind the scene photos and promotional stills.
in 1080p AVC MPEG-4


DISC FOUR "Pittsburgh"

Audio commentary by Pamela Hutchinson
In this new and exclusive commentary, Hutchinson discusses about the making of the film, pointing out information on the stars, about scenes that had to be reshot, the patriotic propaganda tone, about the relationships of the characters as well as their real life counterparts, and more. There were a few times that Hutchinson seemed to have hit her microphone or hit a glass she was drinking from during the commentary which should have been edited out but are kept.
in English Dolby Digital 2.0 with no subtitles

Isolated Music and Effects Track
The score by Hans J. Salter and Frank Skinner is offered here.
in Dolby Digital 2.0

Image Gallery (4:01)
A silent automated slideshow of behind the scene photos and promotional stills.
in 1080p AVC MPEG-4


Booklet
A 60 booklet is included with the set. The first essay is "Dietrich for All Time" by curator Sarah Wood who discusses about her performance work. Next is an essay on "Seven Sinners" by writer and critic Pamela Hutchinson about the film and its background. The following essay is "Stay a Sailor, Sailor: Passing Strange in The Flame of New Orleans" by author So Mayer on the film and the issues it had. Writer and lecturer Ellen Cheshire provides an essay for "The Spoilers" with its background. Finally, writer Katy McGahan sums up with an essay on "Pittsburgh". In addition, there are written biographies of the four directors Tay Garnett, René Clair, Ray Enright, and Lewis Seiler by Philip Kemp. There are also full film credits, transfer information, acknowledgements, and stills.


Though not included on this set, the BFI released this trailer for the boxset itself:



Packaging


This set is limited to 4000 copies.

Overall


Marlene Dietrich at Universal 1941-1943 may not represent her greatest or most well regarded films, but these were a great selection of comeback pieces for the iconic actress that deserve a fresh look. The BFI has provided each film with three existing informative commentaries and one new one, with excellent galleries, isolated scores, and an informative booklet to accompany the set. Absolutely recommended.

Note the ratings below reflect the overall score of all four films.
| | | | | |
| --- | --- | --- | --- | --- |
| The Film: B | Video: A- | Audio: B+ | Extras: B | Overall: B |