Tight Spot (Blu-ray) [Blu-ray]
Blu-ray B - United Kingdom - Powerhouse Films
Review written by and copyright: Rick Curzon (31st January 2021).
The Film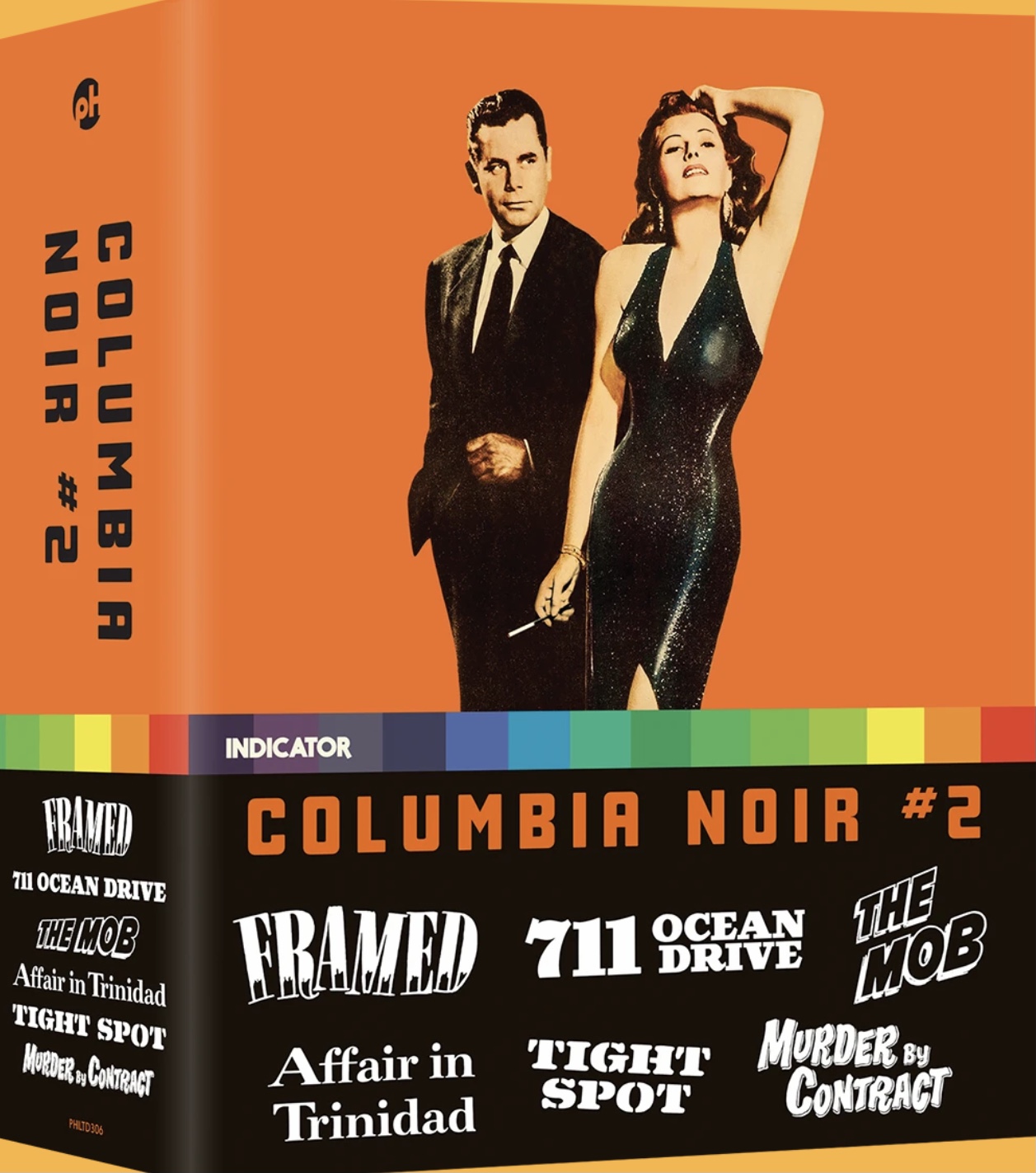 Our second Columbia Noir box set takes a dive once more into the studio's archives and the world of film noir – a world of undercover detectives (The Mob) and emotionless hitmen (Murder by Contract), a world where film is inspired by real-life criminal activities (Tight Spot, based loosely on Virginia Hill's testimony against Bugsy Siegel) and real-life criminal activities are inspired by film (711 Ocean Drive, which attracted the unwanted attention of mobsters), and a world where Glenn Ford finds himself unwittingly embroiled in murder – twice (Framed, Affair in Trinidad).

All six films are presented for the first time on Blu-ray in the UK, with The Mob, Tight Spot and Murder by Contract making their world Blu-ray premieres. This stunning collection includes newly recorded commentaries on each film, assorted bonus materials, including six short films starring the Three Stooges, lampooning the tropes and themes of the features, a 120-page book, and is strictly limited to 6,000 numbered units.

Video


First rate true-crime noir has Ginger Rogers at her very best as a tough talking gangsters moll sprung from prison by district attorney Edward G. Robinson and copper Brian Keith to testify against Lorne Greene's gang boss. Deep shadows, moody cinematography, snappy dialogue ... noir bliss!

This fifth film in Powerhouse Film's superb Columbia Noir #2 set is based on the 1953 play Dead Pigeon by Lenard Kantor; this is an expanded film adaptation adding characters refereed to but not seen in the original. The main characteristic here is that it's largely shot on indoor studio sets so the image is very even across the whole film. Shot on monochrome 35mm film in using spherical lens with a negative ratio of 1.37:1 but designed to be matted in projection to 1.85:1; the first film in the set to be in a widescreen format.

Matted films like this have slightly courser grain structure due to the film essentially being zoomed to crop the top and bottom off the top of the image when projected. When compared to the previous four films (all Academy 1.37:1) the image is slightly softer and grainier, but not in a way that most will notice. It's an incredibly filmic image and has been superbly handled by the encode with no signs of any digital manipulation or artefacts; grain remains filmic at all times. The print has been brilliantly restored in Sony's HD master and has no signs at all of print damage.

Gamma is perfect with no signs of colour bias creeping in. Black levels are absolutely deep, dark and filled with shadow detail when designed to and no signs of an unintended crush. Contrast is expertly balanced and supportive; highlights are gorgeous with no blown out whites, detail is exceptional; look at Ginger Rogers outfit in the hotel scenes. It's a Dogtooth Check and would've given older standard definition transfers all sorts of problems with moire patterning making it's presence felt. Not so here.

This is a cracking transfer and every bit as good as the others in this set.

1080/24p / AVC MPEG-4 / 1.85:1 / 96:12

Audio


English LPCM 1.0
Subtitles: English HoH

This is a typical mono track from the period. Sound design is limited as is the range. It's mainly designed to allow the dialogue to come through loud and clear which it does at all times; music is also well adjusted in the mix. Some tracks of this era can be a little muffled or even tinny, but I noticed none of that hear. It's about as good as it can be for 1.0.

Subtitles for the hearing impaired have been provided and re meticulous.

Extras


Audio commentary by Nora Fiore (2021)

Fiore is also known under her internet moniker The Nitrate Diva. According to her website "works in the UX industry while flirting with classic movies in her spare time". She knows her stuff and is an engaging presence chatting about one her favourite noirs. Lossy Dolby Digital 2.0 stereo.

"The Senate Crime Investigations: New York March 1951" (Play All - 61:27):
- "Part One" (11:51)
- "Part Two" (12:37)
- "Part Three" (19:30)
- "Part Four" (17:27)

An enlightening collection of shorts taken from 16mm prints and very worn and damaged condition with no restoration seems to have been done and presented 1080/24p with very muffled lossy Dolby Digital 1.0. Might have been a good idea to include optional subtitles with this one.

"Idiots Deluxe" 1945 short film (17:32)

#85 in the 190 strong collection of Three Stooges shorts the team made for Columbia. Pristine image in fully restored 1080/24p 1.37:1 with lossy Dolby Digital 1.0

Theatrical Trailer (2:13)

Vintage promo in 1080/24p with lossy Dolby Digital 1.0.

Tight Spot Image Gallery: Original Promotional Material (28 images)

Solid gallery in 1080/24p.

122 page liner notes booklet

Tight Spot gets eight pages all to itself in this superb booklet: "A Responsible Cat Among the Dead Pigeons" by Tara Judah, "The Cast of Tight Spot" and a section on exploitation from the distributors ballyhoo booklet.

Packaging


Single disc card digipack for each film in a hard card box.

Overall


Crackerjack, snappily scripted gem of a noir gets the deluxe treatment from Sony and Powerhouse Films as part of the latter's superb new Columbia Noir #2 boxset. First rate image and sound that can't be bettered shy of a UHD 4K release. Extras are well up to par and provide plenty of contextual added value; especially interesting are the Senate hearings. Superb film, superb transfer, superb release.
| | | | | |
| --- | --- | --- | --- | --- |
| The Film: A+ | Video: A+ | Audio: A+ | Extras: B | Overall: A- |

---
DVD Compare is a participant in the Amazon Services LLC Associates Program and the Amazon Europe S.a.r.l. Associates Programme, an affiliate advertising program designed to provide a means for sites to earn advertising fees by advertising and linking to amazon.co.uk, amazon.com, amazon.ca, amazon.fr, amazon.de, amazon.it, amazon.es and amazon.se.