Murder By Contract (Blu-ray) [Blu-ray]
Blu-ray B - United Kingdom - Powerhouse Films
Review written by and copyright: Rick Curzon (1st February 2021).
The Film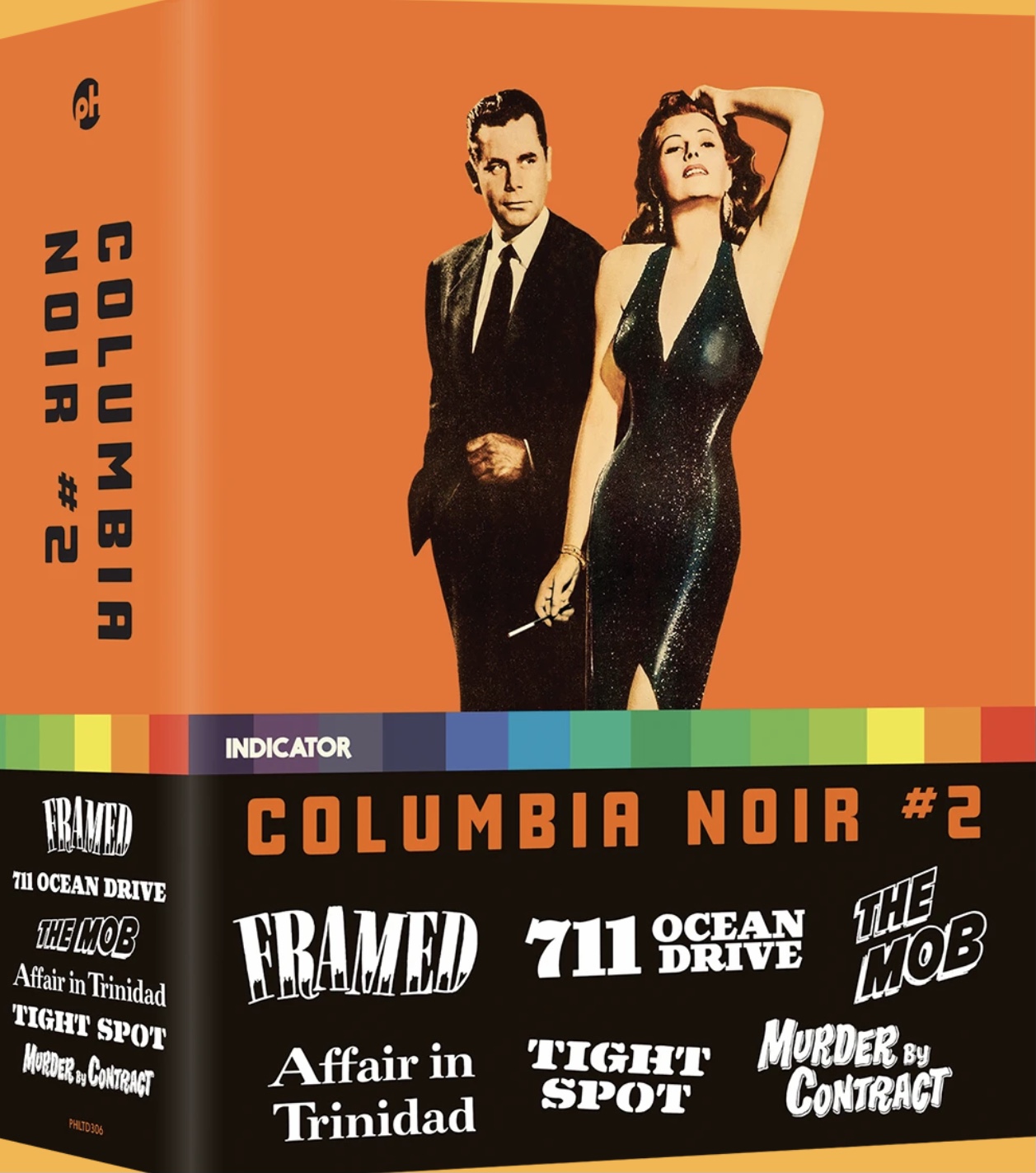 Our second Columbia Noir box set takes a dive once more into the studio's archives and the world of film noir – a world of undercover detectives (The Mob) and emotionless hitmen (Murder by Contract), a world where film is inspired by real-life criminal activities (Tight Spot, based loosely on Virginia Hill's testimony against Bugsy Siegel) and real-life criminal activities are inspired by film (711 Ocean Drive, which attracted the unwanted attention of mobsters), and a world where Glenn Ford finds himself unwittingly embroiled in murder – twice (Framed, Affair in Trinidad).

All six films are presented for the first time on Blu-ray in the UK, with The Mob, Tight Spot and Murder by Contract making their world Blu-ray premieres. This stunning collection includes newly recorded commentaries on each film, assorted bonus materials, including six short films starring the Three Stooges, lampooning the tropes and themes of the features, a 120-page book, and is strictly limited to 6,000 numbered units.

Video


This sixth and final film in Powerhouse Film's superb Columbia Noir #2 set is this exceptional little European-flavoured noir with a terrific Perry Botkin score done entirely on electric guitar and very much in the same vein as the famous Zither score for The Third Man (1949). Vince Edwards headlines a great cast of characterful faces all giving memorable turns. Apparently rated by Martin Scorsese as the single biggest influence on his filmmaking. Top notch stuff and together with Tight Spot (1955), ties for the best film in this set.

This is another film shot on monochrome 35mm using spherical lens with a negative ratio of 1.37:1 but designed to be matted in projection to 1.85:1; the second film in the set to be in a widescreen format and my comments on Tight Spot, disc five, apply here as well.

(The only real difference between this and Tight Spot is that this one is largely shot on outdoor locations)

Matted films like this have slightly courser grain structure due to the film essentially being zoomed to crop the top and bottom off the top of the image when projected. When compared to the previous four films (all Academy 1.37:1) the image is slightly softer and grainier, but not in a way that most will notice. It's an incredibly filmic image and has been superbly handled by the encode with no signs of any digital manipulation or artefacts; grain remains filmic at all times. The print has been brilliantly restored in Sony's HD master and has no signs at all of print damage.

Gamma is perfect with no signs of colour bias creeping in. Black levels are absolutely deep, dark and filled with shadow detail when designed to and no signs of an unintended crush. Contrast is expertly balanced and supportive; highlights are gorgeous with no blown out whites, detail is exceptional; look at Ginger Rogers outfit in the hotel scenes. It's a Dogtooth Check and would've given older standard definition transfers all sorts of problems with moire patterning making it's presence felt. Not so here.

This is a cracking transfer and every bit as good as the others in this set.

1080/24p / AVC MPEG-4 / 1.85:1 / 80:29

Audio


English LPCM 1.0
Subtitles: English HoH

This is a typical mono track from the period. Sound design is limited as is the range. It's mainly designed to allow the dialogue to come through loud and clear which it does at all times; music is also well adjusted in the mix. Some tracks of this era can be a little muffled or even tinny, but I noticed none of that hear. It's about as good as it can be for 1.0.

Subtitles for the hearing impaired have been provided and re meticulous.

Extras


Audio commentary by Farran Smith Nehme (2021)

Nehme is also known under her internet moniker Self-Styled Siren and has written for Film Comment, The Guardian and the BFI. Lossy Dolby Digital 2.0 stereo.

"Martin Scorsese on Murder by Contract" 2009 featurette (4:58)

The great man waxing lyrical on this favourite film of his who influenced much of his filmmaking. 1080/24p 1.78:1 and with a lossy Dolby Digital 2.0 stereo.

"The American Scene, A Series: Number One - Swedes in America" 1943 short film (17:09)

Fascinating short featuring Ingrid Bergman talking about the supposed 2 million Swedish citizens who live in the US at that time. Plenty of minor damage and age related wear and tear; contrasty with some blown out whites and the sound is hissy but clear. 1080/24p 1.37:1 with a lossy Dolby Digital 1.0.

"Violent is the Word for Curly" 1938 short film (17:51)

#32 in the 190 strong collection of Three Stooges shorts the team made for Columbia. Pristine image in fully restored 1080/24p 1.37:1 with lossy Dolby Digital 1.0

"Trailers from Hell with Larry Karazewski: Murder by Contract" 2020 featurette (2:24)

A little ode of love from Karazewski also waxing lyrical on great this film. 1080/24p 1.78:1 with a lossy Dolby Digital 2.0 stereo.

Theatrical Trailer (1:55)

Vintage promo in 1080/24p with lossy Dolby Digital 1.0.

Murder by Contract Image Gallery: Original Promotional Material (13 images)

Solid gallery in 1080/24p.

122 page liner notes booklet

Murder by Contract gets nine pages all to itself in this superb booklet: "Murderous Understatement" by David Thompson and "Blacklists, Fronts, and Espionage".

Packaging


Single disc card digipack for each film in a hard card box.

Overall


Top notch film, top notch transfer with exceptional image and sound for the formats (matted widescreen; mono sound). Extras are also choice. Murder by Contract and Tight Spot are worth the price of the boxset all on their own ... plus you also get four other films as bonus!
| | | | | |
| --- | --- | --- | --- | --- |
| The Film: A+ | Video: A+ | Audio: A+ | Extras: B | Overall: A- |

---
DVD Compare is a participant in the Amazon Services LLC Associates Program and the Amazon Europe S.a.r.l. Associates Programme, an affiliate advertising program designed to provide a means for sites to earn advertising fees by advertising and linking to amazon.co.uk, amazon.com, amazon.ca, amazon.fr, amazon.de, amazon.it, amazon.es and amazon.se.