The Film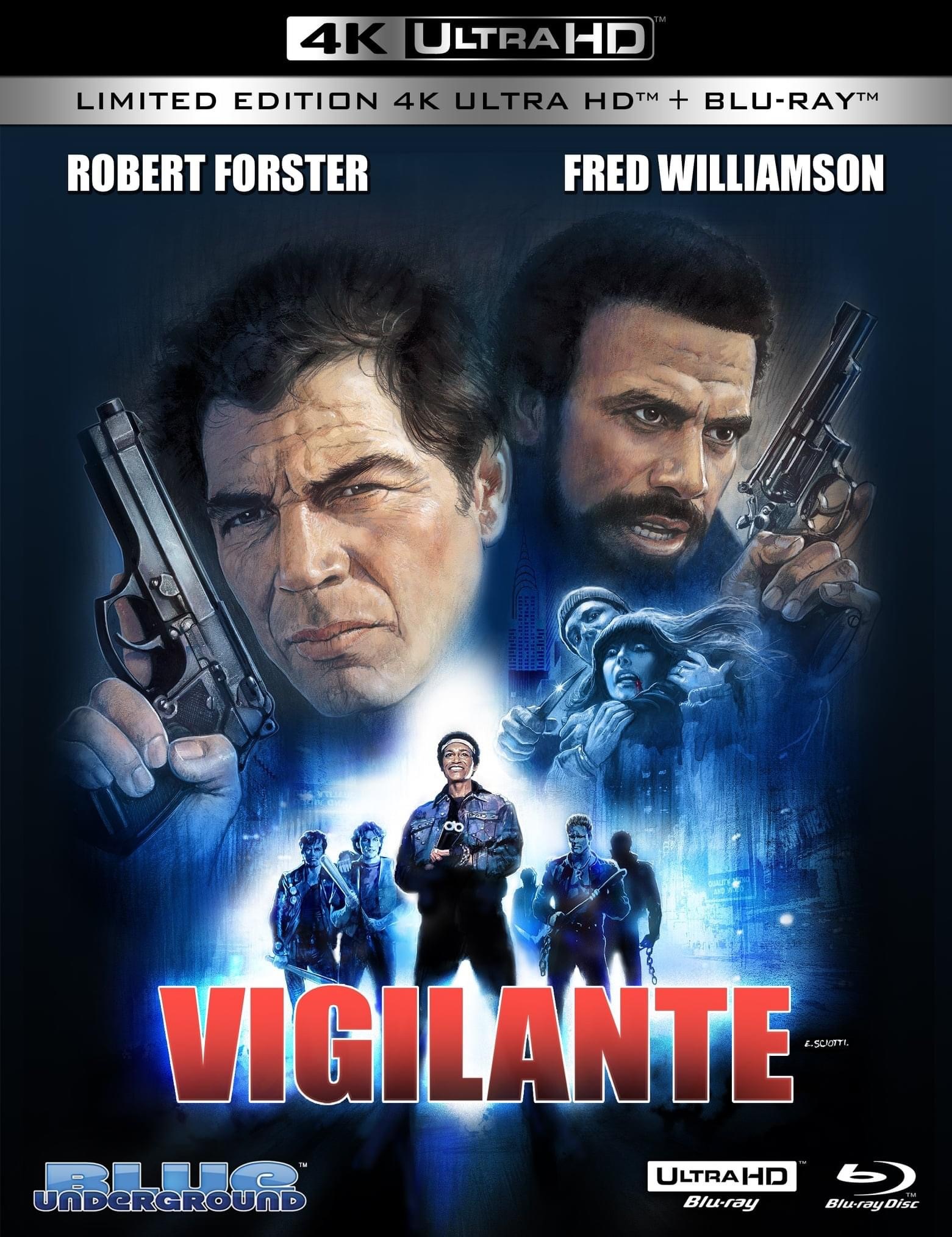 "Vigilante" (1982)

See one man's life torn apart; see the damage that is done by a gang of thugs in the lawless frontier of NYC! William Lustig (Maniac, 1980) always quick to exploit a situation, decided to make his own blue-collar version of Death Wish (Michael Winner, 1974). Essentially a similar film, but with Italian influences, the film was made on a tight low budget, but don't count Lustig out as a mere copycat. As he previously demonstrated in his premiere film Maniac, Lustig took advantage of having gritty New York for his shooting locations and the script from Richard Vetere doesn't hold back when it comes to action packed sequences. The plot focuses on an ordinary hard-working Eddie Marino (Robert Forster) whose family is victimized by a gang of thugs that are called The Headhunters. The film begins with exploitation star Fred "The Hammer" Williamson (Nick) as he lectures a gathering of local citizens at an impromptu meeting. The streets of New York are no longer safe. They have been taken over by cretins and goons and the only language they understand is the language of violence. Nick implores the gathering that he has the answer to the problem and by the looks of him, he isn't talking about polite discourse.

Eddie is a family man; he has a job in a local factory where he repairs machinery. Also at the plant are Nick, Burke (Richard Bright), and Ramon (Joseph Carberry); they are secretly vigilantes that patrol their neighborhood, cleaning it up with baseball bats and the occasional gun. When things start to go bad, the group recruits Nick as one of their recruits. The trouble starts when Vickie Marino (Rutanya Alda) stops to get her car repaired, while there she sees a local thug struggling with the owner of the station. Vickie is a strong woman, and she slaps the thug silly. The headhunters flee when they spy a patrol car making the rounds. Upon arriving home, Vickie tells her son, Scottie (Dante Joseph) to go upstairs and get ready for bed. Looking out the window, she sees the gang sitting outside her house, waiting. The gang, oddly interracial and including a female member, attacks the house and assaults Vickie. Running into the backyard, Vickie is yelling for help, but a sudden gunshot explodes the bathroom window; her son has been viciously killed. Rico (Willie Colon) follows Vickie outside and carves her stomach with a large knife. Eddie arrives home and is greeted by the sight of several police cars and an ambulance outside his house. Detective Russo (Randy Jurgensen) tells Eddie to call the local Assistant District Attorney Mary Fletcher (Carol Lynley); Fletcher is sympathetic, but the deck is stacked in the hood's favor. Lawyer Eisenberg (played by the greasy looking Joe Spinell) is paid off by fellow gang member Prago (Don Blakely) and as they say, the fix is in. Apparently Judge Sinclair (Vincent Beck) is one of those slap on a wrist judges and Rico is given an extra light sentence. Upon hearing the verdict, Eddie loses his temper and charges the desk. He is sentenced for contempt and is penalized for thirty days in prison. Of course, since this is the movies, he conveniently lands in the same prison that Eddie is doing time in. Once behind bars, Eddie is trying to settle down and adjust, but Rico has a muscle headed goon try to attack him in the shower. Coming to Eddie's aid is none other than Rake (Woody Strode) and he makes the save. Released after doing his time, Eddie returns to the hospital to see Vickie, but she doesn't want anything to do with him.

Blueboy, a local dealer (Frank Pesce) is seen selling dope to some students, but that doesn't square with Nick. What follows is a lively sequence with Blueboy trying to escape from Nick but failing when he is in turned apprehended by the others in the vigilante mob. Squeezing the thug for information, the mob is slowly but surely eliminating the bad guys on the food chain. Local pimp Horace (Bo Rucker) is next to be ousted. The vigilante boys are seen around town driving a blue van and they give chase to Horace. There is a nicely done sequence where the pimp is chased down some darkened streets, ending with him flipping his silver caddy. The mob roughs up Horace and extracts additional information from their adversary. This leads them to the apartment where Rico is holed up. About to make the scene with a lady, the mob busts in and executes Rico with street justice. Rico is shot twice by Eddie and as they are leaving the apartment, Rosie (Hyla Marrow) comes busting out of the bathroom with a loaded gun. In a gratuitous scene, she is blasted into the bathtub by Nick. Man, what was he packing? Sam Peckinpah would have been proud of the pyrotechnics on display.

Nick seeks Eddie out at his house and is told that he is leaving town. Enough is enough. Nick makes a moving speech about running out of safe places to hide; "Fight for it!" While driving away, Eddie spies Prago crossing the street. What follows is some bare-knuckled driving scenes that truly makes Vigilante stand out. Racing through the streets of Williamsburg, Eddie is not one to give up. Prago steals a vehicle and then hotfoots it to a neglected cement factory, all the while with Eddie in pursuit. The film climaxes with Eddie telling Prago that he killed his son. Prago, in typical bad guy fashion, tells Eddie that "doesn't mean shit to me." He is tossed like a sack of garbage from the top of a tower. The closing scene is Eddie flipping the controls on a remote that blows up the crooked judge's car. Roll the Credits!

Video


The picture quality is superb. The box claims that this is a pristine restoration that is scanned in 4k 16-bit from the original 35mm camera negative with Dolby Vision HDR and Dolby Atmos audio. Once again, this is for the 4K UHD disc in the two-disc package. The Blu-ray was pretty impressive, and the audio soared during the chase scenes.

Audio


This is the way the 80's should have sounded when this played at a grindhouse; heavy on the basslines, good reproduction of the high end. Vigilante's lossless soundtrack is the way to hear this film. Crank it up and drive the neighbors nuts!

Extras


Now for the real reason to purchase this disc. Blue Underground does an outstanding job of making this film feel like an unheard of classic. Extras include:

Not one, but three audio commentaries, with Track one featuring Co-Producer/Director William Lustig and Co-Producer Andrew W. Garroni. The duo discuss plenty of details regarding the making of the film. This audio commentary is a carry over from Blue Underground's original Blu Ray release.

The second commentary track includes Co-Producer/Director William Lustig and Stars Robert Forster, Fred Williamson, and Frank Pesce. The addition of the stars adds to the levity included here. Again, this audio commentary is another carry over from the Blu-ray release.

We are also given a brand-new commentary track that features film historians Troy Howarth and Nathaniel Thompson. The two cover plenty of ground here including the origins of Lustig's Magnum company, the quality of the Chattaway soundtrack and the suggestions that Lustig had made during filming, and lots of details regarding the stars.

New featurette: Blue Collar Death Wish (24:42)

Made of several interviews with script writer Richard Vetere, actress Rutanya Alda, associate producer/first A.D./actor Randy Jurgensen, director William Lustig, Frank Pesce and Robert Forster. They discuss how the script was developed, the influence of real street crime and the increasing presence of hard drugs in NYC, and how important it was to have former detective Jurgensen on the set. We are given some fascinating details of what it was like to work on a low budget exploitation thriller.

Urban Western (25:08) with composer Jay Chattaway

An insightful interview with the composer on using psychology when working on a film such as this one. He discusses his early career, various influences, and what it was like incorporating the Dolby technology into the film. I found it interesting how Chattaway was influenced by Sergio Leone western scores.

We are also offered 7 different theatrical trailers: (14:40)

4 TV spots (1:50)

Radio Spots (0:33)

Promotional Reel (3:17) This promo was originally filmed to help promote the film prior to the Cannes film festival.

Poster and Still Galleries

Packaging


Collectible Booklet with a brand-new essay by Michael Gingold.

Comes in a special 3D Lenticular Slipcover (First Pressing Only)

2 Disc Set in a slipcase boxed set.

Overall


The results of this first-class treatment makes a grade B film into an A. The picture is pristine, and the audio track reverberates with a pounding soundtrack courtesy of Jay Chattaway.
| | | | | |
| --- | --- | --- | --- | --- |
| The Film: A | Video: A | Audio: A | Extras: A | Overall: A |