The Film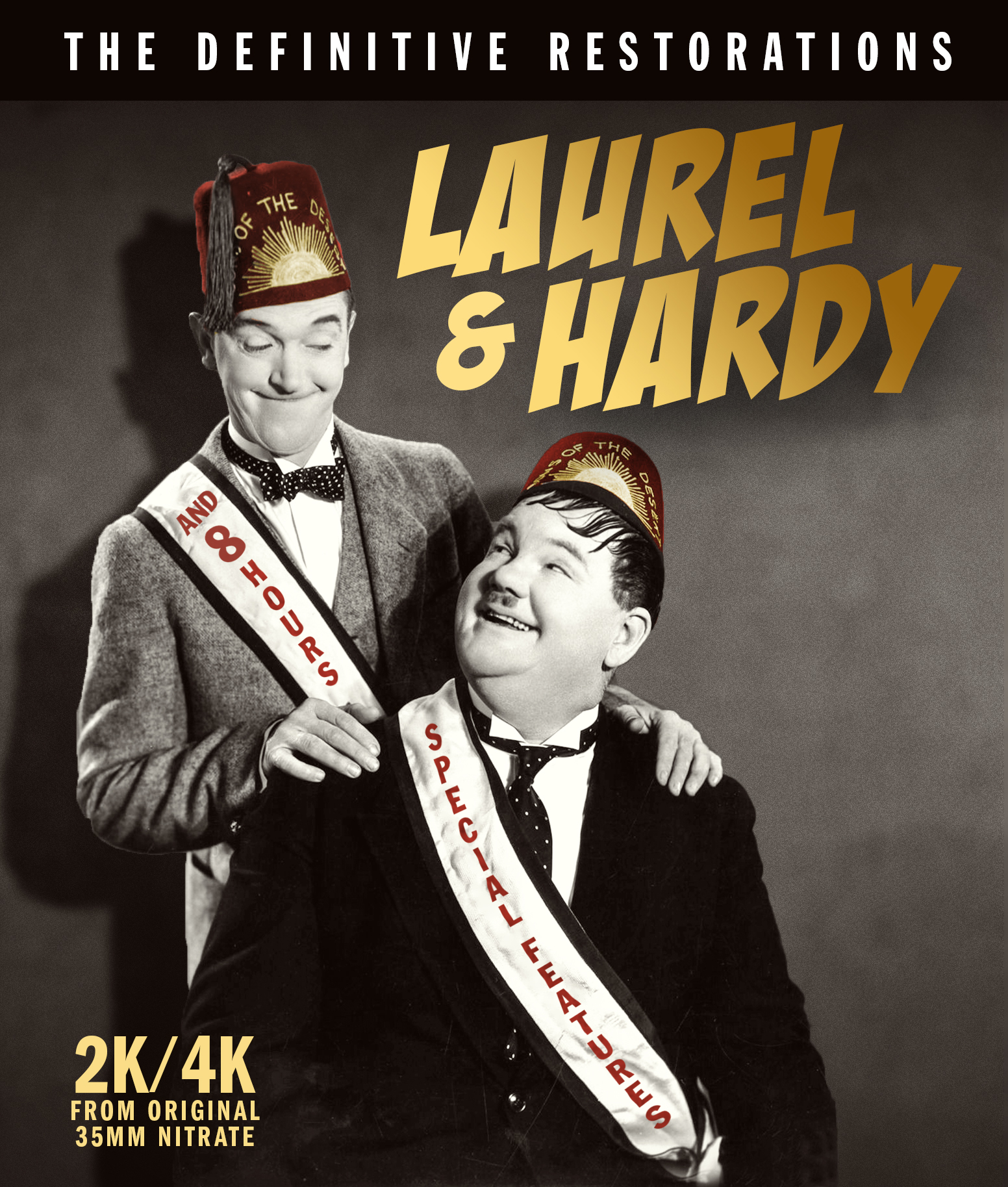 Comedy is a difficult issue to write about simply because of the many different flavors of humor that are available. What makes me laugh is not necessarily something that may delight you, but something that I think we can all agree on is that throughout the history of motion pictures is that there have been select groupings of performers, usually men but not always, that have come to be known as the Kings of Comedy. These men, sometimes a duo and occasionally as a trio, have suffered countless tribulations, prat falls, pie fights, battles with authority, embarrassing moments all for one reason: to make us laugh. There is a select group of comedians that can be classified as belonging to this royal cluster: Abbot and Costello, The Marx Brothers, The Three Stooges, Hope and Crosby, and our featured performers, Laurel and Hardy. Two men: one fat and one thin. Stan Laurel and Oliver Hardy, a study in contrasts and differences, two individuals that together made a team that amused countless audiences all over the globe. But surely there have been other pairings that once graced the silver screen and are now mere footnotes in history; what exactly is so special about these two and why is their legacy more important than ever?

We can trace the pair back, prior to their unification, where both men enjoyed success, both on stage and in films. Stan Laurel had previously worked with Chaplin early on in his career while Oliver Hardy had pursued fame in over 250 productions, but it was not until 1926 that the two men were paired together, and the results were magical. Both men had signed contracts with the Hal Roach film studio, and they were both cast in the silent film Putting Pants on Philip (1927) where their partnership began. The duo had collaborated on 32 short silent films, 40 short sound films and 23 feature films until 1950. Much of the humor derives from the men's onscreen personalities: Stan Laurel was the thinner one of the duo; he is often the catalyst for hijinks stemming from a misunderstanding or the simple undertaking of a task. Oliver Hardy is the fat man and as such he bears the burden of sometimes being the straight man, but since the comedy is much more complex than simply slapstick, there is the issue of the two men's complicated allegiance to each other, versus the world at large. Even when both men are married, they often live right next door to the other. Laurel and Hardy in a way resemble Siamese twins that have been separated, but nonetheless are conjoined in a deeper emotional and psychological manner. It appears that one cannot coexist without the other's company, even though this often leads to affrays and inevitable trouble, the two men are codependent upon each other. It is in this complex relationship that we often find hilarity. This collection is sure to please the collector's market and newcomers will be delighted with the wonderful selections. Since these films have been rendered from the finest surviving elements into 2K and 4K transfers, the audio and video tracks have been painstakingly scoured with many scratches and blemishes removed; the audio tracks have been restored and occasionally there is a choice to make to which track to listen to. Many of the shorts have included commentary tracks include which give the audience additional behind the scenes information and there is a discussion of the production in general. Overall, I believe this to be a true collector's item and also an incredible price for a wealth of content. If you have been searching in vain for an excellent introduction to this comic duo's work, then look no further. You have struck paydirt, brother!

Since this set is consisting of 4 separate discs with many additional extras, I will break down the contents of each disc and give a brief review of the shorts and additional content. Each disc is an incredible showcase of technical achievement and even though there has been some criticism of a soft picture quality due to digital finetuning and polish, I have found the product to be vastly improved over previous sets that I have seen. Please note that Oliver Hardy is often known by his nickname "Babe."

DISC ONE

Feature: Sons of the Desert (1933, 65:14 minutes, directed by William A. Seiter, preserved by UCLA Film and Television Archive). In one of the better-known features, the boys lie to their wives in order that they can attend a lodge convention in Chicago. Laurel and Hardy live in a double home with the other right next door which of course ensure plenty of visual humor. This is a classic feature and a great introduction to the team and there is plenty of mayhem on tap. The image is much sharper and brighter than previous editions. The sound has been cleaned up and various audio splices have been removed. Commentary supplied by Randy Skretvedt.

Short: The Battle of the Century (1927, 27:08 minutes, directed by Clyde Bruckman, presented nearly complete with original amber tint and a new score by Donald Sosin). This is the home premiere of this silent short and is definitely a cause for celebration. For over sixty years, the second reel of this two-reeler was thought lost until collector Jon Mirsalis located a 16mm copy of it in an estate sale. A few minutes of footage is missing at the end of reel one but assorted still photographs have been inserted to help one follow the storyline. Director Bruckman's name should be familiar to fans of The Three Stooges and here he displays his talents staging the largest pie fight filmed at the time. The plot involves a boxing setup; Laurel is facing a bruiser but with the nickname of "The Human Mop" you can guess the results of the fight. At the end of the short there is a huge pie fight scene and the entire street, and all of the participants are covered in the sweet goo. A long-lost classic that has been rediscovered! Commentary supplied by Richard Bann.

Short: Berth Marks (1929, 20:21 minutes, directed by Lewis R. Foster). Issued with the original 1929 soundtrack and a 1936 reissue soundtrack; the choice is yours to make. This is a prime example of the pair's physical comedy as Stan and Ollie struggle to catch a train and are assigned a single upper berth that they must share. The results are no-stop hilarity as the two men attempt to undress simultaneously while crowded into the small space. For the first time on home video, the original 1929 soundtrack has been reinstated. The 1936 soundtrack is offered as an option, but the footage is from a 1929 print, so at times the two are out of synch. Commentary supplied by Randy Skretvedt.

Disc 1 Bonus Materials:

Commentary tracks on each film is available from Randy Skretvedt or Richard B. Bann. Please note that the commentary for Battle of the Century runs 27 minutes, that is eight minutes longer than the short itself.

Video Interview with Laurel and Hardy co-workers:

Anita Garvin, 9:18, filmed in October 1981, in color: she speaks about the family spirit that prevailed at the Roach studios. She also speaks about Stan's directing ability and his attitude.

Joe Rock, 9:35. He reminiscences what it was like to make films with Stan Laurel.

Roy Seawright, 14:56, speaks about his time at the Roach studios and how he had previously met Stan Laurel in England.

"Ship's Reporter" 3:30: Oliver Hardy interviewed on board in 1951 (restored). The pair are headed to France to film their last feature.

Sons of the Desert only surviving Spanish-language trailer.

An early script with dialogue continuity for Sons of the Desert.

Contracts and other documents associated with Sons of the Desert.

Promotional photos, posters and stills for each of the featured films as well from Stan and Laurel's early careers:

Sons of the Desert:

Publicity Portraits (1080p; 3:31)

Scene Stills (1080p; 4:23)

Deleted and Candids (1080p; 3:36)

Posters and Publicity (1080p; 7:22)

Early Script (1080p; 3:57)

Dialogue Continuity (1080p; 3:54)

Contracts and Documents (1080p; 2:57)

Other Galleries:

Battle of the Century (1080p; 7:38)

Berth Marks (1080p; 5:02)

Portraits in Costume (1080p; 9:52)

Early Career: Stan (1080p; 4:26)

Early Career: Babe (1080p; 5:55).


DISC TWO

Short: Brats (1930, 21:29 minutes, directed by James Parrott). This is an odd one but, in a way, it makes complete sense. In this short, the boys play both the adult Laurel and Hardy as well as their children. Split screens are used when all four are in the same shot and the sets were built 3-times to scale in order to make the actors look smaller. This short features both the original 1930 soundtrack as well as a revised 1937 soundtrack. Commentary supplied by Randy Skretvedt.

Short: Hog Wild (1930, 20:14 minutes, directed by James Parrot). This is a good one. Mrs. Hardy wants to listen to Japan on the radio and insists that Oliver installs an aerial on the roof of the house. Stan arrives and is put to work with assisting with the installation. The duo proceeds to wreak havoc on the house and the laughs are on us. The Blu Ray edition restores the original Vitaphone aspect ratio and now replicates how it originally would have appeared. Commentary supplied by Randy Skretvedt.

Short: Come Clean (1931, 21:02 minutes, directed by James W. Horne). Laurel and his wife pay an unexpected visit to the Hardy's, but they are not in the mood to entertain. This is an eccentric one as what starts out as a domestic comedy suddenly turns as the due go out for ice cream and then end up saving the life of a suicidal lady played by Mae Busch. The Blu Ray restoration is a much-improved version than what was previously available. Commentary supplied by Randy Skretvedt.

Short: One Good Turn (1931, 20:50 minutes, directed by James W. Horne). The boys are down on their luck and are flat broke. They decide to go on a road trip to see the country. Of course, things end badly, and they end up knocking on an old lady's asking for a handout. They set out to repay the woman's kindness. Regular supporting cast members James Finlayson and Billy Gilbert both make an appearance in this short. A surprisingly time referenced script uses the depression as part of the set up. The video is an upgrade of all previous editions. Commentary supplied by Randy Skretvedt.

Short: Me and My Pal (1933, 20:30 minutes, directed by Charley Rogers). Mr. Hardy is about to hit the big time: he is going to be married to the daughter of an oil baron (James Finlayson) but problems begin when Stan arrives with a wedding gift: a jigsaw puzzle. As the house continues to fill up with various visitors, none can resist the enticement of the puzzle. The upgrade condition is marginal, but the DVD version was much softer in terms of picture quality. Commentary supplied by Randy Skretvedt.

Disc 2 Bonus Materials:

Audio commentaries by Randy Skretvedt.

Audio interviews with Laurel and Hardy co-workers:

Brief chats with the following actors, a slideshow appears on screen to accompany each interview:

Introduction and Billy Bletcher: (4:27).

Joe Rock: (4:32).

Hal Roach: (9:12).

Anita Garvin Stanley: (4:35).

George Marshall: (2:54).

Roy Seawright: (6:15).

Venice Lloyd: (4:45).

Richard Currier: (8:06).

Bert Jordan: (7:53).

Walter Woolf King: (3:34).

Lucille Hardy Price: (8:50).

Harvin Hately: (3:24).

Audio Performance, music by Marvin Hatley:

Honolulu Baby: (3:00).

Lovey-Dovey: (3:00).

Photo Galleries for each film presented and personal photos of the boys:

Brats (1080p; 9:26).

Hog Wild (1080p; 7:20).

Come Clean (1080p; 8:34).

One Good Turn (1080p; 9:38).

Me and My Pal (1080p; 4:43).

Hardy Vim Scrapbook (1080p; 5:54).

Hollywood Friends (1080p; 2:37).

Catalina July 1934 (1080p; 2:30).

L & H Books by Randy Skretvedt (1080p; 1:53).

Special Thanks (1080p; 1:22().


DISC THREE

Short: Helpmates (1932, 21:22, directed by James Parrott). Mr. Hardy's wife has been out of town and he has cut loose hosting a series of wild parties. He receives a phone call that she is expected home by noon and panic sets in. Oliver immediately phones Laurel to come over and help with the clean up except all hell breaks loose. Every piece of china is effectively destroyed as the two men demolish the house. Unfortunately, the video quality of this short is fair; the scratches may have been removed but the end product is not entirely improved. Commentary supplied by Randy Skretvedt.

Short: The Music Box (1932, 39:16, directed by James Parrott): Our duo is assigned to deliver, by hand, a player piano. The challenge is getting the box to the top of a steep flight of stairs. The film won the first Academy Award for Best Live Action Short (Comedy) in 1932. This short perfectly captures the magic of Laurel and Hardy allowing them to display their marvelous ability to perform slapstick routines. Even when they arrive at the top of the stairs, the adventure is not over yet because the decide to put the piano in the living room of the house. The commentary track runs over ten minutes with stills from the film to fit the track. The audio track has been cleaned up exceptionally nice and the picture quality is cleaner than the DVD previously offered. Commentary supplied by Randy Skretvedt.

Short: The Chimp (1932, 23:56 minutes, directed by James Parrott). The boys find themselves employed by a destitute circus that ends up out of business. The owner pays off the men with a trained gorilla named Ethel for Ollie and a flea circus for Stan. The gorilla is portrayed by the man that made being in a gorilla suit his calling card: Charles Gemorra. This short receives various votes with some fans complaining about the chimp being actually a gorilla actually a man in a gorilla costume. Commentary supplied by Randy Skretvedt.

Short: County Hospital (1932, 19:00 minutes, directed by James Parrott). Oliver is in the hospital with a broken leg but unfortunately that is just the start of his trouble because Stan is about to come a calling. Billy Gilbert is the doctor with a gruff manner. Violent slapstick abounds! The video presentation seems a bit soft due to the cleaning process and the image looks a tad soft. The end result is more or less the same as the current DVD release. Commentary supplied by Randy Skretvedt.

Short: Scram (1932, 20:56 minutes, directed by Raymond McCarey). The first half of this short is a classic. Arthur Housman plays a drunken character and is a scream. The video image has been cleaned up and is lacking in sharpness compared to previous reissues. There is a glitch in a scene where the boys are laughing when suddenly there appears a single frame from a different scene. This out of place shot had not appeared in previous releases. Commentary supplied by Randy Skretvedt.

Short: Their First Mistake (1932, 21:04 minutes, directed by George Marshall). Reoccurring character actress Mae Busch portrays Mrs. Hardy; she complains that Oliver cares more for Stanley than he does for her. Stan suggests that Oliver adopts a baby to keep the misses occupied. Mrs. Hardy does not appreciate this effort and ends up suing for divorce. One must ignore the issues of child endangerment in this scenario but that should be rather easy to do. Previous prints were somewhat dark, so this presentation is definitely superior. Commentary supplied by Randy Skretvedt.

Short: The Midnight Patrol (1933, 19:44 minutes, directed by Lloyd French). The boys are usually running from the cops but in this short they are the law; this is a nice reversal of their expected roles. Features a darker themed ending but still hilarious. The transfer is somewhat softer, but the image is clean. Commentary supplied by Randy Skretvedt.

Short: Busy Bodies (1933, 19:36 minutes, directed by Lloyd French). The boys have a new job and it is at a sawmill! This is a classic short and the results are classic slapstick with plenty of close calls involving the saw. The transfer is fairly consistent with other shorts and the Blu Ray presentation is particularly good. Compared to the previous DVD release, I think that this version is superior overall. Commentary supplied by Randy Skretvedt.

Disc 3 Bonus Materials:

Commentary supplied by Randy Skretvedt. The commentary track for The Music Box extends nine minutes by the end of the film.

Photo galleries for each of the films as well as personal photos of the boys and supporting cast:

Helpmates Gallery (82 in all – 7:51).

The Music Box Gallery (118 in all – 11:11).

The Chimp Gallery (81 in all – 7:31).

County Hospital Gallery (118 in all – 10:46).

Scram! Gallery (92 in all – 8:46).

Their First Mistake Gallery (54 in all – 5:22).

The Midnight Patrol Gallery (64 in all – 6:12).

Busy Bodies Gallery (90 in all – 7:58).

A Short History of the Hal Roach Studios Gallery (58 in all – 6:32).

Supporting Players Gallery (18 in all – 3:09).

Studio Hijinks Gallery (22 in all – 2:42).

Crew Members Gallery (25 in all – 3:47).

Snapshots from the UK Vacation Gallery (41 in all – 5:20).

Laurel & Hardy Books by Randy Skretvedt (1:53).

Special Thanks (1:22).


DISC FOUR

Feature: Way Out West (1937, 64:42 minutes, directed by James W. Horne). The boys are headed out West to make their fortunes; along the way they are enlisted to deliver the deed to a goldmine in a small town only to have it stolen. This film was nominated for the Best Score Academy Award. The devious saloon owner Mickey Finn (James Finlayson) and his equally villainous wife Lola Marcel (Sharon Lynn) are up to no good and try to undo the boy's good deeds. This is a great feature and includes three musical numbers. Commentary supplied by Randy Skretvedt.

Short: Towed in a Hole (1932, 21:09 minutes, directed by George Marshall). The boys are enjoying some success as fishmongers, but Stan convinces Ollie that they can make more money by catching their own fish. This short was written by Stan Laurel and displays his comic genius in situational comedy. The duo purchases a leaky old boat from Joe (Billy Gilbert) and the results are uproarious. Plenty of slapstick visual comedy performed by the team alone as they navigate the high seas and try to catch some fish. The picture is pristine, and the sound is excellent. The short probably looks just as good when it first ran. Commentary supplied by Randy Skretvedt.

Short: Twice Two (1933, 20:38 minutes, directed by James Parrott). Stan Laurel plays both Mr. Laurel and Mrs. Hardy and Oliver plays both Mr. Hardy and Mrs. Laurel with hilarious results. The use of split screen photography is certainly impressive and there are plenty of sight gags. The Blu Ray image is particularly good compared to previous versions and is considered a step up. Commentary supplied by Randy Skretvedt.

Short: That's That (1938, 8:06 minutes, compiled by Bert Jordan). The final two shorts presented are not truly Laurel & Hardy shorts; they are really part of the bonus material. This short is actually a compilation clip consisting of clips, outtakes, and bloopers and was specially assembled for Stan Laurel's birthday in 1938. This was never meant to be viewed by the general public and is available for the first time. The quality is dubious, and it is what it is. Optional commentary by Randy Skretvedt.

Short: The Tree in a Test Tube (1943, 10:37 minutes, directed by Charles McDonald). A rare color World War II propaganda short from the Department of Agricultural Forest Service that promotes the wood industry. It's nice to see the boys in color and the video quality is good. Optional commentary by Randy Skretvedt.

Disc Four Bonus Materials:

Audio commentary tracks provided by Randy Skretvedt.

Way Out West Portrait Stills Gallery (61 in all – 5:58)

Way Out West Scene Stills Gallery (66 in all – 6:12)

Way Out West Candid Stills Gallery (45 in all – 5:31)

Way Out West Pressbook Articles and Artwork Gallery (86 in all – 7:43)

Way Out West Poster and Lobby Card Artwork Gallery (54 in all – 5:01)

Way Out West Original 1913 Sheet Music Gallery (11 in all – 2:47)

Way Out West Script and Synopsis Gallery (79 in all – 7:42)

Way Out West Dialogue Continuity, Cues, Letters Gallery (35 in all – 4:02).

Towed in a Hole Gallery (64 in all – 6:27).

Twice Two Gallery (45 in all – 4:48).

That's That Gallery (16 in all – 2:02).

The Tree in a Test Tube Gallery (14 in all – 2:10.)

Portraits Out of Costume Gallery (35 in all – 4:02).

Laurel & Hardy and Golf Gallery (25 in all – 3:50).

Special Occasions Gallery (28 in all – 3:59).

Odd Publicity Shots Gallery (15 in all – 2:35)..

Stan in Retirement Gallery (37 in all – 4:22.

Way Out West Trailer (1:21.

Marvin Hatley Music Tracks (12 in all – 25:52)..

Beau Hunks 1931 Trailer (0:54.).

Pack Up Your Troubles 1932 Trailer (1:54).

Babes in Toyland 1934 Trailer (3:26).

The Flying Deuces 1939 Trailer (2:17).

A Chump at Oxford 1940 Trailer (1:23),

Saps at Sea 1940 Trailer (1:55).

Laurel & Hardy Books by Randy Skretvedt (1:53).

Special Thanks (1:22).

Video


For the most part this varies from disc to disc and depends upon the source material. I generally believe that the Blu-ray set is a definitive improvement over pre-existing DVD sets with the producers having done a lot of clean up work on the shorts and the two features include.

Audio


Again I believe that the work done is exemplary and this is probably going to be the best that we can expect by today's standards.

Extras


The Bonus materials alone are worth the admission price and thus sets the standards for other boxed sets to follow. If only all vendors put as much care into their products as into as Kit Parker did for this set, then we would all be happy. I am most grateful that this set is available, and I thank the producers for taking the time to yield such a great product! Roll the credits!

Overall


This is the boxed set that collectors have been waiting for and makes an excellent introductory package for younger viewers.
| | | | | |
| --- | --- | --- | --- | --- |
| The Film: A | Video: A | Audio: A | Extras: A | Overall: A |