The Film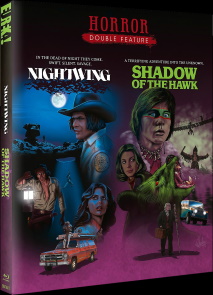 Nightwing: When cattle turn up dead and riddled with small bites reeking of ammonia, Maski farmer Joe Mamoa (Danny Zapien) goes over the head of reservation sheriff Youngman Duran (Death Ship's Nick Mancuso) and calls upon the greater resources of white-educated Pahanas tribal chief Walker Chee (The Monster Squad's Stephen Macht), leading to a territorial dispute. Duran dismisses the rantings of elder Abner Tapusi (Prophecy's George Clutesi) who scares tourists and his own tribe's high priests alike when the man tells him that he is bringing about the end of the world – that is, the Pahanas, the Maski priests, the Anglos, and the like – by setting the great god Yahweh free of the magic circle leaving only those of the coyote warrior clan (like Duran, Abner claims) to survive. When a local ranch hand is trampled by a herd of sheep in the middle of the night and Abner is found dead the next morning, Duran prevents biologist Phillip Payne (The Omen's David Warner) from taking samples of Abner's body and buries it up in the canyons that are Maski holy land. Payne goes to Chee and tells him that the animal and human deaths are symptomatic of a herd of vampire bats that he has been tracking from Mexico that carry bubonic plague. Although Chee wants it kept quiet, Payne's investigation gives Chee an opportunity to intervene in Maski affairs since he is hoping to secure the drilling rights for a shale deposit in the canyons on behalf of Peabody Mining executive Piggott (The Candy Snatchers' Ben Piazza). Duran's white girlfriend Anne Dillon (The Sender's Kathryn Harrold) is bringing in a group of Christian missionaries for the upcoming rain dance ceremony, hoping to secure their investment to build a local hospital. When Abner's body vanishes from its grave, locals including ex-missionary Selwyn (The Wild Bunch's Strother Martin) suspect that Abner has risen from his grave, but Duran suspects Payne has taken the body until he makes a gruesome discovery when attempting to talk to his tribe's priests. After the missionary camp is attacked by bats, the survivors are left stranded in the desert, Chee is worried that Duran's efforts to rescue her will bring government intervention on his own attempts to control the situation and attempts to silence him. Payne has meanwhile realized that Duran is the only one who knows the canyons well enough to help him find the bat cave and destroy the pack.

Based on the novel by Martin Cruz Smith (Gorky Park), Nightwing belongs to a subset of genre efforts attempting to be more respectful to Native American peoples and beliefs when white society is threatened with a supernatural or quasi-supernatural force like Wolfen. Whereas the Native American characters were sometimes as much supporting players in these films as they were in earlier horror films in which the revenge against white society through ancient curses, Nightwing's principal protagonist and antagonist are Native Americans with different ideas of what Duran respects the authority of the priests – while also being the only one of his tribe who also respects Abner – and wants to protect sacred land while Chee both despises tribes who are content to remain "dumb and poor" as much as he truly believes he is using the white resources and interests for the better of his own people. Other than British scientist Payne – who is altruistic in his mission to eradicate what he defines as evil (vampire bats taking but contributing nothing to the cycle of life as plague-carriers) – and Anne who has grown frustrated with the lack of medical resources that she is considering taking a fellowship in the city, the white characters are shades of vile: from the venal Piggot to the missionary men (Brainstorm's Donald Hotton and The Thing's Charles Halahan) who are condescending when in control but craven when they are attacked by the bats, unintentionally causing the deaths of their female companions (House of the Dead's Judith Novgrod and Being There's Alice Hirson) which are more brutal than any of the carnage we see committed by the bats. While one could interpret Duran's visions of Abner's taunting spirit and apparitions as his ancestors as his internal turmoil, the climax of the film simply drops the more human threat of Chee and his private police force once Duran, Payne, and Anne find each other in the desert. Apart from some neat mechanical effects by Carlo Rambaldi (E.T. The Extra Terrestrial), the bat attacks are scarcely improved effects-wise over the better-edited sequences in Alfred Hitchcock's The Birds with shots of bats against black backdrops looking like they were shot by Oxford Scientific and the optical effects of Van Der Veer Photo Effects (Dune) looking semi-transparent against the live action backgrounds, and some under-cranking of the footage of the actors coming across as unintentionally hilarious despite the otherwise professional direction of seasoned filmmaker Arthur Hiller (Love Story), some gorgeous landscape photography by Charles Rosher Jr. (Three Women), and one of the rare genre scores by Henry Mancini (Lifeforce) which includes a pointed use of the Loretta Lynn song "Don't Make My Brown Eyes Turn Blue". Louis Morneau's later Bats would provide better practical and digital effects at the expense of a compelling storyline.


Shadow of the Hawk: After burying another one of his tribe's elders, medicine man Old Hawk (Little Big Man's Chief Dan George) walks three hundred miles to metropolitan Toronto before suffering a voodoo-induced collapse. He wakes up in the hospital and checks himself out, attracting the assistance of freelance writer Maureen (Messenger of Death's Marilyn Hassett) to track down his half-white grandson Mike (Buster and Billie's Jan-Michael Vincent) who left the reservation ten years before and is now working for a computer firm. Immediately upon reuniting with his grandson, Hawk requests that Mike drive him back to his village. Reluctant to leave his obligations in the city – including girlfriend Faye (One Minute Before Death's Pia Shandel) – Mike initially drops his grandfather off at the bus station until Maureen guilts him into turning around and tags along for a possible story. On the journey home however, they were pursued by a spectral black sedan, and Mike's Range Rover nearly runs itself off the road. Even though Mike has been repeatedly terrorized in his dreams by a strange apparition and even almost drowned in his apartment building's pool by being pulled under the surface after supposedly falling asleep, he is hesitant to believe his grandfather's claims that the spirit of Dsonoqua, a witch who murdered and ate her husband and children before being put to death by Hawk's ancestors is trying to extinguish his family line including Mike to whom Hawk wants to pass his medicine man powers. When Hawk is bitten by a venomous snake, however, he will have to pass on his power to his grandson sooner than anticipated as Dsonoqua unleashes her shapeshifting warriors on the trio.

A more intimate but also more conventional Native American horror film than Nightwing, Shadow of the Hawk feels more like an American International release than a Columbia Pictures pick-up, with an odd combination of elements, from Dsonoqua and her followers – who look more like hippies than Native Americans – Vincent as a more matinee idol-looking half-Native American protagonist, and the cultural conflict is more straightforward and less confrontational. On the other hand, the film is cracking entertainment with some sinister apparitions, a man versus bear (and bear suit) scuffle the same year as Grizzly (one wonders, indeed, if the film was an influence on director William Girdler's adaptation of Graham Masterton's The Manitou), and a demonic car that anticipates The Car more so than Christine. The film only truly lets down the viewer when the only surprise in Mike's showdown with the animal form of Dsonoqua is that it turns out to be the witch since it is the least intense and suspenseful of Mike's spiritual labors. Performances are engaging, with Chief Dan George lending appropriate gravitas along with some needed warmth and humor – the relationship between Vincent and Hassett feels no more than obligatory – even using subtle tricks to guilt Mike and Maureen into helping him at different times. Director George McCowan (Frogs) replaced original director Darryl Dixon (The Silent Partner) during production.

Video


Released theatrically by Columbia Pictures and on VHS and panned-and-scanned laserdisc by RCA/Columbia, Nightwing was long in coming to the digital format, turning upon Sony's burned-on-demand DVD-R service in 2011 (viewers wanting a pressed DVD had to turn to Italy). Sony's lack of interest in the title did result in Mill Creek putting out an economic barebones double feature Blu-ray (also with Shadow of the Hawk) in 2018. Eureka uses the same master for their 1080p24 MPEG-4 AVC 1.85:1 widescreen Blu-ray, but it benefits from Columbia Tri-Star and Sony's lack of interest earlier in the age of DVD and Blu-ray by being a more recent master with nice rugged desert textures, good facial details, and stable grain during the night sequences and areas of underexposure.

Released theatrically by Columbia Pictures, Shadow of the Hawk skipped VHS and laserdisc, coming to DVD in 2011 as part of Sony's burned-on-demand DVD-R line before the aforementioned Mill Creek double feature Blu-ray. Although the lower-budget, non-studio flick of the two, Eureka's 1080p24 MPEG-4 AVC 1.85:1 widescreen Blu-ray also benefits from a more recent HD master, with overall heavier grain but good detail and textures from the professional lensing of Reginald Morris (he of the gauzy Murder by Decree).

Audio


Nightwing's LPCM 1.0 mono track is nothing special, but that remains true to the original mix in which Mancini's score has a nice spaciousness, dialogue is always clear, and the bat shrieks are plentiful and pointed within a rather conventional sound design. The lower budget and smaller scale production, Shadow of the Hawk's LPCM 1.0 mono track features clear dialogue and scoring but is much more ambitious in terms of sound design from silences to incidental cues to sinister nature sounds. Optional English HoH subtitles are included for both films.

Extras


Nightwing is accompanied by a new audio commentary by film historians Lee Gambin and Amanda Reyes in which they put the film – described by producer Martin Ransohoff (The Fearless Vampire Killers) as "Jaws on land" – in the context of Hollywood Native American genre films, political films, eco-horror, as well as the revisionist westerns of the seventies. They also discuss the casting of white actors as well as the research done by Mancuso and Macht – whose character Reyes makes a case for being the more interesting and complex – as well as the supporting actors including First Nations actor Clutesi and Harrold in the atypical female role in an ecohorror film. The audio essay "Oil and the (Geo)Politics of Blood" by John Edgar Browning also can be played over the film in which the author offers a "Ecogothic critique" of the film, comparing and contrasting it with a somewhat thematically related gothic western in the Clint Eastwood vehicle Pale Rider. The theatrical trailer (1:35) is also included. Shadow of the Hawk features an audio commentary by film writer Mike McPadden (RIP) and Ben Reiser in which the discuss the film in the context of Chief Dan George's career representing Native Americans on screen, Vincent's topsy-turvy career (a few years later, the pilot episode of his Airwolf series would be called "Shadow of the Hawke"), and Hassett who had achieved notice playing Jill Kinmont in the true story The Other Side of the Mountain (and its sequel) – both directed by her then-husband Larry Peerce – but had her career derailed by the poor reception of the adaptation of The Bell Jar in which she played Sylvia Plath. They also provide some scant background information, including the source of the Dsonoqua legend. The film's theatrical trailer (2:56) is also included.

Packaging


The disc is packaged in a limited O-card slipcase with an equally-limited 19-page collector's booklet. In "A Plague on the Earth: Notes on Nightwing", Craig Ian Mann contextualizes the film with the animals attack genre as well as "pervading cultural anxieties of the 1970s" while in "The Vital Importance of Red Power: Indigenous Magic and Generational Politics in Shadow of the Hawk", Lee Gambin discusses the rise of the "Redsploitation" or "Indiansploitation" genre as it coincided with the Red Power Movement and the 1976 Health Care Improvement Act.

Overall


Although Mill Creek already released this same double bill stateside, Eureka improves on that package with extras that should be irresistible to the films' niche audiences.