The Kiss Before the Mirror [Blu-ray]
Blu-ray A - America - Kino Lorber
Review written by and copyright: Eric Cotenas (6th March 2021).
The Film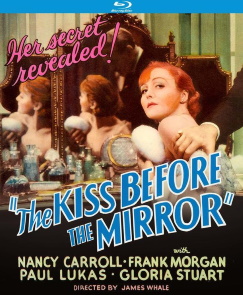 Timid professor Walter Bernsdorft (The Lady Vanishes' Paul Lukas) has just shot his wife (The Old Dark House's Gloria Stuart) to death in the bedroom of her lover (Forbidden Planet's Walter Pidgeon) and turned himself in. Best friend and prominent defense attorney Paul Held (The Wizard of Oz's Frank Morgan) is aghast as Walter is resigned to his fate in spite of Paul's promises to that Walter will be a free man. Paul starts to see a strategy as Walter tells him how he went from utter happiness and contentment in his marriage to bitter jealousy and rage in one moment as he watched his wife primping in the mirror and realized she was doing so for another man; whereupon he followed her and had his fears confirmed. Although even Paul's single working woman colleague Hilda (Holiday's Jean Dixon) confirms that every woman has a mirror and possesses vanity in varying degrees, Paul experiences his own sudden suspicion of his wife Maria's (There Goes My Heart's Nancy Carroll) fidelity when he catches her reflection in the mirror and she becomes angered when he crinkles her dress and musses her hair in a sudden embrace from behind. He follows her and has his own suspicions confirmed when he sees her in the company of another man (Show Boat's Donald Cook) . When he visits Walter in jail to discuss his defense strategy, he badgers Walter into telling him in detail everything that went through his mind before the murder. When Walter can talk about it no more, Paul finishes his story from his own experiences, revealing to Walter that he is not only going to get him off by reason of temporary insanity but is also rehearsing his own defense when he murders Maria.

Based on the 1932 play by Hungarian playwright-turned-screenwriter Ladislas Fodor, The Kiss Before the Mirror with its Viennese setting, the relatively glamorous bourgeois lives of middle class professionals, and the questioning of one's perception of marital contentment bears some surface resemblance to Arthur Schnitzler's 1926 novel "Traumnovelle" but is surprisingly even less convincing in its depiction of that obsessive doubt than even that novel's adaptation as Eyes Wide Shut. However sinuous the camera movement of cinematographer Karl Freund (The Mummy), the direction of James Whale (Bride of Frankenstein) is as heavy-handed as Morgan's scenery-chewing performance (which makes the crucial scene when his courtroom theatrics turn from showboating to a bearing of his own soul comical). The film seems to endorse misogyny rather than merely being about it in spite of counterarguments made by Maria, Walter himself (who threatens to confess to first degree murder if Paul does not drop his plans for Maria), and Hilda whose character is even less appreciated than Paul's comic relief clerk Schultz (The Grapes of Wrath's Charley Grapewin) who spouts wisdom too often dismissed as rambling nonsense. Had the film been made just three years later, Fritz Lang would have been far more capable of believably conveying the film's obsessiveness and hints of sexual perversion within the limitations of the Production Code during which Whale remake the film as Wives Under Suspicion.

Video


Released theatrically by Universal Pictures and presumable not reissued by RealArt due to its pre-code status, The Kiss Before the Mirror was hard to see until its Universal Vault Series DVD-R. We have not seen that release, but presumably it and Kino Lorber's 1080p24 MPEG-4 AVC 1.37:1 pillarboxed fullscreen Blu-ray are derived from Elephant Film's French restoration. The image is completely spotless, looking far more impressive than a lot of other Universal restorations of films from this period. There is softness inherent in the original film stock and uncoated lenses, but the beauty of the images shines through.

Audio


The "noiseless recording" has a faint trace of hiss during the silences of the DTS-HD Master Audio 2.0 mono track, but dialogue is always clear and the highs are mostly contained – even during Morgan's courtroom theatrics – and the music as in other films of the early sound era is sparse and seems to quote familiar compositions but merely supportive rather than underlining. Optional English SDH subtitles are provided.

Extras


Apart from bonus trailers for other films, the disc's sole extra is audio commentary by film historian Alexandra Heller-Nicholas who points out similarities to Mildred Pierce and the themes of women's work, heteronormativity, being a wife, and the permissiveness of the pre-code era including the ambiguousness of the ostensibly happy final scene.

Overall


The Kiss Before the Mirror shows that even the pre-code era had its share of clunkers, but it does so beautifully with the resources of Universal Pictures behind it.

---
DVD Compare is a participant in the Amazon Services LLC Associates Program and the Amazon Europe S.a.r.l. Associates Programme, an affiliate advertising program designed to provide a means for sites to earn advertising fees by advertising and linking to amazon.co.uk, amazon.com, amazon.ca, amazon.fr, amazon.de, amazon.it, amazon.es and amazon.se.