The Film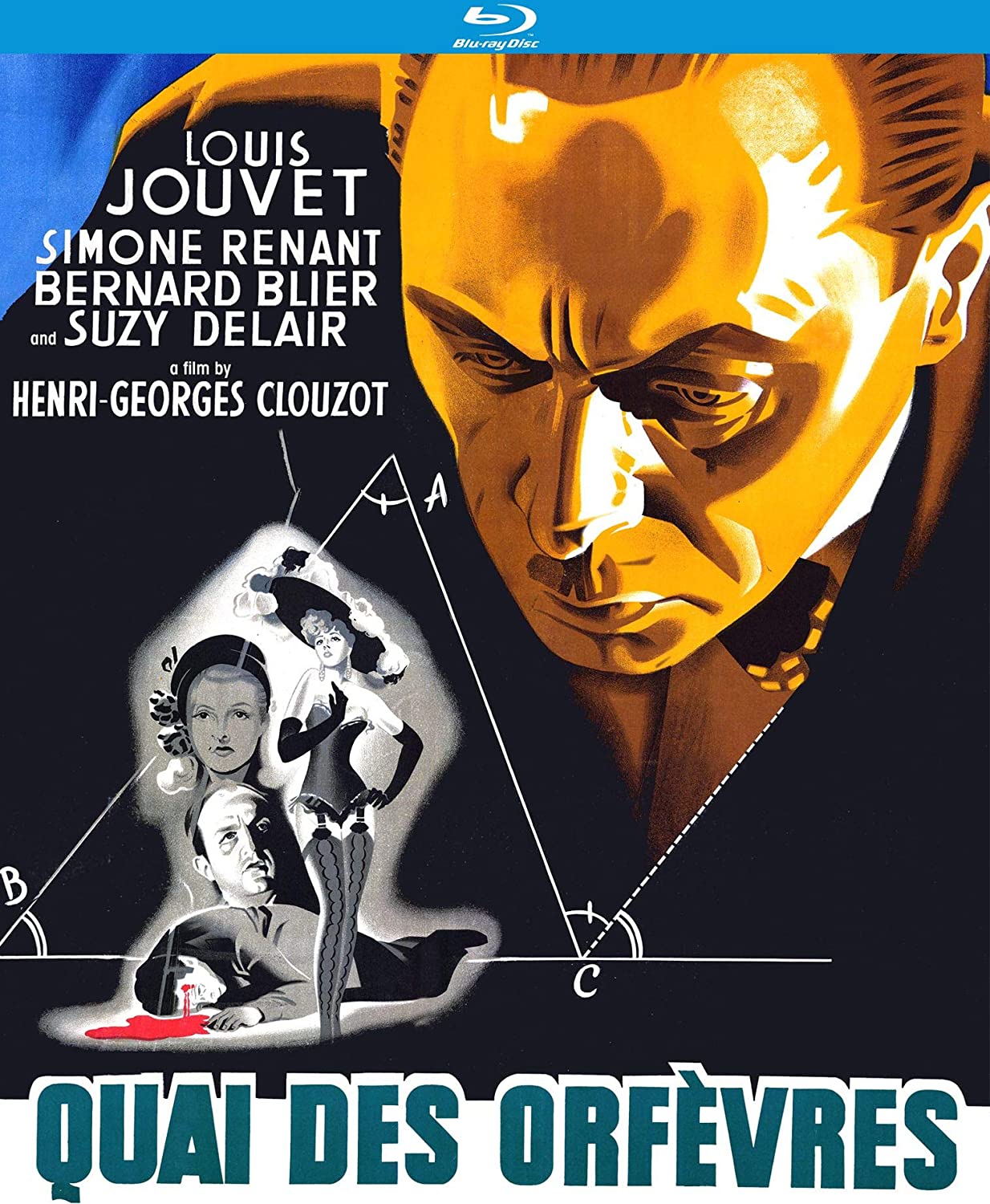 "Quai des Orfèvres" (1947)

This film was Clouzot's third directorial effort, following the controversial Le corbeau (1943), and after a period of four years banishment by French authorities, he was offered the opportunity to make another film, granted that it be a commercial success. Clouzot made his reputation with two later hit films: The Wages of Fear (1953) and Diabolique (1955), but this film noir thriller is loosely based on his recollection of a novel Legitime defense by Stanislas-Andre Steeman. Many of the central ideas of the novel were changed for the film including the true murderer's identity, the setting of the novel, and the introduction of a lesbian photographer. Not that it mattered that much; the film was a huge success and in 1947, it was considered the fourth most popular film in France.

Let us start at the beginning as we examine what makes this film so interesting and why it is a gem that collector's should avidly seek out to add to their collections. The film's title translates to "Goldsmith's Quay" which is the location of where police headquarters is located; essentially the same as naming your film as "Scotland Yard." The setting is Paris in 1946. We are introduced to Jenny Lamour (Suzy Delair) as a saucy cabaret singer that has strong aspirations to become a success. She is married to Maurice Martineau (Bernard Blier) who is her husband and accompanist; he is a melancholy looking middle aged man who is extremely jealous. Jenny is seen rehearsing her act in a nearly empty theater and her act seems rather tame. That is until she has an audience of drunken men, then she comes alive, with much bumping and grinding, her face transformed with emotion. It seems that time is not on Jenny's side and she is aging. Meanwhile she is bored with the daily grind of performing for a faceless crowd and she attempts to revive a flagging career with attempting to make connections with gentlemen that could potentially make her a big star. Her husband was once a brilliant musician, but he sacrificed his career to classical music to become an accompanist to his wife. This allows him to keep an ever-watchful eye on the flirtatious Jenny. Instead of having these characters act as stereotypes, Clouzot instead gives them depth and a yen to examine their lives, regarding their choices in a bright light. Everyone it seems has a motive for the crime and at one point in the proceedings all three of the principal characters confess to the crime in question.

When hunchbacked and lecherous producer Georges Brignon (Charles Dullin) is found dead in his estate, the investigation begins to heat up. On the case is L'inspector adjoint Antoine (Louis Jouvet) a cranky, muttering detective that doesn't take no for an answer. Murder, however, seems to be the least of Clouzot's focus as he merely uses the homicide as an opportunity to give audiences a guided tour of the vibrant and depraved world of postwar Paris after war time. Using his camera as an all-seeing eye, Clouzot's true purpose is to peer into the lives and habits of somewhat seedy underworld characters, making for a first-class tale of suspense. Things are set into action as we are introduced to song and dance girl Jenny Lamour and her browbeaten husband Maurice who possesses a strong sense of jealousy. Living below their apartment is Dora Monier (Simone Renant) a studio photographer that specializes in semi-pornographic artistic nude studies. Monier's life is closely intertwined with the lives of the pair upstairs and it is revealed that Maurice and Monier grew up as childhood friends. There is a thinly veiled disclosure that Monier may be a lesbian and that she has more than a passing interest in her female clientele. Through various conversations we slowly learn that all the characters have hidden agendas and possible motives; Maurice is witnessed intruding upon Brignon's private lunch, and he is heard making loud death threats to the producer, but due to poor scheming on his part, his alibi is of

questionable quality. Jenny was scheduled to visit the producer at his estate and to have a dinner with him later that night but unfortunately, he is discovered dead, killed by a blow to the head with a champagne bottle. Photographer Monier makes the trip to the producer's house and quickly cleans up the messy crime scene, wiping valuable fingerprints from the weapon. Populating the film along the way are a colorful parade of various show people, backstage Johnnie's, bartenders, and waiters, giving the film a lively and curious milieu. Clouzot's dark sense of humor shines through as he captures plenty of hard-boiled dialogue along the way. I was extremely interested in the character of Antoine, a maimed loner from the French Foreign Legion. Just as I thought that he would be another stereotypical gumshoe, Clouzot throws us a ringer by showing us his true love and devotion to his young son, thus taking a cliché' and literally standing it on its head. It was in the heated affair of Jenny and her plain looking husband that also was an interesting wrinkle in the script as Clouzot turns that situation into something completely unexpected and it is revealed that Jenny did not have dinner with the dead producer. So how was the murderer? Sorry, but you will have to rent or purchase the film in question to learn the stunning answer.

Video


Presented in its original 1.37:1 aspect ratio, granted a 1080P transfer, the picture quality is a joy to behold with excellent production values, clear framing, and excellent blacks throughout the film.

Audio


DTS-HD Master 2.0 channel mono track in the original French language. The audio is clean and the songs Avec son Tralala and Danse avec Moi are performed by Suzy Delair. The dialogue is deliberate and balanced.

Extras


Brand New Audio Commentary by Film Critic Nick Pinkerton. This is an engaging commentary from critic Nick Pinkerton, and he shares plenty of insight and history regarding the director, the actors, and the overall production of the film.

Interviews with Director Henri-Georges Clouzot and Actors Bernard Blier, Suzy Delair and Simone Renant, from the 1971 French TV program "Au Cinéma Ce Soir" (17:04). This is an interesting time capsule interview with the director and the two female leads discussing the film and their memories.

Trailers:

Quai des Orfèvres (3:33)

Port of Shadows (3:58)

Touchez pas au grisbi (3:53)

Bob le flambeur (3:38)

Le doulos (2:24)

La prisonmiere (4:02)

Overall


A Region A release, from my pals at Kino, they have transferred the film to a 1080P Blu Ray from a 4K Restoration. This film had previously been released by the Criterion Collection back in 2003 but is now considered out of print.

As stated previously, this is a fascinating film, and I was stunned that it actually had an unusual happy ending. Roll the credits!
| | | | | |
| --- | --- | --- | --- | --- |
| The Film: A | Video: A | Audio: A | Extras: A | Overall: A |