The Film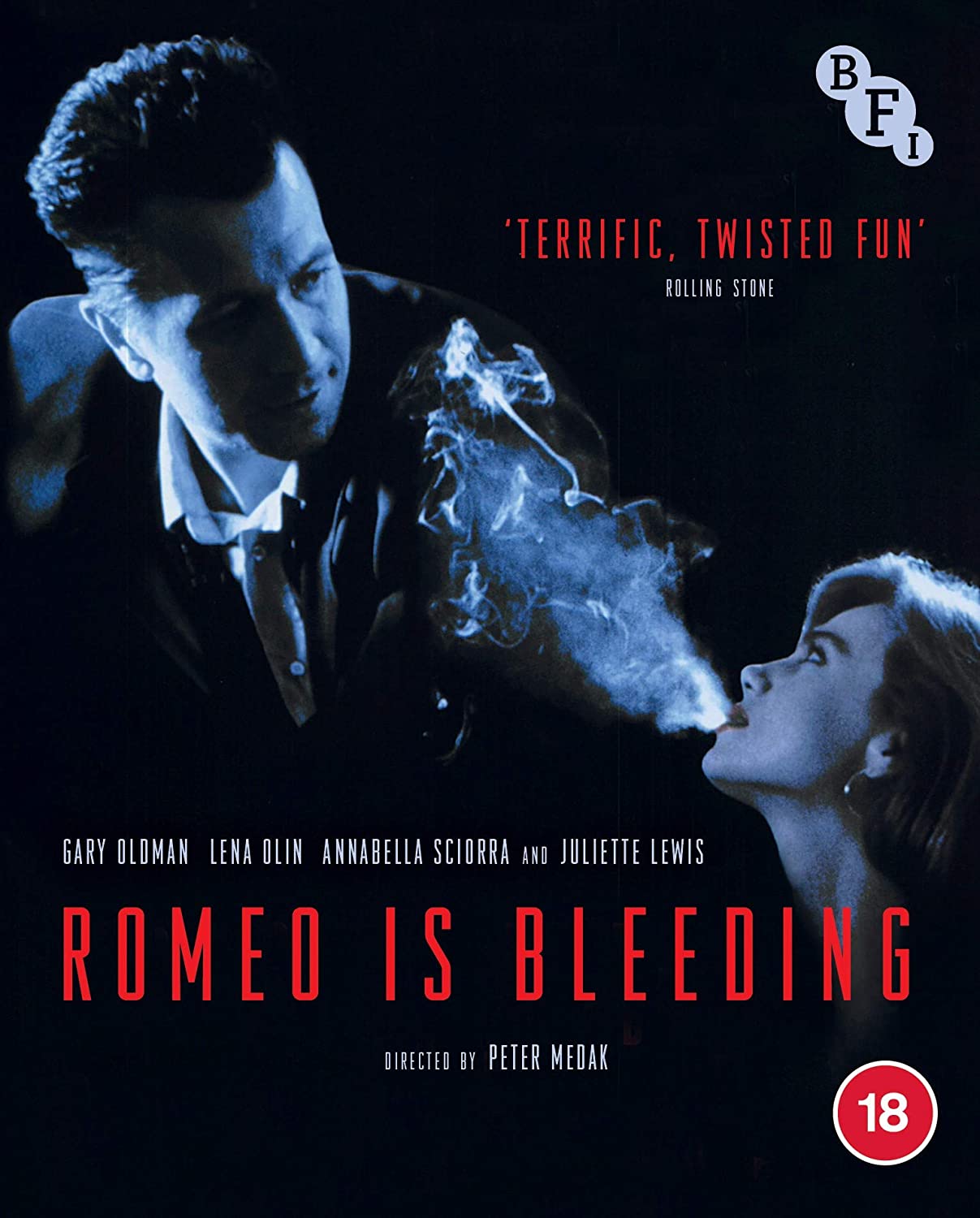 "Romeo Is Bleeding" (1993)

Working at a remote gas station in the middle of the desert is Jack Grimaldi (played by Gary Oldman), a lonely and tired looking man who is flipping through an old scrapbook. How did he get here and who was he reminiscing about? Through an inner monologue, Jack narrates about his previous life. One in which he was married, was a police officer, and a person that mixed in troubled relationships that were more than he bargained for.

In a series of flashbacks, Jack is married to Natalie (played by Annabella Sciorra), but at the same time he was having a relationship with the young waitress Sheri (played by Juliette Lewis). In addition, he was not a straight cop but quite a crooked one, with connections to the mob he was taking bribes and worked as an informant to the crime boss Don Falcone (played by Roy Scheider). While already in double crosses within both his personal and professional life, things get even more complicated with the arrival of seductive Russian hitwoman Mona Demarkov (played by Lena Olin), who Jack is supposed to take care of. Always one step ahead of Jack, she has her ways to play with his emotions, as well as getting what she wants in her own game.

Written by screenwriter Hilary Henkin and named after the Tom Waits which does not appear in the film, "Romeo Is Bleeding" was at a time on a list of great unproduced scripts circling Hollywood, eventually landing in the rights of Miramax Pictures. Compared to Henkin's previous scripts for "Fatal Beauty" and "Road House", "Romeo Is Bleeding" proved to be a tougher story, with emphasis on the darker alleyways seen in films noir of the 1940s and 1950s. Women were edgy, men were corrupt, and sexual tension was always part of the equation. It took some time for the film to get produced, with scheduling conflicts and eventually rights issues being sold to PolyGram/Gramercy Pictures, with director Peter Medak recruited to direct, following his crime films "The Krays" in 1990 and "Let Him Have It" in 1991. Medake could only envision the role of Jack with Oldman, and though there were some issues in getting Oldman to commit, once it was set the film was on its way.

But "Romeo Is Bleeding" failed at the box office and critical reviews were mostly negative. Granted the marketing was not very good and it didn't play in a large amount of theaters initially. But there were many more issues that plagued the overall film that led to it being a flop, yet also considered an underrated film by some critics as well. One of the major issues is that the main character is not likeable at all. Morally speaking he is never on the right or the wrong side, cheating on his wife, having kinky encounters with a younger girl, and then being seduced by an evil femme fatale. His libido is his guide and causes major mistakes for him, and there really isn't anything that grounds him on being a character that the audience wants to see as successful. Granted that the opening of the film does show him in the desert alone going by a different name as he tells, there would have been much better of a connection for audiences if there was a shred of goodness in his character. Sure, he does have some romantic and silly moments with his wife, and he can have a playful side to him, he is the definition of a crooked asshole cop. He doesn't have a trustworthy group of police officers by his side, but instead has more connections with the people on the other side of the law. With the film centered on Jack and his words as literally described in his narration, it's interesting to think that he would paint himself as a character with no moral backing in his own story. But that also leads to many questions. How reliable is the character of Jack and how he tells the story? Is everything that is said, is every dream sequence shown part of reality or only the terrible things he remembers through trauma?

The most interesting character of all is Mona, and Lena Olin plays her ferociously with sex appeal, masochistic strength, and conviction that is unrivaled. She knows how to use sex to get what she wants, and will go as far as self-amputation in order to further he plans. But unfortunately, she is not the storyteller, so there are a lot of blank spaces with her story. If the film's plot concentrated more on the hitman's perspective (which is already an overcrowded genre with the "existential hitman"), it might have proved to be more fascinating. There is a lot of mystery to her and an allure and evil that is unforgettable, going further than any femme fatale has gone for. The performances of the two are excellent as they are, but care for the characters and their ultimate motivations are questionable and vague throughout.

It should be noted as a spoiler, but the ending is one of the most confusing aspects of the entire film. Some have eluded it as being a dream sequence, which would make more sense, but if that is the case, how much of the film is a dream sequence and what remains as truth? Without any way to decipher what actually happened and what didn't, it's hard to make a case for what was actually shown and why audiences should care. If this was supposed to mess with the mind then the film does not do enough to reflect that, and if all was to be taken as the truth then there are many inconsistencies along the way and some far fetched ideas as well. "Romeo Is Bleeding" just doesn't have the touch that many of the 90s gangster movies had during the time of the Tarantino influenced renaissance of the genre. Though there are defenders of the film out there, I am not one of them.

Jon Bon Jovi was commissioned to write a song for the film, but after seeing a preview, he decided to not have his song included. "The script was great. The movie wasn't," he said, and the song written for the film entitled "Always" was shelved. A year later, Bon Jovi released the greatest hits album "Cross Road", in which "Always" was featured as an exclusive new track. It became one of his band's biggest songs, hitting #1 on various charts around the world. The lyrics were unchanged, with the opening lyrics being "This Romeo is bleeding..." referencing the film but not being associated with it.

The film was not a hit, grossing only $3.3 million against a budget of $10 million. Though Olin was nominated for a Best Supporting Actress award by the Chicago Film Critics Association Awards and a Best Fight award by the MTV Movie Awards, the film received some but not a lot of praise over the years on home video.

Note this is a region B Blu-ray

Video


The BFI presents the film in the 1.85:1 aspect ratio in 1080p AVC MPEG-4. The HD transfer comes from MGM, and while it looks good it is not the greatest. There are a number of speckles and dust that can be seen in certain sequences, and there is a bit of telecine wobble during the opening and closing credits as well. Colors are fair but none particularly stand out as being strong. Film grain is visible and there are not particular issues of artificial sharpening of the image. It could obviously look better with a newer transfer, but there aren't too many things to complain about.

The film's runtime is 109:58.

Audio


English LPCM 2.0 stereo
The original stereo track is presented uncompressed. Composer Mark Isham's jazzy score sounds excellent with great stereo separation, and is well balanced against the dialogue and effects as well. Dialogue is always clear and easy to understand, and there are no particular issues with dropouts, hiss, or other errors.

There are optional English HoH subtitles in a white font.

Extras


Audio commentary by author and film critic Alexandra Heller-Nicholas
In this new and exclusive commentary, Heller-Nicholas guides viewers through the film and its production, as well as other topical issues such as the Weinstein's involvement and the #metoo movement, biographies of the various cast and crew including where their careers were at the time, quotes from both positive and negative reviews of the film, feminism in cinema, influence of gangster and noir films, and more.
in English Dolby Digital 2.0 with no subtitles

Isolated Score
The isolated score track by Mark Isham is presented here, along with some sound effects.
in Dolby Digital 2.0

"Medak on Medak" interview with Peter Medak (43:16)
In this remotely recorded interview during the pandemic, Medak discusses about his early life in communist Hungary and the hardships he and his family had to face, his escape to the west, working in both British and American television and cinema, his move up to the director's seat and talks of his films and television work, and the production of "Romeo Is Bleeding".
in 1080p AVC MPEG-4, in 1.78:1, in English LPCM 2.0 with no subtitles

Image Gallery (3:21)
An automated slideshow gallery of behind the scenes stills, promotional stills, and posters without music or narration.
in 1080p AVC MPEG-4

Original Theatrical Trailer (2:06)
The original US trailer is presented here.
in 1080p AVC MPEG-4, in 1.85:1, in English LPCM 2.0 with no subtitles

Booklet
First is the essay "Romeo may be bleeding but Demarkov must die AKA Everyon's playing but no one's winning" by Senior Lecturer in Film and Media at Bath Spa University, Dr. Rebecca Feasey, discussing the kinky and violent relationship between Grimaldi and Demarkov and more. Next is "The Allure of the Big Screen Bad Cop" by editor and writer Lou Thomas, discussing various "bad cop" characters in cinema and their appeal. A written biography of Peter Medak by Josephine Botting follows, plus credits, special features information, presentation information, acknowledgements, and stills.


A newly made trailer to promote the BFI's Blu-ray has been embedded below.



The film was previously released on Blu-ray by Twilight Time in the US and Koch Media in Germany. The US release had the Isolated Score and trailer as well, with the Isolated Score being encoded in the much better LPCM 2.0, rather than Dolby Digital on the UK release. The German releases only had trailers as extras. For the extras department in terms of quality and quantity, the BFI is the winner.

Overall


"Romeo Is Bleeding" may have some good performances from the leads, but with unlikeable characters and a narrative edge that doesn't quite work, it can be a messy experience. Even if one, like myself was not impressed with the story, the supplements give a nice appreciation of the film, showcasing both the good and the flawed elements.
| | | | | |
| --- | --- | --- | --- | --- |
| The Film: C- | Video: B+ | Audio: A | Extras: B+ | Overall: B- |