The Film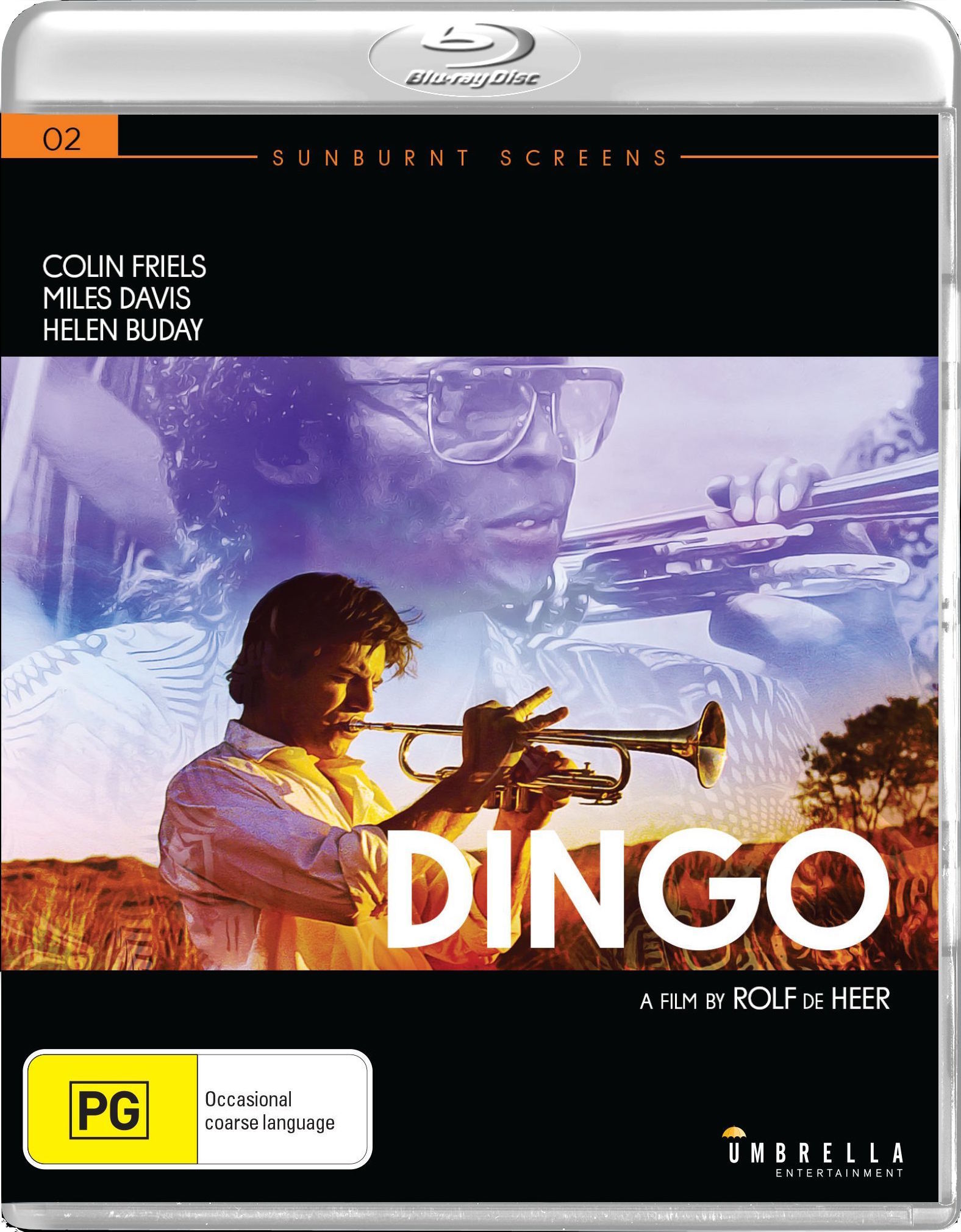 "Dingo" (1991)

A lifelong resident of the rural town of Poona Flat in Western Australia, John Anderson (played by Colin Friels) is a loving husband to his childhood sweetheart Jane (played by Helen Buday) and father to two young girls. He works as a dingo trapper and has earned him the nickname "Dingo", which he proudly uses as his stage name in with his amateur band Dingo and the Dusters. Most of the band has no aspirations for fame and are only performing for fun. But John on the other hand has dreams of hitting it big as a trumpet player, imagining playing a concert in a Paris jazz club and receiving respect from both the audience and his peers. The one musician he has always looked up to since he was a child, the legendary jazz musician Billy Cross (played by Miles Davis). But with little hope of escaping the small town, his dream seems like only a dream. That is, until he builds up the confidence to travel to Paris on his own.

Director Rolf de Heer loved the script for "Dingo", penned by Marc Rosenberg, who he previously worked with on "Incident at Raven's Gate" in 1988. A tale of a rural nobody with a dream to make it big, the film is known for casting the legendary musician Miles Davis in the role of Billy Cross, essentially playing a version of himself on screen. This would become Davis' first film playing a major role, and while not a stretch of the imagination to see the mysteriously charismatic David playing a legendary trumpet player that was mysteriously charismatic, there was genuine hype and magic with his natural, yet understated performance. But for people looking to see a lot of Miles Davis on screen will be slightly disappointed as he is not the central figure of the film, and only appears a few times throughout.

The core of the film lies with the character of John and his simple life as a rural family man with dreams. He is in his thirties, has lived in his hometown all his life, and has never had the courage to venture out with his talent. He can seriously play music, but isn't sure what others may think as no one around him compliments him on his musical talent. Even his bandmate Archie (played by Steven Shaw) pranks him with a fake letter pretending that the French record exec that represents Billy Cross says she is interested in signing him for a record contract. While everyone has a laugh, it is John that hurts as no one takes him seriously. He has money saved up for a trip to Paris, but leaving behind his wife and kids for a short amount of time will hurt them financially as well as emotionally, and another problem is the reentry of childhood friend Peter (played by Joe Petruzzi).

Peter was his best friend as well as Jane, but instead of sticking around Poona Flat, he went out west to Perth to make a successful living selling boats. Visiting Poona Flat and reconnecting with his old friends, he tries to get John to move out to Perth for a better life. One with better financial stability, better education for the kids, and a better home life for Jane. But in addition, Peter is heartbroken with his wife leaving him behind suddenly, and he realizes after spending time with Jane again that he has feelings for her. The possible love triangle scenario does put John's musical aspirations in a dilemma, as his dreams of happiness is basically only for himself and not one that includes his family. While for Peter, his dream scenario is having a loved one by his side as his reality has become one of loneliness.

The basic plot is fairly average, with little surprises along the way. But stories of an amateur musician getting a big break is always a good story, as it happened in reality for many artists, whether by some accidental fame or by a television audition show. and "Dingo" is no different, showcasing a man overcoming fear, being at a crossroads in his life, and a drive for what he believes in. Miles Davis was not the original choice nor was it a trumpet player. But after Davis' involvement was secured, Colin Friels who was cast in the lead had to learn to play the trumpet for the role. The film was an Australian-French coproduction, with half of the crew being Australian and the other half being French. There were scenes shot in the Australian outback as well as scenes in the streets of Paris, lensed by cinematographer Denis Lenoir who beautifully captured the natural landscape of the Australian outback as well as the cityscape of the Parisian streets and clubs. While the visuals are impressive, nothing can quite match the score that was composed by Miles Davis alongside frequent collaborator and fellow musical genius Michel Legrand, who David adamantly chose to work with for the project. With Legrand being an expert composer and one that composed a number of memorable film scores over the decades, the choice was an excellent one. As for Miles Davis, no two performances of his are alike, as he is an improviser and innovator, looking for new sounds rather than playing note for note. This caused issues with the opening sequence with Davis having prerecorded music to play back to. Rather than mouthing and fingering the exact movements, he would play completely new solos and not being synchronized to what was to be edited. Though things were eventually figured out, it did cause some headaches for de Heer and the rest of the staff that needed to make sure the musical sequences would be edited correctly. Davis was not a trained actor and was not particularly confident in his dramatic performance, but de Heer gave him trust and the confidence he deserved. While the sequences with Davis is not at all groundbreaking or mindblowing, there is something about his presence and aura that is much more than other performers have. He is intimidating, slightly weird, and strangely powerful. He doesn't speak in lengthy sentences, and yet says and means much more in five words than other people could do in a hundred. There are and were very few artists in the modern era like Miles Davis. His music influenced generations of music lovers. His experimental works were always way ahead of its time. It's just unfortunate that he would not be able to continue his time on the movie screen, as "Dingo" became his first and last major role in a theatrical film.

De Heer states than during the production of "Dingo", Davis expressed his thoughts of doing more acting work, and not just playing a jazz musician in a role, but doing much more. On September 28th, 1991, Miles Davis passed away at the age of 65. A major loss in the world of music, this also caused a troubling issue for the release of "Dingo". After a few festival screenings, there were deals to have the film distributed alongside a tie-in tour of Davis and Legrand including a major opening concert in New York. But with his death, no one wanted to capitalize on his death, and distribution for the film was put in limbo. There were talks of submitting the film for Academy Awards eligibility, especially with the Davis/Legrand score having an excellent shot at the Best Original Score Oscar nomination. Unfortunately with paperwork issues, the film was not listed and received zero nominations. On a positive note, it was nominated for seven Australian Film Institute awards, and won Best Original Score and Best Achievement in Sound awards. But even with those, the film struggled in Australia theatrically, and was basically an unknown film for many years outside the country. It did receive a DVD release from Umbrella Entertainment in the 2000s, but even after all these years, the film is not at all known and more of a footnote in Davis' works. Thankfully this newly restored Blu-ray release will ensure a more deserved look at the film that should have been much more back thirty years ago.

Note this is a region ALL Blu-ray

Video


Umbrella Entertainment presents the film in the 2.35:1 aspect ratio in 1080p AVC MPEG-4. The film was remastered from a 4K scan for this new edition. From the orange hued landscapes of the Australian desert to the cool tones of the Parisian streets, the colors look absolutely wonderful from start to finish. Detail is crisp and damage is almost non-existent, while still keeping a healthy amount of natural film grain. An excellent looking transfer.

The film's runtime is 109:52

Audio


English/French DTS-HD Master Audio 5.1
English/French DTS-HD Master Audio 2.0 Stereo
The film was mixed in Dolby Stereo, and for the Blu-ray release the original stereo track and a 5.1 remix is offered. Note that the film defaults to the 5.1 track, and the menu does not list an option for the stereo track. The only way to access it is to use the remote keys to change the audio during playback. As music is a key point in the film, it should be noted that both in the 5.1 and the 2.0 tracks the music separation is great. The left, right, and surrounds are used effectively for echoes and band segments. The score by Davis and Legrand sounds excellent, while it never feels overpowered against the dialogue or effects. Dialogue is always clear and easy to understand, and there are no issues of dropout, hiss, or other defects.

There are burned-in English subtitles for the French portions in a yellow font and optional English HoH subtitles in a white font.

Extras


"Rolf de Heer in Conversation with Paul Harris" (33:46)
In this new interview recorded remotely in July 2020, de Heer recalls reading the script and loving it, how Davis was very cooperative on the film but difficult to work with on the music scenes due to his improvisational nature, working with a crew of French and Australians, the trouble the film had due to Davis' death, and much more.
in 720p AVC MPEG-4, in 1.78:1, in English Dolby Digital 2.0 with no subtitles

"Helen Buday in Conversation with Paul Harris" (15:51)
In this new interview recorded remotely, the actress looks back at her performance and the film, working with the crew, remembering the cast, her work in France now, and more.
in 720p AVC MPEG-4, in 1.78:1, in English Dolby Digital 2.0 with no subtitles

"The Desert Runway" rushes reel with audio commentary by director Rolf de Heer (18:03)
Presented here are the only surviving rushes from the flashback runway scene, with de Heer recalling the shoot. Included are some deleted shots, flubs, and more, with de Heer recalling some of the issues they had with filming with a real airplane, the difficulty with the weather, the camera operator falling off the dolly, and more.
in 720p AVC MPEG-4, in 1.33:1, in English Dolby Digital 2.0 with no subtitles

Rolf de Heer Theatrical Trailers (6:17)
The original trailers for "Dingo", "Bad Boy Bubby", and "The Tracker" are presented. All three look absolutely great, having little to no damage in the image or sound.
in 720p AVC MPEG-4, in 2.35:1, in English Dolby Digital 2.0 with no subtitles

The trailer, courtesy of Umbrella Entertainment has also been embedded below.


Packaging


This is the second release in Umbrella's "Sunburnt Screens" line of titles.
Artwork on the inside reveals the original poster art on one side and identical front artwork minus the PG rating logo.
The packaging states region B only, but the disc is in fact region ALL.

Overall


"Dingo" may be a fairly simple story about a man and his dream, but with an excellent performance by Colin Friels in the lead and the legendary Miles Davis in a starring role alongside his music is what sets it apart from everything else. The Umbrella Entertainment Blu-ray features an excellent presentation for the video and audio, with some great new extras. Absolutely recommended.

The Blu-ray is available from various retailers as well as through Umbrella Entertainment directly.
| | | | | |
| --- | --- | --- | --- | --- |
| The Film: B+ | Video: A | Audio: A | Extras: B+ | Overall: A- |