Silent Action AKA La polizia accusa: il servizio segreto uccide AKA The Police Accuse: The Secret Se [Blu-ray]
Blu-ray ALL - United Kingdom - Fractured Visions
Review written by and copyright: Rick Curzon (16th March 2021).
The Film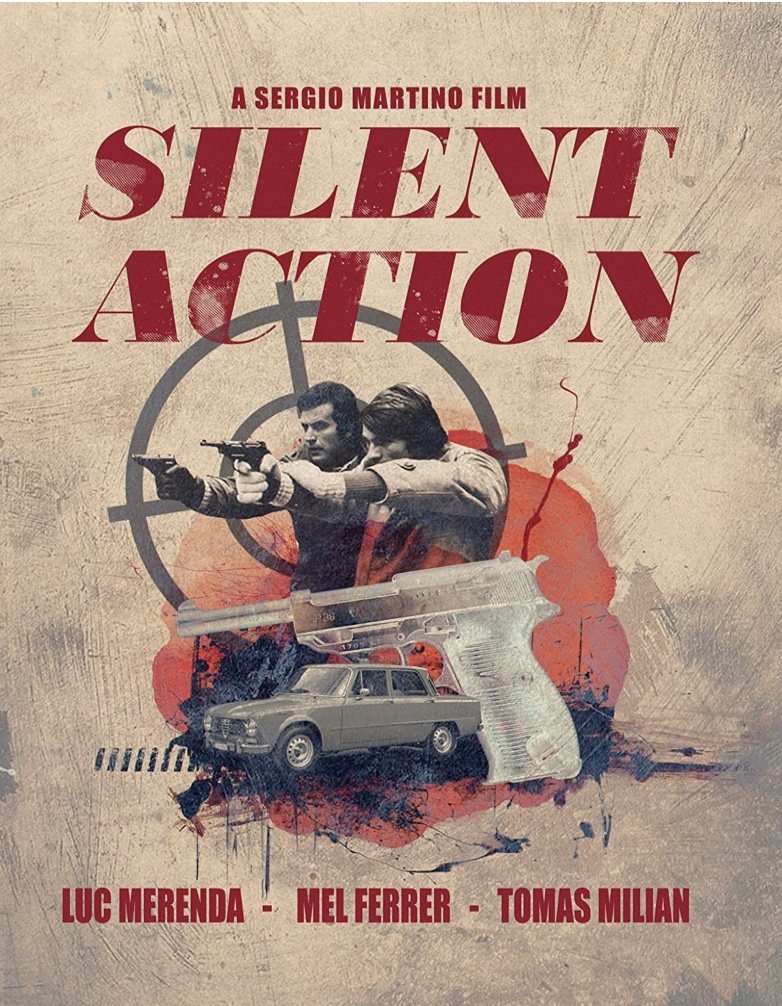 From maverick filmmaker Sergio Martino (Torso) comes his most explosive and provocative film, Silent Action.

When high-ranking military officials turn up dead, all from apparent suicides or suspicious accidents, it's down to Inspector Giorgio Solmi (Luc Merenda, The Violent Professionals) to find out what's happened to them. Aided by Captain Mario Sperli (Tomas Milian, Almost Human), the two men soon find themselves during a deadly political scandal that threatens to bring Rome to its knees.

Making its global HD debut, Fractured Visions are proud to present Silent Action (A.K.A. The Police Accuse: The Secret Service Kill), a bold and uncompromising take on a startling true story, lovingly restored and featuring a host of new bonus material.

Video


1974, Italy: Inspector Giorgio Solmi (Luc Merenda) investigates the murders of several military men staged to look like suicides. He uncovers a plot to stage a coup d'tat with the conspirators seemingly one step ahead of him at every stage.

A mostly decent political action thriller that's generally well staged and acted; it's stretches it's budget pretty well most of the way but a large scale action sequence involving helicopters at the climax feels under funded and at times throughout this stretches believability and logic. I wasn't a fan of the cynical ending either; I prefer happy endings. Ultimately it's a little too superficial and could've done with a more thoughtful script with less predictability.

Debuting label Fractured Visions in the UK has secured for themselves a worldwide Blu-ray (BD) debut in a solid release not without any flaws but overall pleasing. This is a rare title on home video, especially in an English friendly version so it's very welcome.

The booklet has this to say about the transfer:


"Silent Action (La polizia accusa: il servizio segreto uccide) is presented in its original 2.35:1 aspect ratio and features its original Mono audio.

The High-Definition master was produced and supplied by Variety Communications, with additional colour grading completed by Dogs of Annwn in Cardiff. Additional resoration was completed on the English Mono audio by Bang! Post Production in Cardiff."

The bad news is that this seems to have been taken from an ageing 1080i broadcast master with 4% speedup for PAL broadcast, but the good news is that it's clean and free of major issues. There's been some DNR but it's not too egregious and certainly didn't spoil my enjoyment of the film. It struck me that the source was most likely the OCN or a film source one step off the OCN. Fine detail isn't as strong as it could be but is a huge bump over the DVD from No Shame which had muddy colour and was soft and fuzzy.

Black levels are healthy with no grayishness although due to the Techniscope format there is some intended crush here and there in some of the darker scenes and stock footage shots. Contrast is supportive although the occasional sky is blown out slightly; that said when compared to the DVD it's night and day better. The encode handles what grain there reasonably although it's very fine rather than course. Colours are warm and healthy if a tad on the oversaturated at times but not consistently so; perhaps a little more balance in grading the colours might have helped but not as muddy as the DVD. Delineation is good and there's no bleed to be seen. There is a softness typical of the era and the cinematography with optical process shots showing some brief degrading in the quality. There's a flashback scene from the point of view of a prostitute that's softer due to filters used to create an effect.

A decent generally pleasing presentation and sadly probably the best we can hope for until someone ponies up for a new scan of the OCN to create a 1080/24p master. Some will find the mild DNR annyong but it's still a huge step up on the DVD.

1080/50i / AVC MPEG-4 / 2.35:1 / 93:58 (25fps)

Audio


Italian LPCM 2.0 Mono
English LPCM 2.0 Mono
Subtitles: English

Uncompressed mono tracks typical of the period with very limited range and some very low level hiss but no major issues. Occasionally when the volume is raised up too loud you will get some distortions, but nothing to worry the purchaser.

The English track is quieter than the Italian so on that score latter is a more satisfying listen. The English is the one with Mel Ferrer doing his own voice so some may prefer that. Italian seems to have been the language spoken the most on set and I personally preferred it having sampled both. Neither track is going to blow anyone away with both sounding canned in that way that Italian dub tracks just did back then. Dialogue is always very clear and the lively score never intrudes.

Optional English subtitles have been provided and seem to be thorough. One small brickbat, why is the film's proper Italian title not translated in the subtitle track (no subtitle is provided for the title): The Police Accuse: The Secret Service Kill.

Extras


Audio commentary with film historian Mike Malloy (2021)

Detailed, thorough yaktrak from self described "tough guy" Malloy who made the documentary Eurocrime!: The Italian Cop and Crime Films that Ruled the '70s (2012). I found it interesting that Malloy started his research into the subject by reading a publication called Blazing Magnums (2006) which was in it's day the only English-language book available on the Poliziotteschi / Eurocrime films; it was also my inteoduction to the sub-genre. An excellent track filled with detail and presented in lossy Dolby Digital 2.0 stereo.

"The Age of Lead: Italy in the Seventies Between Fact and Fiction" 2021 documentary (55:36) (1080/24p)
"Luc Unleashed: An Interview with Actor Luc Merenda" 2021 interview (18:45) (1080/24p)

Two excellent new pieces that are making their debut on this release; the first is a fine documentary on the real political situation in Italy at the time that these films were first being made; a story of bombings, kidnappings, terrorists and Mafia. The second is an interview with leading man Merenda. Both are in 1080/24p 1.78:1 with lossy Dolby Digital 2.0 stereo sound; subtitles are in English only for only those bits of dialogue not in English.

"Sergio and I: An Interview with Composer Luciano Michelini" 2021 interview (18:34)
"Directing the Strategy: An Interview with Sergio Martino" 2021 interview (13:05)

Two more excellent new featurettes which are making their debut but bizarrely, despite being made by the same team who made the other two above, are presented in 1080/50i 1.78:1 with lossy Dolby Digital 2.0 stereo sound. Once again, English subs are provided for non-English dialogue.

"The Milian Connection" 2005 documentary (50:46) (SD)
"Luc Accused: Merenda Kills" 2005 featurette (13:15) (SD)

Vintage pieces taken from older releases presented in PAL standard definition 1.78:1 with lossy Dolby Digital 2.0 stereo. And again, optional English subs for non-English dialogue.

Trailer (3:17)

Vintage promo in PAL standard def and in Italian with optional English subtitles.

Soundtrack CD

A reprint on the excellent 2007 CD soundtrack album from Digitmovies.

32-page liner notes booklet "Silent Action, Deadly Action" by Gian Giacomo Petrone and Eugenio Ercolani, "From Hollywood to Cinecitta: Mel Ferrer in Italy" by Francesco Massaccesi and information on the cast & crew, notes on the transfer and CD soundtrack listings

Excellent hardcopy booklet with two new essays both of which are very worthwhile. I wish that the transfer notes had addressed the fact that the HD master provided was in 1080i and not 1080p. Not quite as comprehensive as similar booklets from the likes of Powerhouse Films but still a knockout effort and it provides oodles of contextual added value.

Slipcase

Not provided for review so I can't comment.

Packaging


Standard, clear BD Keepcase which slips nicely into the slipcase.

Overall


Lets get the disappointing aspect out of the way first; an ageing 1080i transfer most likely made for broadcast purposes. But, it's a still a fundamentally decent transfer with no signs of print damage. The film looks peachy keen and the audio is well up to spec for a film of it's type from the era. Where this release really excels is in the extras which are comprehensive; a mix of new material and vintage. It's stacked. At the time of writing this release is a little pricey at a little shy of £24 on Amazon (it's released on 12.4.2021) and may come down some in the next couple of weeks before release.

However, I have to say this is a great package and well worth the price even at £24. Being a worldwide BD debut this is a must-get release on day one for those inclined. The presentation is strong if not perfect or 100% ideal, but I highly recommend it none the less; it's still a pleasing, superior release that hugely improves on the DVDs.

Fans of European genre fare will want to snap this one up pronto and I suspect that those outside of region 'B' land will also go for this in a big way as the disc is region free. As a first release from debuting company Fractured Visions this is imperfect but still great, bravo ladies and genetlemen!
| | | | | |
| --- | --- | --- | --- | --- |
| The Film: C+ | Video: B | Audio: A- | Extras: A+ | Overall: A- |

---
DVD Compare is a participant in the Amazon Services LLC Associates Program and the Amazon Europe S.a.r.l. Associates Programme, an affiliate advertising program designed to provide a means for sites to earn advertising fees by advertising and linking to amazon.co.uk, amazon.com, amazon.ca, amazon.fr, amazon.de, amazon.it, amazon.es and amazon.se.