The Film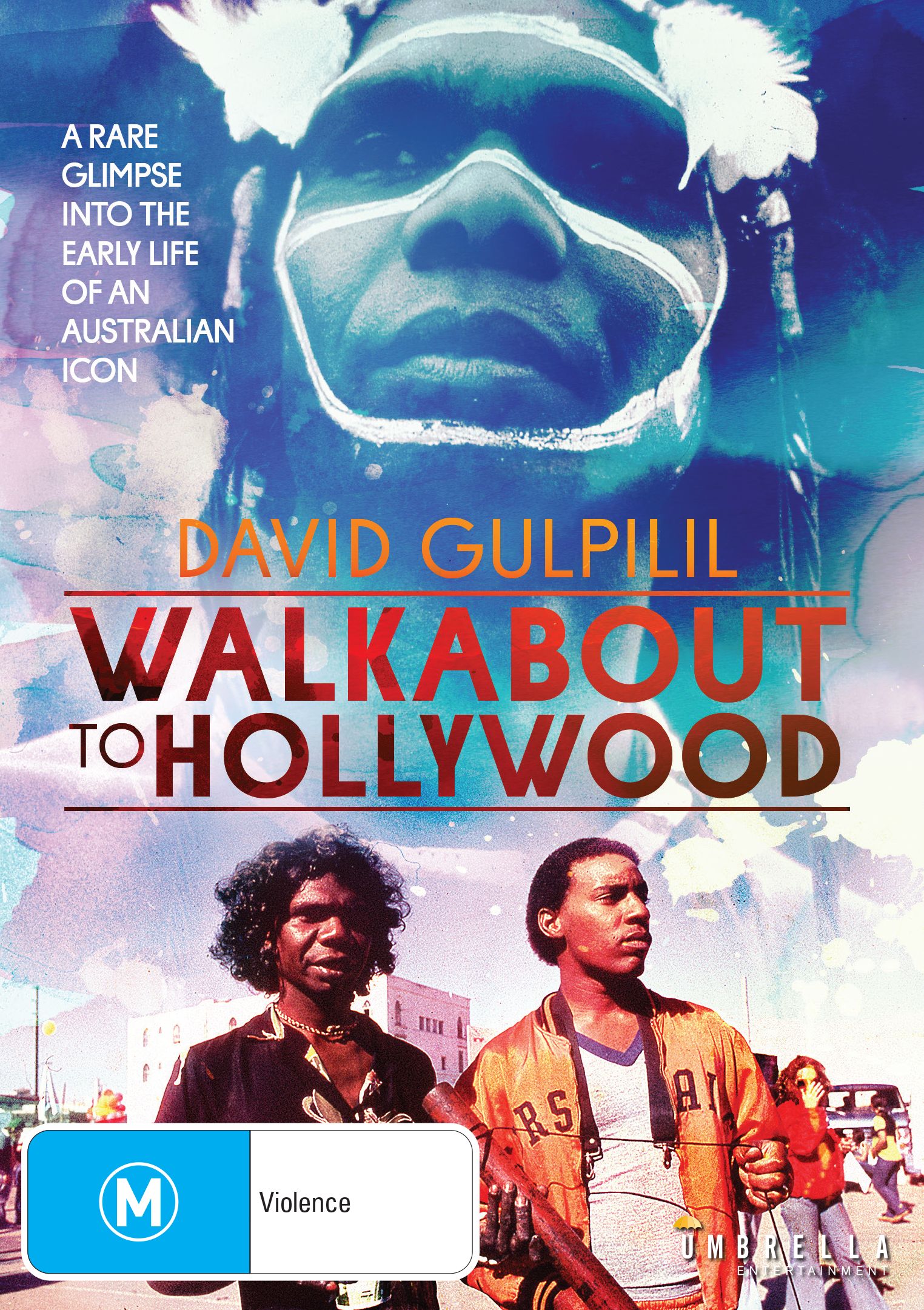 "David Gulpilil: Walkabout to Hollywood"

David Gulpilil Ridjimiraril Dalaithngu was born on July 1st, 1953 in Arnhem Land, in Northern Territory, Australia. Raised in the bushes as a Yolngu, Gulpilil's world was not of the so-called western civilized world, existing with the rural environment as part of nature. At 16 years old, he was seen by filmmaker Nicolas Roeg who was looking to cast an Aboriginal boy to play a leading role in an upcoming film. With Gulpilil's skills as a tracker, a dancer, and being the right age for the part, he was cast in "Walkabout", an adaptation of the 1959 novel of the same name. While the film was not a major hit in Australia, it was a major critical and arthouse hit abroad, nominated for the Palme d'or at Cannes and on a number of top films lists of the year, and in many "Greatest Films" lists in the later decades. Gulpilil was suddenly a face to a nation and Aboriginal people, and while that was a major weight placed on the shoulders of a teenager, he used the opportunity for a greater purpose with his later work in films as an adult.

While his role in "Walkabout" did not require him to speak English, Gulpilil eventually learned English as a language and his time between the bushes and life in the city gave him opportunities to showcase Aboriginal culture to the western world. From going to schools and showing traditional dance, makeup, and language, he was able to have a new generation of children learn about their land's original culture, which for many years was erased from textbooks and society. There was a long history of Aboriginals being mistreated and not having equal rights in their own country, and in cinema there were examples of white Australian actors playing Aboriginals in blackface. Gulpilil acted on television works, and returned to film in 1976 with the troubled production of "Mad Dog Morgan" starring Dennis Hopper in the title role. This was followed by "Storm Boy" in the same year and "The Last Wave" one year later. His roles in each were very well received, with a natural tone and strong presence for his characters, and always being true to his roots as an Aboriginal man, rather than roles of parody or exaggeration. From mystical traditions to technical skills and communication with the land itself, each of his film roles have been like that of an intelligent elder, yet played at ease with someone in his twenties.

In 1980, Australian documentary filmmaker Bill Leimbach produced and directed an intimate portrait of Gulpilil for the BBC, complete with input from Gulpilil himself. Leimbach was able to create a unique documentary about a particularly unique man. The documentary shows Gulpilil spending time in the rural bushes practicing his tracking skills, and also teaching his children the ancient techniques, as they are not being brought up in the same environment as he was when he was a child. Having them appreciate their roots and having them continue the traditions is very important to Gulpilil, and that includes footage of him visiting schools and teaching children. But not all is in Australia, as the director flies with Gulpilil to the United States as they go to various screenings of his current films, and all the Americans being in awe of the major star. But it is not all about the glitz and the glamor, as Gulpilil finds more time talking to Native American artists and performers, from their arts and crafts to their music, to their idea of identity and the similarities that faced the erasure of cultures. From candid footage, film clips, and fascinating interview footage, "Walkabout to Hollywood" is a documentary about a man that seems so much larger than life because of this impressive screen appearances, but in his mind he is just a man that is placing the arts and traditions above fame and fortune.

The documentary is only fifty minutes long, yet covers quite a lot of ground. There aren't too many interviews or input from people around Gulpilil, such as family, friends, critics, or filmmakers, mostly concentrating on the man's own words. It is a one-sided look, though there are a great amount of talking points from what is shown. The importance of continuing tribal traditions, racism faced by generations of conflict and oppression, the importance of cinema to bring things to wider audiences around the world. After the documentary, Gulpilil continued to act in a number of great works, from "Crocodile Dundee" (1986), "Crocodile Dundee II" (1988), "Rabbit Proof Fence"> (2001), "The Proposition" (2005), "Charlie's Country" (2013), and many more. In 2017, he announced that he was diagnosed with lung cancer, and in 2019 officially retired from acting. That year, he was honored with the lifetime achievement award at the NAIDOC Awards, and the Premierís Award for Lifetime Achievement at the South Australian Ruby Awards. On March 12, 2021, "My Name Is Gulpilil" had its premiere screening at the Adelaide Film Festival. A new documentary about the actor, featuring the actor as he receives treatment for lung cancer, it is a piece that is highly anticipated by many around the world.

Note this is a region 0 NTSC DVD

Video


Umbrella Entertainment presents the film in the original 1.33:1 aspect ratio (anamorphic) in the NTSC format. Yes, this is anamorphic, meaning it is enhanced for 16:9 displays, which is unusual for 1.33:1. There are black bars on the left and right sides to keep the image in the correct ratio. While this is not an issue for modern displays which are almost always 16x9, if this DVD is played back on a 4x3 display, the entire film will be windowboxed with black bars on all four sides. Shot on 16mm film, the transfer here is not great, but still quite pleasing. It has not gone through any extensive restoration, so scratch marks, speckles, and other damage can frequently be seen. It seems to be coming from a film source element, so there are no tape errors or other issues seen with analog tape sourced masters. Colors on the other hand are quite good, with deep bold colors and fine details, though some portions look to be a little faded or sometimes a little too dark, depending on the scene and lighting condition. Overall it does look fairly nice, and there should be no trouble with the enjoyment of the film itself.

The film's runtime is 50:45.


Audio


English Dolby Digital 2.0 mono
The original mono track sounds fair throughout. Like the image, there is no major restoration done, so there is a bit of hiss that can be heard at times and some issues with fidelity. But overall, dialogue is easy to hear and there are no major damage like pops and cracks in the track.

There are no subtitles for the documentary.

Extras


David Gulpilil Trailers (21:36)
A series of trailers of films featuring Gulpilil are presented. Included are the original trailers for "Walkabout" (1971), "Mad Dog Morgan" (1976), "Storm Boy" (1976), "The Last Wave" (1977), "Dark Age" (1987), "The Tracker" (2002), and "Cargo" (2017). All of these films are currently available on Blu-ray and DVD from Umbrella Entertainment. The trailers can also be found on Umbrella Entertainment's YouTube channel.
in anamorphic 1.78:1/2.35:1, in English Dolby Digital 2.0 with no subtitles


The 50 minute production seems more like a supplement that a standalone edition, so it is unusual to see this being released on its own, rather than as a bonus feature on a film with Gulpilil. Umbrella's Blu-rays and DVDs featuring Gulpilil could have used this as an excellent extra feature.

On a related note, the trailer for 20212's "My Name Is Gulpilil" has been embedded below, courtesy of Guardian Australia.


Overall


"David Gulpilil: Walkabout to Hollywood" is a fascinating vintage documentary about one of the most fascinating performers ever to grace the screen. While it is short at only 50 minutes, and the only supplements are trailers for the DVD, it still comes as recommended.

The DVD is available at various retailers as well as from Umbrella Entertainment direct.
| | | | | |
| --- | --- | --- | --- | --- |
| The Film: B+ | Video: B | Audio: B+ | Extras: D | Overall: B- |