The Film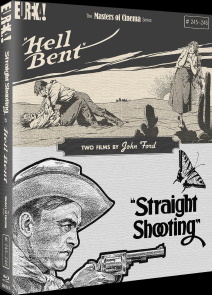 The beginnings of seminal American filmmaker John Ford in a genre that would define him – in spite of branching out to other genres during the first decade of the sound era – and the feature debut of popular silent two-reeler western hero Cheyenne Harry and the stardom of his portrayer Harry Carey are charted in the films that comprise Eureka Video's two-disc set Two Films by John Ford.

Straight Shooting: For years, cattlemen have used the seemingly endless stretches of the far western plains for grazing unfettered; that is, until the homesteaders followed and erected barbed wire fences marking off their claims on the land. A war is brewing between Thunder Flint (Duke Lee), leader of the cattlemen, and Sweet Water Sims (George Berrell), leader of the homesteaders. Flint fires the opening salvo when he cuts off the homesteaders' access to a spring with the threat that trespassers will be shot on sight, sending notice of this action to Sims via young cattleman Danny Morgan (Hoot Gibson) who happens to be in love with Sims' daughter Joan (Molly Malone). When Sims refuses to give up his ranch and leader of the outlaw posse Black-Eyed Pete (Milton Brown) shows no interest in helping him, Flint sends his hired gun Placer Fremont (Vester Pegg) to track down wanted gunman Cheyenne Harry (Harry Carey) and effortlessly dismisses the ineffectual sheriff's attempt to bring Harry to justice. Through his comradeship with Fremont, Harry is all-too-willing to help Flint put down the homesteaders; that is until he meets Joan and her father over the corpse of her brother Ted (Ted Brooks) who was shot down at the spring by one of Flint's men. Unable to resist Joan's pleading hazel eyes and Sims' cries of anguish to the heavens, Harry not only breaks with Flint but decides to go straight; sparking the ire of Flint who charges Fremont with killing Harry before he can revel Flint's plan of attack on Sims' ranch.

The feature directorial debut of John Ford – then known as "Jack Ford" – Straight Shooting was one of four features and five shorts he directed in 1917 alone, five of which were "Cheyenne Harry" adventures with Carey starting with the short The Soul Herder (although Carey had already made eight other Cheyenne Harry shorts with Fred Kelsey the same year). Right from the start, Ford's assured visual touch is evident, fitting epic scope and scale into an Academy frame, as are his thematic concerns about the shrinking of the untamed wild as a consequence of western expansion. The economy of Ford's storytelling benefits from the familiarity of tropes in the western as a film genre even as early as 1917 but also from the his visual sense, introducing Flint against a backdrop of wide open space and a large herd of cattle, Sims in the comparative intimacy of the ranch, his grown children at work and rest in single shots, and Harry popping out of the hollow of a tree to read the his wanted poster freshly nailed to a branch. Doorways frame the barrier between the wild and civilization with certain characters shown entering or hanging at the threshold, and both set furnishings and natural exterior features are used in the foreground or background to give a sense of depth, and the action sequences are briskly edited, suggesting that Ford picked up quite a bit in the four years he apprenticed under his older brother Francis Ford who had come to California four years ahead of his brother and would helm nearly two hundred shots and features between 1909 and 1928 (and acted in nearly five hundred shorts and films from 1909 up until his death in 1953).


Hell Bent: Fleeing a card game turned massacre after being accused of cheating, outlaw Cheyenne Henry (Harry Carey) makes it across the border ahead of the sheriff and his posse into Rawhide. In the meantime, he has a difficult time finding a place to sleep, acquiring a reluctant roommate in fellow gun-for-hire Cimmaron Bill (Straight Shooting's heavy Duke Lee). He soon finds a reason to go straight when he meets Bess Thurston (Neva Gerber) who has reluctantly become a dance hall girl after her brother Jack (Vester Pegg) was fired from his job at the local branch of Western Union since deliveries of gold never get there because of the stagecoach attacks by the gang of outlaw Beau Ross (Joe Harris). Ross, however, has not been able to discover the new method of transporting gold until he makes Jack an offer he cannot refuse after falling in lust with Bess at the dance hall. Harry stands up for the town when Ross tries to rob the bank. He lets Ross go when he discovers Jack's complicity, but Ross responds to Harry's order that he leave town by ambushing the next delivery and stealing Bess away to his gang's mountaintop stronghold. Harry gives chase, and fellow outlaw Cimmaron Bill may be the only person in his corner when he rushes headlong into danger.

Although made only a year after John Ford's feature debut Straight Shooting, Hell Bent was actually Ford's ninth film (having made three other films in 1917 and four more before the present film in 1918) and Carey's eighteenth outing as Cheyenne Harry following the now lost 1916 feature A Knight on the Range by Jacques Jaccard and eight shorts with Fred Kelsey, two more shorts with Ford, and six subsequent Ford features. Just as Sergio Leone's A Fistful of Dollars would later draw distributor concern about the ambiguous nature of the hero – so much so that the CBS television premiere of the film included a pre-credits sequence lensed by jobbing director Monte Hellman in which a prison warden (Escape from New York's Harry Dean Stanton) gives a Clint Eastwood stand-in a chance at a pardon if he restores order, justifying The Man With No Name's actions in the film proper – Straight Shooting was attacked in the Exhibitor's Trade Review for its "attempt to heroize such a type [as Carey's rough character]. There may be such men in the West, but it is best on the screen to show them up as horrible examples of what a man may be." Ford responds with an opening in which Carey plays a pulp novelist who receives a letter from his publisher telling him that the public is tired to "perfect men" and asked for a hero that is "an ordinary man as bad as he is good." The author looks for inspiration to Frederic Remington's 1897 painting "A Misdeal" which dissolves into the opening scene aftermath of the shootout from which Cheyenne Harry has already fled. The plot is entirely ordinary for the genre but the obligatory buddy rivalry between Harry and Bill as well as their attempts to both court Bess are charming (although it is hard to tell just how atypical of Ford's early work the comedy is here since most of his silent are lost), but the resolution to the film is oddly drawn out with the showdown between Harry and Ross culminating about fifteen minutes before the ending; whereupon, we have Harry, Bill, and Bess stranded in the desert with only one horse with wounded Harry insisting that Bill take Bess back while he then attempts to crawl back to civilization in the midst of a sandstorm while Bill returns to search for him and Bess waits back in town heartbroken before the happy ending in which Harry goes straight again before he trades love interests and buddies James Bond style in the next adventure (of which there would be eight more between 1918 and 1919 with Ford and then two more in the sound era seventeen years later for Harry L. Fraser).

Video


Released by Universal in 1917 and reissued in 1925, Straight Shooting was thought lost until a print was discovered in the Czech National Archive. Eureka's 1080p24 MPEG-4 AVC 1.37:1 pillarboxed fullscreen Blu-ray is derived from Universal's 4K restoration – issued last year in the US from Kino Lorber – which utilized a 35mm safety fine grain element created from the Czech materials from the Library of Congress and a Czech 35mm print belonging to the Museum of Modern Art, and for the most part the image is very clean with the exception of a handful of scratchy segements and frames here and there. The image is clear enough to reveal the lack of fill light used in some of the wider daylight exterior shots and the practice from the earliest days of silent films of shooting interior sets without a roof to use daylight as the primary lighting source (quite noticeable in a number of shots where the light levels of the interior match those seen out of open doors and windows).

Unavailable officially until now, Hell Bent makes its Blu-ray debut in a new 4K restoration from Paramount (issued last year in the U.S. from Kino Lorber). The 1080p24 MPEG-4 AVC 1.33:1 fullscreen image is not quite as sterling as Straight Shooting with the frameline dipping into frame from the top in a few instances but it is still a highly watchable presentation in keeping with Universal's other recent silent restorations. There is no information on whether the intertitles have been recreated here, but there is an inconsistency in that the villain is identified as "Beau Ross" in references and in the intertitles early on but was "Bean Ross" a couple time later in the film.

Audio


No complaints about the technical quality of the Straight Shooting's new Michael Gatt score recorded recently in stereo and encoded here in LPCM 2.0, although it can be distracting at times slathered as it is over the action. The intertitles appear to have been digitally recreated. IMDb and some reviews have referred to the character of Danny Morgan as Sam Turner, but he is Danny Morgan in the intertitles here and may have been renamed in the reissue prints. The same technical comments apply to the Zachary Marsh score on Hell Bent's LPCM 2.0 stereo track since it contains newly-recorded musical accompaniment.

Extras


For Straight Shooting, Eureka ports over Kino Lorber's audio commentary by film historian Joseph McBride, author of "Searching for John Ford: A Life" in which he describes Straight Shooting as the "seminal John Ford film […] at the beginning of his career," discussing his lesser known silent films (twenty-five of which survive out of sixty-five), as well as his prolific output in 1917 alone. He also discusses the parallels of Carey's career, the actor also having come from the East Coast infatuated with the west and cowboys, noting his influence on Ford and how Ford directed John Wayne to model his performance and mannerisms on Carey, the artistic influences on Ford as a child and the Western and Civil War artists whose paintings he consulted daily on his productions, as well as the recurring locations throughout his filmography including Beale's Cut first seen here. Also ported over is the fragment of Ford's 1920 silent Hitchin' Posts (3:11) preserved by the Library of Congress, starring Frank Mayo and featuring Duke Lee, as well as "Bull Scores a Touchdown" (10:37), a video essay by film critic Tag Gallagher who highlights the performers in the film who became part of Ford's stable of actors during this period (some of which would appear later on in films like Stagecoach), Carey embodying the "good bad man" of Ford's oeuvre, Ford's inventive staging, alternating the flat, head-on objective and dimensional subjective, as well as parallels between Ford's film's and the lesser seen ones of his older brother.

Exclusive to the Eureka edition is Kim Newman on Harry Carey (22:02) who discusses Carey in the context of his contemporaries William S. Hart and Tom Mix, noting that well-heeled East coaster Carey styled his cowboy image starting with a stage play and that, as a fantasist, gravitated towards the movies on the West Coast. In discussing Ford, he notes that the director also self-styled his image, and may have resented being overshadowed by Carey and may have belittled and humiliated his older brother as he rose to prominence because they were reminders of where he really came from.


Extras on Hell Bent are all ported from the Eureka edition, starting off with an audio commentary by film historian Joseph McBride who notes the atypical reflexive opening sequence – including an optical effect – as well as the film's use of humor compared to the more somber-toned Straight Shooting, the aforementioned trade review responses to Carey's hero, Ford's painterly eye (including the artistic influences of his childhood), and his stable of recurring actors from this largely-unseen period. McBride has also provides an archival 1970 audio interview with John Ford (44:32) recorded in research for his book on the director. He reveals in the introduction his discomfort with Ford's manner and responses to some questions he now realizes were a matter of his inexperience but also not knowing at the time that he was conducting the interview on the day that Ford would decide to retire from moviemaking after several deals fell through (including one to make a spaghetti western in Italy for which he was awaiting a call from an Italian producer on that very day). "A Horse of a Mary?" (9:09) is a video essay by critic Tag Gallagher that may be a bit of a frustrating listen if viewers also purchased Straight Shooting since does not build upon that discussion so much as reiterate points in the context of his film.

Packaging


The limited edition copy of two thousand copies - presuambly the standard edition will be two separate releases since the cover has two Masters of Cinema spine numbers - includes an O-Card slipcase while the keepcase has reversible sleeve artwork. Not provided for review was the collector's booklet featuring writing by Richard Combs, Phil Hoad, and Tag Gallagher.

Overall


John Ford fans and film students would do well to check out Two Films by John Ford as Straight Shooting does indeed seem like the "seminal John Ford film" and Hell Bent an equally-accomplished response to the critics.