The Film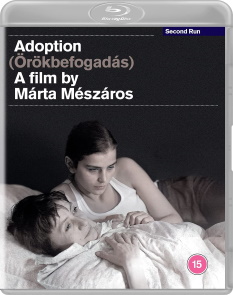 C.I.D.A.L.C. Award: Márta Mészáros (winner), Golden Berlin Bear: Márta Mészáros (winner), Interfilm Award - Otto Dibelius Film Award: Márta Mészáros (winner), and OCIC Award - Recommendation: Márta Mészáros (winner) - Berlin International Film Festival, 1975
Gold Hugo (Best Feature): Márta Mészáros (nominee) -

Widowed forty-two year old factory worker Kata (A Half Pint of Beer's Katalin Berek) has decided that she wants a baby. She is in good health, is financially stable, has her own home, and does not expect her boyfriend Jóska (The Unbearable Lightness of Being's László Szabó) to leave his wife Erzsi (Merry-Go-Round's Flóra Kádár) and children. When Jóska turns down her offer, she suddenly has much more free time that is soon filled by visits from Anna (Red Psalm's Gyöngyvér Vigh) who steals away from the local reform school in search of a secret place for assignation with her boyfriend Sanyi (Tomorrow Pheasant's Péter Fried). Kata initially does not want to get involved but soon starts feeling something for younger misfit, enabling her delinquent behavior. When Anna runs away from the reform school after a fight, Kata offers her a place to stay. When Anna she tells Kata that she will be transferred to another institution when she returns, Kata attempts to intervene on her behalf, first with the school, and then with Anna's parents who have forbidden her marriage to Sanyi even though her custodians are of the opinion that marriage would provide her with the stability she needs.

Helmed by the first female director to win the Golden Bear at the Berlinale, Márta Mészáros' Adoption is still seemingly a hard sell for a feature film, being advertised by Blu-ray distributor Second Run as being "without any hint of artifice; no grand occurences, no heavyweight discussion of issues, a film quiet and truthful in its own way." Upon viewing, we realize that these noted qualities are indeed its greatest strengths. Mészáros at first presents Kata as a rather cold individual who announces to her casual boyfriend that she wants to have a child with him, and his reaction is as expected, and we might even understand his distrust that she might go ahead with her plan even without his consent. As the film continues and we see her capacity for compassion, we wonder if she perhaps knew her boyfriend's response and was pushing him away indirectly (as well as perhaps how truly hurtful to her his distrust in her really was). Given her experience with her parents and other authority figures, it is perhaps not surprising that Anna provokes the only person who seems nice to her; and Kata's angry response at being manipulated as well as her remorse at striking the younger girl suggest that she is more prepared to raise a child than even she believes, unwilling to be taken for granted and demanding respect while showing more contrition with someone she cares about than with her boyfriend whose true feelings about a working woman come out when his unsuspecting wife entertains the prospect of finding work now that their children are grown. As the film moves towards its resolution, we see that Anna's path is not going to be a smooth one, but that Kata has learned from what she has seen of Anna's life as she pursues an adoption with purer motives than staving off loneliness. Although the choice of black and white in the mid-seventies suggest otherwise, Mészáros' nondescript style is not so much documentary as reflecting Kata's emotional detachment from her world and her hesitancy to engage with it emotionally; and yet, it manages to draw us closer to Kata and the way she notices things and perhaps has never ever really been as detached from her mundane world around her as one has assumed.

Video


Billed as being mastered "from an HD transfer of the new 4K restoration of the film supervised by cinematographer Lajos Koltai," Second Run's 1080p24 MPEG-4 AVC 1.85:1 widescreen Blu-ray is truly stunning. The monochrome photography has a wonderful fluidity in its subtle camera movements, light-diffusing mist and sawdust hang in the air without compromising detail, and the quality of the image is such that one realizes that the actors in the opening sequence are not caked in an artificae of make-up foundation but the aforementioned fine sawdust.

The opening credits may have been digitally recreated.

Audio


The Hungarian LPCM 2.0 mono track is in fine condition with clear dialogue and music (some of it live), as well as some considered sound design beyond the chaos of the factory floor. Optional English subtitles have no noticeable errors.

Extras


Video extras are sparse for the film. First up is a new introduction by director Márta Mészáros (4:06) who reveals that the film was an important success for her, only being accepted in Hungary after its release abroad, muses on the "depressing" depiction of Hungarian life, and that lead Berek was not popular because she was politically outspoken. In the earlier 2009 A Conversation with director Márta Mészáros (19:34), she largely dismisses a question about the difficulty of being a female filmmaker, focusing instead on the conflicts between commerical and socially-concerned filmmaking, the difficulty of attaining funding in Hungary and the compromises that come with international co-productions. The disc also has a theatrical trailer (1:52).

Packaging


Housed with the disc in the case is a 14-page booklet with new writing on the film by Carmen Gray in which she notes how Mészáros' forging out her own path in an industry hostile to women as directors paved the way for other Hungarian female filmmakers like Ildikó Enyedi (My 20th Century), her move from shorts to features, musing on how Mészáros is well-regarded and known in Hungary but not as much internationally among her international contemporaries like Agnčs Varda and Vera Chytilová, and an insightful discussion of the film and Mészáros' style.

Overall


While Márta Mészáros' Adoption has "no grand occurences, no heavyweight discussion of issues," these lacks are actually the film's greastest strengths.