The Film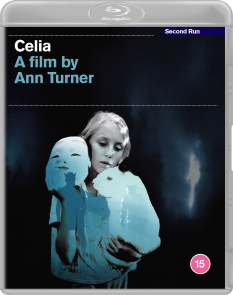 AFI Award (Best Actress in a Supporting Role): Victoria Longley (winner) and : Mary-Anne Fahey (nominated) - Australian Film Institute, 1989
Best Film: Ann Turner (nominated) - Sitges - Catalonian International Film Festival, 1989

All nine year old Celia Carmichael (The Coca-Cola Kid's Rebecca Smart) wants for her birthday is a rabbit, but her father Ray (Return to Snowy River's ) regards them as vermin (as does the Victoria government since the countryside is being overrun with wild rabbits that are eating crops). When her grandmother suddenly dies in her sleep, Celia thinks the Hobyahs – monsters from a school storybook – are responsible rather than old age (especially since Celia still sees her apparition in the nearby quarry). Celia is disappointed when she gets a bicycle rather than a rabbit for her birthday; however, new neighbors have moved in next door, and the mother Alice Tanner (The More Things Change…'s Victoria Longley) looks like a younger version of her grandmother.

The neighboring families get on well, particularly since the father Karl (Marat/Sade's Adrian Mitchell) is one of Ray's co-workers, Ray is attracted to Alice, and the Tanner kids form a gang with Celia to fight against her bullying cousin Stephanie (Neighbours' Amelia Frid), daughter of Ray's army buddy John (Head On's William Zappa), now a local police lieutenant. When Ray discovers that Alice and Karl belong to the communist group Australian Peace Council, he buys Celia a rabbit on the condition that she does not play with the Tanner kids. Celia initially keeps the promise, but the Tanner children come to her defense when Stephanie – jealous of Celia's pet rabbit since her policeman father has sent hers to the zoo (in anticipation of the ban on pet rabbits) – and her friends attack her. After Karl loses his job, Celia blames Uncle John instead of her father (with whom she has a believable love-hate relationship) when the Tanners have to move away, and then she becomes convinced that he is one of the Hobyahs when he forcibly takes her rabbit away.

Although Celia's American video cover appended "Child of Terror" to the subtitle, the film keeps good company with the psychological horrors of turbulent life seen through an imaginative child's eyes such as Vigil, Curse of the Cat People, Paperhouse, The Reflecting Skin, and Pan's Labyrinth. The climax's melding of reality with a monochrome Mike Mayfield crime film surely must also have influenced the Orson Welles/The Third Man sequence in Peter Jackson's Heavenly Creatures. While not a horror film in conventional terms, Celia is also not a children's film by any stretch of the imagination. The Hobyahs – the text of the story comes from James H. Fassett's "Animal Folk Tales" but the creatures have appeared in other folklore collections – are glimpsed when Celia visualizes a passage of the story looking almost rat or rabbit-like hopping on two feet, but the briefer glimpses we get of it through Celia's eyes in waking life are effectively jolting. The ending is not so much horrific as tragic in a "loss of innocence" sense through the attempt to keep children ignorant: Celia is told by her parents and in church that communists are "bad people" who brainwash and trick innocents, but she is unable to reconcile that with her beloved "free spirit" grandmother who kept a "Handbook of Marxism" among the many progressive books in her now-shuttered up bedroom; so is she to be blamed for interpreting another character who seems to be more evil as a literal monster? The film does not endorse the film's act of violence, and one wonders whether Celia has developed any real agency or if the lies she has had to tell in the aftermath are steps towards a fear-founded conformist existence.

Smart gives a forceful performance for a child actor, and she is well-supported by Longley (who died young in 2010) – who won an Australian Film Institute best supporting actress award – as well as television writer Mary-Anne Fahey as Celia's mother (she was also nominated for the same award as Longley), and Clair Couttie as Celia's friend Heather whose quickly regrets how her jealousy of Celia's new friendship with the Tanners has set some of the animosity with Stephanie in motion. The synthesizer score of Chris Neal (Jack Be Nimble) is comparable to Hans Zimmer's and Stanley Myers's work on Paperhouse if not as operatic, but it surprisingly does not jar with the period setting. Cinematographer Geoffrey Simpson – who would later shoot Shine, Under the Tuscan Sun, as well as Oscar and Lucinda among other higher-profile films – captures Australia in the warm tones we're used to seeing while Celia's nightmares are captured in cool blues that seem alien against the rest of the film. Writer/director Ann Turner scripted the film years before its production, and the script would win an award for best unproduced screenplay while the film itself would win the Grand Prix at the Créteil International Women's Film Festival (it was also nominated at the Spanish Sitges fantasy film festival). Turner has only directed four other features to date including Hammers Over the Anvil which made its way stateside seven years after release in 2000 to exploit the co-starring presence of a young Russell Crowe.

Video


Released direct to video in the United States and theatrically in the UK by Contemporary Films followed by a VHS release in 1990, Celia finally came to DVD in 2009 by Umbrella Entertainment – the disc was reissued by Umbrella in 2019 in a double-disc set with the rarer, but thematically-related The Tale of Ruby Rose – and the same master appeared the same year in the UK from Second Run and the following year in Germany where it was also well-received. It was not until 2013 when Scorpion Releasing put it out on DVD stateside with the "Child of Terror" subtitle on the artwork. Second Run's 1080p24 MPEG-4 AVC 1.85:1 widescreen Blu-ray comes from a new 2K restoration from the National Film and Sound Archive of Australia. The new transfer maintains the overall warm look of the film, but the whites of clothing, wooden fences, and décor are no longer tinged with yellow and skintones are similiarly undiluted by blue in the night exteriors. Textrual detail is enhanced from hair and clothing to the woodsy and rocky areas of the setting, and it is just as well that the appearances of the Hobyahs are quicker than seemingly originally photographed since they look more costume-y than they did on DVD in a couple close-ups.

Stateside, the film has also been announced as part of Severin Films' mammoth All the Haunts Be Ours: A Compendium of Folk Horror Blu-ray boxed set, while the presence of Umbrella Entertainment's logo at the head of the presentation suggests that the Australian label will be announcing their own edition next year.

Audio


Although mixed in mono (Umbrella's DVD also had a mono source but encoded it with the ProLogic surround flag enabled), the LPCM 2.0 track proves effective when it comes to clear dialogue, enveloping scoring, and some creepy sound effects courtesy of the Hobyahs and other nocturnal creatures mistaken for them by Celia. Optional English HoH subtitles are also included, highlighting some of the political dialogue that may have gone unnoticed by the adolescent main character.

Extras


The Australian release featured a TV interview with Turner, an additional audio interview, as well as the film's German theatrical trailer while Second Run dispensed with those extras in favor of an exclusive video interview with Turner and an essay booklet. While the Scorpion release carried over the Australian extras only, the German disc combined the Australian extras and the British interview. Second Run has not ported over any of the Australian archival extras this time around either; but they have included "Celia's World" (61:23), an invaluable brand new documentary by Turner who conducts socially-distanced interviews with a number of academics, including "Better Dead Than Red (Australia's First Cold War : 1945-1959)" editors Ann Curthoys and John Merritt as well as the film's script editor Annette Blonski (Body Melt) on their experiences as the children of post-WWII immigrants to Australia who also happened to be members of communist and socialist parties about their experiences and those of their parents during the fifties with job difficulties, secret campaigns of ostracisation, neighbor relations, unacknowledged WWII post-traumatic stress disorders as well as the roles of communist party women in Australia's early aboriginal and women's rights movements.

Carried over from the 2009 DVD is the interview with writer/director Ann Turner (14:16) which is focused more on her early days, entering film school without any previous work, being exposed to Japanese and New Wave European cinema – in this interview, she cites the strong influence on Celia of Bernardo Bertolucci's The Conformist – and the seeds of the idea that would become her first feature.

Not mentioned on the back cover disc specs is "There's Something About Celia" (17:39), an interview with film historian Alexandra Heller-Nicholas in conversation with Maria Lewis at the Australian Centre for the Moving Image, possibly added at the last moment. Heller-Nicholas discusses how Turner had not intended the film to be a horror film in spite of the American marketing of the film as such, as well as the contemporary reassessment of it as such in light of the current movement of "women in horror."

Another nice addition is the disc's image gallery of a hundred-and-twenty images that includes several views of the Hobbyahs costumes and performers that suggest more footage was shot and that it was judiciously pruned down.

Packaging


Housed with the disc is a 24-page booklet by film historian Michael Brooke and Professor Joy Damousi in which the former contextualizes the film within the "female-dominated Antipodean New Wave" and the difficulty distributors abroad had in marketing the film, while the latter notes the readings and re-readings of the film as horror film and feminist work. The booklet also includes a reprint of the Hobyahs story and poor little dog Turpie, similar to the one recited in the film.

Overall


Whether read as a dark coming of age tale, Australian Cold War politics through the eyes of a child, an account of burgeoning feminism in a repressive conservitive setting, or a women's horror film, Celia is a moving and subsersive work of "innocence corrupted."