The Film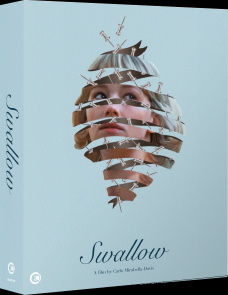 Young Hunter (The Girl on the Train's Haley Bennett) has just married the love of her life in handsome Richie (Fantasy Island's Austin Stowell), the scion of wealthy businessman Michael Conrad (Sledge Hammer!'s David Rasche) who is molding him into future CEO material. While Richie sees Hunter as a help meet and Michael only sees her as a vessel for the Conrad legacy, Richie's mother Katherine (Homeland's Elizabeth Marvel) passive-aggressively questions Hunter's intentions. Attempting to make Richie happy by being the perfect wife, Hunter finds their upstate New York mansion – a present from Richie's parents – turning into a gilded cage and Richie only taking notice of her efforts when something is wrong like ironing one of his silk ties rather than steaming it or picking "hipster" colors for the movie room. This is exacerbated when she becomes pregnant and within days of the announcement she is already confined to home and being counseled by post-partum depression.

One day, Hunter swallows a marble. The next day, she tries to swallow a tack but spits it out when it cuts her tongue, but she manages it eventually. The extent of her compulsion only becomes evident when her doctor notices a foreign object during her ultrasound. When her compulsion is identified as Pica – an eating disorder in which things not considered to be food are consumed – Richie is horrified and repulsed, accusing her of not telling him about something she did not even know she had. Michael wants to take charge and presses psychiatrist Alice (All Good Things' Zabryna Guevara) to medicate Hunter, but Katherine suggests that Richie hire Luay (12 Strong's Laith Nakli), a Syrian immigrant who had served as private nurse to Richie's grandmother. Although Katherine and Richie tell Hunter that Luay is only there to be helpful, Hunter suspects that he is there to spy on her; indeed, he watches her intently as if ready to pounce on her if she puts something near her mouth. However much Hunter insists that everyone is overreacting – including her psychiatrist who reads significance into Hunter divulging a secret from her childhood – she still feels strong compulsions to eat increasingly dangerous objects. When her in-laws' attempts to help her become stifling and threaten her physical autonomy, Hunter has no other option but to run. Hiding from her husband's family and able to indulge in her compulsion, she discovers that true freedom is illusory unless she confronts what is eating her from the inside.

A character study masquerading as a psychological drama masquerading as a horror film, Swallow's more borrowings from Rosemary's Baby – less overt and more refined than the likes of Hereditary – from Hunter's short bob cut and the medical intervention of people seemingly in line with her in-laws' agenda may have most viewers expecting that Hunter's compulsion is a side effect of gestating the Antichrist. What it veils, however, is something along the lines of the struggle for agency and autonomy in isolation. There is no Bluebeard's secret chamber in the Conrads' ultramodern manse. The many transparent and reflective surfaces of wall-length glass windows and mirrors not only give the fishbowl sense of the protagonist under constant surveillance but reflect her own image back upon her and everything that she is trying to hide. Although Richie is insensitive in accusing her of not disclosing her problem before marriage as if it were a merchandise defect, Hunter suspects something of being wrong with her even though she has never heard of Pica. At best, Hunter to her in-laws is defective; at worst, she is either an imposter who was "lucky" enough to be welcomed into privilege, or much worse, she is an "ungrateful cunt" (as someone calls her late in the film) for not submitting to care that seems increasingly punitive. Perhaps it is appropriate that the Pica element feels underdeveloped and does not vanish but does fall by the side as it seems that Hunter's most radical act of revolt is just the start of her pursuit of freedom. More interesting is the somewhat outmoded but still insidiously influential notion left hanging in the air by the otherwise well-intentioned Luay's remark that Hunter would not have such a problem if she had to worry about gunfire on a daily basis (as he did in Syria); that is,of housewives being so bored and their inner lives so empty that their neuroses are subconscious cries for attention. It may not indeed be a "complete" character study, but the ambiguity as to how much Pica will dominate Hunter's life keeps the film well away from a primetime TV movie of the week from a couple decades ago.


Feature-debuting director Carlo Mirabella-Davis's "slow burn" approach may feel less measured and more imitative at times of other (not always better) films - a major influence on both the film and especially the film's trailer appears to be Parasite - but he and cinematographer Katelin Arizmendi manage the surprising inversion of creating tension in symmetry to the extent that the off-kilter compositions feel like a breath of fresh air. Shots in which Hunter is off-center in the frame or even has part of her reflection cut off in a mirror "feel" like her world while the symmetrical compositions seem symbolic of the way in which she is fixed in the minds of other characters until she puts a foot wrong. While Hunter's in-laws are not so satanically sinister as a horror fan might anticipate, the immediate "honeymoon is over" element of the marriage feels more abrupt unless one assumes that meek Hunter is so used to being taken for granted or a certain cynicism in the filmmakers believing that a naοve reaction of hurt would have the opposite effect on viewer sympathy for the protagonist. Bennett's victimized performance may indeed feel enervating with not enough moments of defiance, but the patient viewer will be rewarded by the climactic scene between Bennett and a third-billed but only just-introduced Denis O'Hare (The Pyramid). The scene is so compelling and moving that the resolution to the film falls flat despite being a radical decision. If it is a case of the character expecting catharsis and not realizing that she has further to go, then it is filmmakers who fail to convey that. Song choices seem more fashionably "quirky" suiting the overall surface image, with the use of Alana Yorke's "Anthem" over the final scene and end credits particularly regrettable since it summons up images of slow motion montages in TV medical dramas and feminine hygiene commercials through its heavy use. The end result is either flawed in execution or realistic in suggesting the limitations of traditional narrative in encompassing an unconventional search for freedom.

Video


Shot on the Arri Amira with ultra-sharp Zeiss lenses and mastered in 2K, Swallow got a barebones Blu-ray edition in the US last year from Shout! Factory and German Blu-ray that boasted an interview with the director. The same master is, of course, used for Second Sight's 1080p24 MPEG-4 AVC 2.40:1 widescreen Blu-ray which is technically flawless with neutral skin tones, sumptuously saturated colors in the dιcor, and a more sculpted use of shadows than one necessarily expects from a reliance on natural and practical light sources (perhaps appropriately so since the fluorescent-lit bathroom is one of the few spaces in the house in which Hunter truly has privacy). Fine detail is crucial to the film's focus on Hunter's fetishizing of non-nutrient objects and every other character's ability to notice a "hair out of place", and Second Sight's mastering standards seems to do right by the strengths of the master.

Audio


The sole audio option is an English DTS-HD Master Audio 5.1 track (presumably the standard stereo downmix track was jettisoned out of space concerns but no biggie). Dialogue is always clear and balanced – even with Bennett at her meekest and reediest – and the sound design is as sharp and piercing as the scoring (which tends to blend in and out of the effects and atmosphere). Optional English HoH subtitles are included.

Extras


Like the film, the disc is handsomely produced but a bit of a mixed bag. The audio commentary by director Carlo Mirabella-Davis & producers Mollye Asher and Mynette Louie is kind of a slog with Mirabella-Davis prompting his producers with questions of interpretation and expanding on their brief responses, remarks about the use of glass and reflections, production design details, the role of sound design in the film's "squirm factor", and assessments about the performances with "passive-aggressive" seeming to be the base upon which all of the characters are built, and "painting with a horror paintbrush" in the sense of using the language of the genre to foreshadow and underline conflict.

Slightly more informative is "A Personal Story" (54:10), an interview with director Mirabella-Davis who discusses his film school education, his love of the "slow burn" and how his thesis film Knife Point playing at Sundance opened more opportunities for him. He notes that he was a fan of horror but that it as his classmate Jordan Peele (Get Out) who introduced him to The Shining and other major work that showed him how horror could be used to address social issues. Of the film, he notes its inspiration in the story of his grandmother who was unhappily married and engaged in ritualistic behavior that was treated with electroshock and a lobotomy. He notes that Pica consultant Dr. Rachel Bryant-Waugh drew up a case study on Hunter after reading the script and that he incorporated parallels he saw in obsessive compulsive behaviors into the characterization.


In "Something Bubbling Underneath" (8:33), producer Asher recalls being recommended to Mirabella-Davis by a classmate when he was looking for a producer and liking the script, but mainly remarks on the responsibilities of a producer on an twenty-day independent shoot. In "The Process" (16:19), editor Joe Murphy also focuses on his working methodology with the necessity of "forgetting" things cut out in refining scenes while also saving interesting little bits that may add nuance to scenes and characters. In "Metal and Glass" (17:01), composer Nathan Halpern discusses his post-punk musical career and taking inspiration from film music – most notably Rosemary's Baby – and his schematic here of string music early on that complimented the "midcentury" style of filmmaking evoked early on in the film and moving into the more experimental with pitched sounds of glass and metal as the film moved deeper into Hunter's world.

Much more satisfying and stimulating – to the extent of making the other extras seem gratuitous – is the visual essay "A Room of One's Own: Alexandra Heller-Nicholas on Swallow" (33:00) in which Heller-Nicholas draws parallels between the film as "feminist fairytale" and Virginia Woolf's essay "A Room of One's Own" about the necessity of a space that allows a woman to flourish creatively. Her "fairytale" interpretation of the film – in which she describes Stowell's Richie as less an evil than "passive-aggressive prince" and the Bennett's princess' transgressive act as a "literal taste of freedom" – is more helpful than anything in the rest of the extras in making sense of the characterizations as not so much reductive but archetypal. The disc also includes Mirabella-Davis' aforementioned 2009 short "Knife Point" (26:19).

Packaging


The disc comes packaged in a rigid slipcase with new artwork by Haley Turnbull and includes a softcover book with an exclusive introduction by director Carlo Mirabella-Davis and new essays by Anne Billson, Jordan Crucchiola and Ella Kemp, as well as 6 collectors' art cards.

Overall


Swallow as both film and disc are more stimulating in the questions and themes raised than truly satisfying (or filling).